Landscape photography sometimes requires traveling to a remote location, taking the time to set up a perfect shot, and many times waiting for the right moment. The last thing a landscape astrophotographer needs is an unstable tripod that delivers nothing but blurry photos.
The Benro Rhino Series 3 tripod is a very popular choice for landscape photography, as it has many features to back up its ability to take exceptional photos. In this article, we take a close look at just what the Rhino can do and what makes it stand out.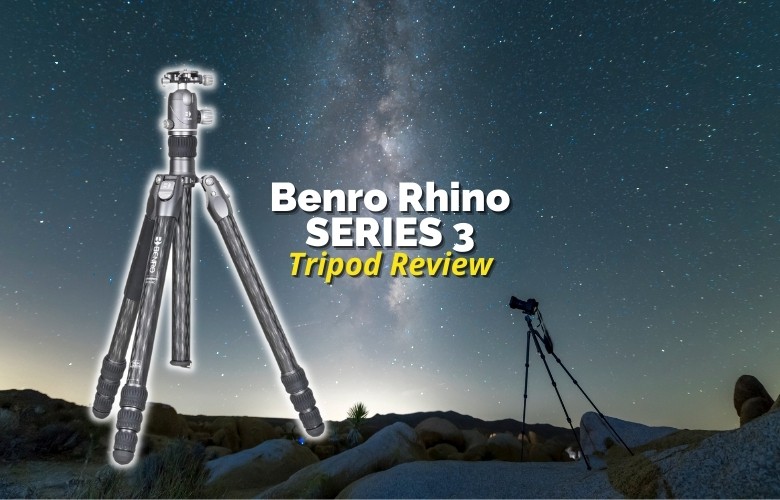 Benro Rhino Series 3
Benro Rhino Series 3 Tech Specs
Max Load: 44 pounds | Weight: 4.54 pounds | Min Height: 19.33 inches | Max Height: 71.41 inches | Material: Carbon Fiber | Leg Sections: 4 | Feet: Rubber pads or spiked feet | Folded Length: 19.44 inches
Pros
High maximum height
Thick tripod legs
Heavy max load
Ball head is included
Cons
Minimum height is not very low
---
Benro Rhino Series 3: Things To Consider Before Buying One
Will It Support My Gear?
With a maximum load capacity of 44 pounds, the Benro Rhino will be able to support any camera and lens combination that you use. This high capacity also allows for any additional accessories that you also use for your shorts.
Will It Be Stable?
The Benro Rhino is named after a robust, sturdy animal for a reason. The tripod was designed with stability in mind. It has thick legs, a solid frame, and the ability to attach extra weight to increase stability even more.
Is It Portable?
For a larger tripod, the Benro Rhino Series 3 folds up pretty well. The legs reverse-fold up toward the ball head, reducing the length of the tripod to 19 and a half inches when not in use.
This is a small enough side to at least strap to the side of a backpack but can fit into some longer gear bags. It shouldn't be much of a challenge to get this tripod whenever you need to go to get your night sky photos sans light pollution.
The tripod folds up small enough to meet carry-on requirements for air travel.
Features And Benefits
Below, we take a look at some of the best features of the Benro Rhino Series 3.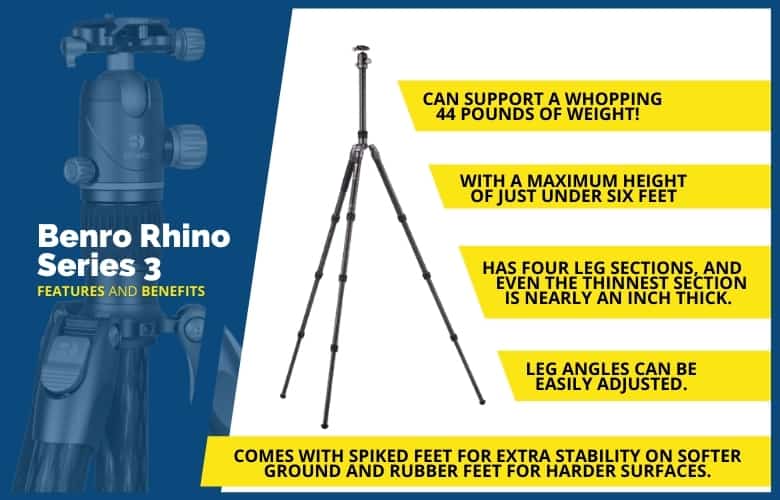 Thick Tripod Legs
When it comes to stable landscape photography, a strong base is what you need. When you're capturing that amazing time-lapse starscape, even the slightest tripod movement can ruin an hours-long exposure.
The Benro Rhino Series 3 has four leg sections, and even the thinnest section is nearly an inch thick. This thickness keeps the tripod and camera from moving even when that unexpected gust of wind comes up.
Maximum Load Capacity
Maximum load capacity is another considerable factor, and the Benro Rhino Series 3 can hold an impressive 44 pounds of weight. This high load capacity means you can attach and use even the heaviest cameras and lenses for epic astrophotography shoots, but that's not all.
Having the ability to attach extra weight (such as your gear bag) to the undercarriage of the tripod without fear of collapse lowers the center of gravity. Not only is your gear safe, this extra poundage further stabilizes the tripod.
Adjustability
There are times during landscape photography where you'll literally find yourself between a rock and a hard place. This can make lining up a shot that much more difficult.
Fortunately, the Benro Rhino Series 3 comes with easily adjustable leg angles so that you can accommodate uneven terrain. Also, having legs with four sections means you can adjust each leg's height individually as needed.
Feet
Stability extends all the way down to the feet of the tripod. Depending on where you're shooting from, you may be in sand, grass, or even hard rock.
The Benro Rhino Series 3 comes with both rubber feet for harder surfaces and also spiked feet when you need more stability on softer ground. The ability to switch these feet out in a pinch is a huge plus as well.
Durable Carbon Fiber
Longevity is key with any piece of photography gear. The Benro Rhino Series 3 is made from carbon fiber, which is known to be one of the best materials to use in a tripod design.
In general, carbon fiber is stiff, light, and resistant to weather, scratches, and corrosive materials. Carbon fiber is also lightweight and makes for easier portability.
Maximum Height
The best landscapes are typically taken from a higher vantage point, and the Rhino Series 3 gives you an advantage with an impressive maximum height of just under six feet. This is also a huge blessing for taller astrophotographers who won't have to bend over as far when lining up that starscape.
The Benro Brand Overview
Is Benro a Good Brand?
Benro started manufacturing under its own brand name in 2002 and strived to produce the best tripods by focusing on precision machining and advanced tooling.
The company keeps its manufacturing process under a watchful eye and spares no expense in its commitment to quality products. This forward-thinking has led Benro to be the best-selling tripod line in China and is quickly spreading throughout the world.
Where Are Benro Tripods Made?
All Benro products are manufactured in one of two facilities in southern China, not far from Macau.
Alternative Benro Tripods
Benro has some similar carbon fiber tripod models that are also worth considering for landscapes.
Benro Rhino Series 3 Vs. Benro TAD37C Adventure Series 3
The Adventure Series 3 shaves a half pound off the Rhino's weight and, with only three leg sections, ends up with slightly thicker legs. For an adventure model, it doesn't fold up nearly as well, and the max load capacity is only 30 pounds. Still, it's a good model for all-around tripod use.
---
Benro Rhino Series 3 Vs. Benro TMA38CL Mach3 Series 3
The Benro Mach 3 Series 3 model has similar leg thickness over its four leg sections. Like the Adventure Series 3, the Mach 3 doesn't fold up as well as the Rhino, making portability a bit more tricky.
The Mach 3 does use some magnesium casings and nine layers of carbon fiber to create a stable design. While these also keep the weight down, it's no lighter than the Rhino Series 3.
---
Benro Rhino Series 3 Vs. Benro FTA28CV1 Travel Angel Series 2
Benro's Angel Series 2 is made for travel and is a bit more portable than the Rhino Series 3. It also weighs half a pound lighter than the Rhino model.
The Travel Angel isn't as stable as the Rhino Series 3, though, with thinner legs that are more vulnerable to wind and vibration.
---
Conclusion
If getting the best-looking astrophotographs that you can muster is your goal, look no further than the Benro Rhino Series 3. From Benro's line of products, it is the best all-around tripod for stable, clear shots and offers a good amount of portability to boot.
The Benro Rhino Series 3 also steps up in terms of quality and longevity with the best materials that can handle rough terrain and whatever mother nature throws its way. A picture is worth a thousand words, and this Benro model is worth every penny.