If you plan on a long night of astronomy observation, then prepare to constantly bend and twist your body to look into your telescope eyepiece.
If you want to take that stress off your neck and back when looking through your telescope, then I highly recommend looking into getting yourself an astronomy observing chair.
No matter your body size or height, they are lightweight and adjustable in height and let you be able to view or adjust your telescope without any stress on your back.
The best astronomy observing chair we've found is the Vestil CPRO-800LP Ergonomic Astronomy Chair as it ticks all the boxes that we mentioned above. However, continue reading the list below as there are quite a few other astronomy observing chairs that do the job just as good.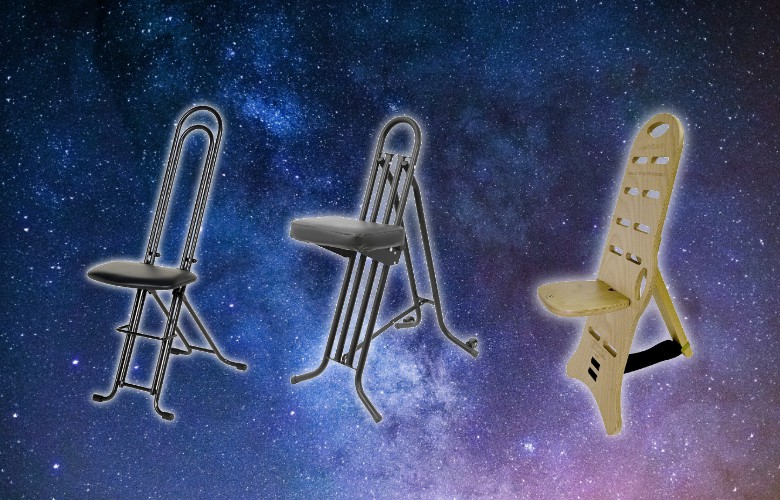 List of the best astronomy observing chairs
---
1. Vestil CPRO-800LP Ergonomic Astronomy Chair
Best astronomy observing chair
Dimensions: 19.38 x 12.75 x 37.25 inches | Weight: 13 pounds | Weight Capacity: 220 pounds
The Vestil CPRO-800LP will be a perfect astronomy observing chair for you if you're looking for an extremely sturdy and stable chair to help you observe the stars or any kind of planetary bodies. Its adjustable seat can be set at a height ranging from 18.5 to 33 inches and is wide enough to be comfortable to sit on even after longer periods of time.
At 13 pounds, It's also very light, and you should have no problems carrying it with you if you plan to take your star viewing activities to an outdoors environment. It's also easy to fold and unfold thanks to the intuitive and straightforward mechanism. It also has rubber feet for extra stability.
The company also offers two more astronomy observing chairs. The Vestil CPRO-600 provides a wider range of seat adjustments, while the Vestil CPRO-200 is the most compact chair from the entire range and a great choice if you often travel.
Pros
Good value for money
Sturdy construction
Lightweight and portable
Offers adjustable seat height from 18.5 to 33 inches
Cons
Below average weight capacity
---
2. Omegon Astro Observation Chair
Second best astronomy observing chair
Dimensions: 37.4 x 18.1 x 25.6 inches | Weight: 16.5 pounds | Weight Capacity: N/A
The Omegon Astro is yet another excellent astronomy observation chair and thus it has deserved the second best place in our article. It offers a very good seat adjustment range going from 11.8 to 34.25 inches and using most telescopes out there comfortably won't be an issue.
A wide and padded seat is also included so you can observe the night sky through your telescope for longer without feeling any pain in your lower back. The chair itself is made entirely out of metal, so durability shouldn't be a concern even if you don't treat it with too much care.
To prepare the chair for storage or transport, you just have to remove the seat and fold its two main parts together. The only thing that you should be aware of is the weight capacity. Since we couldn't receive an official rating from the manufacturer, we can't recommend this particular chair if you have a few extra pounds on you.
Pros
Very good seat height range going from 11.8 to 34.25 inches
Reasonably portable
Comfortable to sit on
Good build quality
Cons
Not suited to full-figured people
The seat doesn't fold with the chair
---
3. Starbound Astronomy Viewing Chair
Best heavy duty astronomy observing chair
Dimensions: 42 x 23 x 5 inches | Weight: 18.1 pounds | Weight Capacity: 300 pounds
If durability is something you're looking for in a chair that will satisfy all your needs when it comes to observing the stars, then the Starbound Astronomy Viewing Chair should be on the top of your list.
It's all metal construction and thick skeleton give it impressive durability, as well as a weight capacity limit of 300 pounds. So it can also withstand a lot of abuse, so you can be sure that it will serve you well even after many years of use.
We are also happy to report that comfort isn't sacrificed in any way and that the built-in seat is decently wide and won't give your back any problems. Since this is an adjustable chair, the seat can be set in many different positions, as low as 9 inches from the ground or as high as 32 inches.
Pros
Great weight capacity
Wide padded seat
The seat height ranging from 9 to 32 inches
Excellent durability
Cons
Pricey
Could be more lightweight
---
4. Odyssey DJCHAIR Adjustable Chair
Best budget astronomy observing chair
Dimensions: 17 x 18 x 47.5 inches | Weight: 18.36 pounds | Weight Capacity: 300 pounds
Suppose you're on a tighter budget, but you still want to purchase a chair with an adjustable seat to enjoy your astronomy night time activities. In that case, you should seriously consider the Odyssey Adjustable Chair as your next investment.
It's an astronomy observing chair that's very simple to use. Thanks to its simplistic design, it's easy to set up and equally easy to fold in its portable shape. It has a nicely padded seat that will provide you with decent comfort while you're sitting on it and a maximum weight capacity of 300 pounds.
While the seat itself doesn't offer a lot of adjustment, you will be able to use it at heights ranging from 21 to 30.75 inches. It's up to you to see if that kind of a range is good enough for your astronomy gear, so be sure to measure everything before you decide to make the purchase.
Pros
Great weight capacity
Reasonably priced
Easy to use
Padded removable top
Cons
Below average range of seat height adjustment
Its default seat position may be too high for some people
---
5. Alera Plus IL Series Height-Adjustable Folding Stool
Best portable astronomy observing chair
Dimensions: 20 x 20 x 5.5 inches | Weight: 19.36 pounds | Weight Capacity: 300 pounds
If you're looking for portability at a fair price point, we recommend you look into the Alera Plus IL Folding Stool. It's an astronomy observation chair that's easy to fit almost anywhere and easy to set up thanks to its straightforward design.
While it is a little on the heavier side thanks to its solid metal construction, it still folds to a very compact size. Thanks to its vinyl seat, you can be sure that it will be fairly comfortable to sit on and easy to clean due to its slippery texture.
The seat's position can be adjusted in a range of up to 10 inches, which isn't a lot, but that's unavailable when you're dealing with a chair that targets portability above everything else. There are also rubber feet on each of the legs, so you won't have to worry about stability at all.
Pros
Portable construction
Good price point
Solid build quality
Decently comfortable seat
Cons
A little heavy
Below average range of seat height adjustment
---
6. Geoptik Telescope Adjustable Chair
Best value for money astronomy observing chair
Dimensions: 36.2 x 13.4 x 1.97 inches | Weight: 13.46 pounds | Weight Capacity: 286 pounds
While the telescope adjustable chair from Geoptik presents the best value for money astronomy observing chair, it also has an entirely different design language from the rest of the chairs in our article and will surely stand out in any household or camping site.
It's made from painted wood composite material, making it much lighter than more traditional all-metal chairs. While it isn't as sturdy as those chairs, it will be sturdy enough for most people thanks to its high weight capacity limit of 286 pounds. So, you are getting a nice balance between weight and durability.
The unique design doesn't also make it look different, but it also functions differently. The seat itself is removable, and its position can be changed by inserting the seat into the predefined notches set at different heights. There are 6 of these positions, ranging from a height of 9 inches to 30.7 inches.
Pros
Unique design
Decent weight capacity
Easy to operate
Offers six different seat height positions
Cons
Not as sturdy as astronomy observing chairs made from metal
No padding on the seat
---
Astronomy Observing Chair Buying guide
What to look for when buying an observing chair for astronomy
Adjustable height
This is the most important aspect of any astronomy observing chair. Since telescopes require constant adjustment, your chair also needs to be able to adapt to those changes. This is why these types of chairs offer seats with adjustable height, making it easy and intuitive for you to remain comfortable at all times while observing the stars.
Comfort
Another important feature of any astronomy observing chair is its ability to adjust the angle you'll be sitting at. If you want maximum comfort, make sure that your next chair has such a feature. Another thing to look at is the padding and the width of the seating area, the thicker the padding and the wider the seat, the more comfortable it is to sit on for longer periods of time.
Weight capacity
As is the case with any type of chair, weight capacity plays a vital role in durability and longevity after prolonged periods of use. Make sure that your own weight is at or below the manufacturer's stated maximum weight capacity. By doing that, you can ensure that your astronomy chair lasts for a long time and stays in good and sturdy shape.
Quick Recap Of The Astronomy Observing Chairs Of 2023
Conclusion
So, now that you've learned of the importance of astronomy observing chairs when it comes to comfortably watching the stars in all of their wonders, you are now ready to take matters into your own hands and use the newly received knowledge in helping you decide which one is the right for you.
Our best choice goes to the Vestil CPRO-800LP Ergonomic Astronomy Chair because of its sturdy and lightweight construction, great level of seat adjustment, and a fair price point. If you don't require the very best and you're looking for something else in an astronomy chair, we are sure that some of the other products on our list will satisfy your needs.