Diving into photography can be an overwhelming endeavor for any beginner, especially with the number of tripods out there. It can be daunting to decipher which features make the most sense to have and how much money it makes sense to pay.
We've taken the time to compare some tripod models to take the guesswork out of the process. When it comes to beginner tripods, we've identified the Manfrotto Compact Action as the best out there when getting started.
Read on to hear our thoughts about the Compact Action tripod and four others that we feel are the best beginner tripods out there.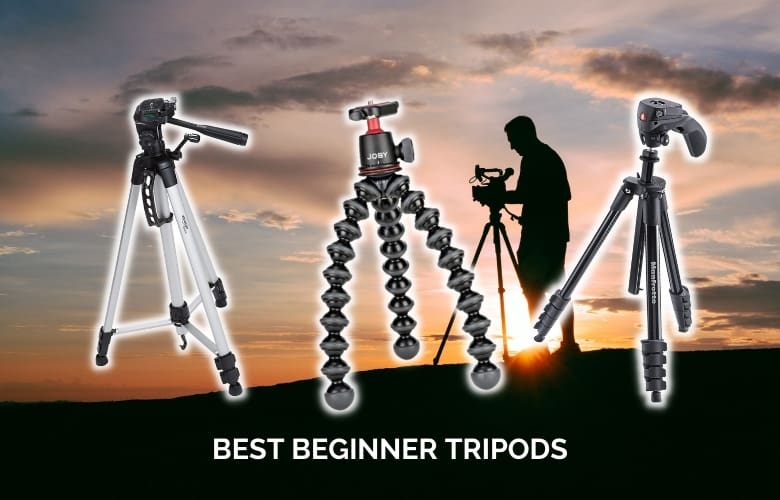 The Beginner Tripods At A Glance
Best Beginner Tripods to Buy
1. Manfrotto Compact Action
Best overall beginner tripod
Brand: Manfrotto | Max Load: 3.3 pounds | Weight: 2.65 pounds | Min Height: 17.3 inches | Max Height: 61 inches | Material: Aluminum | Leg Sections: 5 | Feet: Rubber pads
The Manfrotto Compact Action tripod is an incredibly lightweight aluminum model at just over two and a half pounds of total weight.
The lightweight and compact design make for a highly portable tripod. When not in use, the tripod collapses down to a foot and a half, which is a huge bonus for any new photographer.
It is a bit unfortunate that this particular tripod only has a maximum load of 3.3 pounds. While firmly on the light side, the tripod can still support entry-level DSLR cameras without heavy lenses.
On the high side of things, this tripod extends all the way up to 61 inches. This is where you'll be for the majority of your snaps. On the low end, you'll be able to take photos from 17.3 inches off the ground.
This tripod's head is possibly its best feature. It comes with an ergonomic joystick with a scroll wheel and tons of movement that locks in place when you've got the shot lined up. A push of a button can switch your camera from photo to video mode.
Best of all, for what you get, the Manfrotto Compact Action has a price that can't be beat.
Pros
Lightweight
Ergonomic, adjustable head
Compact design
Cons
---
2. Neewer 75" Camera Tripod with Rotatable Center Column
Second best overall tripod for beginners
Brand: Neewer | Max Load: 26.5 pounds | Weight: 4.40 pounds | Min Height: 24.4 inches | Max Height: 75 inches | Material: Aluminum Alloy | Leg Sections: 3 | Feet: Rubber pads
The Neewer 75" tripod adds a whole new dimension to your photography with its rotatable center column.
Once you have your tripod positioned where you want it, you can unlock the center column and bring it down to 90 degrees from vertical. Once there, it rotates 360 degrees around the base for panoramics or action shots.
While the Neewer 75" tripod can only lower to two feet in height, it extends to an impressive maximum height of over six feet to cover a vast range of possibilities.
Each of the leg sections has easy-to-use twist locks to minimize the setup time. The center column has two sections of its own for added adjustability.
The rubber foot pads help stabilize this tripod on any surface or terrain. With a maximum load capacity of 26.5 pounds, you can attach any camera and still be able to hang your backpack from the stability hook for extra support.
This model does weigh in at 4.4 pounds, which is a bit on the heavier side when it comes to tripods. Still, for all the flexibility the Neewer 75" brings, it's well worth a little extra weight.
Pros
Rotating ball head
Bubble level
High max-height
Large load capacity
Cons
---
3. AmazonBasics 60-Inch Travel Tripod
Best budget tripod
Brand: Amazon | Max Load: 6.6 pounds | Weight: 3 pounds | Min Height: 23.8 inches | Max Height: 60 inches | Material: Aluminum | Leg Sections: 3 | Feet: Rubber pads
The AmazonBasics 60-Inch Travel Tripod is excellent for individuals looking to get into photography for the first time.
Its budget price makes the AmazonBasics tripod accessible to just about everyone. With a weight of three pounds, it shouldn't be much of a challenge to take it wherever you need it to go.
When you're ready to use the tripod, the three section legs and center column extend to five feet, so there's little stooping required to nail those perfect pics. The tripod only lowers to just under two feet, so you may miss the opportunity for those macro shots or lower angles.
The legs quickly clip in place, and the camera plate has a quick attach/release to help speed up the setup. Built-in bubble levels at the base and camera plate take the guesswork out of leveling your rig.
Rubber feet help keep your tripod in place while you line up your shot. The tripod's head tilts and swivels in portrait or landscape mode so you can get the angle you need.
Pros
Inexpensive
Quick to set up
Includes head
Bubble levels
Cons
Low max load
Does not collapse well
---
4. Zomei Z699C
Best backpacking tripod
Brand: Zomei | Max Load: 33 pounds | Weight: 3.3 pounds | Min Height: 20.8 inches | Max Height: 59.4 inches | Material: Carbon Fiber | Leg Sections: 5 | Feet: Rubber pads
The Zomei Z699C is another entry-level tripod that packs a lot into a compact design for a very reasonable price.
The tripod is blessed with a sturdy and robust design in no small part due to its carbon fiber material. The carbon fiber also helps keep the tripod's weight down to just 3.3 pounds.
With five section legs and a two section center column, there's a lot of adjustability with height and angle. When the center column is fully extended, the tripod stands nearly five feet tall.
At the low end of the spectrum, the Zomei Z669C's legs only allow a minimum height of 21 inches. However, the center column is even invertible for macro shots close to the ground.
Each leg and center column section has a quick twist-lock feature to keep legs where you want them.
If you have a heavy camera, this tripod can handle up to 33 pounds of load, ten times its actual weight. When you're ready to pack up, the Z669C collapses down to just 15 inches in length.
Pros
Collapses well
Durable design
Impressive max load capacity
Cons
---
5. Joby GorillaPod 3K Kit
Best small tripod for beginners
Brand: Joby | Max Load: 6.6 pounds | Weight: 0.87 pounds | Max Height: 12 inches | Material: Aluminum, ABS Plastic | Leg Sections: 1 | Feet: Rubber pads
If you're looking for something a little less traditional, look no further than the Joby GorillaPod 3K.
This tripod stands short at just 12 inches but has flexible legs instead of rigid leg segments. Thanks to this feature, the GorillaPod's legs can be wrapped around things like tree branches and fences or adjusted to sit sturdily on a rock or other hard surface.
The ball head spins a full 360 degrees as needed and tilts up to 90 degrees. A built-in bubble level tells you when you're back to horizontal.
The GorillaPod supports up to 6.6 pounds of weight for its small size – more than enough for most DSLR cameras out there. Perhaps best of all, at less than one pound of weight, you won't even notice it in your backpack.
Setup is as simple as attaching your camera to the ball head, adjusting the flexible legs around the sturdy object of your choice, and lining up your shot. It doesn't get much easier than that!
Pros
Very lightweight
Super small design
Mountable almost anywhere
Cons
---
Beginner Tripod Buying Guide
Price Is Nice
When you're investing in a tripod for the first time, it makes sense to consider a model that's more on the budget-friendly side of things. Once you've developed a knack for tripod photography and really dialed into the features you want, then it makes sense to upgrade.
Size Does Matter
Using a tripod in one specific location is one thing, but if you're ever going to be taking your tripod with you around the city or into the countryside, you'll want something that isn't a hassle to carry around. Consider a model that collapses to a compact size that can be stored away easily.
Setup Shouldn't Take All Day
While you're still learning the ins and outs of working with a tripod, you want a model that's both easy and quick to set up. Having a lot of adjustability will become a drag real fast if it takes you a long time to make an adjustment.
Many models out there feature fast leg and center column section locking that expedites setup time. An easy attach and release camera feature can have you shooting in no time.
Stability Isn't a Maybe
You won't always be shooting photos in a quiet environment with a flat surface. Ensure your tripod has good footpads and flexibility in the legs to accommodate uneven terrain or tight spaces.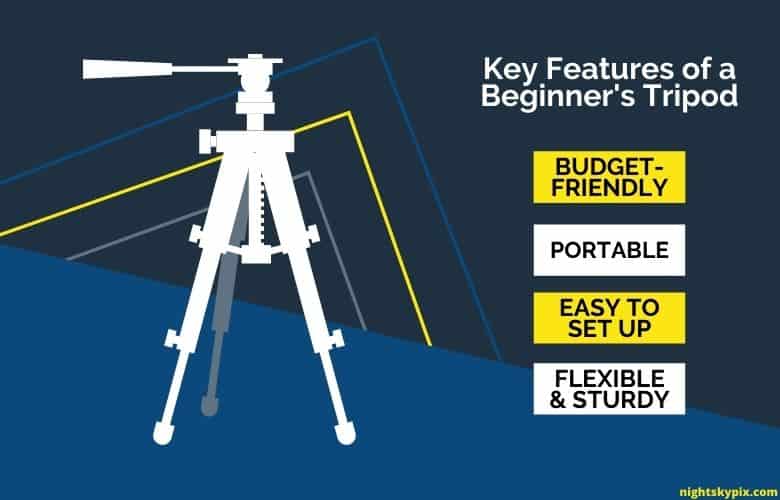 Conclusion
With several impressive features, the Manfrotto Compact Action wins our vote for the best beginner tripod.
The compact size makes it easy to transport from place to place, no matter where you find yourself shooting. Two and a half pounds is well on the lighter side of things in the tripod world and lends even more towards portability.
The tripod covers a lot of ground, from 17.3 inches on the low side all the way to 61 inches fully extended. The five section legs allow for photos at various heights within that range.
The tripod's head and handle make lining up shots smooth as butter and takes a lot of frustration out of the process. Best of all, this is all made available for a price that's hard to beat.