There's no denying that camera backpacks are the favorite type of transportation items among most outdoors photographers and astrophotographers. There are several practical reasons why that's the case.
They can be very portable and more optimized towards camera gear and capable of holding even your clothes and multiple camera bodies or even very customizable with removable compartments and different attachments. Using a camera backpack is the easiest and most practical way to traverse the outdoors and fulfill your photography needs.
Since there are so many models to choose from, we've decided to focus our efforts on the eight most interesting ones, and the very best among them is the NOMATIC McKinnon photography backpack. Still, being the overall best doesn't mean it will be perfect for you, and we advise you to check the rest of the backpacks on our list to see all the other types available on the market.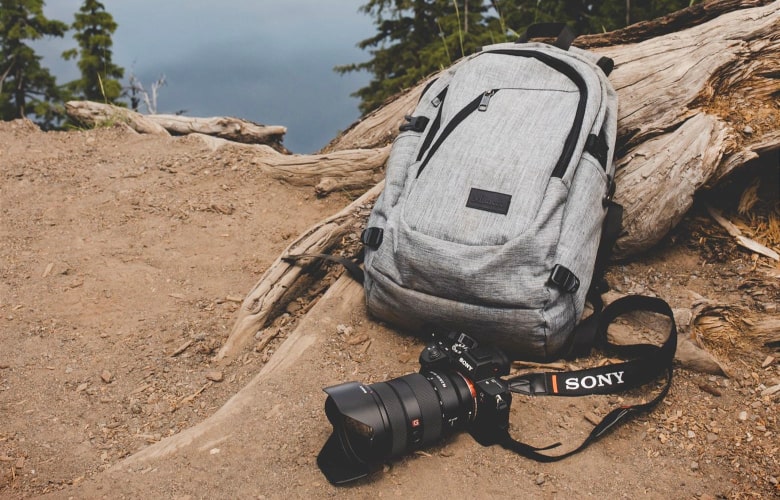 List of the best camera backpacks for photographers
---
1. NOMATIC McKinnon Camera Pack
Best camera backpack
Dimensions: 9.1 x 22.4 x 13 inches | Weight: 9.83 pounds
If you're looking for a sleek, spacious, nicely built, and comfortable camera backpack and weight and cost aren't an issue, then you should take a serious look at the NOMATIC McKinnon Camera pack. The first thing you'll notice about it is its sleek design and attention to detail. Everything seems to be in the right place, from every pocket, every zipper, and every strap.
A lot of thought went into designing the interior. The long separators going across the backpack will allow you to neatly organize your camera gear. The zippered mesh pockets found on the underside of the main cover are perfect for cables, small notebooks, or batteries, while the large pocket underneath them is reserved for your laptop or a tablet.
The protruding shape of the front of the backpack gives the main compartment even more space so you could use it to store your spare clothes, an umbrella, or even an extra water bottle on top of your camera gear. There's also a side pocket for quick access to your camera, another large zippered pocket on the front and lastly, the straps necessary for attaching a tripod.
Pros
Offers a lot of storage room
Comfortable to use
Gives you quick access to your camera
Has dedicated space for your tripod or a 16-inch laptop
Great build quality
Cons
Heavy
May be too expensive for some
---
2. Manfrotto Pro Light 3N1-36 Photography Backpack
Second best camera backpack
Dimensions: 13.78 x 11.02 x 19.29 inches | Weight: 4.43 pounds
If you're used to carrying different types of photography gear on your trips, but you only want one bag to carry it all, then you should take a look at the Manfrotto 3N1-36 Photography Backpack. It is all due to the flexibility of its interior compartment and the number of different types of separators found inside the backpack.
You'll be able to configure the bag to hold up to three camera bodies and smaller lenses or one large professional DSLR, a bright aperture telephoto lens, and a few primes or even a drone, with its controller and extra batteries. All of them will fit very securely thanks to the thickness of the padded inserts and won't be moving inside the back while you're traveling around.
This backpack can also hold a laptop of up to 15-inches in size, a tripod or a monopod as well as your water bottle thanks to the stretchable pocket. It can also be configured to be used as a sling bag for quick access to your camera gear or a cross backpack to give you more comfort and security.
Pros
Gives you a choice of three carrying modes
Has enough interior room to store up to 3 cameras
Includes an external tripod attachment
Offers a lot of flexibility and customization
Has a built-in rain cover which also protects you from sunlight
Cons
Not very easy to use or set up
No built-in sternum strap
---
3. Thule Covert DSLR Rolltop Backpack
Best mirrorless camera backpack
Dimensions: 17.72 x 7.87 x 21.26 inches | Weight: 4.97 pounds
The Thule Covert Rolltop Backpack consists of two parts, the removable padded compartment reserved for your camera gear and the rollable top for other items like spare clothing, water bottle, or even a helmet. This kind of dual design will appeal to you if you need one bag to fit all of your important items, even if they aren't directly related to photography.
The camera compartment has very thick padding on the bottom and a divider system that makes the most of the available room and keeps your gear protected. It's capable of holding one prosumer DSLR camera with a lens and a mid-sized drone at the same time and is also water-resistant and durable thanks to the use of familiar Oxford fabric.
The backpack can also accommodate a laptop of up to 15-inches in size and a number of smaller accessories like spare batteries, cables, and lens filters thanks to all the available extra pockets on its front. You will also be able to attach a tripod or a monopod to it thanks to the included straps.
Pros
Completely removable main compartment
Water-resistant
Durable construction thanks to Oxford fabric
Rolltop compartment
A rollable top is a nice addition for non-photography related items
Cons
Could offer more storage space for its size
Not ideal for bigger professional DSLRs
---
4. TARION XH Camera Backpack
Best budget camera backpack
Dimensions: 10.83 x 7.09 x 18.5 inches | Weight: 3.48 pounds
The TARION XH Camera Backpack may be the most affordable backpack on our list, but it's still capable of competing with more expensive offerings. The proof of that is its dual design consisting of a camera gear area fitted with padded separators and the rollable top reserved for items like clothes, food, additional water bottle, or an accessory bag.
This makes it a very good choice if you're going on a hike or doing some camping besides taking photos, since you'll appreciate the extra room for other essential items, but without having to carry a big and heavy backpack with you. You will also like the additional protection from the elements and the durable hard shell placed on the front of the bag.
There's also a laptop compartment on the back for all of your editing needs on the go and tripod straps for those times when you need extra stability for your photos. To make sure that the backpack is also comfortable to carry and also adjustable to everyone's back, TARION have also included padded shoulder straps, a waist belt, and an adjustable chest buckle
Pros
Inexpensive for what it offers
Lightweight
Very versatile due to its rollable top
Offers decent durability thanks to the waterproof fabric and hard shell design
Comfortable to wear
Cons
Not a lot of room inside its main compartment
Doesn't offer a lot of additional pockets for accessories
---
5. TARION Pro 2 Bags in 1 Camera Backpack
Best value for money camera backpack
Dimensions: 12.2 x 7.48 x 16.69 inches | Weight: 6.61 pounds
If you want a camera backpack that can hold as much gear as you can carry while also not costing too much, then the TARION Pro Camera Backpack will be your safest bet. It manages to bring a lot of room for your cameras, lenses, and flashes all by itself, but that room can also be expanded with the help of the included accessory bag, which can be linked to the backpack.
It has two separate padded compartments and both of them can hold at least one camera body and a couple of different lenses. The accessory bag is also capable of holding a camera and one or two lenses. In total, you will be able to carry three different cameras with you, if you don't plan to use the available room to place a large telephoto lens or a drone inside of it.
You will also be able to use the TARION Pro camera backpack to carry your laptop and your tablet, as well as two different tripods thanks to the straps being attached on each side of the bag. There are also two mesh pockets on those sides and one internal zippered pocket for all of your cables, lens caps, memory cards, and extra battery packs.
Pros
Excellent amount of storage space
Waterproof and durable thanks to tear-resistant nylon
Capable of holding a 15.6-inch laptop
Includes a camera accessory bag
Can hold up to two different tripods and a foldable chair/cushion
Cons
Could be too heavy for some people when filled up with gear
No external zippered pockets for smaller accessories
---
7. Vanguard Alta Sky 51D Camera Backpack
Second best value for money
Dimensions: 14.63 x 22.25 x 10.25 inches | Weight: 6.44 pounds
The first useful thing that the Vanguard Sky 51D Camera Backpack brings to the table is the multiple ways to access your camera quickly. There's one zippered opening on the top of the bag and one on its side. It should only take you a couple of seconds to grab your camera and capture that decisive shot.
There's a lot to be said about Vanguard 51D's two main compartments. The one on the top is the biggest and is reserved for your camera body and your bright aperture lenses, while the one that opens using a zipper on the bottom part of the bag is smaller and perfect for flashes, chargers and external battery packs. All of the included padded separators are also removable.
Besides several smaller zippered pockets found around the bag and two stretchable water bottle pockets, there's also a large compartment on the front attached to adjustable straps that can hold anything from a large drone to a tripod, depending how you adjust it. On top of that, the Vanguard 51D also has two straps on the bottom perfect for holding a rollable cushion.
Pros
Comfortable to carry
Gives you multiple ways to quickly access your camera gear
Built-in rain cover that goes over the entire bag
Offers a lot of additional pockets and compartments
Has enough room to hold even a heavier tripod
Cons
May be too complicated to use for some
Not the smallest camera backpack around
---
7. Lowepro Photo Sport BP 300 AW II
Best lightweight camera backpack
Dimensions: 10.63 x 22.05 x 9.45 inches | Weight: 2.2 pounds
The Lowepro Sport 300 AW II camera backpack is all about giving as much mobility as possible while you're spending time outdoors. At 2.2 pounds, it's very light but still made from durable and weather-resistant nylon material. It also has a built-in protective cover that goes over the bag when the weather gets more extreme.
The backpack consists of two main compartments, one reserved for your camera and lenses and the other for items like food or spare clothing. You'll find the camera compartment on the side of the backpack, great for quick and easy access. The secondary one is on the top of the bag and will adapt its size depending on how much you fill it up.
To make your outdoor experience even more complete, Lowepro has also included a stretchable water bottle pocket, a big zippered front pocket, and even two smaller zippered pockets built into the shoulder straps. To top it all off, there's also a pocket reserved for a water bladder with a total capacity of up to 2L, to make sure that you stay hydrated at all times.
Pros
Good value for money
Made from weather and rip-resistant materials
Dual compartment design adds a lot to the flexibility
Two smaller pockets on the bottom of the shoulder straps
A pocket dedicated for a water reservoir is a nice addition
Cons
Not very shockproof
No tripod straps
---
8. Lowepro ProTactic 350 AW
Best portable camera backpack
Dimensions: 9.06 x 12.13 x 16.93 inches | Weight: 4.4 pounds
The Lowepro ProTactic 350 AW is a lightweight and flexible camera backpack aimed at those photographers looking for a quality item without spending too much money. While it can fit a mid-sized DSLR and some lenses, it makes much more sense to use it with a mirrorless camera, since it's certainly more oriented to portability than storage space.
There are also your traditional removable dividers inside the bag, allowing you to customize its layout to your liking, and so are the mesh pockets suited for smaller accessories. If you require quick access to your camera at all times, you will love the fact that you'll be able to grab it either from the top of the bag or by accessing one of the two side pockets.
Then there's the modular aspect of this backpack. It includes five accessories that can be optimally attached and these are the water bottle pouch, accessory case, two cinch straps, and the tripod cup. So, it is up to you to decide if you want additional functionality or keep the weight down. The 350 AW also offers a pocket capable of holding a 13-inch laptop and a rain cover.
Pros
Great value for money
A lot of options to customize the look of the bag
Built-in water-resistant cover
Gives you three ways to quickly access your camera
Included modular accessories add a lot to the overall versatility
Cons
Limited only to smaller 13-inch laptops
Not suited for bigger DSLRs or mirrorless cameras with grips attached to them
---
Camera backpack buying guide
What to look for when buying a camera backpack
Weight capacity
This is something that may or may not directly affect you. Every camera bag out there will be able to handle a certain amount of load without affecting its durability, so you shouldn't worry about it if you don't use your bag to its full capacity.
If, however, you like to make the most of every inch of available space, the durability of your bag will be tested every time you pick it up. We advise you to look at the more professional-oriented camera bags since they offer higher quality materials capable of handling heavier loads and more resistance to ripping or tearing.
Additional compartments
Besides the main camera compartment, usually filled with removable padded dividers, camera backpacks can also feature special pockets designed for laptops, tablets, water bladders, water bottles, cables, memory cards, and even drones. It's entirely up to you to decide which ones you need, so you could get a more portable and less expensive backpack if you don't need many.
Easy to access
Most camera backpacks will give you only one way to access your camera, usually by opening the main compartment. This will be fine for most photographers, but if you are the type of person who wants a way to quickly grab your camera without interfering with the rest of the backpack, look for those that offer access from the top or the side.
Comfortable to wear
This should be your main concern when looking at a camera backpack. No matter how versatile or feature-packed a backpack is, it won't mean a thing if it doesn't feel right while resting on your shoulders.
First, make sure that the weight of the backpack is suited to your own physique. It's never a good idea to buy a bigger and heavier bag just to get more storage space if your back and shoulders won't be able to handle it.
Secondly, look for camera backpacks that have as much padding as possible on the rear, as well as adjustable straps. More advanced ones also tend to have thicker padding on the parts of straps coming in contact with your shoulders and waist belts to give you even more comfort and stability.
Square base: the ability to stand upright
You should only worry about your backpack having a square base if you often leave it beside you while taking photos or if it carries a lot of camera gear. In those situations, a square base will give it the required stability so it doesn't tip over and you don't risk accidentally damaging your equipment.
Waist belt
This is something mostly found on heavy-duty camera backpacks. Waist belts are used to relieve stress from your shoulders while you're carrying a lot of weight, and they transfer up to 80% of that weight to your hips, meaning less pain on your shoulders.
Tripod holder
Finding a camera backpack with a tripod holder should be of utmost importance to you if you're doing any kind of astro, wildlife, or landscape photography. These usually come as straps found on the side of the backpack, but on some occasions they can be found on the very bottom or on the front. Just make sure that the tripod is mentioned on the list of features, and you'll be fine.
Weatherproof
Having a weatherproof camera backpack is not only desirable during rain or snowfall, but also while you're spending time in direct sunlight. Higher quality backpacks will often be made from water repellent materials, but most of them rely on built-in rain covers to protect your gear. Some of those covers are also capable of deflecting sunlight and prevent any overheating.
Quick recap Of The Best Camera Backpacks
Conclusion
So, now that you've read about the best camera backpacks on the market and learned about all of their most important aspects, you should be ready to decide which one of them will find its place on your shoulders on your next photographic adventures.
The NOMATIC McKinnon camera backpack is certainly the most impressive of them all thanks to its sleek and durable design, the comfort it offers, and the amount of storage it brings. Still, all of the featured camera backpacks in our article have unique features of their own capable of attracting many different types of photographers.