There is no denying the fact that there are many options on the market to choose from if you're a photographer looking for a travel bag to carry all of your essential gear with you, no matter if you're just tackling photography casually and you want something affordable and portable, or you're a full-time professional using a big DSLR and in need of something durable.
There is one category of bags that can satisfy both types of users while also adding some style and fashion into the mix, and these are the camera messenger bags. In terms of ease of use, they sit right in the middle of sling bags and backpacks, but they are much closer to the latter in terms of storage space and functionality.
Like always, it wasn't an easy job picking the best camera messenger bag, with so many of them being good bags in their own right, but we believe that the Tenba Messenger DNA 15 Camera Bag manages to offer the best set of tools to satisfy your needs, even if you're an extremely demanding photographer.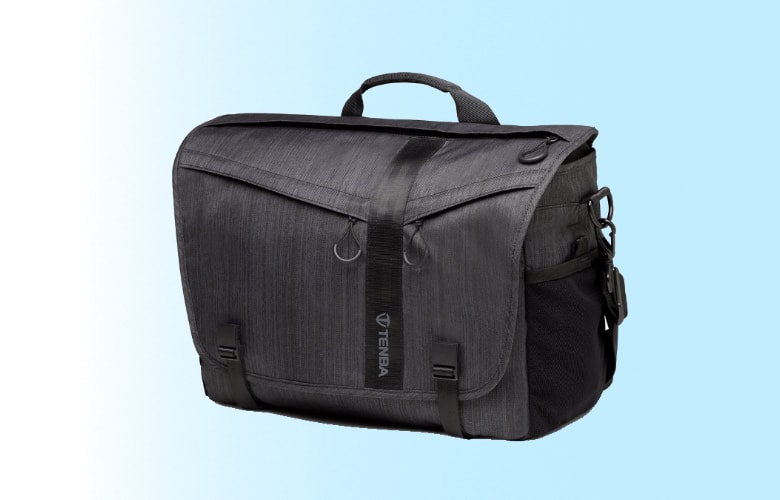 List of the best camera messenger bags
---
1. Tenba Messenger DNA 15 Camera Bag
Best camera messenger bag for photography
Dimensions: 11.4 x 8.6 x 16.1 inches | Weight: 3.09 pounds | Brand: Tenba
If you want to see how a well balanced professional camera messenger bag looks like, then look no further from the Tenba Messenger DNA 15. It's made from high quality materials that are both water resistant and will be able to protect anything on the inside from any kind of accidental dings or scratches.
The main compartment has enough room to hold a professional DSLR with a telephoto lens attached to it and both a laptop and a tablet. There are also accessory pockets on the front neatly protected by the main flap while the bag is closed and even a stretchable water bottle pocket on the side. There's also a built-in weather cover for both rain and sun protection.
The bag also has the necessary straps on the back so it can be attached to a large rolling bag. If you like what you see when it comes to the Tenba Messenger bag but you want more durability and even better quality materials, then you should check out the Tenba DNA 15 Slim Messenger Bag – Special Edition.
Pros
Water and weather resistant
Includes an adjustable security strap for additional stability
Has enough room to fit a professional DSLR and a telephoto lens
Can hold both a 15-inch laptop and a tablet
Easy to use and durable
Cons
Above average weight
Maybe too bulky for some people
---
2. Peak Design Everyday Messenger Bag
Second best camera messenger bag for photography
Dimensions: 20 x 12 x 4 inches | Weight: 3.4 pounds | Brand: Peak Design
Simply put, the Peak Design Everyday is a nicely built, spacious, and reliable camera messenger bag aimed at both enthusiasts and professional photographers. First of all, it has plenty of room inside to fit a professional full-frame DSLR as well as a couple of lenses. All of them will also be held nice and tidy thanks to the included padded separators.
We should also mention that the removable separators are foldable, which means that they can be shaped in many different forms and adapt to all kinds of lenses. That same compartment can also hold a laptop up to 15-inches in size and even a tablet, so you'll have a lot of choices when it comes to processing your images while you're away from home.
The top of the bag has a built-in tripod carrying mechanism and can hold most of them, even some of the bigger ones. To ensure that all of your smaller items like keys, batteries, or memory cards also fit inside the bag, Peak Design has included four smaller pockets and one longer zippered one for cables and lens filters.
Pros
Offers plenty of storage space
Can hold both a 15-inch laptop and a tablet
Has a built-in tripod holder
Very customizable interior
Waterproof and durable construction
Cons
High price point
No side stretch pocket for a water bottle
---
3. Billingham Hadley Pro Camera Bag
Best lightweight camera messenger bag for photography
Dimensions: 4.72 x 15.35 x 10.24 inches | Weight: 2.23 pounds | Brand: Billingham
The Billingham Hadley Pro camera messenger bag is a product that does an excellent job of combining stylish design, high-quality materials, and portability. If seeing these keywords has immediately piqued your interest, then we are certain that you'll like what you're about to read next.
As a company, Billingham is well known in the world of camera bag manufacturers for their tastefully looking and high-quality products, and the Hadley Pro is no different. It combines multiple layers of waterproof canvas and FibreNyte materials so it can protect your precious gear from the elements as well as any accidental drops.
The removable padded insides also serve as extra shock protection as well as a practical way to organize your gear. There are also two large pockets on the front, big enough to hold all of your extra equipment like battery banks, lens filters, cleaning cloths, or memory cards. The only slight annoyance is the lack of a stretchable water bottle pocket, but that's pretty much it.
Pros
Very lightweight construction
Comes in a nice selection of different colors
Easy and intuitive to use
Plenty of storage room considering how portable it is
Waterproof and durable
Cons
High price point
No dedicated room for a water bottle
---
4. Manfrotto MB MS-M-GR Lightweight Camera Messenger Bag
Second best lightweight camera messenger bag for photography
Dimensions: 14.17 x 5.91 x 9.84 inches | Weight: 1.28 pounds | Brand: Manfrotto
If you're looking for the absolutely lightest camera messenger bag out there and you're using a mirrorless camera, the Manfrotto MB MS-M-GR will certainly fit your needs of relieving as much stress as possible from your shoulders.
Weighing only 1.28 pounds and having padding on the shoulder part of its strap means that it's the bag that you will find comfortable to carry even after long periods. Of course, that also depends on how much you fill it up with gear, and it certainly offers a lot of storage room despite its lightweight construction.
The main compartment can hold your camera, a couple of lenses, and a mid-sized tablet, while pockets on the front of the bag will be perfect for filters, cables, memory cards, or extra batteries. The top of the bag also has a zippered opening, allowing you to pick up your camera in mere seconds and not miss the opportunity for that unique shot.
Pros
Good price point
Extremely lightweight construction
Optimized for mirrorless cameras
Fast and easy to use
A lot of storage room for accessories
Cons
Not ideal for professional DSLRs or telephoto lenses
---
5. MegaGear Torres Genuine Leather Camera Messenger Bag
Best stylish camera messenger bag for photography
Dimensions: 11.8 x 7.84 x 4.72 inches | Weight: 2.8 pounds | Brand: MegaGear
The MegaGear Torres Camera Messenger Bag is all about style and a high level of craftsmanship. Made entirely out of real Italian leather and even coming in different color combinations makes it stand out from the rest of the messenger bags and will surely attract your attention if you're a fashionable type of person.
Well, it's important to mention we're not talking about a one-trick pony here and that the MegaGear Torres is a good camera messenger bag in its own right. It can hold a DSLR, but you will get much more use of it if you own a mirrorless camera since it will leave you with noticeably more room for storing your lenses.
We should also mention that this bag offers a very long 53.1 inch removable and adjustable shoulder strap, so it will be comfortable to carry no matter how tall you are. There's also one stretchable pocket on the side for your water bottle and one larger on the front, but it could certainly benefit more from some additional smaller pockets to hold more of your accessories.
Pros
Classy design thanks to real leather
Shock-resistant and durable construction
Comes in many different colors
Comfortable to carry
Good price point considering the craftsmanship
Cons
Not much room for lenses if you use a bigger DSLR
Could have more smaller pockets for accessories
---
6. CADeN Messenger Shoulder Camera Bag
Best budget camera messenger bag for photography
Dimensions: 13.39 x 9.45 x 6.5 inches | Weight: 2.46 pounds | Brand: CADeN
If you're working with a smaller budget or you're just a beginner photographer looking for their first dedicated camera bag, the CADeN Messenger Camera Bag is the best option out there when you consider how much it manages to offer for its low price point.
Firstly, there's enough storage space inside its padded main compartment to hold a DSLR and up to two lenses as well as a tablet to fulfill your editing needs while on the go. There's also one long zippered pocket on the inside for smaller accessories and a couple of stretch pockets on the front for things like your smartphone, external battery banks, or pencils.
The bag itself can also hold a water bottle or a similar container inside the pocket on its left side and even a tripod or a monopod thanks to the velcro straps built into the bottom section. You will also be able to bring it out during some light rainfall thanks to water repellent materials it's made of.
Pros
Great price point
Can hold a tripod as well as a water bottle
Waterproof construction
Included padded dividers allow for nice organization
Lots of room for smaller accessories
Cons
Average build quality
Could be more comfortable to use
---
7. Vanguard Alta Rise 33 Messenger Bag
Best value for money camera messenger bag for photography
Dimensions: 15.75 x 13.38 x 8.25 inches | Weight: 2.98 pounds | Brand: Vanguard
The camera messenger bag we consider to be the best value for your money is also one of the most flexible bags on the market and also manages to offer a lot of storage space. We are talking about the Vanguard Alta Rise 33. The reason for that is its transformative nature, meaning that it will give you the chance to adjust its storage space to your own liking.
So, if you're working in a more casual environment and only carrying your camera and a few lenses, use it in its default mode. If, however, you plan to add a telephoto lens or a flash or two, you'll be able to quickly add more space and gain access to an additional compartment just by unzipping the top portion of the bag.
The entire main storage section also features removable padded separators, so you'll have a lot of choices when it comes to organizing your equipment. There's also enough additional pockets for all of your smaller accessories like memory cards, cables, or batteries, as well as a built-in rain cover.
Pros
Great value for money
Offers a lot of storage space
Gives you the option to increase storage space even further if necessary
A lot of included padded separators
Built-in rain cover
Cons
Could be a tad lighter
Its design will be too complicated for some people
---
8. Manfrotto Bumblebee M-30 PL
Best portable DSLR camera messenger bag for photography
Dimensions: 18.11 x 7.48 x 12.99 inches | Weight: 2.65 pounds | Brand: Manfrotto
If you're a DSLR user and you want a durable, portable, and versatile messenger bag for street photography or lighter traveling, the Manfrotto Bumblebee M-30 PL is the bag for you. It manages to combine sturdy and lightweight materials into a package that will keep your gear safe without putting too much strain on your shoulder.
The insides of the bag consist of the main compartment filled with removable velcro dividers, two smaller pockets for accessories, and one large pocket capable of holding a laptop of up to 15 inches in size. The thick padding has been put in all the right places and will make sure that nothing moves inside the bag while you're traversing the outdoors or walking down the street.
The front of the bag also holds a decently large zippered pocket, and there's even a water bottle pocket on the right side. You will also be able to attach a tripod to the Bumblebee. To make sure that you'll be dealing with top-notch comfort, Manfrotto has also put breathable mesh material on the back as well as thick padding on the part of the strap that touches the shoulder.
Pros
Comfortable to carry and easy to use
Has enough room for a professional mirrorless camera and a telephoto lens
Good durability
Offers a lot of storage room for smaller accessories
Can hold a tripod as well as a water bottle
Cons
No official water resistance rating
---
Messenger Camera Bag Buying Guide
What to look for when choosing a camera messenger bag
Is There Enough Space?
Choosing the right camera messenger bag is deciding between portability and storage space. If you're using a mirrorless camera, you'll be able to get away with smaller bags and still retain enough room for all of your lenses, but if you're an owner of a professional DSLR or even a camera grip, make sure that you look for one that advertises having a lot of internal space.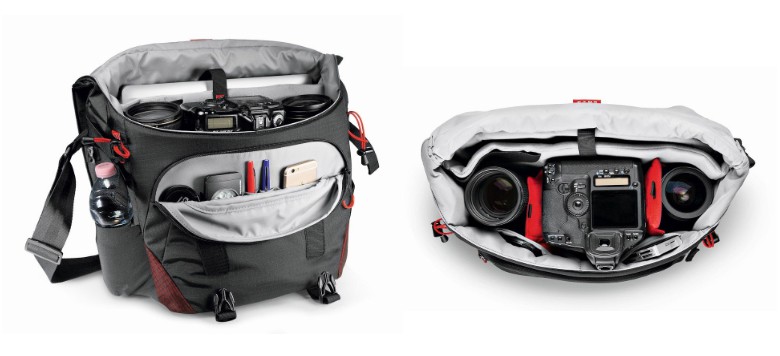 Case Type
This mainly comes down to the type of camera you're using and how much you care about your bag's design. More stylish camera messenger bags usually trade storage space for design and are much more suited to smaller camera bodies. In contrast, the bigger and more rugged ones are perfect for DSLRs, especially if you like to use telephoto lenses.
Closing The Bag: Velcro, clips, magnetic or zippers
Generally speaking, you can't go wrong with either of these options when it comes to the way the camera messenger bag you're checking out closes to secure all of your gear. Still, there are a few things to consider.
Velcro
Velcro is mostly used in more affordable messenger bags but does serve its purpose well. It isn't affected by water and will keep your bag closed as long as its surface is big enough and will also allow you to quickly open your bag and gain access to your gear.
Clips
Clips are the ultimate choice when it comes to safety and keeping your gear inside your bag at all times. That is, if the bag itself is made of high quality materials. If your approach to photography is slow and relaxed, these are the best options for you.
Magnets
Magnets are a good solution if they are powerful and big enough, since they are capable of providing both silent and quick operation, being especially useful in those environments when making as little noise as possible is a desirable thing.
Zippers
Zippers are rarely used as the main connection between the flap of the camera messenger bags and often perform a secondary function of giving you an even quick bag inside the bag and the ability to pull your camera even faster for those shots that require a quicker reaction.
Is a messenger bag better than a backpack?
No, none of them are better than the other one just suited to different types of photographers. A camera messenger bag will be a better option for you if you want something lighter, more portable, and quicker to use than the traditional backpack. However, you still want a decent amount of room for your camera, lenses, and accessories.
Are messenger bags comfortable?
It depends on how thick and well-padded a shoulder strap is, how big of a camera messenger bag we're talking about, how adjustable its strap is, and what materials it's made from. If you're always packing light, comfort shouldn't be an issue for you, but if you carry a lot of gear with you, always look for a bag with a decent shoulder strap and leather or breathable materials.
Quick Recap Of The Camera Messenger Bags
Conclusion
Now that you've learned all the important facts about the camera messenger bags and their place in the world of photography, as well as all the best specific models available on the market, you are finally ready to decide which one fits your particular needs.
Tenba Messenger DNA 15 Camera Bag is overall the best camera messenger bag by most standards. It will appeal both to hobbyists and enthusiasts thanks to its high build quality, spacious interior, and ease of use.
As always, some photographers have different requirements. Maybe you're looking for something more budget-oriented or more lightweight, or even a better looking bag. This is where the rest of the messenger bags in this article come into play, so check them all out as well.