Are you planning a trip to a remote location for a night photoshoot? Or even just camping to get away for a while? Then you will need your own portable light source to help you see in and around your tent or setup when it gets dark. This is also true in the case of astrophotography, where you'll need a good well-lit area to easily set up, use, and pack up your camera setup.
While a regular flashlight may be enough for some situations, a camping lantern will do an even better job of supplying light, like lighting up your setup area nicely and freeing your hands to do other things like reading a star map, making camera adjustments, or even cooking if you get a little hungry.
If you want the best camping lantern around, make sure to look at the Orion DualBeam 2600mAH LED Waterproof Astro Lantern. If, however, you want to see what other lanterns are out there, we have composed a list of eleven different ones for you to check out down below.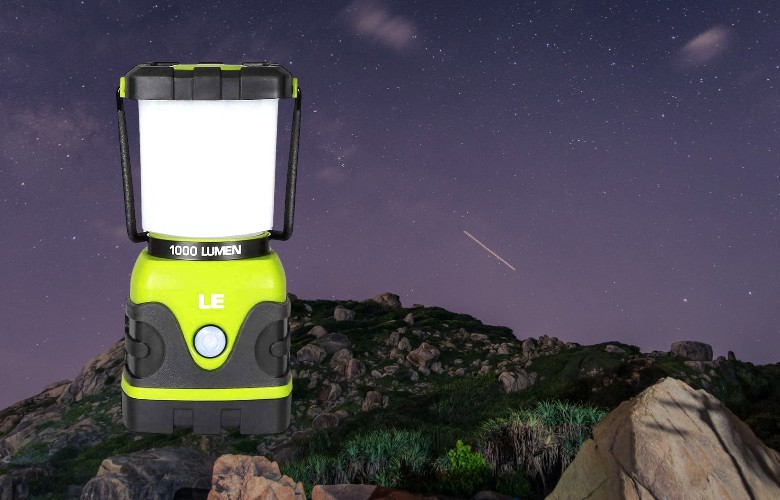 Our Best Camping Lanterns At A Glance
List Of The Best Camping Lanterns to buy
---
1. Orion DualBeam 2600mAH LED Waterproof Astro Lantern
Best camping lantern
Brand: Orion | Dimensions: 5.7 x 1.2 x 1.2 inches | Weight: 5 ounces | Red light: Yes | Battery type: Rechargeable Lithium
If you want a full-featured camping lantern that will perform even in the most demanding situations and you aren't willing to accept any compromises, the Orion DualBeam LED Astro Lantern is the best one the market has to offer.
It's bright enough for most use case scenarios, but its main feature is undoubtedly the red light function, which is perfect for any astrophotographer who wants some additional lighting in the darkness but doesn't want their night vision to be affected. It's a great way to make adjustments to your camera's buttons, dials, and settings before taking your next photo.
The lantern itself is also dust and waterproof thanks to its IP68 rating and offers USB charging for your other devices thanks to its battery also acting as a power bank. It can also be used in multiple ways thanks to its carabiner clips, magnetic clips, and wrist lanyard, making it a very flexible and versatile camping lantern.
Pros
Features both red and white light
The built-in 2600 mAh battery can also charge your smartphone
Great value for money
Waterproof and dustproof construction
Offers adjustable brightness
Cons
The blue flashing battery indicator could prove to be annoying for some people
---
2. LuminAID 2-in-1 Titan Camping Lantern
Second best camping lantern
Brand: LuminAID | Dimensions: 7.76 x 6.85 x 2.99 inches | Weight: 12.35 ounces | Red light: Yes | Battery type: Rechargeable Lithium
The second best camping lantern on our list is a unique one, and it immediately shows when you see it for the first time. The LuminAID Titan Camping Lantern unpacks with a twist and provides a large lighting surface while in use, and folds down to a very portable size when it's time to pack it up.
Such design does make it less durable than most camping lanterns, but on the flip side, it also brings another useful feature, and that's solar charging. Apart from solar, It can also be charged via USB and then charge your smartphone thanks to its built in 4000 mAh battery.
It also features a peak brightness of 300 lumens and five different brightness settings. On top of that, it can also emit a red light, which again will help preserve your night vision on a long session of night photography.
Pros
Has both the white light and the red light modes
Great battery life
Respectable peak brightness of up to 300 lumens
Capable of charging smartphones and other low powered USB devices
Offers different brightness levels
Cons
High price point
Not the most durable lantern on the market
---
3. LE LED Camping Lantern
Best budget camping lantern
Brand: Lighting EVER | Dimensions: inches| Weight: 14.11 ounces | Red light: No | Battery type: 1.5V D Batteries
If you're a person who's just starting out with your outdoor adventures and you've become interested in camping and spending your nights in nature, the LE LED Camping Lantern is a great starting point to immerse yourself in that kind of activity.
Having only a single button, It's very simple to use, so no need to guess which button to press when it's dark. Water-resistant even during a rainfall thanks to its water protection and the button being made from anti-slip silicone. The lantern body also features rubber on some of its parts for added grip, allowing you to hold it more securely.
There's also a built-in handle and a hanging hook, so you can carry it in your hand or hang it in your tent. The lantern is powered by three standard 1.5V D batteries, which will give you a battery life of up to 25 hours at the lamp's lowest brightness setting of 300 lumens.
Pros
Very affordable
Offers different color temperatures
Waterproof
Good battery life
1000 lumens max brightness is very impressive at this price point
Cons
No red light mode
Build quality is nothing special
---
4. Sinvitron Rechargeable LED Camping Lantern
Best hobbyist camping lantern
Brand: Sinvitron | Dimensions: 6 x 4 x 4 inches| Weight: 15.87 ounces | Red light: Yes | Battery type: Rechargeable Lithium
The Sinvitron Rechargeable LED Camping Lantern is a great choice for any outdoors person or astrophotographer looking for an upgrade to their budget camping lantern or a flashlight or just in need of a feature-packed light source without spending too much money.
It's quite compact considering that it has a huge 15000 mAh rechargeable battery built inside of it and rugged military-grade dust and water-resistant construction. There's also a neat display on the front to show you the time, remaining battery capacity, and temperature.
There are also four buttons on the front to help you control the lantern and, more importantly, to adjust its brightness and switch between its four different color modes, which also include a red light SOS feature.
Pros
Affordable price point
Can be used as a high capacity 15000 mAh power bank
Offers both the traditional LED and the red light
Great build quality
Excellent battery life
Cons
It takes a lot of time to recharge the built-in battery
The lantern part could be larger
---
5. Ledlenser ML6 LED Camping Lantern
Best high power camping lantern
Brand: Ledlenser | Dimensions: 3.39 x 2.56 x 7.87 inches| Weight: 14.4 ounces | Red light: Yes | Battery type: Rechargeable Lithium
If you prioritize the brightness of a camping lantern before any other aspect and need a powerful lantern, look no further than the Ledlenser ML6 LED Camping lantern.
Its peak brightness of 750 lumens will do a great job of illuminating a wide area of your surroundings, and the Micro Prism Lens technology it's created with will make sure that the light is distributed evenly and with high efficiency.
The ML6 also doubles as a power bank and you'll be able to use its USB port to charge your smartphone or any other device with similar or lower power consumption. There's also a red light function included for all your astrophotography needs.
Pros
Offers both the traditional white light and red light modes
Very high peak brightness of 750 lumens
Good battery life
Can be used as a standard power bank
Simple to operate
Cons
A little pricey
Not water resistant
---
6. UST 30-Day Duro LED Portable Lantern
Second best high power camping lantern
Brand: UST | Dimensions: 3.75 x 7.2 inches| Weight: 18 ounces | Red light: No | Battery type: Alkaline D Batteries
The UST Duro LED Portable Lantern is our second best choice for a camping lantern that offers very high brightness output. In this case, we're talking about 700 lumens, which is good enough to create a large radius of light to illuminate a significant portion of your camping or photo setup site.
What's also great about it is its durable construction. It has drop and shock resistant rubberized APS housing, meaning that it uses a special rigid type of plastic that's even capable of withstanding lower temperatures.
The lantern also has great battery life and can last as long as 30 days on its lowest brightness setting. There's also a built-in foldable hook on the bottom and a removable globe if you ever want to use it in your tent with it hanging above you.
Pros
Shock and water-resistant
Very good peak brightness of 700 lumens
Great battery life
Can be used as a wide-area light
The built-in LED bulb lasts forever
Cons
No USB port to charge other devices
No red light feature
---
7. Wsky Rechargeable Camping Lantern & Flashlight
Best value for money camping lantern
Brand: Wsky | Dimensions: 2.8 x 2.8 x 6.8 inches| Weight: 17.6 ounces | Red light: Yes | Battery type: 18650 Li-Ion batteries
If all you need in your new camping lantern is the right balance of features and price, the first one you should check out is the Rechargeable Camping lantern & Flashlight from Wsky.
This camping lantern's main selling point is being a dual-purpose light, meaning it can be used either as a lantern or as a flashlight. Both of those modes also offer two different brightness levels, but only the lantern can work as a red light lamp or as an SOS light.
Another great thing about this lantern is that it's powered by two 18650 batteries for respectable endurance and has a separate 3600 mAh battery bank to charge your other USB devices. It's also water-resistant and has both a handle and a two-way hook so that you can use it in many different ways.
Pros
Can be used as a power bank thanks to its 3600 mAh battery
Water-resistant
Can function as a camping lantern or as a flashlight
Good build quality
Has a dedicated red light mode
Cons
---
8. UCO Sitka Camping Lantern
Second best value for money camping lantern
Brand: UCO | Dimensions: 7 x 6 x 12.5 inches| Weight: Up to 67.2 ounces | Red light: No | Battery type: Rechargeable Lithium / D-Cell Batteries
The uniquely named UCO Sitka is our second best choice for a camping lantern which presents excellent value for the money. Not only does it bring a nice set of features, but it also manages to look minimalistic and stylish at the same time.
The first important thing it brings to the table is a maximum peak brightness of 500 lumens, which is good enough to light up everything from the insides of your tent or a nice portion of your camping site if you decide to place it outside.
If you ever wish to precisely adjust the brightness, you'll be able to do so thanks to the so-called infinity dial found on the front of the lantern. There's also a Northern Light mode, which is great fun since it cycles through red, green, and blue lights and gives off an interesting effect. There's also a built-in USB port to charge your smartphone and a stylish leather handle.
Pros
Very good 500 lumens peak brightness
Has a dial for light intensity adjustment
Can charge your phone or a bluetooth speaker via USB
Offers different color modes
Two versions available with different power sources
Cons
No built-in red light
Only average build quality and no water resistance
---
9. XTorch Led Rechargeable Solar Lantern
Best solar powered camping lantern
Brand: XTorch | Dimensions: 9.37 x 4.33 x 2.52 inches| Weight: 12.3 ounces | Red light: No | Battery type: Rechargeable LiFePO4
Camping lanterns can indeed be powered by many different methods, but the most useful types that will appeal to outdoors and camping enthusiasts are certainly the solar-powered lanterns because they are the easiest to charge out of all of them when you're in a remote location for a few days.
The entire solar charging process may be noticeably slower than using a power cable. Still, nothing is more convenient than having a lantern attached to the outside of your backpack that recharges on its own, leaving you with more time to concentrate on other things. You can always connect a battery bank to charge it via USB if you want it to charge faster.
Still, being the best of its type, the XTorch Solar Lantern also brings a very respectable peak brightness of 400 lumens. With USB smartphone charging, weather resistance, and a very high-quality LiFePO4 type battery, it can hold its charge for up to 3 years after being used.
Pros
Decently bright thanks to its maximum output of 400 lumens
Can be recharged using the solar power
Capable of charging your smartphone
Water-resistant and solidly built
The LiFePO4 battery is an excellent choice for longevity
Cons
---
10. Tough Light LED Rechargeable Lantern
Best rugged camping lantern
Brand: Tough Light | Dimensions: 3.5 x 3.5 x7 inches| Weight: 20.8 ounces | Red light: Yes | Battery type: Rechargeable Lithium
As its name implies, the Tough Light LED Rechargeable Lantern's primary focus is durability. It aims to stay in working condition even after being tested by the elements, shock damage, or even accidental drops.
Its housing has an IPX6 rating, meaning that it can withstand a lot of physical pressure and exposure to heavy amounts of water. It can also survive any drops from a height of up to 5 feet. The 6000 mAh battery inside can hold a charge for up to 9 months and power up your smartphone and other low power USB gadgets.
Its LED bulb is rated at a maximum brightness of 400 lumens and has six different lighting modes. Among them is the red light mode, especially important to astrophotographers or any photographers that shoot a lot of photos in low light conditions because of its minimal impact on the eyes when it comes to dark vision.
Pros
Extremely durable
Water-resistant
Charges via USB and can also charge other electronics
More than usable maximum brightness of 400 lumens
Very good battery life
Cons
Heavier than your average camping lantern
---
11. Primus EasyLight Lantern
Best gas-powered camping lantern
Brand: Primus | Dimensions: 3.1 x 2.9 x 4.8 inches| Weight: 6.6 ounces | Red light: No | Power type: Gas powered
It's interesting to see a modern take on a gas-powered camping lantern, and the Primus EasyLight Lantern is here to prove that these gas-powered lights are still very useful even though they are more basic than your average camping lantern.
You won't see things like USB charging, many different lighting modes, or high durability on a lantern like this one. Still, you will find portability, simplicity, ease of use, and a very good peak brightness of 490 lumens, which can also be turned down to give your surroundings more atmosphere.
The gas-powered camping lanterns also release some heat so they can provide you with some warmth if it's cold outside and they also don't waste much power, so you won't have to carry a lot of gas canisters with you to keep it lit. Since this is a modern lantern, it also doesn't need a lighter to be ignited since the Piezo ignition will take care of that for you.
Pros
Unique design
Very good peak brightness of 490 lumens
Lightweight and portable
Doesn't require a lighter to be powered on
Offers light intensity adjustment
Cons
No red light mode
More fragile than other camping lanterns
---
Camping Lantern Buying guide
What to look for when buying a camping lantern
Power type
There are many options to choose from when it comes to powering a camping lantern. Most of them include rechargeable batteries, like those built into our smartphones. Depending on the size and price of the lantern, they can reach impressive capacities of over 10000 mAh, meaning that you'll be getting excellent battery life and capable of charging your smartphone simultaneously.
Smaller and more traditional camping lanterns usually work with standard batteries like the 1.5V D batteries, which means that you can easily keep them working away from the power source as long as you carry enough batteries with you.
Some of them also offer solar charging, so you can easily recharge them during the day just by keeping them outside without the need for cables or any sources of electricity. Lastly, gas-powered lanterns have their advantages in low power consumption, high brightness, compactness, and the large lighting radius they're capable of generating.
Brightness/Lumens
As is the case with any light source, the peak brightness of camping lanterns is also represented by lumens and can vary quite a bit. This value usually ranges between 300 and 1000 lumens for most lanterns on the market.
Some of them also offer brightness intensity adjustment to create a more soothing atmosphere in those situations where you don't need a lot of light or even better, save on power/battery life.
(Optional) Red light
Having a lantern with the red light feature brings several benefits that can appeal to outdoor enthusiasts and astrophotographers. It usually works in two ways: an SOS blinking light or solid red light, allowing you to preserve your night vision in the darkness.
So why is red light less distracting than more traditional white light? Because it presents a less jarring change on your eyes when going from darkness to turning it on and will preserve your night vision after you've turned it off, which isn't the case with regular light since it can take as much as half an hour for your eyes to adjust to the dark again after you've stopped using it.
How many lumens do I need for a camping lantern?
Well, it all depends on what you plan to use your camping lantern for. With a lantern providing 100 lumens or even less, you should have no trouble lighting the inside of your tent. Having a light source outputting 200 lumens will be enough for anything surrounding your tent, while 300 lumens or more will allow you to light up a large portion of your campsite or even all of it.
Conclusion
So, in summary, a camping lantern is a great addition to any night photography setup or campsite, no matter how many people are involved or how dark it is outside. They are easy to carry around and use, light up your area well, last a long time, and some can even provide additional charge to your smartphone. Those that include a red light function are also an excellent choice for astrophotographers if you're worried about preserving your night vision.
The Orion DualBeam Astro Lantern does an outstanding job of showcasing the usefulness of a camping lantern for night sky photography thanks to its ability to emit red light and good brightness output, great durability, lightweight and portable construction, and also includes a power bank feature.
Still, some of you may be looking for a different type of camping lantern powered by gas or capable of being charged by sunlight. We have included all those types of lanterns in this article and more, so your choice is only limited by your imagination or your budget.