Tripods are a necessity for capturing the best photos, but determining the best tripod for you can be a daunting process.
When it comes to a durable, lightweight tripod material, companies rarely look further than carbon fiber for the design of a tripod's base and legs.
When it comes to carbon fiber tripod designs, our personal preference is the Manfrotto MT055, primarily due to all the features it's able to pack into a lightweight design. Read on to hear the specifics of what the Manfrotto MT055 has to offer as well as several of our other top picks.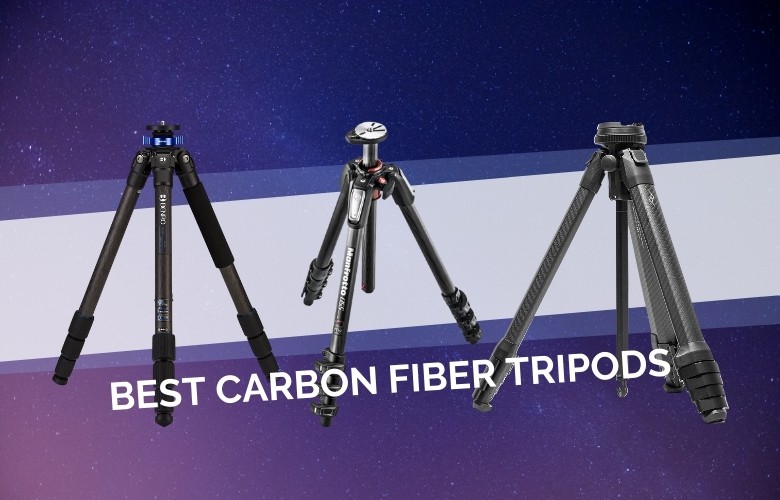 Our best carbon fiber tripod At A Glance
Best Carbon Fiber Tripods to Buy
1. Manfrotto MT055CXPRO4
Best overall carbon fiber tripod
Brand: Manfrotto | Max Load: 20 pounds | Weight: 4.63 pounds | Min Height: 3.5 inches | Max Height: 67 inches | Material: Carbon Fiber | Leg Sections: 4 | Feet: Rubber pads | Folded Length: 21.3 inches
The Manfrotto MT055CXPRO4 has maximum versatility and stands tall over the competition.
The center column of this Manfrotto model is able to rotate down 90° from vertical, allowing for a multitude of shots. In the horizontal position, the center column can spin 360° on its axis for panoramas or quick changes to your angle. There's no need to remove any equipment between angles.
If you want to go high, the Manfrotto extends up to five and a half feet. For macro shots and low angles, the tripod can hold your camera as low as three and a half inches off the ground. If you want to make sure you have the perfect angle, the built-in bubble level rotates with the column.
Even at an angle, the tripod is able to hold up to 20 pounds of gear. It is a bit heavier than most carbon fiber tripods at 4.63 pounds, but the weight is justified with robust legs and sturdier design.
Manfrotto's Easy Link feature makes it simple to connect up extra features such as a reflector or LED light. Quick power locks make setup a snap and can lock or unlock each leg section in a single movement.
Pros
Rotating center column
Extensive range of heights to shoot from
Easy Link feature
Bubble level
Cons
On the heavier side
Expensive
---
2. Benro Mach3
2nd best overall carbon fiber tripod
Brand: Benro | Max Load: 35.3 pounds | Weight: 4.08 pounds | Min Height: 15.2 inches | Max Height: 63.6 inches | Material: Carbon Fiber | Leg Sections: 3 | Feet: Rubber pads and spiked feet | Folded Length: 24.6 inches
The Benro Mach3 is another tripod that pulls out a lot of the stops at the compromise of a little additional weight.
With some carbon fiber tripods coming in closer to two pounds, the Benro Mach3 sits double that. However, this bit of extra weight adds to the unit's overall stability and helps account for the 35 pound max load.
The 9X carbon fiber material makes for a very durable design. Even at max height, the tripod stands quite sturdy.
The high-performance twist locks keep each leg section in place and only add to the durability of this model. The tripod comes with interchangeable rubber padded feet and spikes for shooting on hard or soft surfaces as needed.
When fully extended, the Benro Mach3 stands tall at nearly 64 inches. The legs and center column allow shots as low as 15 inches off the ground.
The legs adjust quickly for capturing the perfect angle, even on the most uneven of surfaces. The bubble level will help ensure everything is lined up as you need.
Pros
Very durable
Converts to monopod
Interchangeable feet
Bubble level
Cons
On the heavier side
Center column does not rotate
---
3. Peak Design Travel Tripod
Best carbon fiber tripod for travel
Brand: Peak Design | Max Load: 19.8 pounds | Weight: 2.81 pounds | Min Height: 16.1 inches | Max Height: 60 inches | Material: Carbon Fiber | Leg Sections: 5 | Feet: Rubber pads | Folded Length: 15.3 inches
The Peak Design Travel Tripod is a lightweight model made with portability in mind.
At just 2.81 pounds, this tripod won't add much to the weight of your pack. Folding down to just 15.3 inches in length and no wider than the width of a water bottle, it won't take up much space either.
When in use, the Peak Design Travel Tripod extends to a total height of five feet for capturing whatever portrait or landscape you desire. It can also drop as low as 16 inches off the ground for macro shots and different angles.
The tripod can handle just under 20 pounds of load without breaking a sweat, which should be more than enough for your gear. This max load even allows you to hang your pack on the hook under the center column to provide more stability.
Speaking of stability, the Peak Design Travel Tripod also showcases shock absorbing non-slip feet to reduce the probability of tipping and to snap perfect shots.
This travel tripod is also designed with setup and teardown in mind. The five section legs allow for fast locking, and the ball head has a quick camera release.
If shooting with a mobile device, this tripod even has a built-in mobile mount.
Pros
Built-in mobile mount
Extremely portable
Lifetime guarantee
Includes ball head
Cons
---
4. Zomei Z669C
Best value carbon fiber tripod
Brand: Zomei | Max Load: 33 pounds | Weight: 3.3 pounds | Min Height: 20.8 inches | Max Height: 59.4 inches | Material: Carbon Fiber | Leg Sections: 5 | Feet: Rubber pads | Folded Length: 15 inches
Where carbon fiber models are often on the pricier side, the Zomei Z669C stands out as a budget-friendly option with several nice features.
The Zomei Z669C is clearly designed with travel in mind but can be used anywhere. The 3.3 pound tripod is surprisingly light, and upward collapsing legs reduce its storage footprint to just 15 inches in length.
For its small size, this model can withstand a load of up to 33 pounds, ten times the weight of the tripod itself. This enormous weight limit shows just how durable the legs and base of this tripod are.
Twist lock legs and strong rubber feet offer multiple height adjustments and can accommodate many types of uneven surfaces.
There is a bit of compromise when it comes to the maximum and minimum heights of this model. The Z669C only reaches 59.4 inches with legs fully extended and still stands just under two feet tall on the low end. However, the center column can be installed with the camera upside down for more shot options.
Pros
Very portable
High max load
Convertible to monopod
Budget friendly
Cons
High minimum height
Low maximum height
---
5. Sirui T-025x
Most lightweight carbon fiber tripod
Brand: Sirui | Max Load: 13.2 pounds | Weight: 1.76 pounds | Min Height: 10.2 inches | Max Height: 54.8 inches | Material: Carbon Fiber | Leg Sections: 5 | Feet: Rubber pads | Folded Length: 12 inches
The Sirui T-025x is an incredibly lightweight offering to the carbon fiber tripod space.
Coming in at just 1.76 pounds, this tripod is so light you may not even notice it among your gear. Furthermore, it folds down to a length of just 12 inches so you can tuck it away and forget about it while moving from place to place.
For such a light tripod, the Sirui T-025X can hold up to 13.2 pounds of weight. This can accommodate even some larger SLR cameras, but a long lens with the small ball head may present a tipping hazard.
The ball head on top of the center column is a bit simplistic with no quick attach or release feature. Instead, you have to use a screw to mount or remove your camera from the tripod, which takes time.
The tripod has some limitations in height adjustability, reaching just under 55 inches at its maximum height. It does feature an excellent minimum height at just ten inches off the ground.
The center column is reversible for even lower macro shots or tabletop images.
Pros
Extremely lightweight
Reversible center column
Collapses well
Cons
Low maximum height
Simple ball head
Set up takes time
---
6. Vanguard VEO3 265HCB
Most versatile carbon fiber tripod
Brand: Vanguard | Max Load: 22 pounds | Weight: 3.1 pounds | Min Height: 16.9 inches | Max Height: 65.5 inches | Material: Carbon Fiber | Leg Sections: 5 | Feet: Rubber pads and spiked feet | Folded Length: 16.1 inches
Vanguard's top carbon fiber tripod meshes a lightweight design with some cool features.
The VEO3 has tons of versatility, accommodating many types of cameras and featuring an adapter for smartphones.
The tripod has a leg that converts to a monopod with a Bluetooth enabled remote shutter trigger to get yourself in the shot.
The 3.1 pound weight works well with the tripod's 16 inch collapsed length for easy portability.
With a max load of 22 pounds, there should be no issue mounting your camera, lens, and even hanging your pack on the stability hook for some additional robustness.
This model is able to stand up to five and a half feet at its tallest, which should work well for a multitude of people.
In the upright position, the tripod lowers to 16.9 inches for low-angle shots. If that's not low enough, the center column reverses to provide photo opportunities all the way to the ground.
Rapid-set twist locks make setup and adjustments a breeze. Interchangeable rubber and spiked feet allow flexibility to photograph on just about any surface.
Pros
Remote shutter trigger
Smartphone adapter
Reversible center column
Interchangeable feet
Cons
A little bulky when folded
---
7. MeFoto Globetrotter
Coolest color options
Brand: MeFoto | Max Load: 26.4 pounds | Weight: 3.70 pounds | Min Height: 16.1 inches | Max Height: 64.2 inches | Material: Carbon Fiber | Leg Sections: 5 | Feet: Rubber pads and spiked feet | Folded Length: 16.5 inches
A tripod for those who love to venture into the unknown, the MeFoto Globetrotter is known for trailblazing and offers several sharp colors to choose from.
If you want to stand out from the crowd as you take the tripod to the far reaches of the planet, pick up a MeFoto Globetrotter in vibrant blue, red, green, or the bright titanium color. If these colors don't suit you, it's always possible to go all black.
This tripod has a heavier aluminum model that weighs about a pound more, but this carbon fiber offering is nice and lightweight at just 3.7 pounds. Collapsing to 16.5 inches, these two features will help get the Globetrotter anywhere you need it to go.
This model stands an acceptable 64 inches tall when fully extended with its five section legs. Rubberized locking grips will help ensure easy setup even in the coldest temperatures.
As with most carbon fiber models, the MeFoto Globetrotter has a recessed hook to hang gear from to give the tripod some added stability. With a max load of over 26 pounds, weight shouldn't be an issue.
Pros
Cool color options
Interchangeable feet options
Rubber locking grips
Heavy max load
Cons
A little bulky when folded
---
Carbon Fiber Tripods Buying Guide
What Makes Carbon Fiber Tripods So Good?
Carbon fiber tripods have a lot of perks that make the material stand out in the realm of tripod design. Perhaps above all else, they are known to be very lightweight for the features they offer. There's not another tripod material available that is even able to come close.
Furthermore, carbon fiber is a very rigid and durable material that, in conjunction with its light weight, makes it easy to travel with. Carbon fiber tripod legs are able to resist friction caused by wind that can lead to vibrations in the tripod.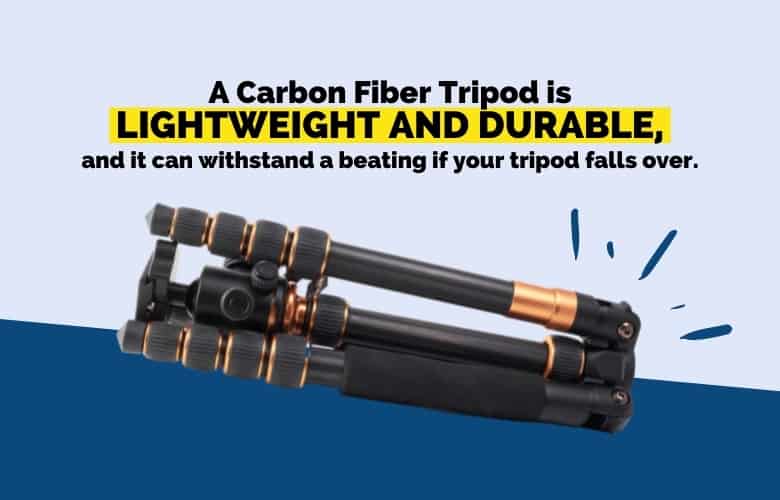 The material does not bend and can handle a beating in your backpack or in the event your tripod topples over. It is also resistant to weather conditions, corrosion, and even scratches.
How Carbon Fiber Tripods Differ From Aluminum Tripods
When it comes to tripod construction, carbon fiber and aluminum are by far the most common materials you'll see. While similar in many ways, there are a few notable differences that set them apart.
When comparing two models where only the material is different, carbon fiber weighs about a pound less. This may not seem significant, but it should be taken into consideration when you're traveling long distances on foot.
Both materials are quite durable, but carbon fiber is more so. You'll see bends and dents in aluminum over time, but not with carbon fiber. In the event of a heavy impact, carbon fiber is more likely to crack though.
Carbon fiber tripod legs will better prevent vibration caused by winds due to their structure. Aluminum material is more likely to vibrate, which may cause distortion or shakiness in your shot.
Aluminum, being heavier, does tend to be more stable while shooting. The increased weight keeps the tripod more grounded and less likely to fall over.
Lastly, carbon fiber models do tend to cost significantly more than their aluminum counterparts. Even though this is the case, some will argue that you get what you pay for.
Are Carbon Fiber Tripods Worth It?
While the price can be a turnoff for some, carbon fiber is ultimately a material that will go the distance with durability and design. It's the closest you'll get to a weightless tripod in this day and age.
What carbon fiber lacks in stability is easily made up for by being able to add your gear pack or some other weight to the undercarriage. This keeps your gear pack safe and off the ground as well.
Even more, the vibration dampening can make all the difference in an area with wind or unstable ground.
If you have the extra money to spend, there's little doubt that a quality carbon fiber tripod is worth the purchase.
Other Considerations
Height
Before you get too purchase happy, do some calculations to ensure you're picking up a tripod that raises (or lowers) to the height that you need. There's nothing worse than having to stoop over all day or missing that awesome macro shot because you can't get your camera close enough.
Max Load
Most carbon fiber tripods are very robust by design and can support upwards of ten times their own weight. That being said, this is not always the case. Be sure to measure up your gear and ensure that the tripod you choose can handle the weight.
Keep in mind with carbon fiber that it's always ideal to attach some weight to the undercarriage to improve stability and lower the risk of a costly accident.
Conclusion
When it comes to carbon fiber tripods, our choice for the top model is the Manfrotto MT055.
The heavy max load, impressive maximum height, rotating center column, and Easy Link are all huge bonuses in the tripod world. Even with these features, the Manfrotto MT055 is still lightweight enough to carry around and supports whatever camera you throw at it.
Lightweight, durable carbon fiber tripods like the Manfrotto MT055 allow you as a photographer to worry less about how you're going to manage the tripod. Instead, you'll be able to focus on all the shots you'll want to take when you get there.