While being outdoors is often a very relaxing and mind mending experience, it does come with its own set of challenges. One of those is finding a way to be comfortable without losing all the benefits of being in nature.
This is where heavy duty camping chairs come into play. They will offer you a way to enjoy getting some much needed fresh air but also give you a safe, durable place to sit on while you're having a cold beverage or looking in wonder at the starry skies and contemplating your next photo.
A chair we chose as best suited for that job is the Coastrail Outdoor Oversized 600lbs Director Chair. It's rugged, comfortable, full of features, and has excellent weight capacity and thus is a perfect example of how a well-designed heavy duty camping chair should look like.
Still, it won't be a perfect choice for everyone, and we encourage you to make up your own mind after you've taken a look at all of our best picks.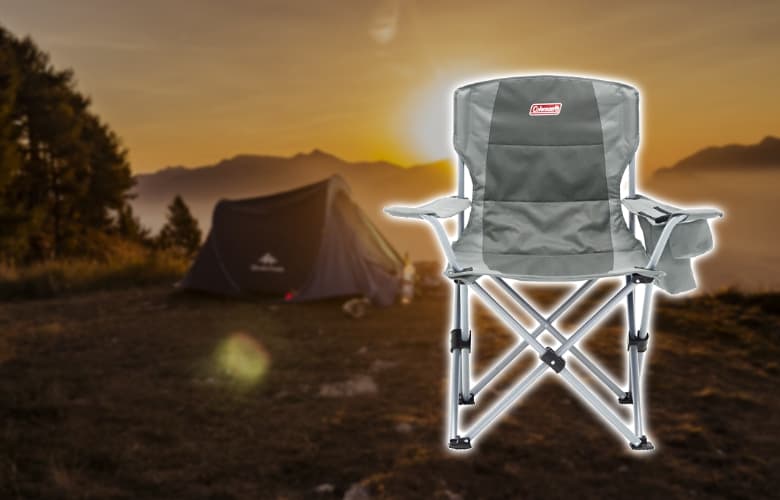 List of best heavy duty camping chairs
---
1. Coastrail Outdoor Oversized Director Chair 600lbs
The best heavy duty camping chair
Dimensions: 28 x 17.7 x 39 inches | Weight: 16.3 pounds | Weight capacity: 600 pounds | Frame material: Alloy Steel | Brand: Coastrail Outdoor
The Coastrail Outdoor Director Chair is one of the most durable heavy-duty chairs on this list. It can withstand up to 600 pounds of weight thanks to its durable steel and 600D polyester construction. It's also 28 inches wide and has a fully padded seat, so you could sit in it comfortably even if you're full figured. The detachable armrests are also included.
It's also very flexible. Not only does it include a cup holder, but the holder itself is a part of a foldable side table, perfect for keeping a quick snack at hand or even using the table as an improvised tripod for your camera.
Lastly, the chair also offers several storage options for all of your smaller items and tools on its side; one regular open pocket, one protected with a zipper and two closed pockets. That entire part is also removable, in case you need the increased portability.
Pros
Excellent weight capacity
600D polyester
Folding table with a built-in cup holder is a nice touch
28 inches wide seat makes it very comfortable to sit on
Has as many as four different storage pockets that can also be removed
Cons
---
2. LivingXL 500-lb. Capacity Heavy-Duty Portable Oversized Chair
The second best heavy duty camping chair
Dimensions: 39 x 10.2 x 9.5 inches | Weight: 10.6 pounds | Weight capacity: 500 pounds | Frame material: Steel | Brand: LivingXL
The LivingXL Heavy-Duty Chair is one of those rare products that manages to provide a very fine balance between the price and its feature set. It's one of the most affordable chairs on our list, but one that brings a lot of bang for the back.
Firstly, a very good weight capacity of 500 pounds, a sturdy steel frame, and a high-quality 600D polyester with added padding for increased comfort. Durability is not an issue for this chair. At the same time, with a weight of 10.6 pounds, it isn't very heavy and you should be able to travel with it with ease.
Aside from its own storage tote bag used for effortless transportation, the chair itself is also full of options when it comes to placing different items inside of it. It includes two differently sized cup holders, meaning that it can even hold larger bottles or thermoses aside from regular cups and glasses. A mesh storage side pocket is also included.
Pros
Good weight capacity
600D polyester
Low weight and portable dimensions
Included dual cup holders and a storage pocket
Carrying case included
Cons
Should offer a wider seating area
---
3. ALPS Mountaineering King Kong Chair
The weight capacity champion
Dimensions: 38 x 20 x 38 inches | Weight: 13 pounds | Weight capacity: 800 pounds | Frame material: Steel | Brand: ALPS Mountaineering
If you need the best possible weight capacity, then the ALPS King Kong Chair will serve you better than any other heavy-duty camping chair on this list.
The combination of steel construction, the famous 600D polyester fabric, and some manufacturing magic from ALPS resulted in its impressive 800-pound weight capacity. So, if you consider yourself a person of bigger appetites and you just want to relax and be comfortable while taking photos, this chair will allow you to do just that.
The aforementioned 600D fabric also adds a lot to the overall comfort and so does the 24.5 inches wide seat. You should also enjoy having extra features like the adjustable armrests, two side pockets, a large back pocket and a cup holder, aside from the included carry bag.
Pros
Impressive weight capacity
Not too heavy considering how durable it is
600D polyester
Wide 24.5-inch seating area
Lots of built-in storage options
Cons
Not very compact
Not the most comfortable heavy duty chair
---
4. EVER ADVANCED Oversized Padded Quad Arm Chair
Best choice for beginner astrophotographers
Dimensions: 22 x 22 x 43 inches | Weight: 8.5 pounds | Weight capacity: 300 pounds | Frame material: Steel | Brand: EVER ADVANCED
If you don't require the most heavyweight camping chair out there and instead want something light and more portable, then the EVER ADVANCED Quad Arm Chair should be right on top of your list.
Its weight capacity of 300 pounds is pretty standard for an outdoors-oriented chair, but its oversized design surely isn't. It is noticeably more comfortable thanks to its extended back, wider seat, and padded armrests. It's also easy to fold and carry thanks to its simple construction and the included carry bag.
Your liquid products as well as any handy items you've brought with you, will all be safe and sound thanks to the included cup holder and the large mesh storage pocket. The famous 600D polyester is also on board to create a perfect balance between durability and comfort.
Pros
Lightweight and portable
Decently comfortable due to its oversized design
Simple operation
Includes both the cup holder and a large integrated storage pocket
Includes a carrying bag
Cons
Its weight limit could be a little higher
---
5. KingCamp Oversize Camping Folding Sofa Chair
The most portable heavy duty camping chair
Dimensions: 37 x 22.4 x 38 inches | Weight: 7.94 pounds | Weight capacity: 300 pounds | Frame material: Alloy Steel | Brand: KingCamp
Suppose you don't need a very high weight capacity, but you do want the comfort an oversized heavy duty camping chair can provide without having to sacrifice portability in the process. In that case, the KingCamp Folding Chair will surely attract your attention.
Weighing only 7.94 pounds and bundled with a carry bag, it's the lightest chair on our list and the easiest to carry around. It also sports a decent seat height of 17.7 inches, a reclining back design, and is also padded at all the right places. It's also easy to fold and unfold and ready to use in seconds.
We also appreciate the addition of a very large mesh pocket on its back, as well as two different cup holders; one more suited to bottles and the other optimized for glasses. On top of that, KingCamp has also managed to integrate a cooler bag into the chair, giving you an excellent option to keep your drinks or protein bars perfectly fresh and ready when you need them.
Pros
Very low weight
Large integrated storage area
Easy to operate
Carry bag included
The addition of a built-in cooler bag is a nice extra feature
Cons
Low weight capacity
Averagely wide seat
---
6. ARROWHEAD OUTDOOR Oversized Heavy-Duty Club Folding Camping Chair
The second best portable heavy duty chair
Dimensions: 33 x 29 x 37 inches | Weight: 8.5 pounds | Weight capacity: 330 pounds | Frame material: Steel | Brand: ARROWHEAD OUTDOOR
Here we have one of the most portable heavy duty camping chairs on the market, the ARROWHEAD OUTDOOR Oversized Camping Chair. With a total weight of only 8.5 pounds and coupled together with a carrying bag, you should have no problems carrying it with you even on more demanding photoshoots.
Its weight capacity of only 330 pounds doesn't make it an ideal choice for everyone, but if you fall within its weight limit, you will indeed feel comfortable and safe while sitting in it thanks to the rugged 600D fabric and a wide padded seat.
The attached cup holder will allow you to take a quick sip of your favorite drink while the small mesh pouch built into the chair's inner wall will hold everything from a smartphone to a pocket knife. The chair itself is also easy to set up, with no instruction manual or fiddling around necessary.
Pros
Very portable and lightweight
Easy to operate
600D polyester
Includes both the cup holder and an integrated storage bag
Includes a carrying bag
Cons
It could offer a better weight capacity
---
7. Guide Gear Oversized Club Camp Chair
Best heavy duty camping chair for cold weather
Dimensions: 34 x 25 x 37 inches | Weight: 13.12 pounds | Weight capacity: 500 pounds | Frame material: Steel | Brand: Guide Gear
The Guide Gear Oversized heavy duty camping chair is the perfect chair for those chilly or winter days where being comfy and keeping your body warm is all that's on your mind before diving into any other activities.
Its sitting area is made from thick polyester material, meaning that sitting in it while the temperature is low will be a great experience. The same can be said for any rainy days since the fabric itself is water-resistant and can even be removed and washed independently from the chair.
It also offers a very good maximum capacity of 500 pounds and obligatory steel construction, as well as a cup holder and a storage bag for all of your smaller gadgets. The only downside of this chair is its biggest strength, the thick and comfortable fabric, meaning that it's not suited for any kind of warmer climate.
Pros
Great for chilly days thanks to its warm fabric
Very comfortable design
Good weight capacity
Water resistance
Includes both the cup holder and an integrated storage bag
Cons
Not a great choice for warmer days
---
8. VINGLI Professional Fishing Chair Foldable
The best heavy-duty chair for taller people
Dimensions: 22 x 48 x 20 inches | Weight: 27 pounds | Weight capacity: 350 pounds | Frame material: Steel | Brand: VINGLI
The VINGLI Professional Chair is a heavy-duty chair that was mostly made with taller people in mind, and for that reason its biggest feature is its height adjustment system. You can increase the chair's height by up to 6 inches and thus put your legs in a more comfortable position.
What's also impressive is the ability to change the angle of your seating position and as much as 180 degrees, meaning that you'll be able to fully lie back and gaze at the night sky. The back itself is also of a mesh variety and thus quite breathable.
The 600D oxford fabric is also included to ensure the best durability and comfort of the seating area and also to add water protection into the mix. A matching color carrying bag is also included. We would have liked to see a cup holder or a storage area of some kind built into the chair, but that's about the only thing about its design that we weren't particularly fond of.
Pros
Built-in height adjustment system
The ability to adjust your seating adds a lot to the overall comfort
600D polyester
Water-resistant
Carrying bag is included
Cons
Quite heavy
No cup holder or storage pocket of any kind
---
9. Coleman Big-N-Tall Quad Camping Chair
Most water-resistant heavy duty camping chair
Dimensions: 38 x 37 x 24 inches | Weight: 8.8 pounds | Weight capacity: 600 pounds | Frame material: Steel | Brand: Coleman
If you're used to working in environments where water is always a challenging factor, then you'll certainly love what the Coleman Big-N-Tall Camping Chair has to offer.
It's a very durable chair thanks to its steel construction and a maximum weight limit of 600 pounds, but it also has a seat made from a unique material that makes it waterproof and also allows it to be drained from water when the need arises.
Not only will you be getting a regular mesh storage bag and the cup holder, but you'll also get a smaller transparent bag with a zipper made especially for your phone to protect it from any accidental water damage. Don't expect a lot of comfort from this chair, but a lot of protection, that's for sure.
Pros
Great price
Excellent weight capacity
Water-resistant
Lightweight
Lots of options when it comes to storage
Cons
Not the most comfortable camping chair out there
---
10. Kijaro XXL Dual Lock Portable Camping and Sports Chair
The ultimate choice very thirsty astrophotographers
Dimensions: 28.3 x 37.8 x 40.6 inches | Weight: 11.8 pounds | Weight capacity: 400 pounds | Frame material: Steel | Brand: Kijaro
The Kijaro Dual Lock Camping Chair is one of the more unique heavy duty camping chairs on this list. You'll immediately notice that it has two cup holders, one on each of its sides. Right away, that makes it the best choice for you if you like to mix different types of drinks simultaneously or want to use one holder for your bottle and the other one as a plastic cup holder.
Its second best selling point has to be the Dual Lock design. Whether you want to set the chair up to sit on it or you want to fold and store it in its carrying bag, you can rest assured that it will hold to its form no matter what.
You can also add a decent 400-pound weight capacity, a 25.5-inch wide tear-resistant seat, an integrated storage bag, and a mesh back for better airflow to the list of its important features. So you can quickly see how the Kijaro Dual Lock chair is one flexible piece of furniture.
Pros
Good weight capacity
Dual cup holders
Very sturdy design thanks to the Dual Lock technology
Decently wide and comfortable 25.5-inch seat
Carrying bag included
Cons
Its skeleton could be more durable
---
Buying guide to choosing the best heavy duty camping chair
Things to consider when buying a heavy-duty camping chair
Maximum weight capacity
What's great about heavy duty camping chairs is that they can have very high weight capacity limits. Not all of them, but most of them do.
So, even if you are the type of person that likes to sit in their chair together with a pet or a child or even if you have a fuller figure, these types of chairs will be able to handle the additional load.
The maximum weight capacity usually sits between 300 and 800 pounds for these types of chairs.
Portability
These certainly aren't the most compact chairs out there, but they still vary in size and weight and thus you will still be able to pick one for yourself solely based on its weight.
A heavy-duty camping chair with a weight below 10 pounds is considered to be very portable and effortless to carry around. However, any weight above that could be challenging for some people, especially those chairs above 20 pounds, and you should always make sure that your form and health will be able to handle it before purchasing one for yourself.
There's also the matter of balancing the total weight of all the items you carry with you, and depending on the difficulty of your trip, a heavy-duty chair may even prove to be a bigger bite than you could chew. So, as always, it's up to you to find the right balance and decide if the added comfort and durability are worth having over increased weight.
Padding
Padding is the softer material placed between the fabric and the chair's skeleton and determines how comfortable a heavy-duty camping chair will be. Those chairs with the thickest padding will always be the most enjoyable to sit on, but will also be the warmest and thus only ideal for use in lower temperatures.
Chair dimensions
Seat size: standard or oversize
The first thing to consider when looking at the dimensions of a heavy-duty camping chair is the width of its seat. The reason for that is that some of them have intentionally wider seats to make them more suitable and comfortable for people with different body dimensions, and you should always pay attention to that if you believe that you fall within that category.
Seat height: standard or low profile
The seat height is another factor that could affect your purchasing decision. Depending on your own height, you may or may not be comfortable sitting on a regular camping chair. If that's a problem you face with any type of chairs, then we advise you to pay extra attention to those that advertise their height as their main feature or those that offer height adjustment.
Added features
Suppose you're still left undecided about which heavy duty camping chair you should pick. In that case, it's always a good idea to look at more specific extra features as another way of helping you differentiate one chair from another.
These differences usually lie in the number of included cup holders, storage pockets, water resistance level, their ability to attach or detach different parts, and the added accessories, like for example, a carrying bag.
You should have no problem spotting those features as the manufacturers themselves usually highlight them since they know the importance of standing out from the rest.
Quick Recap Of The Best Heavy Duty Camping Chairs Of 2023
Conclusion
In this article, we aimed to showcase the usefulness of heavy-duty camping chairs and point out what makes them stand out from regular outdoor oriented chairs.
We can conclude that they are the most durable, no matter if we're talking about the maximum weight they can handle or the amount of water and rain they can withstand. They are also the most comfortable, often due to their oversized design and wider seats. They also tend to offer the most features out of all camping chairs, like extra cup holders or storage pockets.
While they also tend to be less portable and heavier than other camping chairs, our best pick,
The Coastrial Outdoor Oversized 600lbs Director Chair is a perfect example of how even a heavy-duty chair can offer a delicate balance between portability and functionality.