Tripods serve to provide the best possible conditions for shooting the next fantastic photo. Mini and tabletop tripods provide a lightweight and portable means for photographers without much backpack space to still have the stability to capture incredible shots on the go.
Mini and tabletop tripods sit close to the ground and offer a great vantage point for macro photography and unique angles. Many large-scale tripods are unable to get far enough down to do the same.
When we boiled down everything a mini tripod should do, we found that the Pedco Ultrapod III checks off the most boxes. Read on to see if you agree as we investigate the best mini and tabletop tripods out there.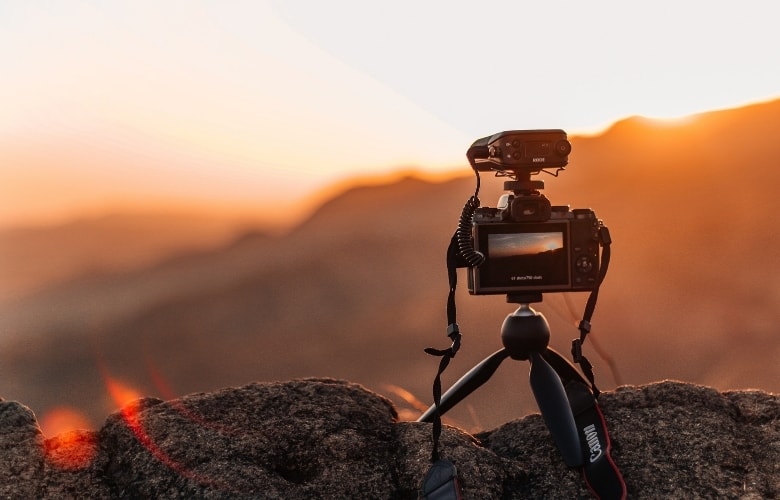 Our Mini and Tabletop Tripods At A Glance
Best Mini and Tabletop Tripods To Buy
1. Pedco Ultrapod III
Overall best mini tripod
Brand: Pedco | Max Load: 10 pounds | Weight: 0.25 pounds | Max Height: 5.0 inches | Material: Plastic | Leg Sections: 1 | Feet: Rubber feet | Folded Length: 7.25 inches
The Pedco Ultrapod III is the latest in Pedco's line of portable mini tripods and is the strongest model to date.
This tripod sits five inches tall on a wide-legged stance that's designed to support even the heaviest of cameras. With a ten-pound max load, the Ultrapod III should be able to handle whatever device you're mounting on top.
With an included spring-loaded smartphone mount, it really is possible to mount just about any device. The mount attaches to the tripod via a screw and can hold even the biggest smartphones in portrait or landscape position.
The Pedco Ultrapod III also comes with a hook and loop cinch strap assembly to wrap around objects such as fences, tree branches, and posts. This allows flexibility and stability to shoot from a variety of places and vantage points.
If the ground is more your style, no-slip rubber feet hold the tripod in place for clear photos. Selfie takers and vloggers will be happy to know that the legs collapse together to make a lightweight handle to hold onto.
The Ultrapod's plastic design certainly does keep the weight down. At just four ounces, this tripod weighs practically nothing at all.
Pros
Extremely lightweight
Cinch to attach to solid objects
Mobile device mount
Cons
---
2. FLM CP10-A1
2nd best overall mini tripod
Brand: FLM | Max Load: 11 pounds | Weight: 0.26 pounds | Max Height: 8.7 inches | Material: Carbon Fiber | Leg Sections: 1 | Feet: Rubber feet | Folded Length: 9.8 inches
The FLM CP10-A1 shows off some long legs as it stands tall against the competition.
With legs stretching nearly ten inches long, the CP10-A1 can stand some 8.7 inches tall with legs out and camera attached. If that height is too tall, the tripod can lower all the way down to 1.3 inches for maximum tabletop versatility.
What's more, you can position the legs of this tripod at just about any angle between those two heights. Each leg can be adjusted independently to obtain whatever camera direction you need. Large rubber feet on the bottom of those legs help to keep the tripod firmly in place.
This tripod is constructed of carbon fiber which is argued to be the best material for tripods. The strength, durability, lightweight design, and longevity are simply second to none. At just over 4 ounces, this tripod demonstrates that well.
The FLM CP10-A1 is able to withstand up to 11 pounds of max load without risk of damage or collapse. This should be enough to support a camera and a decent sized lens.
Pros
Lots of height adjustability
Tall maximum height
Impressive minimum height
Carbon fiber
Cons
Lacks stability at maximum height
On the pricey side
---
3. Joby GorillaPod 5K Kit
Most versatile mini tripod
Brand: Joby | Max Load: 11 pounds | Weight: 1.63 pounds | Max Height: 15.2 inches | Material: Aluminum | Leg Sections: 1 | Feet: Rubber pads | Folded Length: 15.2 inches
The Joby GorillaPod 5K is an ultra-flexible tripod that is not limited to a sturdy surface. The legs bend and wrap around tree branches or railings for a stable shot. They can also adjust to uneven surfaces like rocky terrain.
If selfies or vlogging is more your style, the legs collapse together to form a nice base to hold onto.
This tripod stands just over 15 inches tall at its full height and works well for tabletop snaps. You can also mount the tripod from any height using the flexible legs to capture any kind of photo you want.
At just 1.63 pounds, the Joby GorillaPod 5K takes up little space in a backpack for easy portability. The tripod's aluminum body is durable enough to last and take a bit of a beating along the way.
The 5K Kit comes with a ball head and quick-release camera mount to make setup as easy as can be. The unit can handle up to 11 pounds of weight while holding its shape and shouldn't have any issue with DSLR cameras.
Pros
Flexible legs
Attaches to a variety of objects
Good quality materials
Great for selfies and video
Cons
---
4. Manfrotto PIXI Mini
Best value mini tripod
Brand: Manfrotto | Max Load: 2.2 pounds | Weight: 0.42 pounds | Max Height: 5.31 inches | Material: Aluminum | Leg Sections: 1 | Feet: Rubber feet | Folded Length: 7.28 inches
Manfrotto is no stranger to impressive tripod designs, and the PIXI Mini is no exception.
This versatile tripod weighs in at less than half a pound and is light enough to add to your backpack without feeling any extra weight. At just seven inches completely folded up, it's also small enough to be taken anywhere.
With the legs folded up, the PIXI Mini makes for a selfie holder for top-notch videos and selfies. The legs come with comfortable handgrips, which make the tripod easy to hold. With a maximum load of 2.2 pounds, though, the tripod works best with compact cameras.
The ball head is permanently attached to the tripod body but sports a universal screw head for just about any camera. A push-button unlocks the ball head so you can position your device at just the right angle. Another push of the button locks the ball head in place.
Although only five inches tall, the tripod works well on any solid surface for grabbing stable photos. Rubber feet on the bottom of the legs also help to keep the tripod in place. The tripod's aluminum base is built to be sturdy and stand up to the test of time.
Pros
Push button for easy shot setup
Robust aluminum construction
Comfortable hand grips
Stable design
Cons
---
5. Sirui 3T-35K
Best mini tripod with center column
Brand: Sirui | Max Load: 8.8 pounds | Weight: 0.90 pounds | Max Height: 13.5 inches | Material: Stainless Steel | Leg Sections: 1 | Feet: Rubber feet | Folded Length: 6.3 inches
The Sirui 3T-35K stands tall thanks to an included two-segment center column.
A bit unusual in the mini tripod scene, the center column allows the 3T-35K to stand over a foot tall on the ground or tabletop. Each of the legs is four inches long and can rotate 180° up or down as needed.
In order to photograph from a height of lower than one foot, you'll have to remove the center column altogether. The innovative design of the base allows the ball head to fit directly into the legs and also gives the tripod a stability boost.
The ball head does come with a quick-release plate to reduce setup time. This is a blessing because it can take some time to set up the legs and the center column.
8.8 pounds is a solid max load for a mini tripod, and the Sirui 3T-35K can handle the weight with or without the center column. Rubber feet offer some stability, especially when the camera is at its maximum height.
The 3T-35K also features a robust stainless steel frame made to withstand any environment.
Pros
Solid steel design
Center column for added height
Removable center column
Cons
Can take time to set up
Less stable at max height
---
6. Oben TT-100 Table Top Tripod
Easiest mini tripod to set up
Brand: Oben | Max Load: 6 pounds | Weight: 0.50 pounds | Max Height: 4.2 inches | Material: Aluminum | Leg Sections: 1 | Feet: Rubber feet | Folded Length: 7.5 inches
The Oben TT-100 Table Top Tripod is a simple mini tripod design that stands 4.2 inches tall with a ball head attached for photos on a tabletop or another elevated surface. The tripod sits just two inches off the ground for shots even closer to the tabletop with the ball head removed.
For such a low model, the tripod can safely support upwards of six pounds of maximum load. Heavy lenses aside, this should be enough to mount most types of cameras.
The ball head itself unlocks with the flip of a level for lining up the perfect angle. It can tilt up to 90° toward the floor for incredibly close macro shots. Moving the lever back in place locks the ball head, so there's no worry of movement.
With the tripod sitting so close to the ground, the unit is very steady and unlikely to be affected by weather disturbances. Rubber foot pads add further stability so you can focus on the project at hand.
The Oben TT-100 collapses down to a length of 7.5 inches which should be no issue for a backpack. The aluminum base with a ball head attached weighs a minimal eight ounces.
Pros
Sits low to the ground
Very stable
Removable ball head
Easy ball head lock lever
Cons
---
7. Platypod Max
Most unique mini tripod shape
Brand: Platypod | Max Load: 300 pounds | Weight: 0.81 pounds | Max Height: 0.2 inches | Material: Aluminum | Leg Sections: N/A | Feet: Rubber pads and spiked feet | Folded Length: 7.8 inches
The Platypod Max is a unique tripodesque design that technically has no legs to speak of. Instead, the Platypod is an aluminum plate that rests on the ground, tabletop, or other flat surfaces with room for a mountable ball head to snap perfectly still photos.
Four spiked or rubber feet can be screwed onto the plate to provide stability or offer a minimal amount of height.
The Max sports dimensions of 5.25 inches by 7.75 inches by just 0.2 inches thick, making it easy to place in a backpack and travel with. The entire unit weighs only 13 ounces without a ball head.
This model does not come with a ball head, so you'll have to keep that in mind as an extra expense. It does provide you the flexibility to pick up the ideal ball head for you.
What makes the Platypod Max really special is that it can handle up to 300 pounds of load without any risk of deformation. It is incredibly sturdy and will keep even the heaviest of lenses pointed at the target.
In this way, the tripod can be used for anything from macro to long telephoto shots.
Pros
Holds 300 pound maximum load
Thin and portable
Interchangeable feet
Aircraft grade aluminum
Cons
No ball head included
No ability to adjust the height
---
Mini and Tabletop Tripod Buying Guide
Should I Get a Mini Tripod?
Being so small, mini tripods fit into most backpacks and are great to travel with. Unlike many of the larger tripods, this means they can be taken literally anywhere to grab the ideal shot.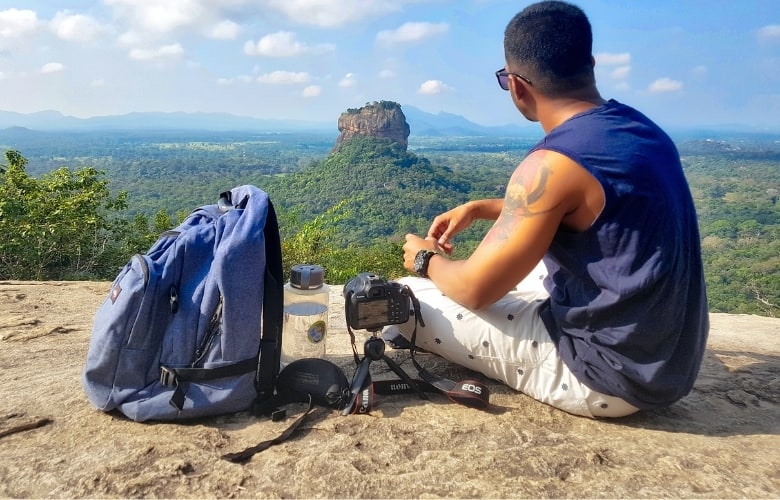 No matter what you are shooting, mini and tabletop tripods offer image stability that's impossible to get when using just your hands. There's nothing worse than a blurry or crooked photo from a lack of adequate support.
These mini tripods are usually quick and easy to set up, as they don't have multiple leg sections and often have no center column to expand and adjust. With a quick-release ball head, you could be shooting in seconds as opposed to minutes.
How Big Is a Mini Tripod?
In terms of physical size, a mini tripod usually folds down to six to nine inches in height. Their leg diameters are generally quite thin as well, making them wonderful travel partners.
When standing upright, mini tripods cover a range from ground (or tabletop) level to roughly one foot off that surface. While this seems low, there's nothing better for macro shots close to the ground.
For higher up shots, these tripods are light enough to place on a hard surface that rewards the height you need. Some mini tripods even have flexible legs that can attach to a variety of objects.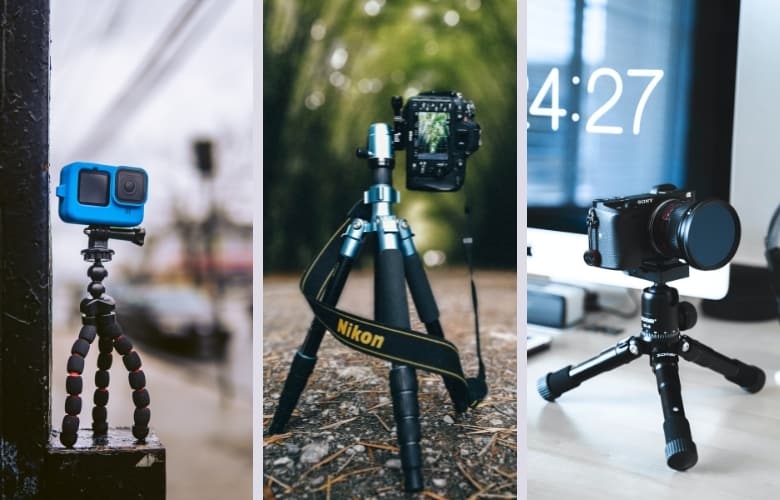 How Much Does a Small Tripod Cost?
The good news is that small tripods don't typically cost an arm and a leg. Less material and a smaller size generally do amount to a lesser overall cost.
While it is possible to spend a lot of money, even the best mini tripods sit in a very affordable price range.
Other Considerations
Max Load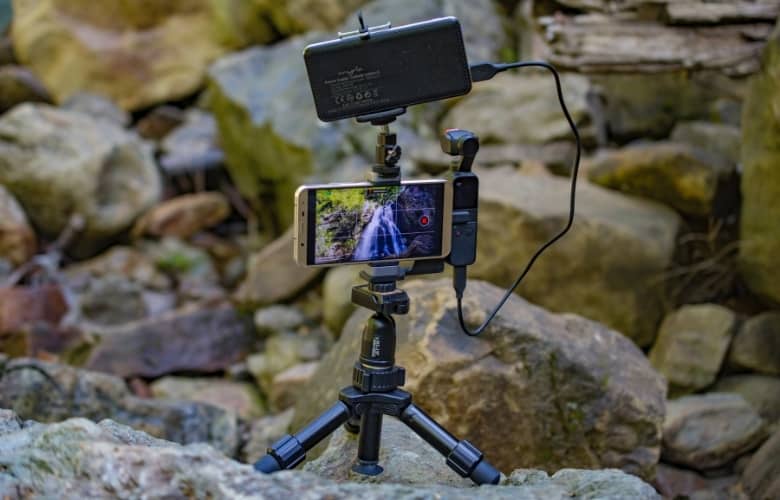 When picking up a mini tripod, keep in mind the weight of all the gear you'll be resting atop it. Many tabletop tripods have an impressive max load limit for their small stature, but there are many that don't. The last thing you want while lining up that snap is for your tripod to buckle or break.
Stability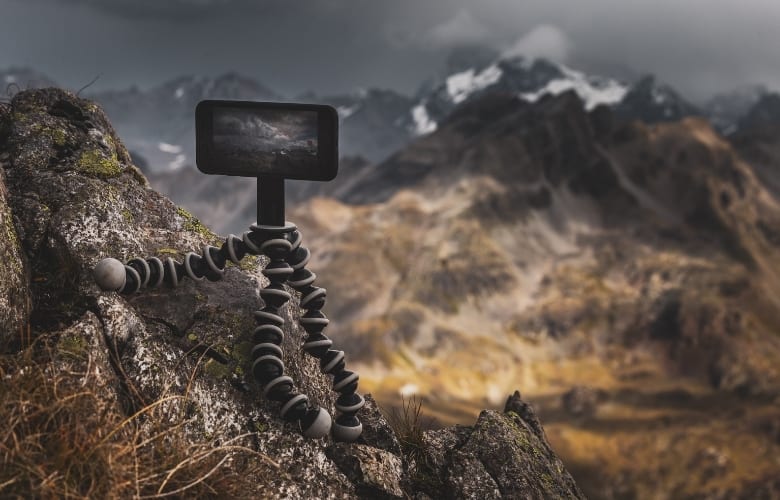 Mini tripods are by design lightweight and can present a problem in terms of stability. An eight-ounce tripod may not fare well against even the lightest of breezes if not designed properly.
Many small tripods sit very low to the ground with a very wide leg stance to combat this. They also typically come with anti-slip rubber pads to add friction. In addition, a high enough max load to add some weight to the tripod will help if the weight is not too high off the ground.
Conclusion
When all the chips are on the table, the Pedco Ultrapod III tops our list as the winner of the best mini or tabletop tripod.
This ultra-light, ultra-small tripod is super easy to travel with and even easier to use. It provides the stability that a photographer needs, offers a hook and cinch to attach almost anywhere, and even comes with a mount for mobile devices. Best of all, it's at a price point well within the realm of reason for most.
A tripod like the Pedco Ultrapod III should provide anyone and everyone the means to take clear, stable photos, whether in the city or off the beaten trail. These mini tripods are so small that you may not even remember you're carrying one.
Since most mini tripods are so robust, they can support the weight of the rest of your photography gear even if it more than makes up for the size of your tripod!