Lighting is an essential part of home life, but there's no need to limit yourself to basic light sources in and around your home. Those who look to the skies will likely find moon lamps to be a unique blend of astronomical showpiece and source of ambiance. These special lamps can offer anything from a vivid light display to the soft glow of a night light.
This article covers the best moon lamps currently available for purchase, with our favorite being the VGAzer Moon Lamp. Read up to see why it stands out and our thoughts on the other top moon lamps out there.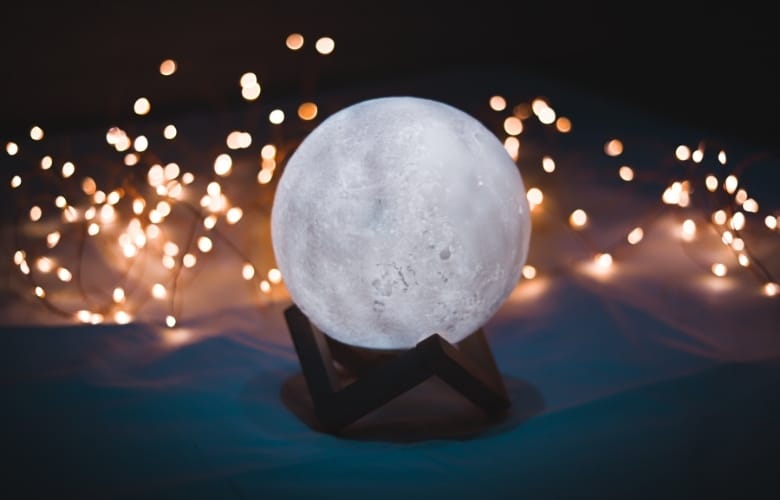 Our Top 3 Moon Lamps at a Glance
The Best Moon Lamps to Buy
VGAzer Moon Lamp
Best overall moon lamp
Brand: VGAzer | Moon Diameter: 6 inches | Weight: 2.2 pounds | Lamp Material: PLA plastic | Power Source: Corded Electric | Light Source Type: LED
The VGAzer Moon Lamp uses the power of magnetism to levitate and spin its lunar light source about one inch off of the wooden base.
Having an actual floating moon that lights up adds several points to this lamp's coolness factor. Getting the moon to levitate is as simple as lining up the light source above the magnet located inside the wooden base.
While the base is made of wood, the moon itself is 3D printed from strong PLA plastic material.
The entire unit is powered through an electric cord that plugs directly into a wall socket. The other end of the cable attaches to the lamp's base to not affect the moon's ability to rotate.
The LED light inside the moon gives off a soft glow, making it ideal for a nightlight. It's powered wirelessly, so the moon can stay lit and spinning for an indefinite amount of time as long as the base is plugged into the wall.
The lamp turns on and off with a quick press of the button on the base. The same button also cycles through different light gradients from white to yellow to orange. The button is conveniently located and easy enough for a child to use.
The moon spans six inches in diameter and is textured from a high-resolution 3D map of the lunar surface. The entire lamp weighs only 2.2 pounds.
Pros
Moon levitates and spins freely
Soft light for ambiance or suitable as a night light
Powered by a wall socket and can stay on indefinitely
Large, accurate depiction of the moon
Multiple light settings
Cons
Moon can be hard to balance
---
LOGROTATE 16 Color Moon Lamp
Most size options
Brand: Logrotate | Moon Diameter: 4.8 to 9.6 inches | Weight: 0.65 to 2.59 pounds | Lamp Material: PLA plastic | Power Source: Battery | Light Source Type: LED
LOGROTATE knows how to light up any room with their 16 color moon lamp.
This moon lamp has an included remote control that gives you the ability to change the moon's color at any time. Available colors cover the spectrum of visible light from red to purple and also include an option for white or lunar white.
The remote control also allows you to turn the lamp on, off, or set a timer for a specific amount of time. The device can also set the moon lamp to flash, fade, or strobe through several different colors, all with the touch of a button.
This model is 3D printed from PLA plastic and is textured to closely resemble the moon's surface, with a few notable exceptions. There's a hook to hang it from the ceiling if you so desire and a port for USB charging.
The LED light is battery-operated and will last about six hours on a single charge. Once depleted, it takes about two hours to charge back to full.
This particular lamp has several size options from 4.8 to 9.6 inches based on personal preference. Each size comes with a wooden stand to place the lamp in, but the price does change from size to size.
Pros
16 different color options
Remote control
Lightweight
Several size options
Cons
Six hour charge means it will not stay lit all night
Model lacks accuracy in appearance around the port
---
Mind Glowing 3D Galaxy Moon Lamp
Most budget-friendly
Brand: Mind Glowing | Moon Diameter: 4.7, 5.9, or 7.1 inches | Weight: 0.55 to 1.43 pounds | Lamp Material: PVC plastic | Power Source: Battery | Light Source Type: LED
Taking over 26 hours just to craft one lunar globe, the Mind Glowing 3D Galaxy Moon Lamp stands out in the stunning images of stars, nebulae, and galaxies that adorn its surface.
This moon lamp is available in three different sizes, either 4.7 inch, 5.9 inch, or a 7.1 inch model. Each model comes with a wooden display stand and remote control for changing the lamp's colors.
The Mind Glowing 3D Galaxy Moon Lamp can switch through the color spectrum from red to purple and can also shine a white hue. All colors are adjustable through five different brightness levels, from a peaceful ambient light to a perfect night light setting.
When one color isn't enough, this moon lamp has five different working modes that allow it to cycle through colors in different ways with one button on the remote. There's even a built-in timer where the lamp will turn off after a set amount of time.
The Galaxy Moon Lamp runs off an internal battery and was designed to stay on for 15 hours once fully charged. Charging happens through a USB cord that plugs directly into the lamp itself.
Pros
Can change to 16 different colors
Cool galaxy and star patterns
Remote control
Various size options
Cons
No indicator to show lamp is charging
---
Avviso Levitating Moon Lamp
Most realistic light
Brand: Avviso | Moon Diameter: 5.5 inches | Weight: 2.76 pounds | Lamp Material: PLA plastic | Power Source: Corded Electric | Light Source Type: LED
The Avviso Levitating Moon Lamp uses the power of magnets to stay suspended in the air.
This realistic-looking moon lamp has magnets both inside the lunar sphere and the included wooden base to allow the moon to hover about an inch off the ground. The two magnets push against each other, and the repelling forces keep the moon in the air.
It can take a bit of patience to make this happen. A steady hand must hold the moon just above the base, carefully lining up the two magnets. Once the moon is floating, it will continue to do so until power to the unit is interrupted.
Both the moon and the wooden base feature a slick design, with the moon lamp 3D printed using images that capture the contours of the actual lunar surface.
The wooden base houses the on/off switch for the moon's LED light. The button cycles through three different lighting modes, with the fourth press turning the light off. Unfortunately, the button has no light of its own and can be challenging to locate in the dark.
The base stretches five and a half inches across and doesn't take up a significant amount of space on a desk or shelf. When plugged in, the moon not only levitates but also rotates in either direction.
Pros
Realistic levitating design
Moon and base are well designed
Three color modes
Does not rely on a battery
Cons
Button is not lit and difficult to see in the dark
Can be hard to balance
---
NSL Lighting Moon Lamp
Longest battery life
Brand: NSL | Moon Diameter: 4.7 to 7.8 inches | Weight: 0.60 to 1.3 pounds | Lamp Material: PLA plastic | Power Source: Battery | Light Source Type: LED
NSL's Lighting Moon Lamp shines in one of four sizes and 16 different color options.
No matter which size you choose, each NSL moon lamp comes equipped with a large rechargeable battery that lasts up to 20 hours on one use.
When charging is required, the lamp takes two to three hours of being plugged in the wall to get back to full. If you don't want to worry about charging, just leave the moon lamp plugged in at all times.
Leaving the moon lamp nestled into the included wooden base allows you to covertly run a power cord to a wall socket without taking away from the stunning qualities of the lamp itself.
The moon feature is carefully 3D printed using recent NASA scans of the surface of our actual moon. In this way, the moon lamp is able to accurately showcase the landscape of our celestial neighbor.
A simple touch will cause the lamp's color to change to a different one of the 16 built-in color options. The NSL Lighting Moon Lamp also comes with a remote control where you can select the color of your choice with a button push.
The soft LED light that emanates from the lamp is usable as a night light or can be boosted to provide ambient lighting in a room or outdoors at night.
Pros
Multiple size options
Comes with remote control
16 different color choices
Up to 20 hours of battery life
Cons
No hook for hanging from the ceiling
Tapping feature can be finicky
---
BRIGHTWORLD Moon Lamp
Most vibrant design
Brand: BRIGHTWORLD | Moon Diameter: 5.9 inches | Weight: 1.0 pound | Lamp Material: PVC plastic | Power Source: Battery | Light Source Type: LED
The BRIGHTWORLD Moon Lamp steps away from a traditional moonscape to offer a cosmic sphere of stars, galaxies, and nebulae. Color options tend to lean more towards the blues and purples that are often associated with objects in the universe.
The celestial design comes from astronomical data straight from NASA. A small metal ring on the lamp cycles through one of seven different colors each time you press it.
For even more color options, the included remote control allows for selecting 16 different colors, has brightness adjustments, and has an on/off switch.
Different brightness settings can wreak havoc on the battery life. The moon lamp only stays on for four hours at its brightest setting before needing a three-hour charge back to full. With a bit of luck, setting the BRIGHTWORLD Moon Lamp to its dimmest setting may get you all the way through the night.
The galaxy lamp comes with a USB charger and a basic wooden base for placement on any surface around the house. At 5.9 inches, the lamp won't take up a lot of space but still casts an impressive glow.
Pros
Cool star and galaxy design
Comes with remote control
16 different color choices
Cons
---
Moon Lamp Buying Guide
What To Look For When Buying a Moon Lamp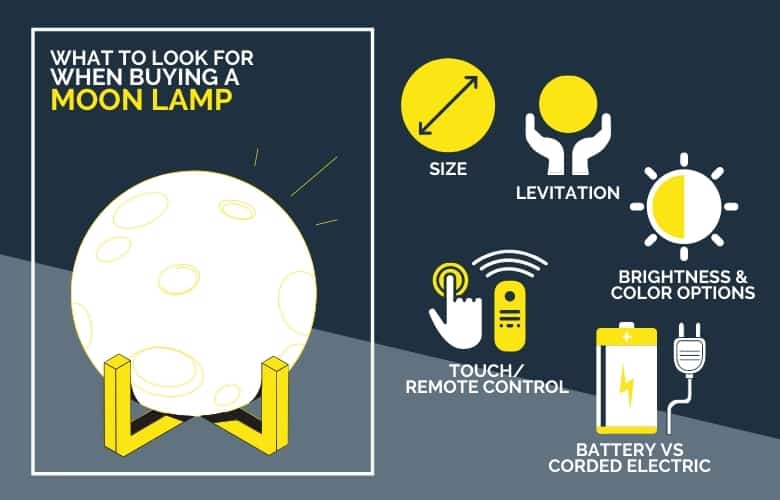 Battery Versus Corded Electric
Both battery and corded electric moon lamps have their merits, but neither one is without issue.
Having a battery-powered moon lamp allows for portability and placement anywhere the lamp will fit. Such a design is even great for ambient lighting outdoors to keep light pollution down for stargazing.
Batteries, of course, need to be charged after a time. Some moon lamps have real limitations on how long they go without needing a charge.
Corded moon lamps can stay on all night and day as desired but can only be placed so far from a wall socket. This makes hanging them or outside use quite the challenge.
If you are interested in a levitating moon lamp, you won't find one that uses a battery.
Overall size
Size comes down to a matter of physical space, preference, and ultimately, price. The best moon lamps range somewhere between about five inches and ten inches at their largest.
Levitation
A levitating moon lamp is undoubtedly an eye-catching feature that adds a natural flair to a moon lamp. This feature comes at a premium as levitation requires the use of two powerful magnets and an electromagnetic field to pull off.
These models always come in a corded design to keep the magnets active, as the field requires a lot of power to maintain. Having to stay plugged in can limit product placement.
Touch and/or Remote Controls
All moon lamps feature some sort of touchpoint to turn on the device. Many offer the ability to cycle through colors or brightness levels with the same or similar action.
Levitating moon lamps can't be disturbed with touch, so you'll find buttons on the base for adjustment as needed.
Some moon lamps even come with a remote control that can be used from several feet away to turn on and cycle through available options. Remotes can also allow lamps to fade or strobe through different light settings.
Brightness and Color Options
Other points to consider when picking out a moon lamp are the brightness and color options you desire. It might thrill a child to have a dozen cool color settings they can play with during the day, but it should also have a dim brightness setting if used as a night light.
Different brightness levels can play into a room's mood during the evening or night, and color options can cast a resplendent glow.
Are Moon Lamps Any Good?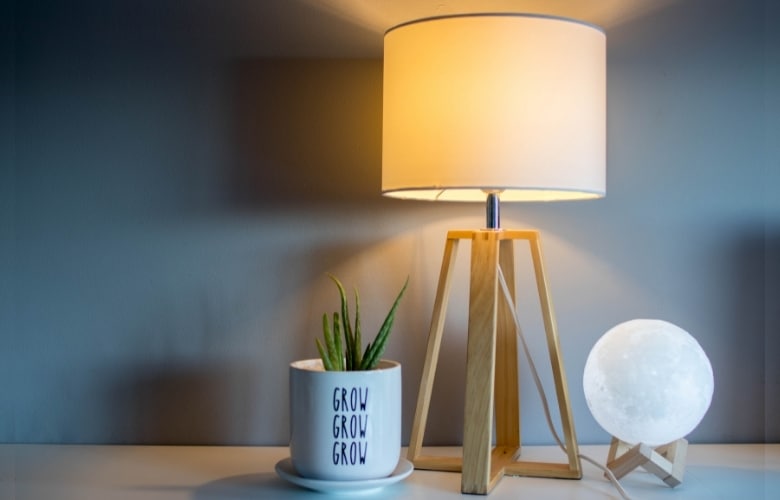 Moon lamps are a fun way to introduce light into a room in a non-traditional way. It's worth noting that these lamps are not designed to illuminate an entire room but instead add some ambient lighting to a space. These lamps also make great night lights for children.
These lamps also become a focal point of a room and offer an opportunity to bring a love for astronomy indoors. Most moon lamps are 3D printed with non-toxic plastics that accurately mimic the actual moonscape.
The best moon lamps are easy to set up and just as easy to use. It usually takes no more than a button push to turn on and adjust settings.
Do moon lamps get hot?
Any light does have a tendency to heat up after being on for a considerable length of time. Unlike incandescent light bulbs of old, moon lamps rely on newer LED technology to provide light to the surrounding area.
LED lights by nature do not generate nearly as much heat as an incandescent light bulb, thanks to technological innovation. Many LED lights also have small heat sinks that also help keep heat under control.
Therefore, your moon lamp should not feel hot to the touch, even after being left on all night as a night light.
Conclusion
The VGAzer Moon Lamp floats above the rest of the competition as our clear winner for the best moon lamp to buy.
This moon lamp stays true to our natural satellite by shining only in a white, yellow, or orange light. What's more, it uses magnetic technology to actually levitate off the base and spin as a satellite should. The corded electric model eliminates the need for batteries and can glow, float, and spin indefinitely.
Astrophotographers who want more portability may opt for a battery-powered model such as the LOGROTATE 16 Color Moon Lamp. This model also offers some incredible color options to put a room in a unique glow.
No matter what your preferences are when it comes to moon lamps, lovers of astronomy should look no further than one of these for your late lighting needs!