Podcasts have solidified their place as a go-to source for location information on a specific topic. It's possible to find a podcast about anything under the sun. In the case of astronomy, anything beyond even that. In this article, we share the best space and astronomy podcasts that you can geek out on.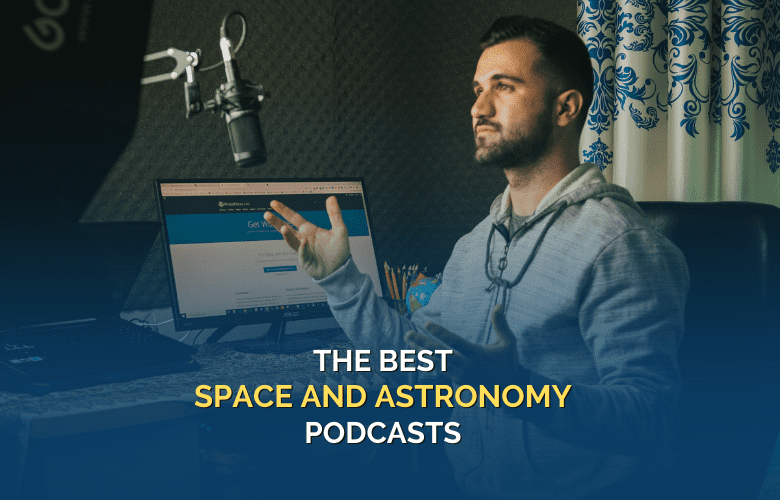 The Best Space and Astronomy Podcasts At A Glance
List of the Best Space and Astronomy Podcasts to Listen to
Best overall astronomy podcast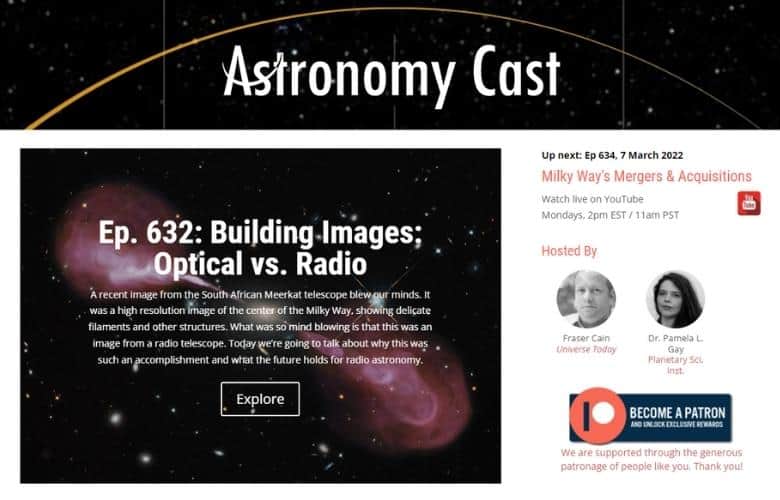 Host: Fraser Cain and Dr. Pamela L. Gay | Topics: Space news, planetary science, astronomy | Average Running Time: 30 minutes | Episode Release Schedule: Weekly
Astronomy Cast is a blank canvas that covers a multitude of topics from our Solar System and beyond. Fraser Cain from Universe Today and Dr. Pamela Gay from the Planetary Science Institute doesn't shy away from the questions astronomers want to know the answers to.
The fact-based podcast covers topics from the possibility of alien life to rocky moons and everything in between. The hosts keep things relevant by focusing on recent discoveries and happenings in deep space.
The tone is very conversational, and nothing comes across as too abstract or hard to grasp. With so many topics (600+ podcasts and counting), there's no doubt every astronomer will find something they enjoy about Astronomy Cast.
Pros
Comprehensive presentation
Expert hosts
Conversational tone
Hundreds of podcasts to choose from
Cons
Hosts can get political
Long commercials
---
Astronomy podcast with the most well-known hosts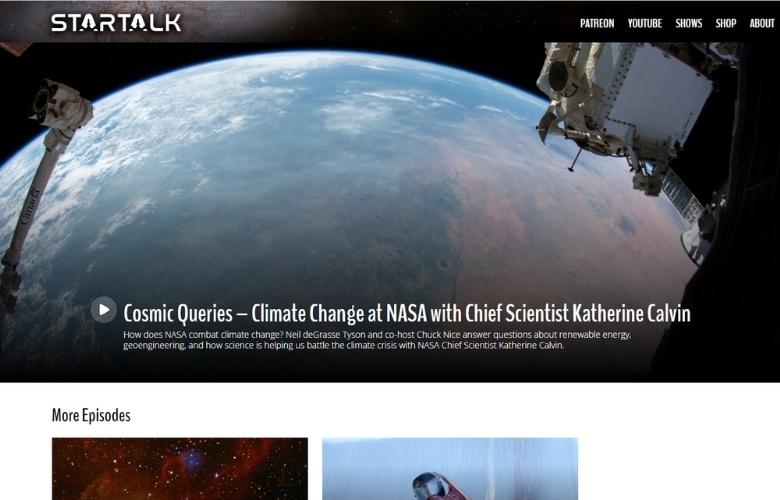 Host: Neil deGrasse Tyson | Topics: General science, space | Average Running Time: 50-60 minutes | Episode Release Schedule: Weekly
StarTalk Radio is famous astrophysicist Neil deGrasse Tyson's weekly podcast. Within the confines of his hour-long talks, Tyson works to bridge the gaps between science and pop culture with a mix of humor and passion.
The show covers a range of topics from the origins of the universe to space travel and how science plays an essential role in people's lives. Neal leaves the podcast open to any topic in the known universe.
StarTalk Radio is blessed with an abundance of guest stars, including comedians, scientists, fellow astronomers, and even celebrities. Although not always directly about the cosmos, the podcast finds scientific importance in everything around us.
For listeners who are into sports, the StarTalk Sports edition brings science to the floor. Tyson and his crew talk with sports celebrities and scientists about how physics, tech, biology, data science, and economics all play an important role in the game.
Pros
Brings science to the cosmos and everyday life
Impressive list of guest hosts
Sports edition
Hosted by Niel deGrasse Tyson
Cons
Personalities sometimes come through a little too much
---
Best podcast for learning about NASA
Host: Gary Jordan | Topics: NASA, space, spaceflight | Average Running Time: 50-60 minutes | Episode Release Schedule: Weekly
Houston We Have a Podcast is a weekly show released by NASA and hosted by Gary Jordan. With a simply unbeatable name, Houston We Have a Podcast rolls out weekly episodes from the Johnson Space Center in Houston.
Releases share information about the latest NASA projects and behind-the-scenes stories about happenings at the government agency. You'll get upfront and personal with astronauts and staff as they discuss experiences and their work.
In addition, this podcast takes a close look at the new age of manned space travel that we're entering into. There are specific segments about the Artemis program to the Moon and plans for missions to Mars. There's also plenty of discussion on current space travel to the international space station and what life looks like there.
Unique insider experiences into NASA
Stories straight from astronauts and workers
Information on future Artemis and Mars missions
Cons
Some complain that the host lacks knowledge in subject material
---
Best podcast for stargazing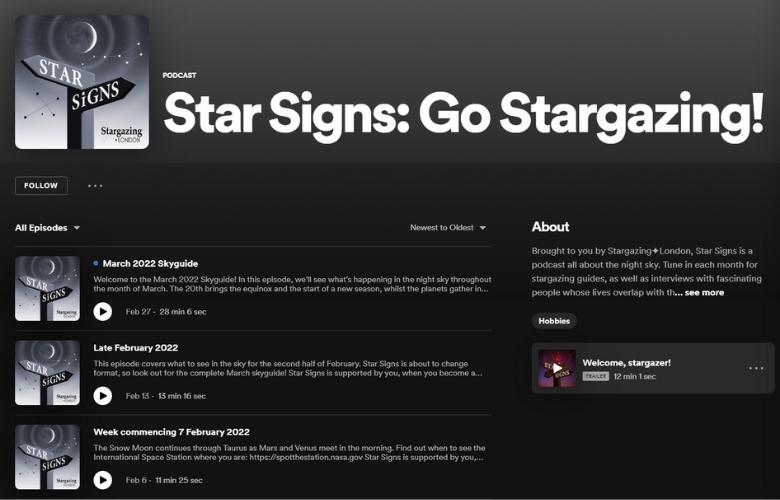 Host: Tom Kerss | Topics: Planets, the Moon, observation, stargazing | Average Running Time: 12 minutes | Episode Release Schedule: Weekly
Star Signs: Go Stargazing! takes a close look at the piece of the universe that we're able to see every clear night.
The podcast specifically focuses on night sky observation and the objects that make it so amazing to look at. Each week's release talks about the specific objects that will dot the starscape in the following seven days.
Information covers where the objects are, their apparent brightness, and other poignant details. Shows are a short dozen or so minutes that get straight to the heart of what's out there. There's no hard to understand tech jargon or lulls that may cause a listener to lose interest.
Pros
Guide to the objects in the night sky
Short and to the point
Interesting details about certain celestial bodies
Cons
Only discusses Northern Hemisphere
---
Funniest astronomy podcast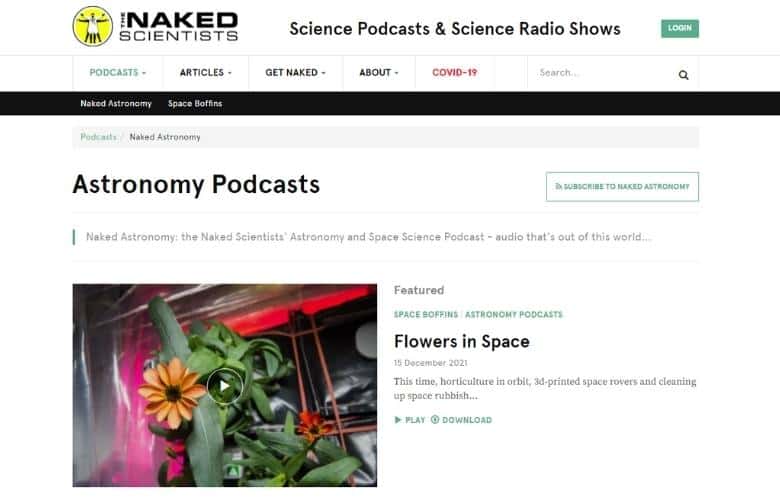 Host: The Naked Scientists | Topics: Science, space, astronomy | Average Running Time: 45 minutes | Episode Release Schedule: Monthly
Naked Astronomy offers a full exposure into all things cosmic. The podcast is hosted by the three naked scientists with PhDs in astrobiology, biology, and physics. It has over 20 years of history and is one of the first of its kind.
The show takes an educational approach to the night sky and beyond, providing information in a fun and entertaining manner. Would you expect anything less from something called Naked Astronomy?
The hosts are a joy to listen to and do a great job of placing listeners into the middle of a discussion between friends. They often bring in special guests who are able to share insights from their specific fields of work.
The crew also loves answering astronomers' questions from across the world and encourages people to reach out. We can only hope the hosts are not actually naked, but who is ever to know?
Pros
Witty, funny, and entertaining
Exciting topics
20 years of creating podcasts
Unique perspectives
Cons
Only released once per month
---
Best podcast for the latest space news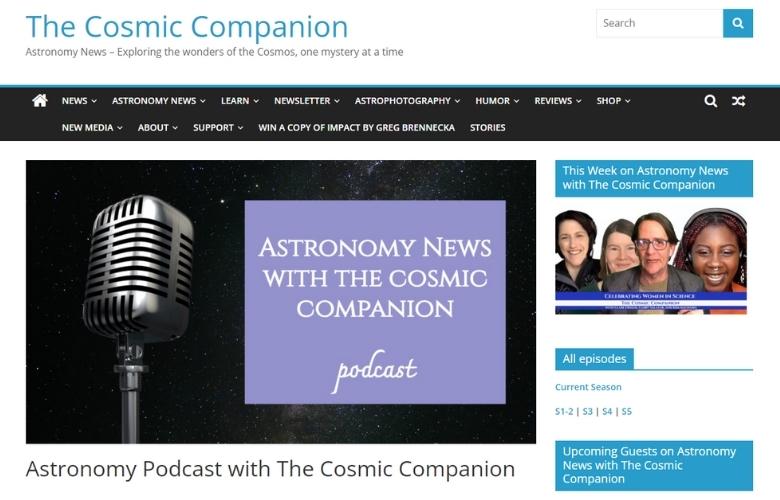 Host: James Maynard | Topics: Space news, astronomy, interviews | Average Running Time: 30 minutes | Episode Release Schedule: Weekly
Astronomy News With the Cosmic Companion is your guide to breaking space news and the latest astronomical findings. Host James Maynard keeps things fresh by keeping you informed on stellar discoveries through a mix of humor and insight.
The podcast brings these findings to light through careful research and impressive details. It often brings in scientists and fellow astronomers for in-depth interviews that get to the heart of the matter.
In bringing this information to astronomers of all types, the show makes a point to deliver information as clearly as possible. In discussion format, it seeks to never talk over or down to its listeners.
The Cosmic Companion is also available in video format if audio isn't your thing.
Pros
The latest science news straight to your computer or phone
In-depth expert interviews
Video format available
Fact-based with careful research
Cons
---
Best all-around astronomy podcast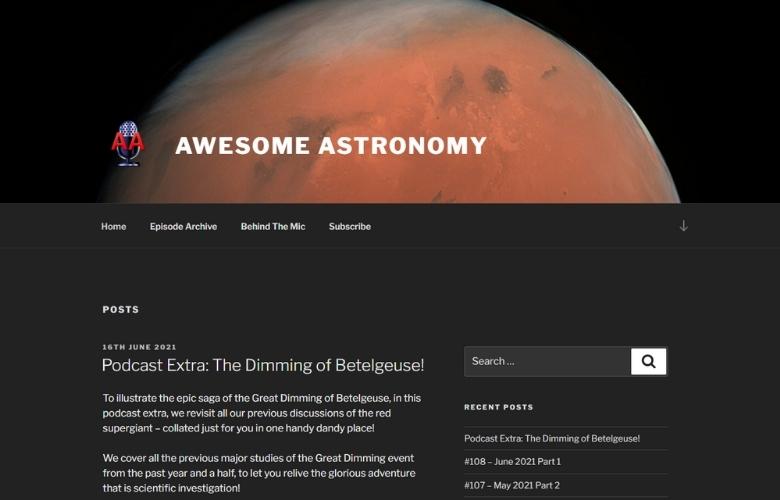 Host: Ralph Wilkins, Jen Millard, Paul Hill | Topics: Astronomy news, space, interviews | Average Running Time: 60 minutes | Episode Release Schedule: Bi-weekly
Awesome Astronomy takes listeners into the far reaches of the universe in an attempt to unravel its many mysteries.
Hosts Ralph, Paul, and Jeni are a dynamic team that provides both informative and fun programs dedicated to celestial findings and the burning questions we all have. Each podcast contains several different topics, providing a vast magnitude of thoughts to wrap your head around.
Podcasts begin with discussion topics such as buying a telescope or researching astronomy kits. It then covers recent astronomy news and the latest happenings in space. From there, listeners are treated to an in-depth look at specific sky objects appearing in the night sky.
Shows end with a question and answer session where listener questions get answered right on the air. To help illustrate points, the team frequently brings in special guests for candid interviews about important topics.
Pros
Three dynamic hosts
60 minutes of content
Tons of content in each episode
Question and answer session
Cons
Only produced once every two weeks
---
Best astronomy podcast for interviews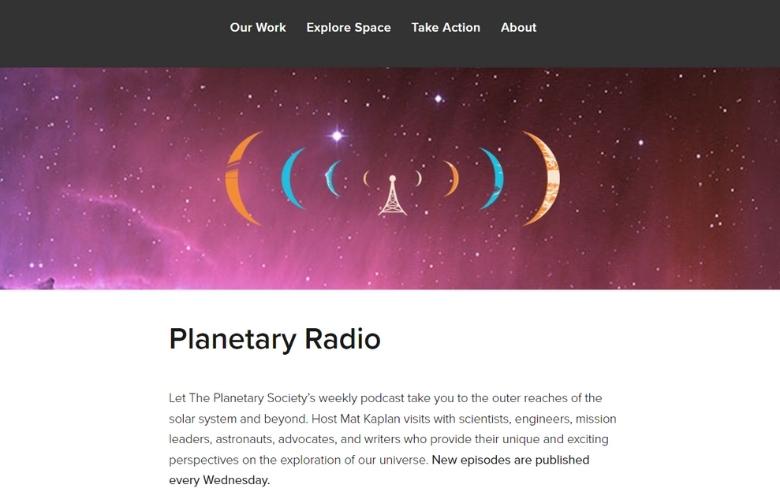 Host: Mat Kaplan | Topics: Science, technology, space news, exploration | Average Running Time: 55 minutes | Episode Release Schedule: Weekly
Planetary Radio sets out to understand the cosmos and the place we have in it. Through knowledge of what's out there, the show hopes to move space science and exploration forward.
The podcast is the brainchild of the Planetary Society, founded by Carl Sagan, Louis Friedman, and Bruce Murray. Mat Kaplan leads a series of astronauts, engineers, scientists, and the like through unique discussions of the universe.
Episodes feature up-to-date information on the latest in space exploration from a technology standpoint and through upcoming missions. For even more insights, Mat releases a monthly newsletter that goes behind the scenes of the show.
Pros
Interviews with top individuals in their respective fields
Podcast stems from the Planetary Society
Available monthly newsletter
Full of the latest space news
Cons
---
Best question and answer astronomy podcast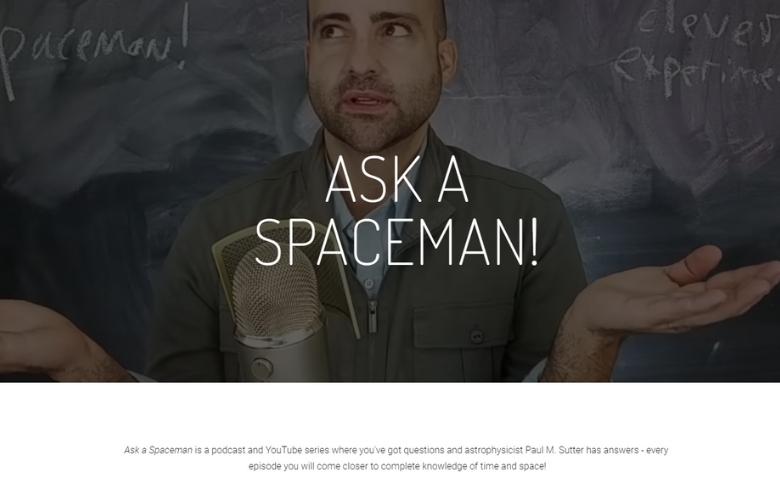 Host: Paul M. Sutter | Topics: Astronomy, physics | Average Running Time: 40 minutes | Episode Release Schedule: Weekly
No one can answer the most profound and perplexing space questions than the spaceman himself, Paul M. Sutter. This podcast takes your questions and turns them into an informational 40-minute session that will leave you that much closer to unlocking the mysteries of the universe.
There's no space-related question that's off the table. Recent episodes have looked into where diamond rain is located, what would happen if the Moon disappeared, and how the universe can expand faster than light.
Podcasts are released weekly on the spaceman's site and in video form on YouTube. If you so desire, you can submit a question of your own through Paul's Twitter page.
Pros
Question and answer format
Witty commentary with visuals
Makes subjects easy to understand
Cons
Topics are limited to user questions
---
Conclusion
There are tons of astronomy podcasts out there, but if we had to listen to just one, it would be Astronomy Cast.
This podcast features two great minds that put a personal spin on topics surrounding our universe. They cover everything from recent discoveries to new insights on age-old topics from an expert point of view.
Even so, the content is presented in a conversational tone that makes you feel like you're in the middle of a discussion with two friends. Episodes are based on fact and less on speculative elements of the cosmos.
If this particular podcast doesn't speak to you, there's little doubt one of the others on this list will!