Star Trek represents man's insatiable curiosity to adventure into and explore the far reaches of the universe. This simple concept has exploded into a multitude of shows, movies, books, memorabilia, and so much more over the last 45 years.
Trekkies, or Star Trek fans, are like none other in this universe. They are passionate about the ships, characters, and lore that have brought the future to life through this series. Giving your Trekkie the perfect Star Trek gift will send them all the way to deep space.
You'll be a hero in their book if you pick up the Star Trek Next Generation Bluetooth Communicator Badge. This practical piece of hardware demonstrates a person's love for the series while allowing them to easily listen to music and communicate while on the go. Read on to see what other products we recommend for the Star Trek fan in your life.
The Best Star Trek Gifts At A Glance
List Of The Best Star Trek Gifts to Buy
Star Trek Next Generation Bluetooth Communicator Badge
Best overall Star Trek gift
This fantastic little gadget will keep you connected while feeling like you're a part of the Star Trek universe.
The Star Trek Next Generation Bluetooth Communicator Badge looks just like the communicators worn and used by the Federation in the Next Generation series. The communicator is officially licensed, so you know you're getting a high-quality, authentic product. Best of all, this futuristic tech is available hundreds of years before its time!
The communicator badge is for more than just for show. It can connect to all phones and tablets with Bluetooth capability and has a built-in speaker and microphone. You can use the communicator to listen to music, take phone calls, or use voice assistant. The badge has up to a 30-foot Bluetooth range, so it works with your phone in another room.
The Star Trek Next Generation Bluetooth Communicator Badge will last about two hours of constant use before needing a charge. The package comes with a USB charger when the time comes to breathe life into that dead battery.
The badge is also an excellent piece for a cosplay outfit and even chirps when pressed, just like the original. This communicator attaches to clothing via a strong magnet, so there's no fear of it falling off or poking holes in clothing.
---
Star Trek Catan
Best Star Trek gift for gamers
Settlers of Catan is a multiple award-winning board game first published in 1995 where players become settlers trying to build and grow cities through obtaining and using various resources. The original game has sold over 25 million copies and several expansions.
Star Trek Catan is a spinoff of the popular board game that combines the gameplay of Catan with the Star Trek universe. Instead of working on one planet, though, your journey takes you to the stars.
Players use starships to establish outposts and starbases on planets in Federation space to gather resources from. Use those resources to trade with others and continue to expand your presence in the region. Support cards bring characters from the original Starship Enterprise into the mix and have a profound impact on your mission.
While the game is ultimately about being the Federation's greatest hero, Star Trek Catan takes a more cooperative approach to gaming through trading and strategy. After all, you and up to three other players are all part of the same Federation!
Designed for Star Trek fans ten and up, expect to spend many evenings settling planets with family and friends!
---
Star Trek Qi Wireless Charger
Best Star Trek gift for charging phones
Tap into the future with one of these Star Trek Qi Wireless Chargers. This cool collectible uses state of the art Qi technology to charge any device with wireless charging capability. There's no need to find that cord, and you can take this charger with you anywhere you go!
To appease the Trekkie in your life, this particular charger displays the Starfleet Academy command logo that illuminates when charging a nearby device. The words "To boldly go where no one has gone before" emblazon the top of the product. After switching on the charger, place your phone or tablet on top, and you're good to go.
This Star Trek Wireless Qi Charger has a built-in battery able to charge a few devices back up to 100% before needing a charge itself. It comes with a cable to plug into the wall for charging or leave it plugged in all the time to wirelessly charge without issue.
Those without devices that can be charged wirelessly can still make use of this collectible through the USB-A port on the side. You can still charge your phone anywhere you need to. If this particular Star Trek design doesn't speak to your fan, the manufacturer also makes two others.
---
Star Trek Car Windshield Sun Shade
Best Star Trek gift for protecting your car
Take your vehicle where no one has gone before with this Star Trek Car Windshield Sun Shade. This officially licensed product features Kirk, Spock, Scotty, and Dr. McCoy from the original Star Trek T.V. series that really started it all.
The sunshade creates the illusion that these four iconic characters are contemplating their next move as they hang out in your vehicle. While it's likely the crew will find themselves in trouble, rest assured your car will remain safe.
Designed to protect the interior of your car, the Star Trek Car Windshield Sun Shade will keep things cool while preventing the sun from damaging, warping, or discoloring your dashboard and seats. The product's universal fit allows it to cover most windshields fully, with large vehicles only experiencing a slight gap along the sides.
---
Classic Star Trek Live Long and Prosper Spock T-Shirt
Best Star Trek gift for wearing
This unisex shirt proudly displays a core tenant of the Star Trek universe. The shirt features Spock in his traditional Vulcan salute with "Live long and prosper" above and below. Looking at the shirt, you can almost hear Spock uttering these words as he did countless times in the original series.
This particular shirt comes in a charcoal color that goes well with any color bottom that you decide to wear. The 100% cotton material comes pre-shrunk for a comfortable fit and feel. It comes in a gambit of sizes, so you're sure to get the one you need. Best of all, this model is entirely authentic and officially licensed by Star Trek.
To add to the excitement, this tee also comes with two stickers to place on laptops, phones, or wherever else you see fit. You'll receive a sticker of the Starfleet Delta Shield and one of Spock himself!
---
Star Trek Dilithium Crystal Mints
Best Star Trek gift for a boost
Dilithium crystals are an essential resource for any Starfleet ship hoping to cross vast expanses of space in a short amount of time. As a necessary component to fuel a ship's warp drive, these crystals are a sought-after commodity. Who would have thought such crystals could become fuel for human consumption?
The company known as The Unemployed Philosophers Guild created these mints based on dilithium crystals from the Star Trek universe. The mints have the same pink hue but won't be nearly as hard as the crystals from the show.
The tin showcases Scotty, chief engineer of the Enterprise on the original series, with a handful of dilithium. At 1.75 by 1.75 by 0.75 inches in size, you'll have quite a few crystals to share with your crew. After you're finished off your last mint, the tin is reusable to hold small objects or serve as a display piece.
The mints themselves are electrifyingly strong and will undoubtedly give you a jolt. While there's no science to back this up, it's been said these mints provide the power you'll need to get through an action-packed day.
---
Star Trek Federation: The First 150 Years
Best Star Trek gift for information seekers
The Star Trek Federation: The First 150 Years book is a piece of literature like no other that takes fans on a journey through the first 150 years of the United Federation of Planets. The176 page book is written by David A. Goodman, who has 26 years of experience writing for television, including episodes of Star Trek.
This impressive guide is written from the standpoint of being inside the Star Trek universe, as a chronicle to events that have transpired since the Federation's foundation. Information contained within includes records from Starfleet and intelligence from as far as the edges of space.
Trekkies will be treated to the one hundred years leading up to the Federation's establishment and the 150 years after that event occurred in 2161. The chronicle includes a plethora of information on the technology that made space travel possible, battles that shaped history, and the large number of alien races the Federation has come in contact with.
Pages also include images of species, artifacts, and more that have been cataloged in Federation records. If that wasn't enough, it's even possible to read the official biography of captain James T. Kirk.
Star Trek fans will have access to knowledge not found anywhere else. That makes this book a must for anyone worth their weight in platinum.
---
Star Trek U.S.S. Enterprise 1701-D – Enterprise Replica Bluetooth Speaker
Best Star Trek gift for music listeners
Open a channel! Star Trek is all about technology, and many of the best Star Trek gifts fall into this same category. This Star Trek U.S.S. Enterprise 1701-D – Enterprise Replica Bluetooth Speaker will help Star Trek fans live long and prosper by staying connected.
This realistic-looking Enterprise from the Next Generation era connects to any device with Bluetooth capability. It also has L.E.D. lights on the deflector dish, warp engines, and more. These lights allow the speaker to double as a night light as needed.
Speaking of nighttime, the Enterprise has a built-in 60-minute white noise player that plays different engine sounds as you are lulled to sleep. The speaker can handle somewhere between 6 to 8 hours on a charge but can be plugged directly into the wall to fly throughout the night.
If you find yourself flying this capital class ship around as a toy, the speaker also features several different realistic ship sound effects to add to the experience. The ship itself is a foot long and comes with a stand in the shape of the Star Trek delta symbol. In the box, you'll also find a two and a half foot cable for charging.
---
Star Trek U.S.S. Enterprise Bottle Opener
Best Star Trek gift for drinkers
When at any get-together, someone always invariably asks for a bottle opener, and no one seems to have one. Remedy that issue in style with a bottle opener in the shape of the original U.S.S. Enterprise!
This collectible is made of durable metal that won't scratch easily and opens bottles with little effort. Use it to pop the top off your Romulan Ale Fizz before watching your favorite Star Trek show or movie.
The five-inch body of the ship makes it easy to hold onto while opening beverages. It's still small enough to fit into a pocket or drawer for easy access. This Star Trek U.S.S. Enterprise Bottle Opener is great for any fan of the Star Trek universe!
---
Star Trek Gift Buying Guide
When picking out a gift that would make a Ferengi squeal in delight, consider the following before warping over to the store.
Who Are You Buying For?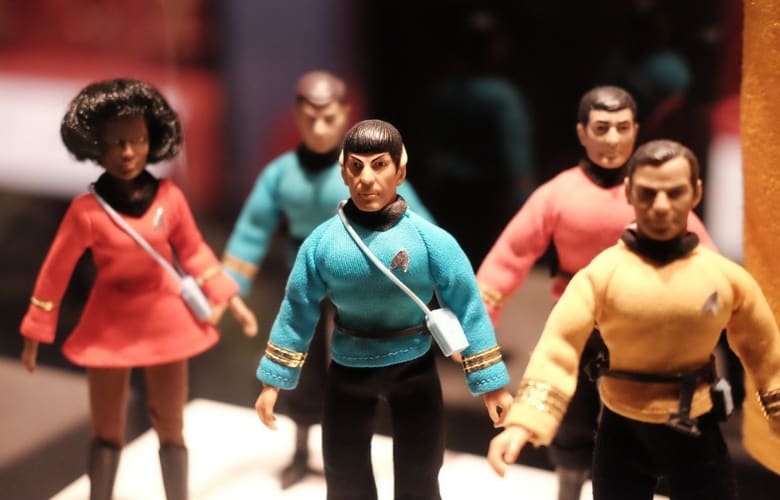 All the products on our list can be used by men or women. While this seems to be the case across most Star Trek products, keep in mind that some things (especially things like uniforms) can be gender-specific.
No one would fault you for thinking a lot of the toys are geared for a younger audience, but this often isn't the case. Trekkies love adding to their collection of memorabilia and won't turn down something new!
What Is Their Favorite Star Trek Version?
Star Trek is more than one show; it's an entire universe brought to life that spans hundreds of years. The series itself spans a significant amount of time, with the original series debuting all the way back in 1966. Shows like Star Trek: Discovery came out with new episodes just this year.
While many Trekkies love all that Star Trek has to offer, you'll typically find those fans tractor-beamed into one era more than the others. When picking out a gift, do your do-diligence and figure out which show or character they like the best.
What Do They Collect?
Your Star Trek fan's vision may be less about a particular show and more about a specific aspect of the universe. Does this Trekkie collect starships, popular characters, or cool gadgets? Are they more into games, or can they not get enough Star Trek-inspired clothing?
It's well worth figuring out how you can add something special to an already existing collection of Star Trek memorabilia. Plus, it makes narrowing down gift ideas that much easier!
"Live Long and Prosper"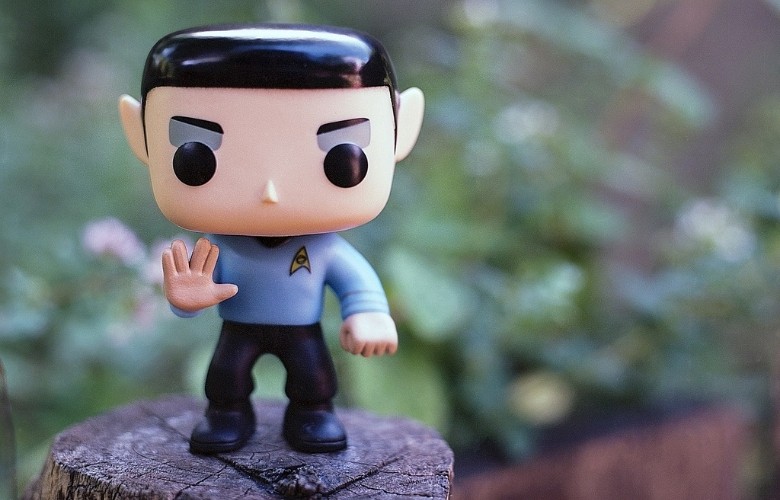 This iconic phrase was first uttered by Leonard Nimoy's Spock all the way back in 1967. It stands out today as a representation of the series and as the wish of Star Trek fans all over the globe.
Many a Star Trek fan would love a gift that captures this phrase, whether written in English or Vulcan script. You'll often find it on clothing or collectible memorabilia designed to be displayed around the home.
To Boldly Go in Search of Knowledge
Star Trek fans pride themselves in knowing as much as they can about the universe they love so much. While the shows and movies are excellent sources of information, there's plenty more that can only be found in books written specifically for the purpose.
Conclusion
The Star Trek universe only continues to grow as more T.V. series and movies are announced every year. Both these sources of entertainment and the merchandise that represent them continue to boldly go where no one has gone before. This can make purchasing a gift as difficult as surviving a Klingon battleship.
You simply can't go wrong with a Star Trek Next Generation Bluetooth Communicator Badge. This device serves as a useful way to stay connected and shows off someone's love for all things Star Trek. As authentic-looking as it is, it can also be the finishing touch on a uniform for Halloween or a convention.
If your Trekkie already has a dozen badges, we're sure something else on this list will save the day just as the Enterprise saved the whales.