Star Wars is a masterful space opera that started all the way back in 1977 with a movie that would change the world forever. Fans fell in love with the idea that anyone can play a crucial role in standing up to the evils around us.
Star Wars fans are die-hard, and gifting such a person with a Star Wars-themed item can be a great idea. That being said, the number of Star Wars products on the shelves and the internet are as big as the Star Wars universe itself.
We believe that you can't go wrong with The Star Wars Archives Hardcover Book, which contains so much information about the series we all want to be a part of. We've also collected a few of our other favorite Star Wars products to help you in your shopping adventure. Read on to see what we recommend, no matter who your Star Wars fan may be.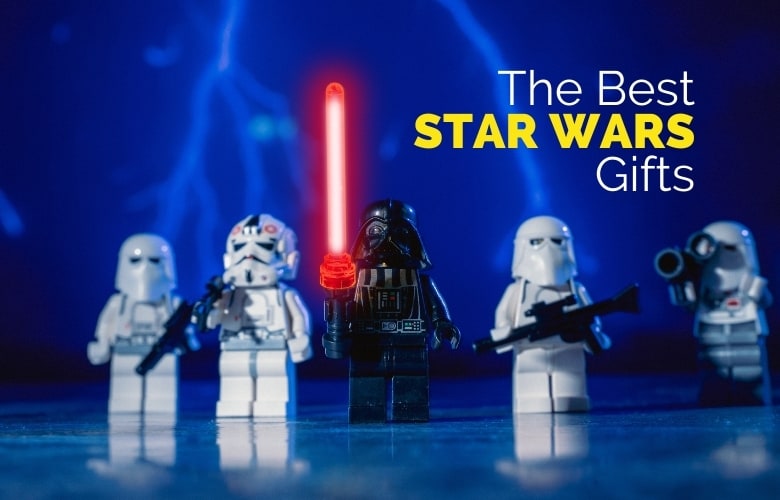 The Best Star Wars Gifts At A Glance
List Of The Best Star Wars Gifts to Buy
1. The Star Wars Archives Hardcover Book
Best Star Wars gift for information seekers
Knowledge is power in any universe, and a good Star Wars fan pursues all the information they can to learn about every aspect of Star Wars. The Star Wars Archives is chock-full of insights and tidbits that are not found anywhere else.
This 15 pound, 604 page hardcover book takes fans through the accounts of our beloved heroes and cursed villains through the eyes of George Lucas himself. The writer, director, and producer narrates a journey through the original trilogy like none other, even explaining how he had to create the audio and special effects technology he needed to pull off a project like none other.
Lucas walks readers through the events of Episode IV: A New Hope, Episode V: The Empire Strikes Back, and Episode VI: Return of the Jedi. Your Star Wars fan will be treated to the director's thought process as he brought planets, characters, and aliens to life, giving birth to the universe we all know and love.
In addition to this unique point of view, the Star Wars Archives also includes concept art, production documents, on-set photography, script pages, storyboards, posters, and stills. There's simply no better resource for understanding the inner workings of this incredible saga.
---
2. Star Wars Rebellion Board Game
Best Star Wars gift for gamers
Star Wars Rebellion is a masterful game encompassing the conflict between the Rebel Alliance and Galactic Empire. The game picks up in the middle of the Galactic Civil War, right after the events of the Battle of Yavin. From there, it leaves it up to you and up to three others to decide the fate of the galaxy.
Players play as either the Rebel Alliance or the Galactic Empire, each with unique mission objectives to achieve victory. The powerful Empire rules through power and fear, where the Alliance focuses on subterfuge and diplomacy. No matter which side you choose, you are responsible for powerful starships, commanding troops, and even persuading planetary systems to aid you.
Amid this grandiose war, it is the actions of a few heroes (or villains) that ultimately spell victory or defeat. Each time you play, you'll get the option to play as your favorite characters from the original trilogy, sending them off to complete important missions for your cause. You may even find yourself recreating iconic moments from those movies!
The Star Wars Rebellion board game contains over 150 plastic miniatures, a two-piece board with 36 notable systems from the Star Wars universe, mission cards, and 25 different heroes and villains from the trilogy.
---
3. They Call Me Darth Baker Apron
Best Star Wars gift for bakers and grillers
This punny apron will set you apart as a chef, baker, or grillmaster with a love for all things Star Wars. There are plenty of options for Star Wars clothing out there, but an apron shows you are a true Star Wars fan.
The apron itself is designed with nothing but high-quality materials, ensuring that it's as functional as it is whimsical. It features sharp edges and a black color befitting the dark side of the force. The 35% cotton 65% polyester blend keeps the apron lightweight while protecting the wearer from heat or spillage.
This one-size-fits-all design is perfect for men, women, or children who like to create scrumptious foodstuffs. Both the neck and the waist tie are fully adjustable to get a comfortable fit. Two pockets in the front are reinforced tools or ingredients that will make your dish shine.
The lighthearted graphic is where this apron really stands out as a clever play on one of the most fearsome Sith Lords in the galaxy. Star Wars fans will embrace the power of this apron while they enjoy another of their favorite pastimes!
---
4. The Child Real Moves Plush
Best Star Wars gift for curious minds
While the Star Wars universe started with movies, the Mandalorian is making waves as a hit Star Wars TV series. Anyone with the faintest notion of the show has heard of the character known as the Child. The Child Real Moves Plush toy allows you to stand in for the Mandalorian and interact with the Child in several ways.
This toy for all ages includes the Child plush, wearable Mythosaur necklace, and a remote control that attaches to your wrist. The remote control has a joystick to move the Child forward, backward, side to side, or even in a circle. Each button has a unique feature, enabling the Child to use the force, follow you around the room, or even play hide and seek.
The real joy of this product comes from seeing the Child's curiosity come to live in your own home. The Child itself stands roughly 12 inches tall and is made from rubber with detailed painting to bring him to life. He wears the same attire from the show and even comes packaged in his hover pram.
---
5. Star Wars Deluxe Millennium Falcon Waffle Maker
Best Star Wars gift for foodies
This creative design takes a delicious breakfast meal to lightspeed with waffles in the shape of the Millenium Falcon!
This officially licensed Star Wars product is made from cast aluminum and showcases familiar features such as the cockpit and sensor dish on the exterior. This cool design looks awesome on any Star Wars fan's countertop, even when waffles aren't on the menu. Traditional waffle makers make for boring conversation anyway.
The inside of the Millennium Falcon Waffle Maker highlights one of the galaxy's fastest ships with a unique batter mold. The non-stick surface makes quick waffle removal and cleanup. The waffle maker's weighted lid and thermostat help keep Millenium Falcons cooked to perfection.
Best of all, these Millenium Falcon waffles are ready in less time than the 12 parsecs it took the ship to make the Kessel Run!
Pro tip: Adding a little black food coloring will help bring out the Falcon's true colors.
---
6. Exquisite Gaming Boba Fett Cable Guys Mobile Phone and Controller Holder
Best Star Wars gift for recharging devices
Fans of the most fearsome bounty hunter in the galaxy will rejoice at this Boba Fett device holder. This heavy-duty PVC statue accurately depicts the bounty hunter in his Mandalorian armor, complete with helmet, wristbands, jet pack, and rocket launcher.
Boba Fett stands just under ten inches tall and weighs a sturdy one and a half pounds. This allows him to hold a phone, tablet, controller, or other gadget as they charge without fear of falling into a Sarlacc pit. The holder comes with a six-foot micro-USB charging cable to power those devices back up as Boba holds them. After all, those devices are no good to anyone dead.
While designed to hold devices as they charge, this bust can display souvenirs, mementos, or even business cards in an office setting. The realistic design of the iconic bounty hunter makes this a suitable showpiece even when it's not in use.
---
Star Wars Gift Buying Guide
When picking out that amazing Star Wars gift, consider the following before you make your purchase.
Who is Your Gift For?
This seems like a silly question, but Star Wars is a timeless classic loved by people of all genders and ages. Star Wars products cover a multitude of uses and functionality. Although the gifts on our list could be used by almost anyone, that may not always be the case.
What is Their Favorite Star Wars Movie or TV Show?
The Star Wars universe encompasses 11 major films, several TV series, and more books and comics than grains of sand on Tatooine. Although there are fans that love the universe as a whole, some fans may be partial to a specific era. It may be worth doing some digging, lest you buy a gift that has the opposite effect than you hoped.
What Do They Collect?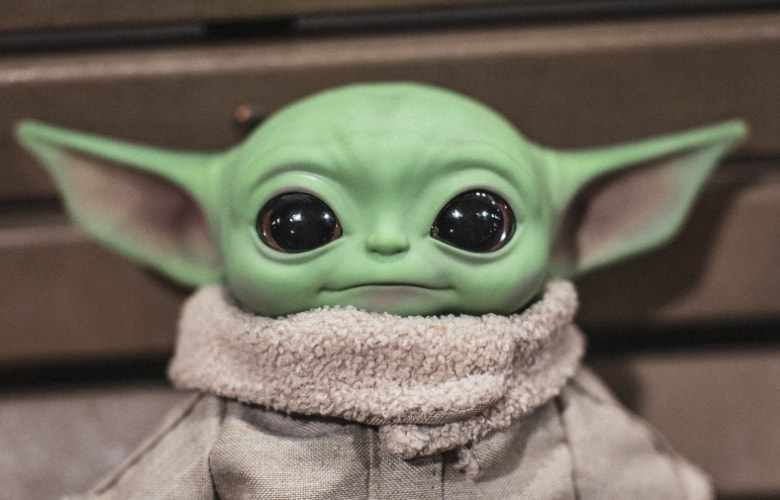 With the Star Wars scene as big as it is, it can be overwhelming to try and pick out the perfect gift. When around your Star Wars fan, try to determine if their interests lie in a particular type of product. Star Wars offers great video and board games for gamers and plenty of figurines and action figures for collectors.
What Are Their Hobbies?
Star Wars products can be seen on anything from coffee mugs to running socks and waffles. Even if you're unsure who their favorite character is, you likely won't go wrong buying a baker an apron with a catchy Star Wars phrase.
Do They Like to Seek Out Information?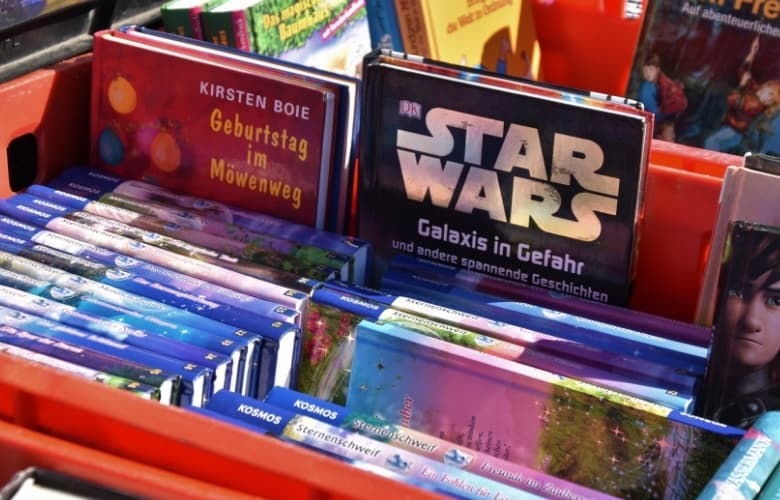 Those invested in the Star Wars universe are always on a quest to learn more about what's out there. Documentaries and books like the Star Wars Archives Hardcover Book on our list provide insights and information not widely known. Such a gift may give your Jedi the know-how they need to win an epic Star Wars debate.
Conclusion
The Star Wars universe is absolutely massive, with 45 years of movies, shows, books, and comics to bring it all to life. That same universe has given birth to countless products over the years across every category imaginable.
In our opinion, the best way to share a piece of this with a Star Wars fan is through The Star Wars Archives Hardcover Book. This single book contains information, insights, and images from this universe that few people are aware of. Your Star Wars fan will be beyond Endor's moon absorbing all that detailed information.
Should the book not suit your needs, look no further than the other products on our Star Wars gift list for stellar ideas.