Not all of us are professional photographers who can afford to drop thousands of dollars on the most expensive tripods out there. If you find yourself just starting out and unsure if astrophotography is for you, the last thing you want is to spend beaucoup bucks on a hobby that may not take off for you.
Dolica recognizes this and prides itself on producing good tripods at reasonable prices. Models like the Dolica AX620B100 have the features you need to land stellar starscapes without having to shell out more money than you can handle.
Read on to see what makes the Dolica AX620B100 a great tripod to consider for your astrophotography shoots.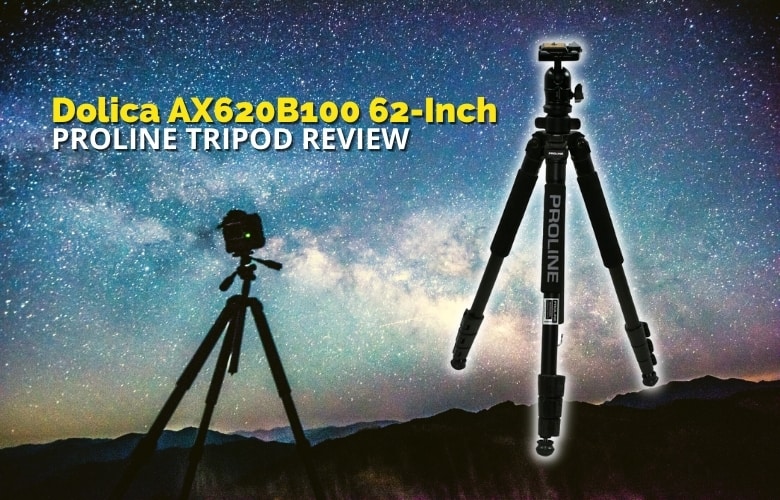 Dolica AX620B100 62-Inch Proline Tripod Specs
Max Load: 13.2 pounds | Weight: 2.9 pounds | Min Height: 18.5 inches | Max Height: 62 inches | Material: Aluminum | Leg Sections: 4 | Feet: Rubber pads with retractable spikes | Folded Length: 23 inches
Pros
Budget-friendly
Rubber or spiked feet
Sturdy aluminum
Lightweight
Great for beginners
Cons
---
Dolica AX620B100 62-Inch Proline Tripod: Things To Consider Before Buying One
Will It Support My Gear?
Landscape lenses can be on the longer and heavier side, and a tripod does little good if it can't support that weight. The Dolica AX620B100 meets this demand with a maximum load capacity of 13.2 pounds.
This maximum load should be more than enough to support your camera and lens combination without causing instability or wobble that can take away from a good shot. You'll be able to focus more on the task at hand knowing that your gear is secure.
The Dolica AX620B100 comes with a hook on the underside that you can attach some weight to as a counterbalance. The extra weight will bring down the tripod's center of gravity and improve stability all that much more.
Is It Easy to Use?
Dolica strives to not only provide tripods of good value but also tripods that anyone can use.
The Dolica AX620B100's feet have hidden, retractable spikes that appear with a twist. These metal spikes boost stability on soft surfaces where a tripod might otherwise wobble.
The four section legs extend with a flip of the leg locks, aligned so that an entire leg can be extended in one fell swoop. Once opened, a quick snap locks the legs in place so you can start lining up your shot.
Levers on the side of each leg keep the legs locked at the angle you need. Lifting the tab makes switching angles a breeze for higher or lower shooting.
The ball head has just one knob that, once loosened, allows free motion of your camera. Once you've dialed in your shot, tightening that same knob keeps the camera firmly in place. A quick-release plate at the top of the ball head speeds up setup and teardown time.
Is The Price Reasonable?
Tripods can be quite expensive, and you'd be paying for top of the line features that may or may not enhance the quality of your shot. It's also worth noting that there's a difference between a budget tripod that's a good value and something that's just cheap.
Dolica's products (the AX620B100 included) are a happy marriage of value and quality. While they won't win any awards for innovative features, astrophotographers need not fear the lower price tag these tripods carry.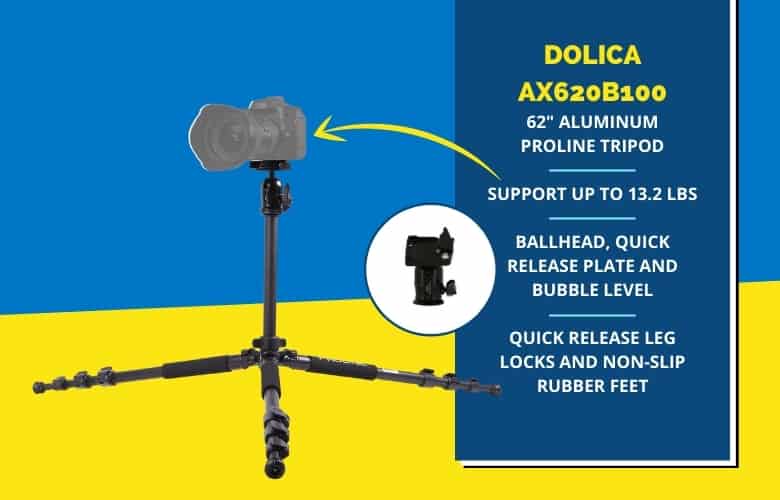 Features And Benefits
Reversible Center Column
With the center column in the upright position, the Dolica AX620B100 reaches impressive heights – 62 inches off the ground, in fact. Having a high maximum height is essential for capturing expansive landscapes, but there's something to be said for other heights as well.
At its lowest setting, this tripod lowers to 18 inches off the ground. While this is a reasonable minimum height, it limits the ability to snap starry shots from shallow angles or take macro photos for those who take more than just celestial pics.
To remedy this problem, the Dolica AX620B100 has a reversible center column. Those who love to be really creative with angles or enjoy low to the ground starscapes will find tons of use for this feature.
Heavy-Duty Aluminum
The Dolica AX620B100's aluminum tripod legs have some significant benefits that are worth noting.
Aluminum is a more cost-effective material than the carbon fiber that tripods sometimes use and allow tripods to cost less as a result. Carbon fiber can easily cost significantly more than a similar aluminum model.
Aluminum tripods are typically a bit heavier than carbon fiber tripods, and while that's a negative from a portability standpoint, it's a blessing for stability. The extra weight of aluminum makes the Dolica AX620B100 less susceptible to gusts of wind that can cause lighter tripods to shake.
Ball Head
Tripods don't always come with ball heads, and, surprisingly, the Dolica AX620B100 includes one at its price point.
The ball head has a single locking lever to control both movement and panning. It also includes a quick-release plate for faster setup and teardown. Even though you're likely using a DSLR with a landscape lens for your nighttime pics, you can use this ball head with standard point and shoot cameras as well.
The ball head also features a notch for quick conversion between landscape and portrait photos as needed.
The Dolica Brand Overview
Is Dolica a Good Brand?
The Dolica brand is an American company headquartered in the Rancho Cucamonga area of California. The company was founded in 2005 by photo buffs who believe good tripods don't need to be expensive.
Their focus is on creating high-quality tripods that provide excellent value that take incredible photos each time you use them. Always looking to expand, the company often turns to photographers for ideas on future projects.
Alternative Dolica Tripods to the AX620B100
Dolica AX620B100 Vs. Dolica GX600B200
Dolica's GX600B200 is another aluminum offering that doesn't quite stand as tall as the AX620B100. While lacking some of the features that the AX620B100's ball head has, the GX600B200 comes with a bubble level to help snap straight shots.
---
Dolica AX620B100 Vs. Dolica GX700P106
Standing tall, the Dolica GX700P106 towers over Dolica's other models at 70 inches off the ground. It does not have the foam comfort grips of similar designs, and the GX700P106 is a few pounds heavier as well.
---
Dolica AX620B100 Vs. Dolica GX650B204
The Dolica GX650B204 is comparable to the AX620B100, with a slightly higher maximum height and load capacity of 17 pounds. While still pretty portable, the GX650B204 is heavier at 3.5 pounds and isn't able to fold up less than two feet in length.
---
Conclusion
If you want to take astrophotography seriously without having to break the bank, look no further than Dolica products. Their focus on value while adhering to rigorous quality standards make them a tripod company worth considering.
Especially if you are just starting out, tripods like the Dolica AX620B100 have all the features you'll need to start creating your portfolio of amazing starry landscapes. No matter your level of expertise, Dolica's products deserve your attention.