There's nothing like settling in to a quiet spot on a beautiful starlit night, setting up your tripod and camera to capture the Moon or the stars as they move across the sky. Without a good landscape tripod, those photos could very well turn out blurry, wasting an entire night of hard work.
Manfrotto understands this and stepped forward with their MT055CXPRO4 tripod design. The many built-in features make this model a stable, adjustable tripod. In this article, we break down these features and show just what makes the Manfrotto MT055CXPRO4 so special.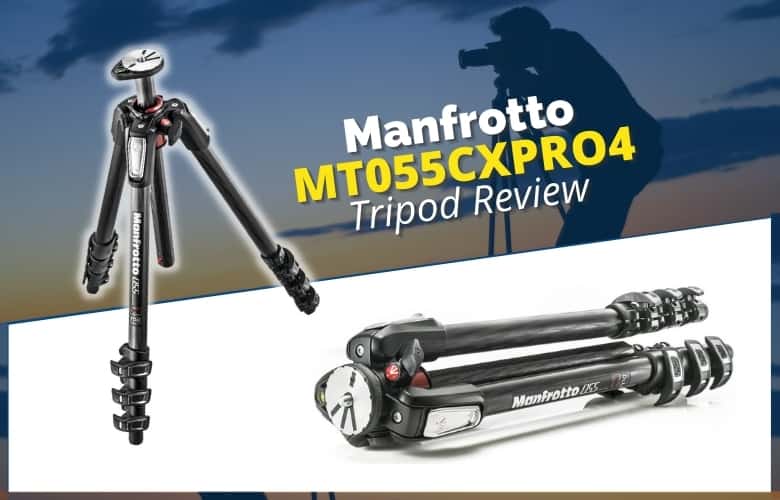 Manfrotto MT055CXPRO4 Tripod
Manfrotto MT055CXPRO4 Tech Specs
Max Load: 19.8 pounds | Weight: 4.63 pounds | Min Height: 3.54 inches | Max Height: 66.93 inches | Material: Carbon Fiber | Leg Sections: 4 | Feet: Rubber pads | Folded Length: 21.26 inches
Pros
Rotating center column
Thick, sturdy legs
Low minimum height
Easy Link connector
Cons
---
Manfrotto MT055CXPRO4: Things To Consider Before Buying One
In order to help understand what makes the MT055CXPRO4 a good tripod, we take a look at some commonly asked tripod questions.
Does It Hold My Gear?
The Manfrotto MT055CXPRO4 features a ⅜ inch screw on its base for mounting the camera directly, or more ideally, a ball head. This screw thickness is a standard size and accommodates most heads on the market.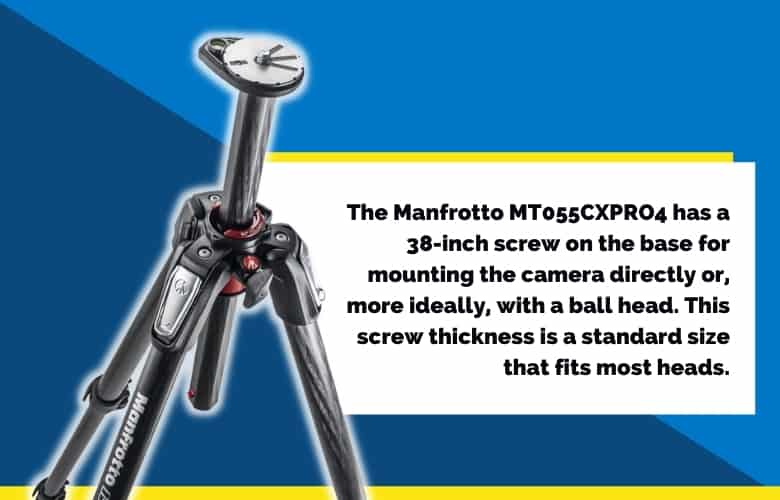 You also shouldn't have to worry about which camera you're attaching to the tripod. With a maximum load of nearly 20 pounds, it's unlikely there's a camera and lens combination that this tripod can't support.
Furthermore, the tripod comes with an Easy Link feature that makes it easy to attach other accessories such as lighting to your rig. The high maximum load should have no difficulty supporting such additions.
What Is Setup Time Like?
There's nothing worse than finding the perfect photo scene, only to lose it to clouds settling in because you couldn't get your camera and tripod set up fast enough.
The Manfrotto MT055CXPRO4 allows each leg section to be unlocked and relocked in one swift movement with just one hand. With the camera attached, the tripod also switches quickly between horizontal and vertical without having to disassemble any gear.
Will It Be Stable?
The Manfrotto MT055CXPRO4 was designed for adjustability and stability as its two core attributes. The stability is seen in thick carbon fiber legs and wide leg design, as well as rubber feet that can grip most surfaces.
Since you likely won't be maxing out the load capacity with your camera and lens, it is possible to further stabilize the tripod by adding a counterweight. Lowing the center of gravity in such a way will only make this unit sturdier.
Is It Portable?
The Manfrotto MT055CXPRO4 is surprisingly portable for all it can do. It meets all the requirements of a carry-on item, folding up to less than two feet in length for storage.
If you like to take your astrophotography gear off the beaten path in search of incredible shots, this Manfrotto model is a reasonable choice. Depending on your gear bag, you may be able to place the 21 inch tripod well within. If not, it compacts enough that it could safely be attached to the side of your pack.
Features And Benefits
Rotating Center Column
When hunting for that perfect photograph of the sky, you never know when that photo will need to be captured in portrait mode. Most tripods limit you to landscape photos, but that's not the case for the Manfrotto MT055CXPRO4.
A rotating center column makes it incredibly easy to move from landscape mode to portrait mode in a flash. Better yet, there's no need to remove any of your equipment when making the switch. When the photo opportunity presents itself, you want to be sure you're ready for it.
A built-in bubble level rotates with the center column so you can be sure your shot is lined up perfectly.
Adjustability
Going beyond the rotating center column, the Manfrotto MT055CXPRO4 makes setup and on the fly adjustments simple. Each of the legs has a quick power lock feature to quickly extend and lock each section in place at the height you need it to be.
The tripod legs can also be set into one of four different angles from vertical: 25°, 46°, 66°, and down to 88°. The best part is the legs adjust individually, so you can maneuver your setup even into some hard to reach places.
To top it all off, this Manfrotto model is able to stand over five and a half feet tall at its maximum height. This is well within an acceptable range for wide landscape photos, but the tripod can drop down as low as just three and a half inches from the ground for a unique angle on the sky or even the occasional macro photo.
Thick Tripod Legs
Stability is paramount when it comes to capturing the best nighttime photos that require a long shutter or a time-lapse photo that shows planetary or star movements over several hours. The last thing you need is a vibration or a shake that can make the image nothing more than a blurry mess.
Having thick tripod legs goes a long way towards stability, and the Manfrotto MT055CXPRO4's legs are remarkably strong. Even the thinnest leg sections are over half an inch thick to help reduce vibrations and keep the tripod standing firm.
Durable Carbon Fiber
When it comes to build quality, carbon fiber is the top of the line for tripod design. This material, used for both the legs and the base, is very durable throughout and not susceptible to bends or kinks.
In addition, carbon fiber's rigid nature is resistant to vibrations that can ruin an otherwise perfect photo. The material is also robust against weather, corrosion, and scratches.
Easy Link
Manfrotto's Easy Link attachment feature allows for quick mounting of any additional accessories you may use to your camera setup. The Easy Link system has an extending arm or bracket for attaching those accessories in a snap.
The Manfrotto Brand Overview
Is Manfrotto a Good Brand?
Manfrotto is an Italian company that prides themselves on the quality of their products and the thoroughness of their design process. The team has been building tripods since 1974, where they achieved instant success.
Their products have always been made with versatility and portability in mind, a trend that holds true even to this day.
Where Are Manfrotto Tripods Made?
Every single one of Manfrotto's products is manufactured in northern Italy with distribution centers worldwide. Each of those tripods is hand-made from beginning to final assembly with quality checks along the way.
Alternative Manfrotto Tripods
Manfrotto has an impressive line of tripods. Here's how some of their other top models stack up against the MT055CXPRO4.
Manfrotto MT055CXPRO4 Vs. Manfrotto MT055XPRO3
Considered to be a precursor to the MT055CXPRO4 model, the MT055XPRO3 has many similar features but a few key differences.
The MT055XPRO3 is an aluminum tripod model, which is a bit heavier and not quite as durable as carbon fiber. As a result, it weighs almost a full pound more. The MT055XPRO3 only has three leg sections and doesn't compact down as well as its relative.
Manfrotto MT055CXPRO4 Vs. Manfrotto Compact Action
With compact in the name, you can imagine that the Manfrotto Compact Action tripod is all about portability. It weighs only 2.65 pounds and collapses to under a foot and a half, making it ideal for travel.
It falls short with a really low maximum load capacity and relatively thin legs that don't stand up as well to wind and vibration.
Manfrotto MT055CXPRO4 Vs. Manfrotto 190XPro4
The Manfrotto 190XPro4 has a lot of the same adjustable points as the MT055CXPRO4 with a rotating center column and the same quick power lock levers to keep leg sections securely in place. The 190XPro4 also has four leg sections for maximum flexibility.
This model is made of aluminum which makes it a little heavier than the MT055CXPRO4. The 190XPro4 has a comparable max load but doesn't fold up quite as nice.
Conclusion
Assuming you want the best landscape photos you can take with the most flexible options to do so, the Manfrotto MT055CXPRO4 is your top choice. It's the perfect choice for any astrophotographer who likes clear shots from any height or angle.
The Manfrotto MT055CXPRO4 is able to meet the competition head-on and stand up to it just as it handles the elements. It's a tripod designed to stand the test of time while standing tall and still so you can capture the shots you need.