The MeFOTO GlobeTrotter Classic Travel Tripod is a premier option for astrophotography. It has several different features that help new or experienced photographers capture incredible nighttime photos, no matter where their hunt for the perfect snap takes them.
The MeFOTO brand is known for using the latest manufacturing technology to produce high-quality products that are built to be portable, durable, and stable at the same time. These characteristics made their products sought after by enthusiasts across the globe.
In this article, we take a close look at the MeFOTO GlobeTrotter Classic that stands out in a star-studded market of impressive tripods.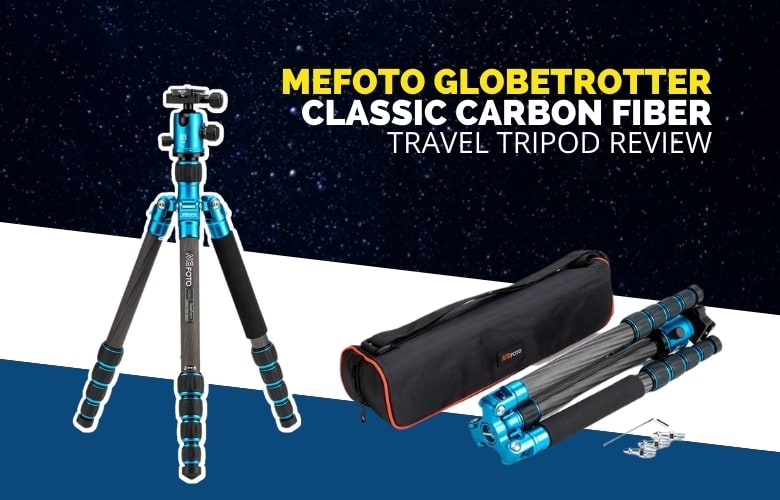 MeFOTO GlobeTrotter Classic Carbon Fiber Travel Tripod Tech Specs
Max Load: 26.4 pounds | Weight: 3.81 pounds | Min Height: 16.1 inches | Max Height: 64.2 inches | Material: Carbon Fiber | Leg Sections: 5 | Feet: Rubber pads with interchangeable spiked feet | Folded Length: 16.14 inches
Pros
Comes with a ball head
Heavy load limit
Interchangeable feet
High max-height
Cool color options
Cons
---
MeFOTO GlobeTrotter Classic: Things To Consider Before Buying One
Does It Hold My Gear?
The MeFOTO GlobeTrotter Classic is the largest tripod in the brand's arsenal. The rigid frame can support up to 26.4 pounds of total weight, which is more than enough for any combination of camera plus lens you can throw at it.
Having such a high max load capacity also allows the freedom to attach optional accessories such as filters or a remote shutter release. The extra weight allowance can even be used to hang a gear bag, reducing the tripod's center of gravity and adding to the overall stability.
Will It Be Stable?
With a few considerations, the MeFOTO GlobeTrotter can be stable enough for late night time-lapses. Adding some gear to the tripod as a counterweight will go a long way, and the high load capacity means you can really pile it on.
It's possible to further boost stability by using the included spiked feet when on wet or soft soil. Although the GlobeTrotter has five different leg sections, using at most three will reduce the instability that comes with thinner legs.
Is It Portable?
With a name like GlobeTrotter, MeFOTO makes it clear that this offering is meant to travel.
Even with five leg sections and a ball head, the tripod folds neatly up to just 16 inches in length when not in use. It does so thanks to the way the legs reverse-fold upward over the ball head, which also serves to protect that component.
The GlobeTrotter's carbon fiber design is incredibly light and brings the tripod's weight down to under four pounds. These two features go hand in hand in making this tripod easy to transport wherever you need it to go.
If a flight is in your future, there's no issue taking the MeFOTO GlobeTrotter Classic into the cabin with you.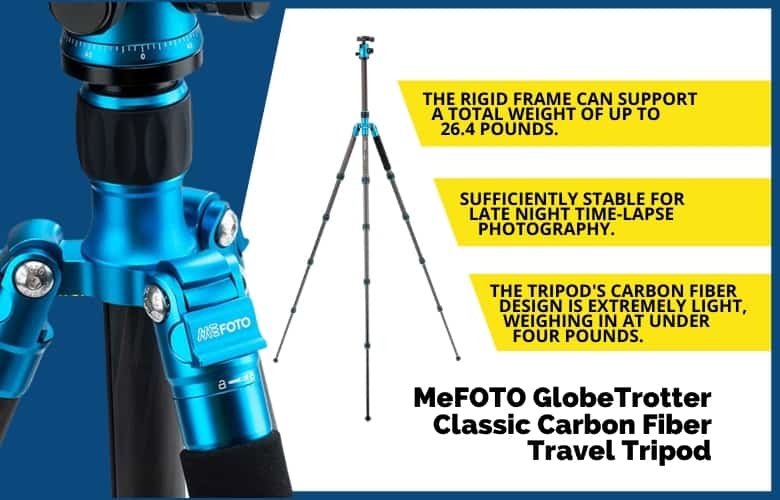 Features And Benefits
Thick Legs
At 1.13 inches, the GlobeTrotter Classic's legs are very solid at their thickest. Thick segments lend themselves to stability for blur-free pictures and also durability of the tripod.
With a five segment design, though, these legs get thinner with each additional segment. By the time it's fully extended, the GlobeTrotter stands on legs that are only 0.6 inches thick. These narrow segments can negatively affect stability and should be avoided if possible.
Carbon Fiber Material
Carbon fiber stands atop the list of available tripod materials when it comes to durability and strength. All that toughness comes in a very lightweight core that makes such tripods a joy to travel with.
The material is also highly resistant to corrosive materials that can quickly eat away at an aluminum tripod. Carbon fiber is also not susceptible to fluctuations in temperature and will work longer in extreme highs and lows.
Feet
When it comes to phenomenal nighttime landscapes, stability is essential in obtaining a crystal clear shot. Most tripods come only with rubber pads that work fine for hard surfaces but suffer when the ground is soft.
The MeFOTO GlobeTrotter solves this issue by including interchangeable spiked feet. These feet dig into soft surfaces to compensate for wind and help balance out uneven terrain.
Color Options
The MeFOTO GlobeTrotter Classic is one of the few tripods out there that come in a variety of colors. While most models keep to silver or black, MeFOTO also makes this tripod in a bright green, blue, and red so you can show off your creativity with your tripod choice as well as your photos.
The Manfrotto Brand Overview
Is MeFOTO a Good Brand?
The MeFOTO brand of tripods falls under the umbrella of Benro and shares Benro's focus on precision and quality designs. Although their product line is somewhat limited, each model is made with Benro's advanced tooling and some with the same five year warranty that Benro affords its customers.
Where Are MeFOTO Tripods Made?
MeFOTO tripods are manufactured out of Benro's dual facilities in southern China. They are made using the same high-level machining as that of their parent company.
Alternative MeFOTO Models
MeFOTO GlobeTrotter Classic Vs. MeFOTO RoadTrip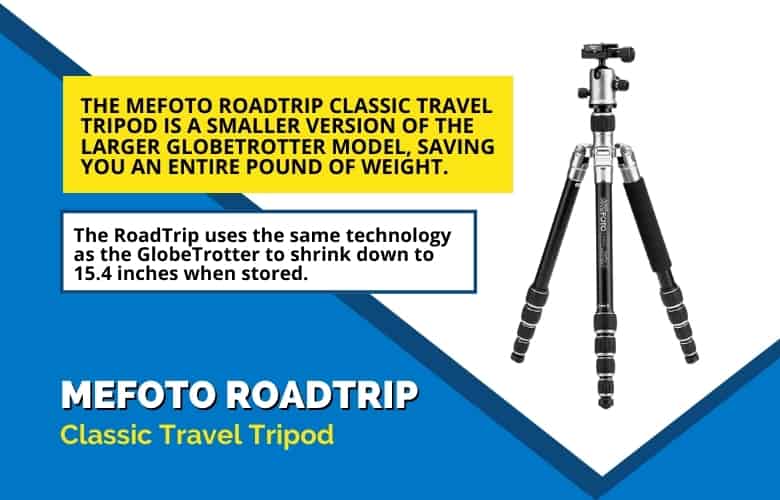 The MeFOTO RoadTrip Classic Travel Tripod is a step down in size from the larger GlobeTrotter model, shaving off an entire pound of weight in the process. When put away for storage, the RoadTrip shrinks down to 15.4 inches using the same technology the GlobeTrotter does.
A smaller size also means a smaller maximum height, but only by three inches. The RoadTrip can only hold 17.6 pounds compared to the GlobeTrotter's 26.4, but that number is impressive in its own right.
As with all MeFOTO models, you're somewhat spoilt for choice when it comes to color. The RoadTrip is available in the standard silver and black, but also red, blue, green, orange, and purple.
MeFOTO GlobeTrotter Classic Vs. MeFOTO Backpacker Classic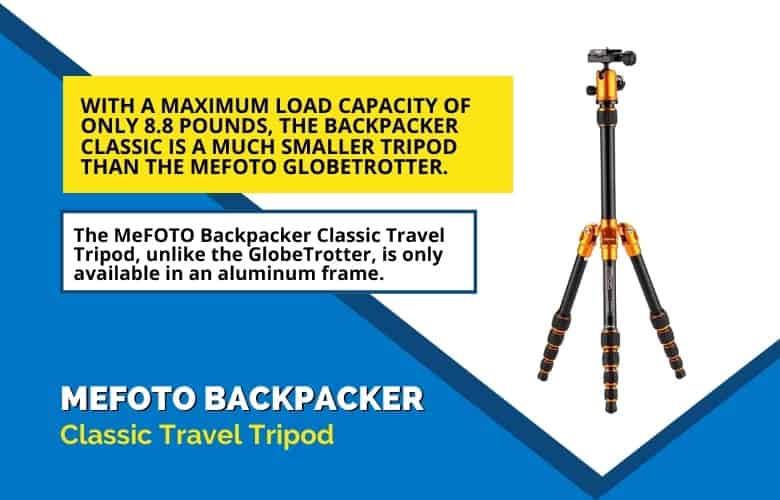 Unlike the GlobeTrotter, the MeFOTO Backpacker Classic Travel Tripod is only available in an aluminum frame. Even so, it's small enough to only weigh a total of 2.6 pounds.
Being a smaller tripod, the Backpacker Classic has a significantly smaller maximum load capacity at only 8.8 pounds. The maximum height only reaches just above four feet, which is an entire foot shorter than its bigger brother.
The Backpacker Classic does get the honor of having the smallest storage footprint at just one foot in length. In terms of style, the tripod comes in all the same bright colors as the GlobeTrotter – and even adds a few more to the mix.
Conclusion
With star-filled landscapes on any astrophotographer's mind, it makes sense to look to a lightweight and stable tripod. For this, there's no reason to look any further than the MeFOTO GlobeTrotter Classic.
Although not the cheapest model, MeFOTO backs up its price point with innovative approaches to design and manufacturing. When it comes to the MeFOTO GlobeTrotter Classic, you'll find a tripod that delivers amazing photos time and time again.