Capturing a crystal clear first quarter moon amid a backdrop of stars after sunset or snapping Orion as he walks across the sky battling Taurus isn't possible without a good tripod. Many high-end models will get the job done, but a practical tripod can work just as well.
Oben's line of products may not win awards for innovative features, but their tripods serve to help you take unforgettable starscapes without taking a huge chunk out of the pocketbook. The Oben CT-3565 Carbon Fiber Tripod is one such offering.
Read on to discover what makes the CT-3565 stand out as an exceptional landscape tripod.
Oben CT-3565 Carbon Fiber Tripod Specs
Max Load: 20 pounds | Weight: 3.2 pounds | Min Height: 9.1 inches | Max Height: 61.8 inches | Material: Carbon Fiber | Leg Sections: 5 | Feet: Rubber pads with retractable spikes | Folded Length: 16.1 inches
Pros
Lightweight carbon fiber
Folds to a very compact shape
Budget-friendly design
Adjustable height options
Cons
---
Oben CT-3565 Carbon Fiber Tripod: Things To Consider Before Buying One
Will It Support My Gear?
There's nothing more important than ensuring the safety of your gear, and trusting a tripod to support it isn't always easy.
The Oben CT-3565 has a maximum load capacity of 20 pounds, meaning it can handle whatever camera and tripod combination you throw at it. You'll likely have some wiggle room for filters or extra gadgets you use to personalize your nighttime photos.
Is It Portable?
This Oben tripod has a reverse-folding leg design to leave a minimal footprint during storage. The tripod's legs fold up over the ball head, reducing its overall length to just 16 inches. This small size easily fits into overhead compartments and most backpacks.
Made from carbon fiber, the Oben CT-3565 weighs only 3.2 pounds, less than a liter and a half of water.
How Adjustable Is It?
Being able to land the perfect shot can take some real work and serious adjustments. You may find yourself at the mercy of your surroundings, so you need a tripod that can account for all these nuances.
The Oben CT-3565 offers a lot of adjustability in one package. Each tripod leg has five distinct sections, each adjustable for balancing your setup on uneven terrain. You can modify each segment with just a quarter-turn of a twist lock.
This tripod's center column is also held in place by a twist lock and, fully extended, increases the maximum height of the CT-3565 to just under 62 inches.
For low-angle shots, it's possible to replace the center column with an included low-angle column in seconds to shoot from as low as nine inches off the ground.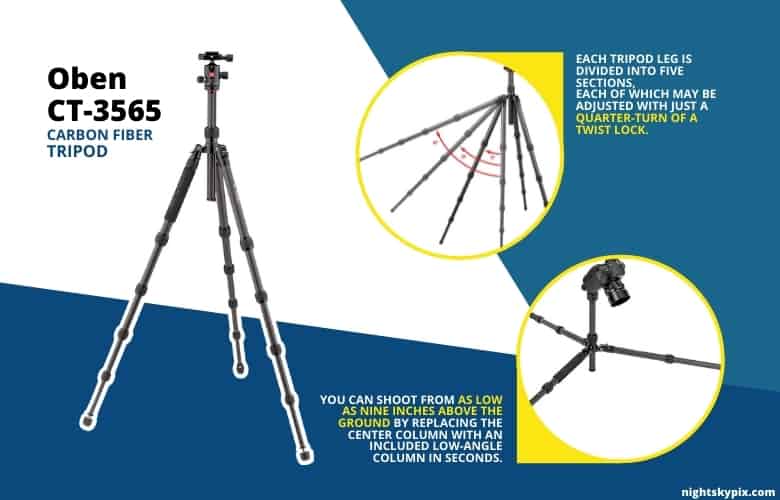 Features And Benefits
BZ-217T Ball Head
Having a well-designed ball head makes lining up shots seem effortless, and Oben includes one of their best with this tripod.
The BZ-217T ball head utilizes a unique, easily locatable tension knob that keeps whatever amount of friction you need on the ball itself. A separate knob controls adjustments on the panoramic base.
A 90° notch in the side of the ball head makes it easy to switch from landscape to portrait mode as necessary. A quick-release plate for attaching and removing your camera helps minimize setup and tear down time.
The ball head also has a built-in bubble level to ensure your angle is spot on when zeroing in on your subject.
Carbon Fiber
Carbon fiber has several notable advantages in a tripod design. The material is highly resilient and will not bend, bow, or dent easily. Furthermore, carbon fiber is resistant to corrosion, chemicals, and won't get too hot or cold to touch even in extreme conditions.
Unlike other tripod materials, carbon fiber is not easily affected by vibrations from either the earth or the wind. It's also a very lightweight material, making these types of tripods much easier to carry.
Stable Legs and Feet
No matter what type of surface you're shooting on, the Oben CT-3565 has the feet to stand firm. Rubber pads work well on harder surfaces such as rock or cement, but the tripod has spikes that twist into place for soft soil or sand.
The tripod's thick legs can lock at three different angles for stability in bumpy terrain or slanted surfaces. Using the widest leg sections first will further bolster the tripod's frame to prevent tipping or vibrations.
Oben Brand Overview
Is Oben a Good Brand?
Oben isn't a name that you'll hear dropped in every tripod conversation you have, but that doesn't mean they produce a bad product. On the contrary, Oben's designs focus more on the practical nature of tripods.
The company is known for its rigorous testing and backs each of its tripods with a limited five-year warranty. Models come with carefully sculpted, tripod-specific user manuals to give photographers the best chance at success with their products.
Where Are Oben Tripods Made?
Oben manufactures their tripods and ball heads out of their facility in China.
Alternatives to the Oben CT-3565 Carbon Fiber Tripod
Oben CT-3565 Vs. Oben CT-3535
The Oben CT-3535 Carbon Fiber Tripod is a small version of their CT-3565 in every way. The CT-3535 is a lighter model at only 2.5 pounds and condenses down to just a foot in length when stored away.
On the flip side, it doesn't stand nearly as tall as the CT-3565, and it can only support nine pounds of weight. 
---
Oben CT-3565 Vs. Oben CT-3561
Oben's CT-3561 tripod comes equipped with three segment legs to the CT-3565's five. Fewer leg sections bring down the maximum load capacity by a few pounds and take away a bit of the adjustability.
Fewer leg segments indicate less tripod weight and can add a bit to the rigidity of the unit.
---
Oben CT-3565 Vs. Oben CT-2491
Sometimes bigger is better, and the Oben CT-2491 offers up to 40 pounds of load capacity for your heavy gear. The tripod also stands an incredible six feet tall when fully extended for tall astrophotographers.
These enhanced features do cost the tripod a bit when it comes to total weight. It also struggles to fold down any more than two feet in length, considerably longer than the CT-3565.
---
Conclusion
Oben tripods know how to get the job done without using fancy bells and whistles to get there. This practical approach to tripods helps keep costs down while still providing the features necessary to capture great celestial photos.
The Oben CT-3565 Carbon Fiber Tripod is the perfect example of these two worlds coming together. The sturdy, portable design allows for blur-free snaps and comes in at a reasonable price point. This, alongside Oben's five-year warranty, make it a company that can rival many other brands out there.