A precise polar alignment (PA) is of utmost importance in deep-sky astrophotography.
A requirement that gets more and more stringent with the increase of the focal length of your lens or telescope.
Unfortunately, on the internet, there are a lot of misconceptions about how a good PA should be obtained and many beginners struggle with that.
Fortunately, a neat app exists to help us to set up and precisely polar align our star trackers and equatorial mount in the field: Polar Scope Align.
What Is Polar Scope Align App?
Polar Scope Align is the perfect app to help people setting up manually their star trackers and equatorial mounts.
Polar aligning your mount has never been so easy.
Is Polar Scope Align Available For iPhone And iPad Only?
Unfortunately, yes.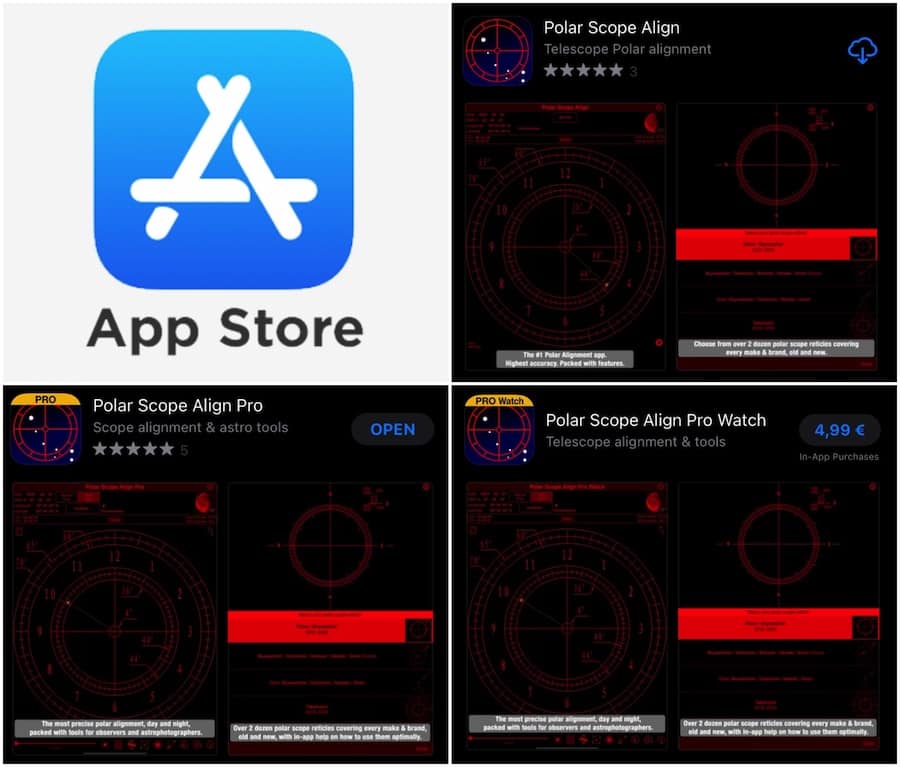 Polar Scope Align, Polar Scope Align Pro, and Polar Scope Align Pro Watch are only available for iPhone and iPad through the Apple App Store.
To be able to use this app, your device must run iOS9 or higher.
Is Polar Scope Align Pro Free?
The Pro versions of Polar Scope Align are not free, but at $ 3.99 ($ 4.99 for the Apple Watch version), Polar Scope Align Pro is quite affordable and well worth the money.
But if you want to try it or you can get away with having no advanced tools, Polar Scope Align is free and you can upgrade to the Pro version at any time.
If you are particularly glad to the developer for his outstanding work, you can send an extra tip to him via in-app purchases (Tip Jar) from $ 0.99 up to $ 9.99. Sending a tip enables an "Email Developer" button for better support.
What Are Polar Scope Align Pro – Pros and Cons?
In my view, Polar Scope Align Pro has no minus and it simply nails all it does. So, what is it that does so well?
PROS
This app is affordable
It's packed with amazing features
All common reticles are available
Useful and detailed reticle instructions teach you how to polar align your mount the best way
Several advanced tools are available to improve and check polar alignment at any time
It offers interactive daylight polar alignment and planning/framing tools
CONS
The free version is very limited
The app is most useful for aligning your mount using Polaris
Only available for iOS
What Are Polar Scope Align Pro Main Features?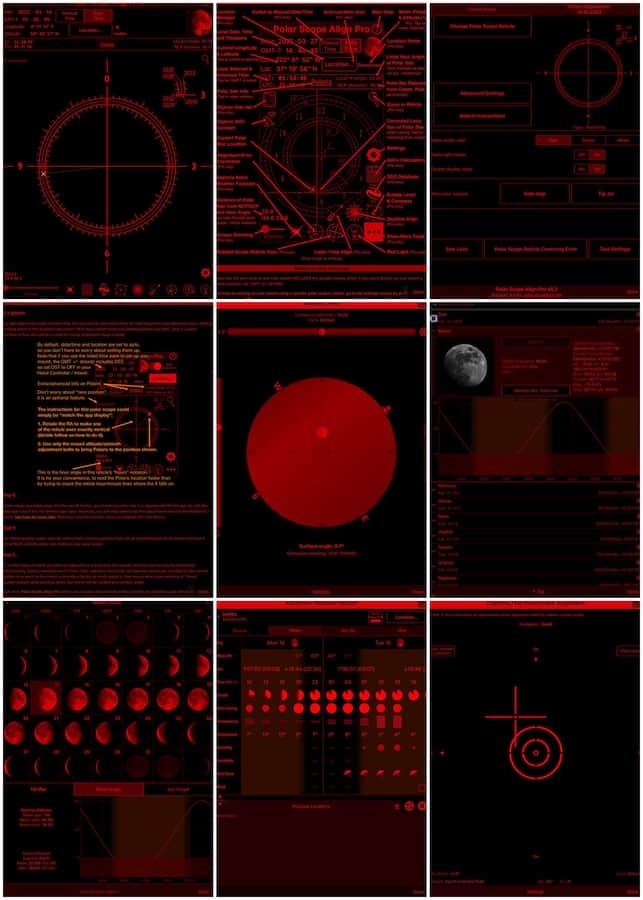 Polar Scope Align Pro is packed with amazing features to make sure you have a hassle-free time when setting up your mount in the field:
For a given location, time and date, it shows where Polaris should be placed in the reticle inside the polar scope
All common reticles used to manually PA an equatorial mount are available in the app
For each reticle, detailed reticle instructions are available
The reticle can be rotated accordingly to the mount settings to maintain an easy "what you see is what you get" approach
It offers an alignment error correction tool
You can set the reticle to rotate at sidereal speed so that its orientation remains in sync with that of the real reticle in the mount during the imaging session for easy PA checking
It offers a Daylight Polar Alignment mode
It features a compass and a bubble level
An integrated DSO catalog is available to help you decide what to photograph
Push-To goto function to guide you manually frame your target
It features Night Vision mode and a red light
It integrates a useful weather report system
More than 30 advanced calculators for visual observation as well as astrophotography
And many more advanced tools
What Do I Need To Know To Get The Most From Polar Scope Align Pro?
To appreciate how useful this app is, it is important to clear the air from a common misconception: do you need to level the tripod or not to polar align an equatorial mount?
The general consensus is not, but that is not always true. Whether leveling the tripod is required or not depends on the type of reticle you are using for PA.
If your reticle is in the shape of a Polar Clock, then you need to be able to level the reticle itself which, in turn, is only possibly done by leveling the tripod.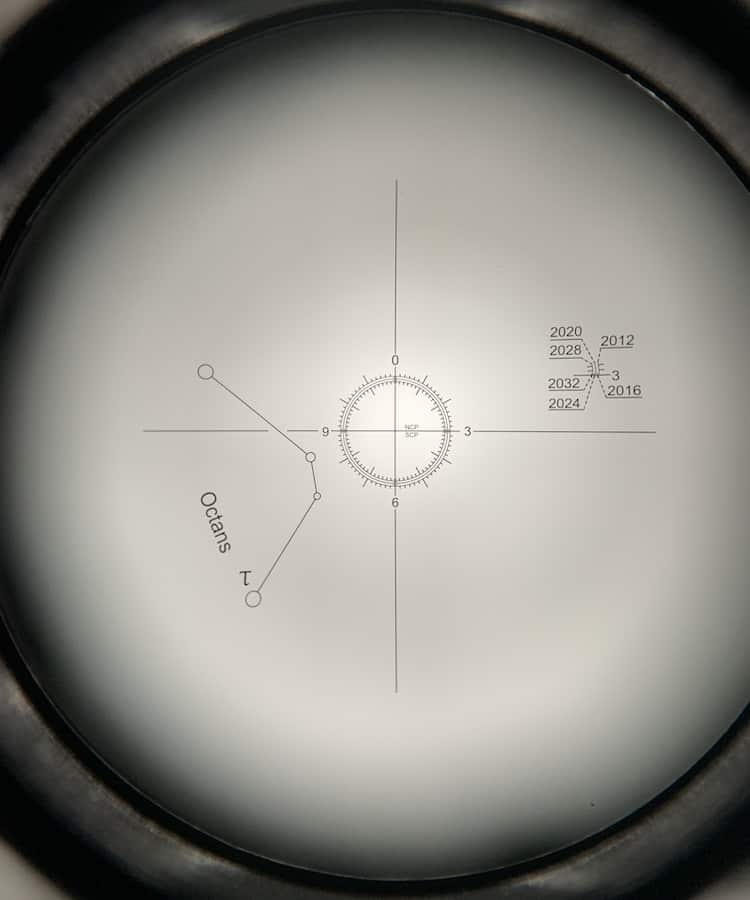 You can read this post on my blog for a more in-depth discussion or have a look at the video below.
By any means, I encourage you to read the instructions in Polar Scope Align Pro on how to use your reticle.
Mind that even when leveling the tripod is not strictly required, for example if you use an electronically assisted polar alignment routine, leveling the tripod is always a good idea, but don't get crazy: eyeballing your tripod bubble level will be sufficient.
Finally, there are many other practical tricks to achieve a good polar alignment, particularly with a lightweight mount or star tracker. I have discussed them in this article about Polar Alignment.
Although Polar Scope Align Pro offers tools to account for the Reticle Centering Error and Alignment Error Correction, it is always best to make sure your reticle is Properly calibrated. For this, you should refer to your mount manual.
How Do I Polar Align My Star Adventurer Pro with Polar Scope Align Pro?
Ok, enough chit-chatting, let's dig deep into a practical case: how to PA the Sky-Watcher Star Adventurer Pro (all versions) with Polar Scope Align.
For this basic alignment, the free version is enough.
As you fire up the Polar Scope Align Pro app, you see the interface is dominated by a reticle. You need to make sure the reticle the app displays is the one you have in the mount.
If this is not the case, change the reticle as follows:
Tap on the Gear icon
Tap on Change Polar Scope Reticle
For the Star Adventurer Pro, select the Orion/Skywatcher 2012-2032 reticle
Tap on Done to go back
Tap on Reticle Instructions to learn how the reticle works and tap Done when finished reading
Tap Done to go back
Next, with the Proper reticle selected, make sure you are using Auto Time and Auto Location (step 7 in the image below) so that the app will display the position of Polaris on the reticle for the current time, date and location.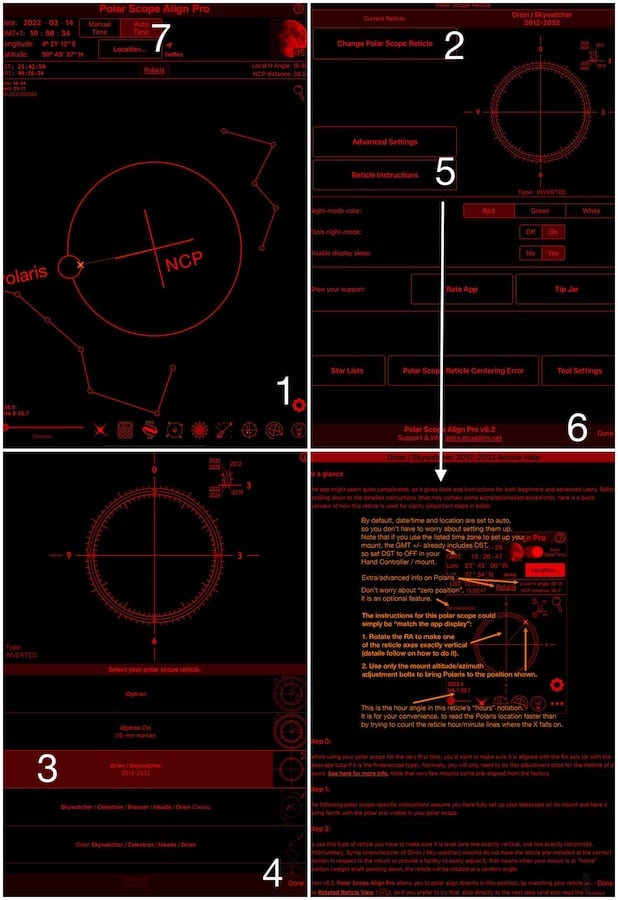 Finally, simply look through your mount polar scope and place Polaris where it is shown by the app.
Done!
Now, for the tricky part of PA.
Because you have only Polaris as a visible reference point in the polar scope, to Properly set the right position of Polaris on the reticle you need to be able to Properly set the reticle orientation so that you have a line that is vertical (or parallel) to the ground.
And here is where you need to have the tripod leveled.
If the reticle of the Star Adventurer Pro is calibrated, when you level the tripod and set the mount to Midnight October 31st with zero offset from the local standard time meridian, the reticle is oriented exactly as shown in Polar Scope Align Pro.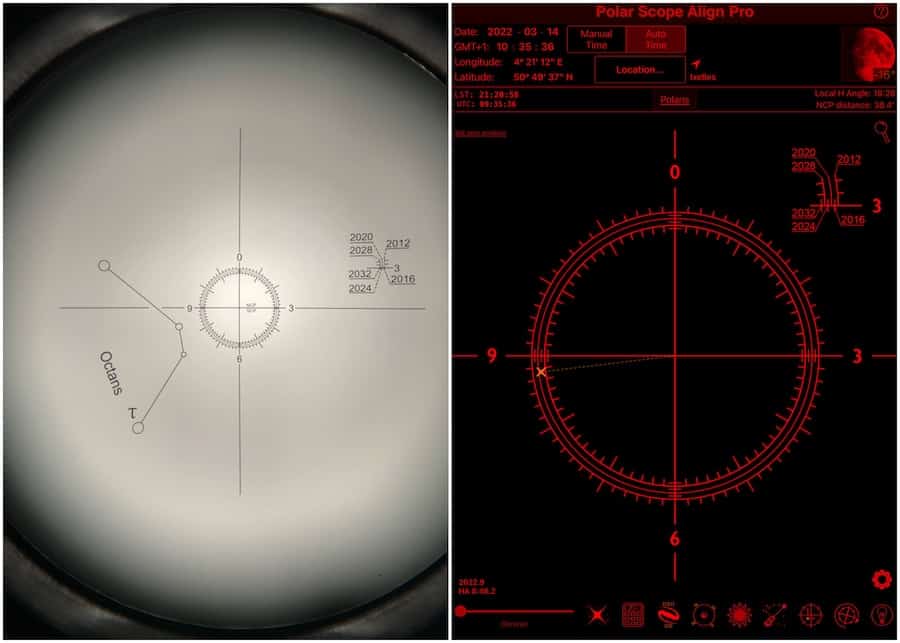 If you are not familiar with how to set your tracker to this goto position, refer to our ultimate user guide for the Star Adventurer or simply set the dials on the back of your mount as in the image below.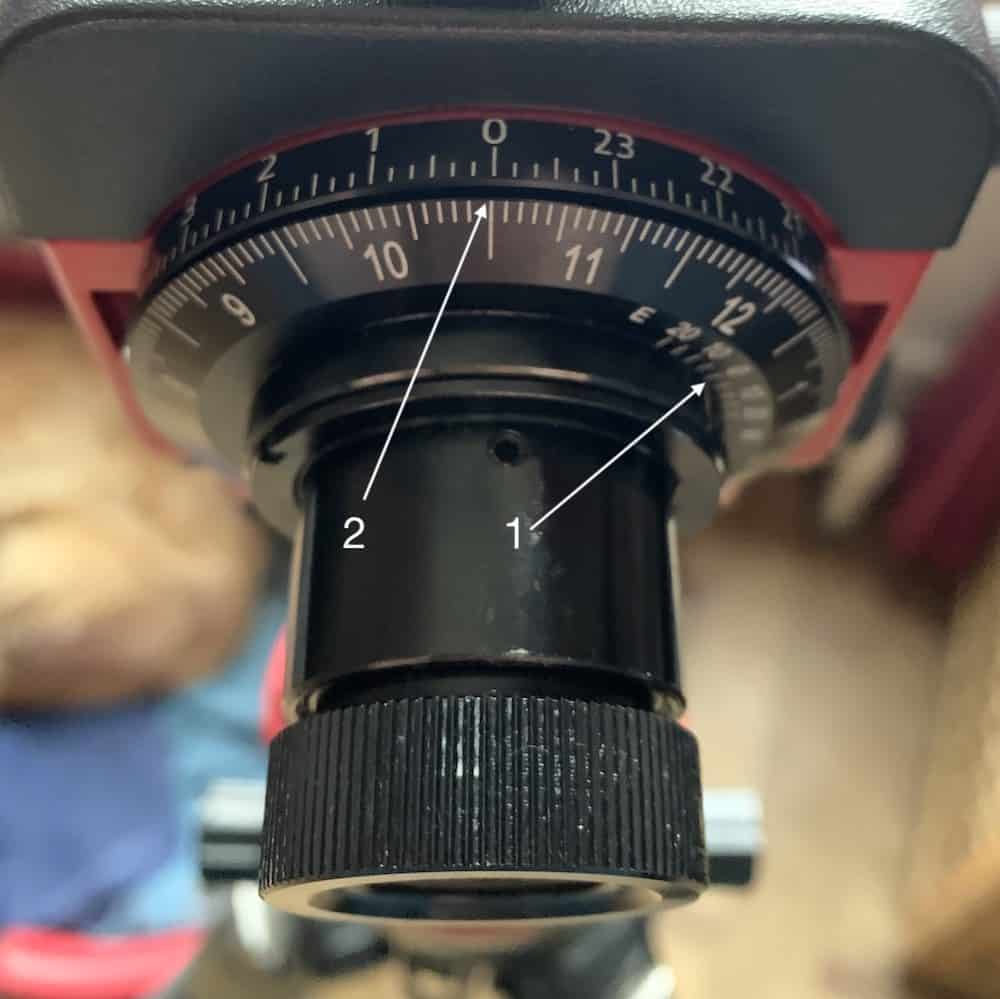 Leveling the tripod and using this GOTO starting position ensures you can polar align your star adventurer in the most consistent, fast, reliable, and easy way.
Without leveling the tripod, you are to guesstimate the reticle orientation: this is ok for shooting starry landscapes and wide star field, for instruments with focal length longer than, say, 85-100mm.
With the Pro version, you can do much more than this. For example, you can frame your target using the Push-To GOTO tool, look at the dials to calculate how much you did rotate in right ascension and input the rotation into Polar Scope Align Pro Rotate Reticle View Tool.
This will force the app to rotate the reticle, so that the orientation you see on the screen matches that of the reticle in the polar scope, making it easy to check and refine the polar alignment as the very last thing you do before you stop touching the mount and begin your imaging session.
You can even ask the app to Start Tracking so that the reticle rotates on the screen the same as the one in the polar scope. You can then check with ease the quality of the polar alignment during the imaging session.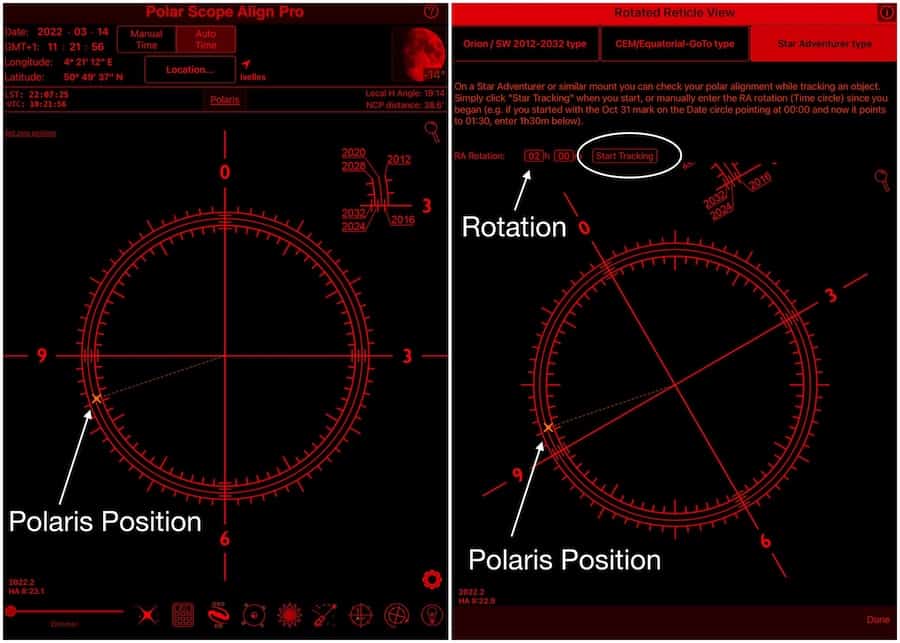 How Do I Polar Align WIthout Seeing Polaris With Polar Scope Align Pro?
Polar Scope Align Pro has a Daylight Polar Alignment tool allowing you to Polar Align your mount when you don't see Polaris.
This tool uses the gyro sensors inside your phone to guide you through the polar alignment. Simply point your mount due north and manipulate the wedge following the indications displayed on your phone.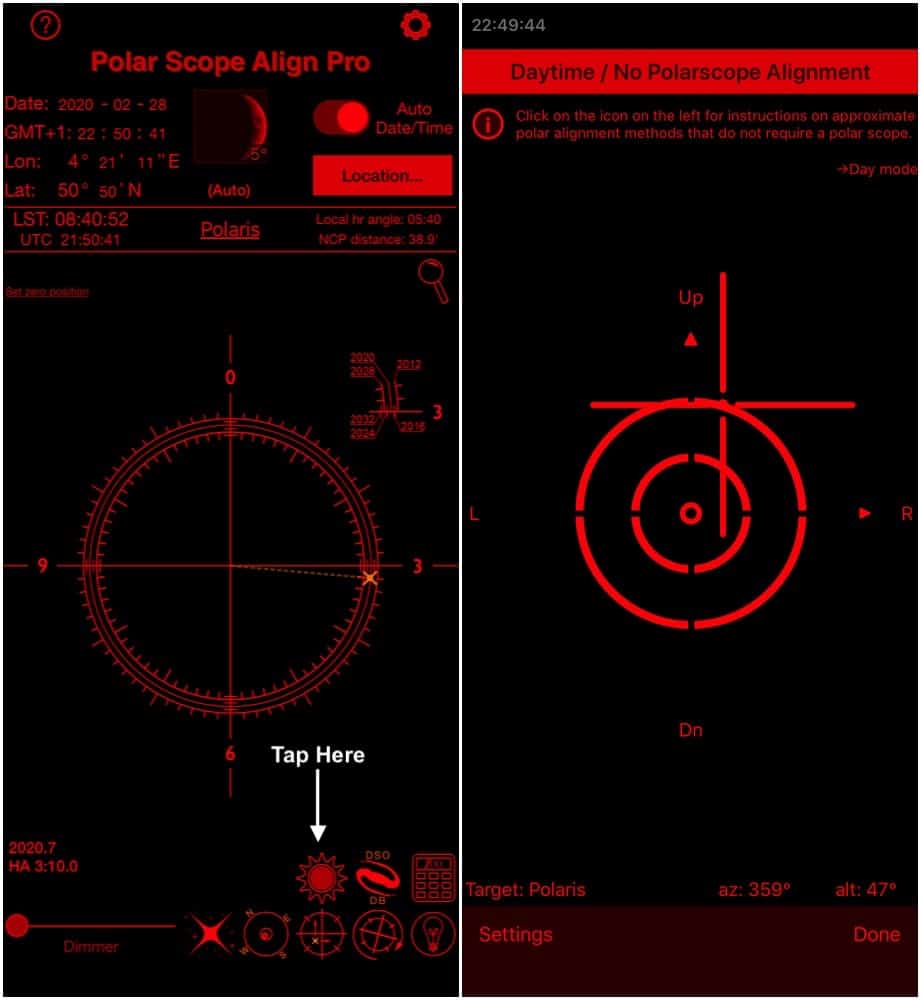 This method is ideal when you do not need great precision, as your phone;s sensors may be disturbed by the metal and electronic circuitry of your mount.
Suitable uses for this type of PA are:
photography of the full solar and lunar disc
planetary photography
starry landscapes and wide star field photography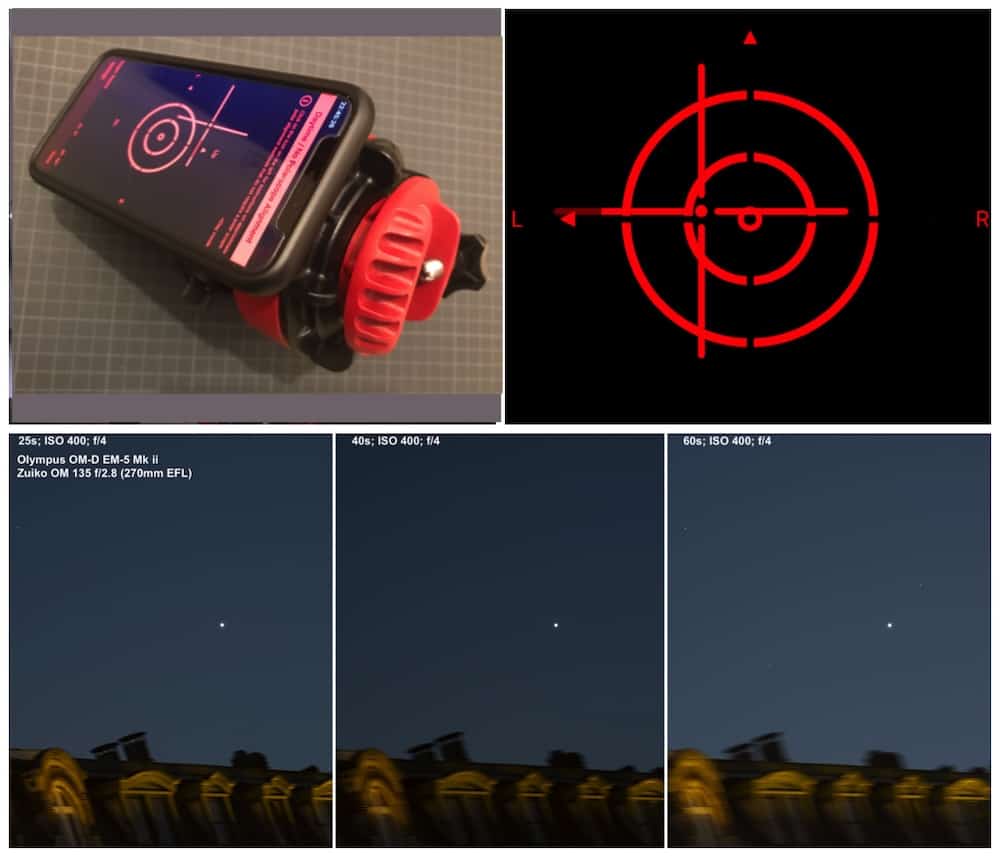 PS Align Pro offers specific help and many tips for using this tool successfully. The most difficult part is fixing the phone so that it points to Polaris while reducing all interferences. The relative help gives some ideas on how to mount your phone.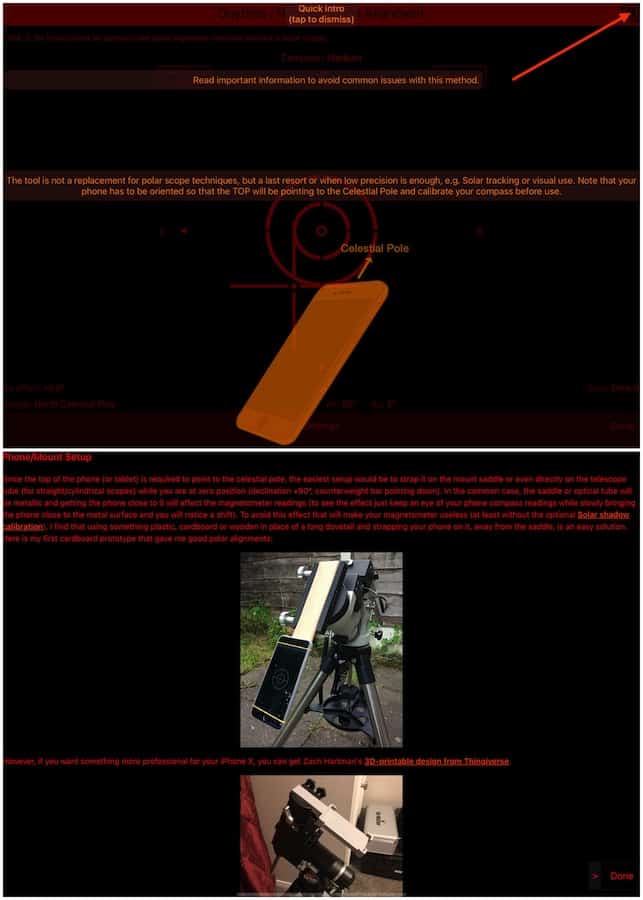 How Do I Choose And Frame My Target With Polar Scope Align PRO?
If you don't have a GOTO mount, you know the struggle of framing a target is real.
Polar Scope Align Pro includes a Deep Sky Object Database. You can enable different catalogs, like the Messier and NGC catalogs.
You can then browse the global list as well as search for a specific target, say M106.
The app shows some properties of the selected target as well as the visibility plot in the form of the target altitude vs the time of the day.
To frame the target you have to have your phone mounted on the scope or on your camera hotshoe, away from metal surfaces and pointing in the direction of the sky.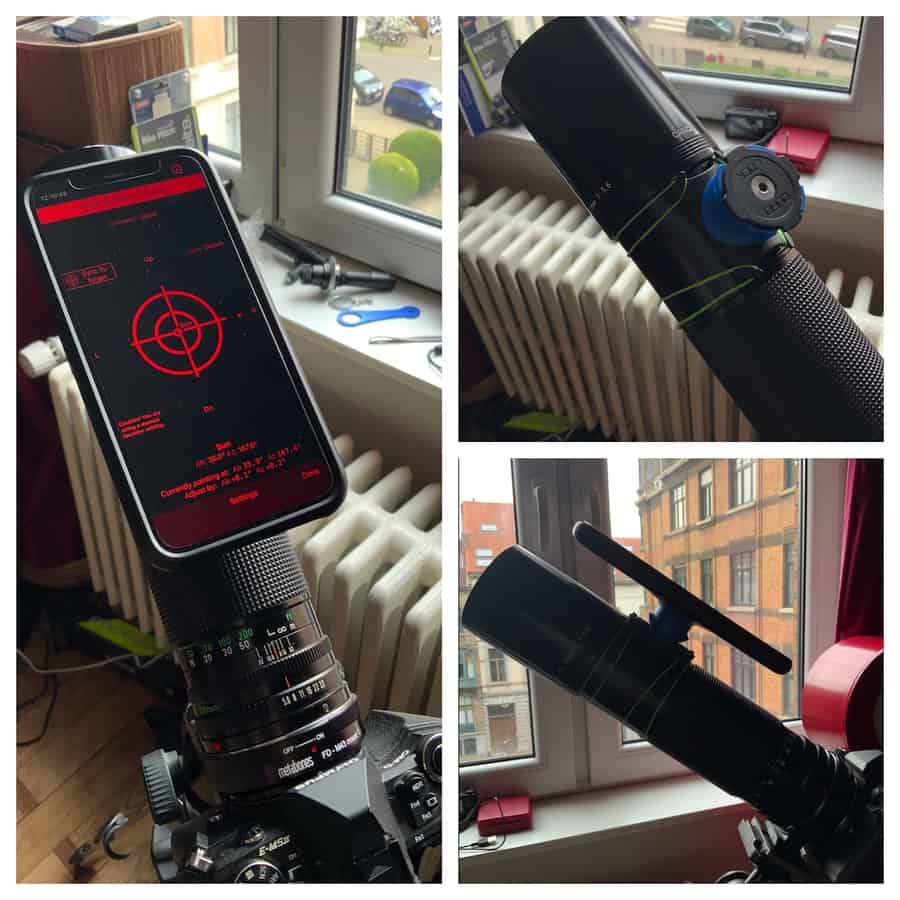 You can now tap on Push To: Polar Scope Align Pro will propose you to jump directly in the target or hop on it from a star.
This second method offers a far greater precision. First, the app will guide you towards the selected star nearby your target. Center the star in the field of view of your setup and hop on your final target.
The act of manually centering the star in the field of view calibrates the whole system.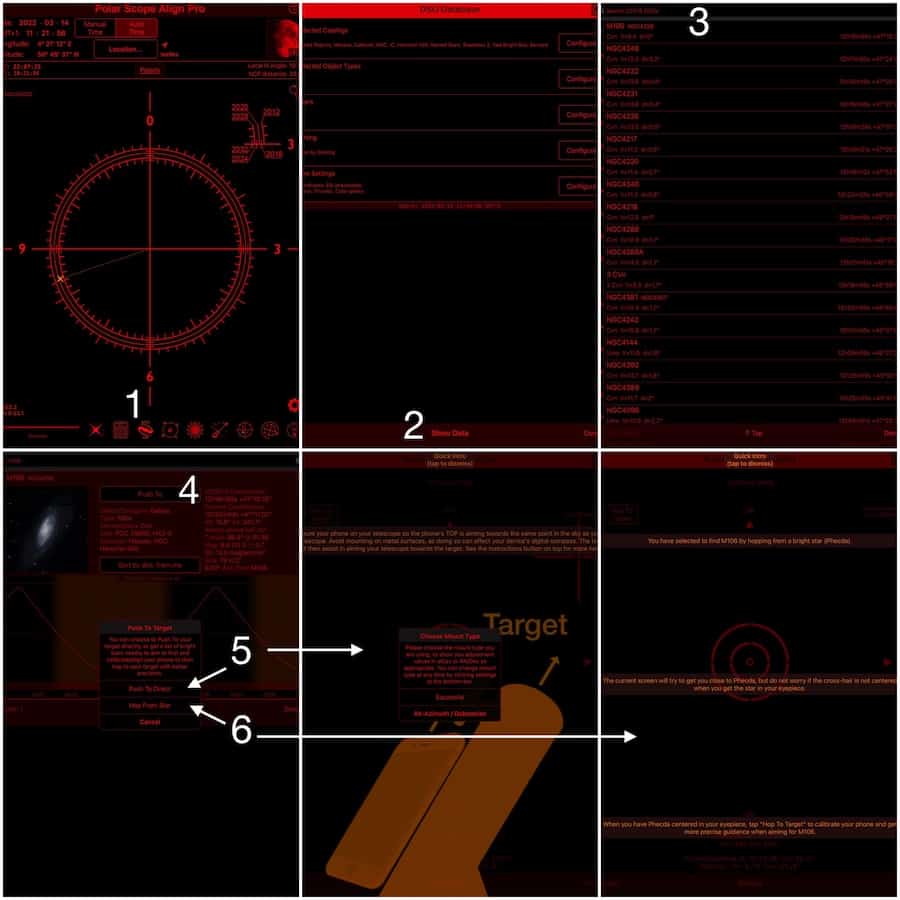 What Are Polar Scope Align Pro Best Alternatives?
If you own an iPhone or an iPad, there are not really alternatives to such a complete app. You can get free polar clock apps, like the one from Sky-Watcher, but they have little value compared to Polar Scope Align Pro.
If you have an Android device, though, you can try Polar Clock, one of the best apps on the Google Play store to help with polar alignment.
Conclusion
Polar Scope Align PRO is like the swiss army knife of astrophotography. Not only does it allow you to manually polar align the most common mounts and trackers, but it offers you the best tools to get the job done in an easy, fast and reliable way.
Furthermore, it is packed with extra functionalities like astronomy calculators, astronomical forecasts, DSO catalog, advanced sensor calibrations, Push-To and daylight polar alignment tools, and much more.
An absolute must-have if you have an Apple Watch, iPhone, and/or iPad.