ProMaster may not be the biggest name in tripods, a long history and focus on quality make the brand worthy of your attention. When you're out shopping for your next tripod, don't forget to keep ProMaster in mind.
The ProMaster Specialist Series SP425CK, for example, has a lot of great attributes that make it a force to be reckoned with in the tripod market. When it comes to astrophotography, a stable tripod like this one does wonders for blur-free photos.
This article takes a close look at the SP425CK and the features that make the tripod a smart purchase.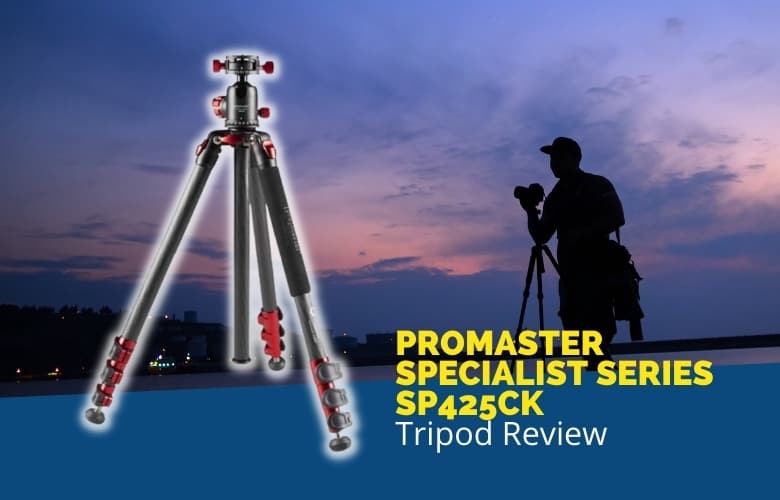 ProMaster Specialist Series SP425CK
ProMaster Specialist Series SP425CK Specs
Max Load: 22 pounds | Weight: 3.93 pounds | Min Height: 7 inches | Max Height: 68.75 inches | Material: Aluminum ball head / Carbon Fiber legs | Leg Sections: 4 | Feet: Rubber pads with retractable spiked feet | Folded Length: 19.25 inches
Pros
Durable carbon fiber
High maximum height
Memory locks
Rubber pads and spiked feet
Comes with a ball head
Cons
---
ProMaster Specialist Series SP425CK: Things To Consider Before Buying One
Does It Hold My Gear?
Undoubtedly one of the most important things to consider, you'll want a tripod that can safely hold all your gear.
With 22 pounds of load capacity, this won't be an issue with the ProMaster SP425CK. The tripod can handle the biggest DSLR cameras and the longest lenses without the tiniest bit of wobble.
If you like to attach accessories to your setup, you can use any load capacity you have left over to do so.
Will It Be Stable?
Having a tripod with the ability to hold all your gear does little good if it's not stable enough to capture a clear photo. When snapping amazing starscapes outside, factors like uneven ground and wind can ruin a photo faster than you can say Milky Way.
The ProMaster Specialist Series SP425CK works to alleviate this by providing spiked feet designed to grab hold of soft soil and hold your tripod firmly in place. If you do find yourself shooting on a hard surface like rock or concrete, rubber pads screw down to create the friction you need for stability.
The SP425CK benefits from carbon fiber, which is known to be resistant to vibrations from external sources that can compromise a shot. In addition, the high load capacity allows you to attach additional weight to further stabilize your rig.
Is It Easy to Set Up?
ProMaster's SP425CK has several cool perks that make it easier to set up than many other tripods out there.
Starting at the bottom, it only takes a couple of twists of the rubber feet to expose the metal spikes if you're working on a softer surface. Each leg has three locks that open with one hand but close securely when you have the legs at the ideal height.
A bubble level saves time when lining up your lunar still, so your shot comes out straight. Memory locks prevent unwanted movement of the legs or ball head, so your setup stays the way you want it.
This model comes with a ball head with a quick-release plate to expedite camera setup and removal. These heads pan from the base or top platform and have engraved degree markings.
Assuming you're setting up in the dark, each of the touchpoints mentioned above is colored in a rich red, so you don't have to waste time looking for them even in minimal light.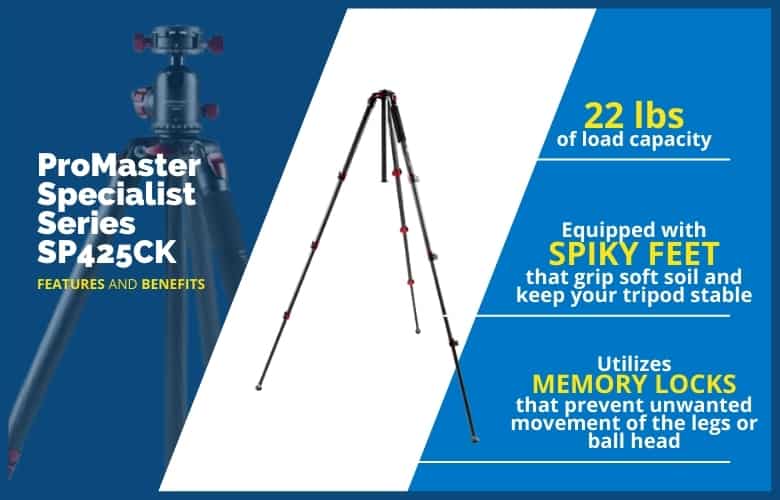 Features And Benefits
Memory Locks
The ProMaster Specialist Series SP425CK utilizes memory locks to ensure your shot stays where you need it to once everything is lined up for your photo. Twisting these memory locks helps to avoid accidental changes while you finish prepping your photo.
Bright Touch Points
When working at night, you don't want to be fumbling around trying to find leg locks, tension knobs, or angle adjustments because they blend in with the rest of the tripod.
On the ProMaster SP425CK, each of these touchpoints is color-coded in bright red, so they stand out against a dark sky or white snow.
Ball Head
It's always nice when a tripod comes with a ball head, and it's even nicer when that ball head is a quality design. This is clearly the case with this ProMaster tripod.
The ball head itself is carefully machined from high-grade aluminum material. It features an arca-swiss quick release plate, making it compatible with most cameras. The quick-release plate makes adding or removing the camera in a snap, speeding up setup and teardown.
Is ProMaster a Good Brand?
The ProMaster brand has over 60 years of experience in the tripod sector and does most of its business through independently owned stores. Their marketing focus is limited to the United States, Canada, Costa Rica, and Australia.
Although they do sell some products on big-box sites, the company prides itself on connecting with local businesses. In addition to tripods, ProMaster manufactures high-quality camera and mobile phone accessories.
Alternative Tripods to the SP425CK
ProMaster Specialist Series SP425CK Vs. ProMaster XC-M 525CK Professional Carbon Fiber Tripod
The ProMaster XC-M 525CK does stand taller than the SP425CK at max height, thanks to five section legs. Those same legs have the ability to reverse-fold to 15 inches for storage, four inches smaller than the SP425CK.
If those features speak to you, you may wish to consider the XC-M 525CK for your next purchase. With five section legs and no spiked feet, it does lack some of the stability of the SP425CK. It also doesn't have the bright touchpoints that help you find your way in the dark.
---
ProMaster Specialist Series SP425CK Vs. ProMaster Specialist Series SP528K Professional Tripod Kit
The ProMaster Specialist Series SP528K Professional Tripod Kit is a slightly larger tripod that can stand over six and a half feet tall at maximum height. It's also made entirely of aluminum, making it over a pound heavier and more susceptible to vibrations.
With five leg segments, you'll get the additional height, but a tripod with that many sections can get unstable with all legs extended.
---
ProMaster Specialist Series SP425CK Vs. ProMaster XC-M 522K Professional Tripod Kit
The ProMaster XC-M 522K Professional Tripod Kit is a smaller offering from the ProMaster brand. It is lighter and closes up smaller than other models, but it can't support the weight that the SP425CK can.
It also doesn't have the height range that the SP425CK has. It does come in some cool color options that other models don't have.
---
Conclusion
If you're looking to capture some great astrophotography shots, there's little need to look further than the ProMaster Specialist Series SP425CK. The tripod is light, stable, and stands tall enough to point easily towards the night sky.
ProMaster's 60 years of history and dedication to the quality of its models make them stand out. The ProMaster SP425CK will take good care of your gear while giving you the clear starscapes you're looking for.