The best astrophotos require strength and endurance from the photographer to locate the shot, set up the rig, and wait for the right moment. A tripod must have the same strength and endurance to stand tall and unwavering for as long as necessary to get the perfect celestial photo.
Therefore, it's well worth investing in a tripod that can rise to the challenge. The Really Right Stuff TVC-24L Series 2 provides those attributes and then some.
In this article, we look at what makes Really Right Stuff such an excellent brand to own when it comes to obtaining amazing nighttime landscapes.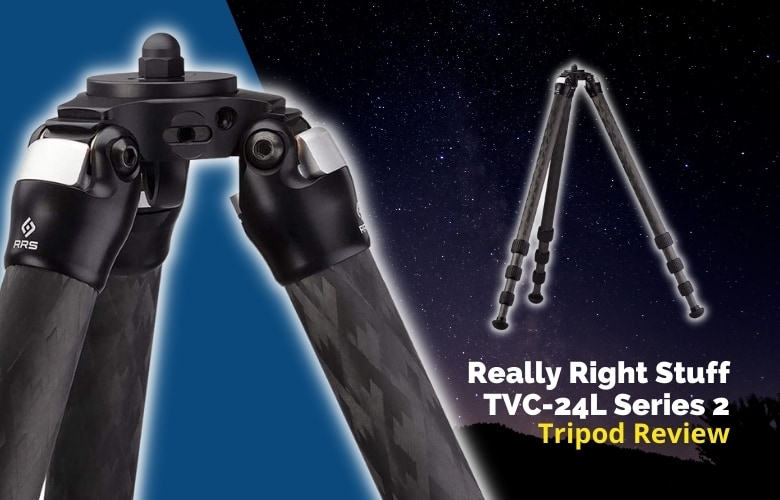 Really Right Stuff TVC-24L Series 2 Specs
Max Load: 50 pounds | Weight: 4.25 pounds | Min Height: 3.7 inches | Max Height: 58.2 inches | Material: Carbon Fiber | Leg Sections: 4 | Feet: Rubber pads | Folded Length: 20.9 inches
Pros
Very sturdy design
Incredible max load
Air vents for easy expansion/contraction
Durable carbon fiber
Particle resistant twist locks
Cons
---
Really Right Stuff TVC-24L Series 2: Things To Consider Before Buying One
Will It Support My Gear?
The TVC-24L is able to withstand a max load of 50 pounds even when the legs are spread out at their maximum angle. At its full height, the tripod is able to support up to 85 total pounds of weight.
You'll have no issue using even your heaviest camera/lens combination on this tripod. The TVC-24L won't buckle or lean under a long lens, and you'll have plenty of load capacity left over for accessories.
Is It Tall Enough?
When it comes to the best landscapes, having some height to shoot from is paramount. Climbing to the top of the mountain to get away from the light pollution of the city may not give you a great shot if your camera is too close to the ground.
Having a tripod that stands tall enough to clear obstacles near the ground will help to ensure your images come out perfect. The Really Right Stuff TVC-24L stands just shy of five feet tall at its highest setting to give you a good height for landscapes.
Is the Tripod Stable?
For nighttime photos of the cosmos, stability is absolutely crucial for getting a clear shot. The slightest movement during a long exposure can ruin an otherwise fantastic image.
The Really Right Stuff TVC-24L Series 2 solves this problem with a stable, carbon fiber base that doesn't rely on a center column to shoot from high heights.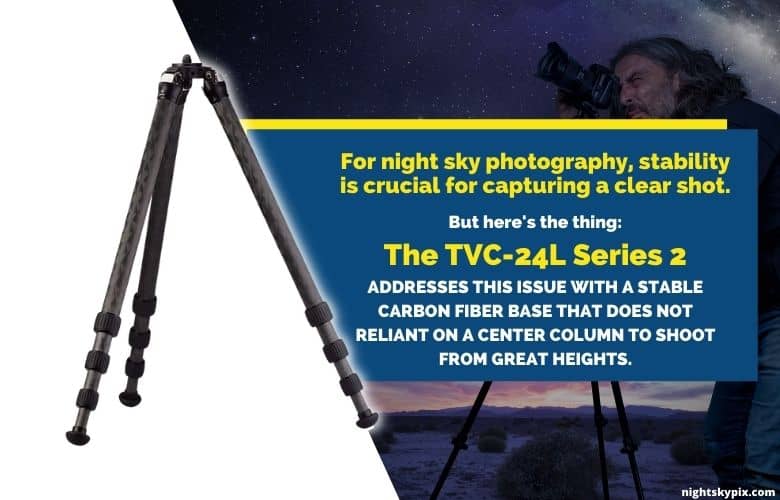 Features And Benefits
No Center Column
At first glance, this may not seem like a benefit for a tripod. However, tripods with center columns fully extended make for very unstable setups. The center column raises the center of gravity to a point where the tripod becomes more susceptible to wind.
The Really Right Stuff TVC-24L can stand five and a half feet tall without the need for a center column. This still gives the tripod the height for great nighttime photos while keeping the center of gravity where it needs to be.
Should the need arise for a shot from a unique angle, tripods without center columns can sit incredibly low to the ground. The TVC-24L sits just 3.7 inches high with legs outstretched.
Vented Connector
Typically, closing or opening up a tripod results in pressure building up in the legs, creating resistance and slowing down the process. The Really Right Stuff TVC-24L has a vented connector to allow air to flow out of the legs.
This, in turn, allows the legs to collapse or expand faster while requiring less time and less effort on your part.
Quick Locks
The Really Right Stuff's twist locks are designed not only for ease of use but also for longevity. A quick twist unlocks each of the tripod's leg segments, and collets allow a strong hold with minimal effort to lock them back in place.
These twist locks come with integrated wipers to keep particles clear of the locking mechanism. This way, the locks won't jam or bind from sand, dirt, or other contaminants over time.
Is Really Right Stuff a Good Brand?
Really Right Stuff was founded all the way back in 1990, focusing on making high-quality quick-release plates. In 2002, the company expanded its product line to include tripods, lens feet, ball heads, and more.
Where are Really Right Stuff Tripods Made?
Really Right Stuff has always been an American brand. They relocated their headquarters to Utah in 2018, where a majority of their production is done right in house.
Struggling To Find Really Right Stuff Tripods In Stock?
If you're having trouble finding a Really Right Stuff tripod in stock, you're not alone. They're sold out across the board, with the company's recent move to Utah taking the blame. It's possible they can't keep up with the demand.
Products are commonly listed as being on backorder with no mention of a resupply date. If you're ready to make a purchase, order a tripod on backorder to at least get in the queue.
Some Great Alternatives To Really Right Stuff Tripods
Really Right Stuff TVC-24L Vs. Induro CLT203 Classic Series 2
The Induro CLT203 Classic Series 2 is another tripod without a center column. While the Induro weighs a bit less, it doesn't support as much weight and doesn't have the flexibility to sit as low to the ground.
---
Really Right Stuff TVC-24L Vs. Benro TAD37C Series 3 Adventure
The Benro TAD37C Series 3 Adventure is another model with a short center column to reduce instability. The Benro doesn't close up very well for storage and doesn't have the max height the Really Right Stuff does. The Benro is still capable of supporting up to 30 pounds.
---
Really Right Stuff TVC-24L Vs. Sirui N-3204X Carbon Fiber N Series
The Sirui N-3204X Carbon Fiber N Series tripod does have a center column, but it's on the small side. The tripod still reaches up to 58 inches before the center column even comes into play. The two tripods are surprisingly similar otherwise.
---
Conclusion
No one would argue that Really Right Stuff tripods are on the expensive side, but there's something to be said for the fact that the company can't keep them in stock. Their dedication to high-quality while maintaining production in-house speaks volumes.
The Really Right Stuff TVC-24L Series 2 hits all the marks for snapping epic starscapes with such a robust, stable design. Really Right Stuff tripods are built to last, support your gear, and will stand by you for many years to come.