Slik is a well-established tripod and ball head brand with decades of innovation under its belt. This experience has helped them shape models that meet the needs of astrophotographers of all shapes and sizes.
The Slik Pro CF-833 Tripod is one such offering that combines strength with stability to provide flawless nighttime photographs. If that wasn't enough, the tripod's lightweight design covers a wide range of heights and angles to get everything lined up just right.
This article walks through some of the CF-833's prominent features and what makes it a smart consideration for starry landscapes.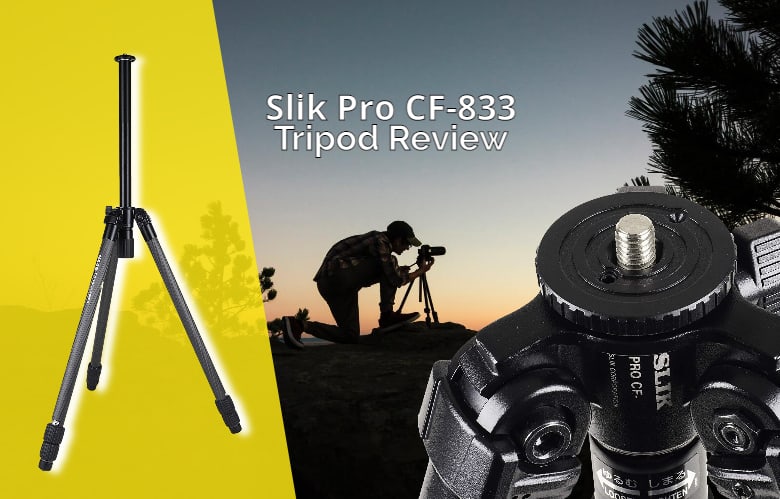 Slik Pro CF-833 Tripod
Slik Pro CF-833 Tripod Specs
Max Load: 15.4 pounds | Weight: 3.4 pounds | Min Height: 9.2 inches | Max Height: 67 inches | Material: Carbon Fiber | Leg Sections: 3 | Feet: Rubber pads | Folded Length: 23.6 inches
Pros
High maximum height
Lightweight carbon fiber
Reversible center column
Sturdy design
Three segment legs
Cons
Does not collapse well
No head included
---
Slik Pro CF-833 Tripod: Things To Consider Before Buying One
Does It Hold My Gear?
The Slik Pro CF-833's 8-layer carbon fiber design makes for an extremely rigid base that can support a decent maximum load. At a load capacity of 15.4 pounds, there shouldn't be much issue handling both your camera and the lens you opt to use for your landscapes.
Any load capacity you have leftover is usable either for attachments to make your pictures pop or for attaching a counterweight to the center column to increase stability.
Although the tripod doesn't include a ball head, it does come with an adapter to hold those with either quarter-inch or three-eighths inch designs.
What Is Setup Time Like?
Each of the Slik Pro CF-833's legs is segmented into three distinct sections. Slik designed their tripod so that all segments on one leg can be released simultaneously for fast setup. The center column is quickly adjustable or reversible to lock in the angle that you need.
Will It Be Stable?
The Slik Pro CF-833 sits firmly on the ground thanks to thick leg segments. Thick legs, in conjunction with a center column hook to hang a counterweight from, make for a sturdy base to shoot panoramas from.
Is It Portable?
At just 3.4 pounds, the CF-833 is as light as a laptop computer and just as easy to carry. The tripod folds up to two feet in length to fit into a gear bag or strap to the side of a pack.
This length is small enough to fit into a plane's overhead compartment should a flight be in your future.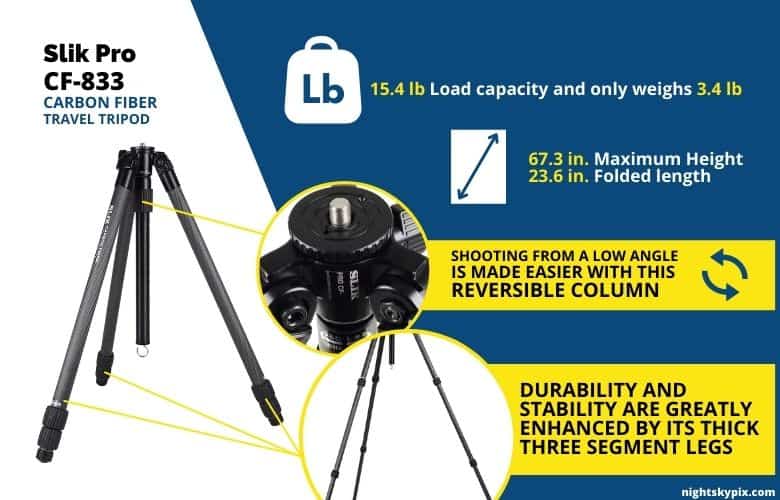 Features And Benefits
Reversible Center Column
The Slik Pro CF-833 Tripod showcases a reversible center column to expand the range of angles you can shoot from.
When in the upright position, the center column with tripod legs fully extended reaches an incredible 67 inches off the ground. At over five and a half feet, this is an excellent height for taller astrophotographers who aren't keen on bending over for long periods to line up a shot.
A quick-release lever makes it possible to adjust the center column's height on the fly. If your night shot requires a shallow angle, the CF-833's center column slides out entirely and can be reattached upside down.
With this feature, you can snap nighttime panoramas from unique angles at just nine inches off the ground.
Durable Carbon Fiber
Carbon fiber is the most sought-after material for tripods for several reasons, and the Slik Pro CF-833 certainly benefits from them.
At just 3.4 total pounds, the Silk Pro CF-833 is able to offer a lot of strength in a lightweight design. Despite being so light, the tripod is able to support over 15 pounds of load before it risks buckling under the pressure.
Your search for epic starscapes may take you to places unknown, and carbon fiber is durable enough to make the journey with you. It doesn't dent or crack easily and can take quite a beating before showing some wear and tear.
Beautiful star-filled skies sometimes appear on frigid winter nights, and carbon fiber does not transmit heat well. This means it will rarely get too cold to handle, even when the temperature drops below zero.
Thick Leg Segments
Thick leg segments help immensely with both durability and stability. The three segment legs the Silk Pro CF-833 have are wide throughout and maintain a strong foundation. These legs are nearly an inch and a quarter at the first segment and are still 0.8 inches at their thinnest.
Four and five segment legs on other tripods end up becoming too thin and become susceptible to wind and vibrations. When it comes to nighttime and longer exposures, even the tiniest movement can spell disaster.
The Slik Brand Overview
Is Slik a Good Brand?
The Slik brand has over 60 years of experience manufacturing tripod designs. The company was founded by a Japanese mechanical engineer who based his headquarters in Tokyo. Ever since its inception, Slik has been known to produce quality tripods at reasonable prices.
Where Are Slik Tripods Made?
As of 1988, all Slik tripods are manufactured at one of two facilities outside Bangkok in Thailand. Distribution centers in select cities (such as New York) move products throughout the world.
Alternatives to the Slik Pro CF-833 Tripod
Slik Pro CF-833 Vs. Slik Pro AMT 700 DX
The Slik Pro AMT 700 DX is a more budget-friendly option that uses an aluminum alloy instead of carbon fiber. It can support a higher maximum load than the CF-833 but ultimately adds two pounds and has some trouble folding up to a size that's suitable for travel.
---
Slik Pro CF-833 Vs. Slik Pro CF-733
It should come as no surprise that the Slik Pro CF-733 is similar in stature to the CF-833 but runs just a bit on the smaller side. While the CF-733 comes in at half a pound lighter, it is only able to hold 11 pounds of gear.
---
Slik Pro CF-833 Vs. Slik Pro CF-933
In a similar vein, the Slik Pro CF-933 towers over a foot higher than the CF-833 at its maximum height and has the capability to hold up to 22 pounds. The CF-933 is quite a bit heavier at 5.38 pounds and is still two and a half feet long even when collapsed for storage.
---
Conclusion
Stargazers striving to capture incredible cosmic memories need not look past the Slik Pro CF-833. Each of the CF-833's features work well to deliver a seamless experience for both amateur and professional astrophotographers alike.
Even better, the Slik Pro CF-833 Tripod comes in at a price point that won't break the bank. Picking up a Slik tripod gives you all the tools you need in one small package to bring home priceless landscape photos.