With your smartphone, you can have the Cosmos in your pocket and its exploration is only one tap away.
We decided to review the most useful apps you should have when going under the stars, and let's start with Stellarium, arguably the most famous and commonly used software for navigating the night sky.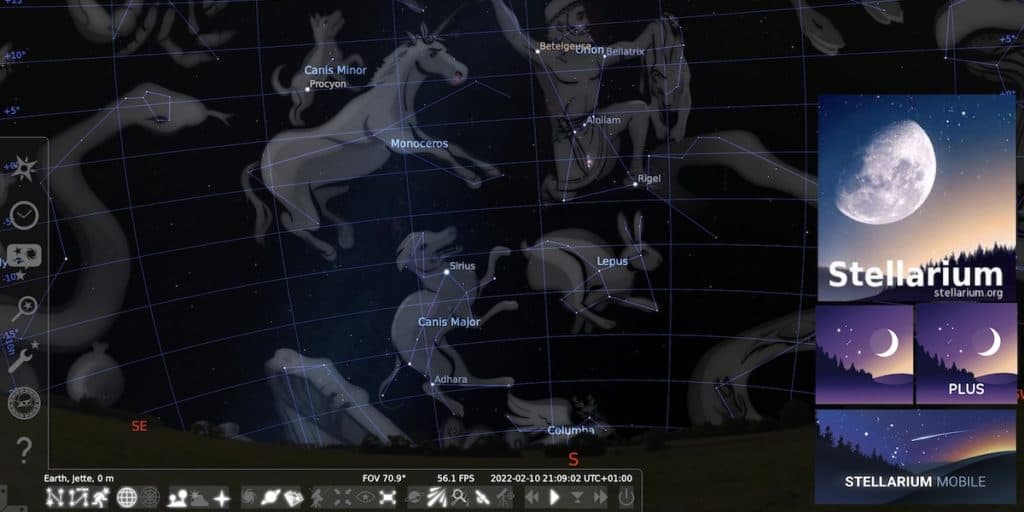 How To Get Stellarium
If you don't have Stellarium already installed on your computer, you can download it from the official Stellarium website.
Is Stellarium Free?
Stellarium for your desktop/laptop is free. For the mobile app, though, the answer is: depends.
Is Stellarium For Windows Only?
No. Luckily Stellarium is not only available for computers running on Windows (both 32-bit and 64-bit), but it is also available for Linux and Mac OS X (64-bit only).

You can even use a stripped-down web-based version if you cannot/want to install it.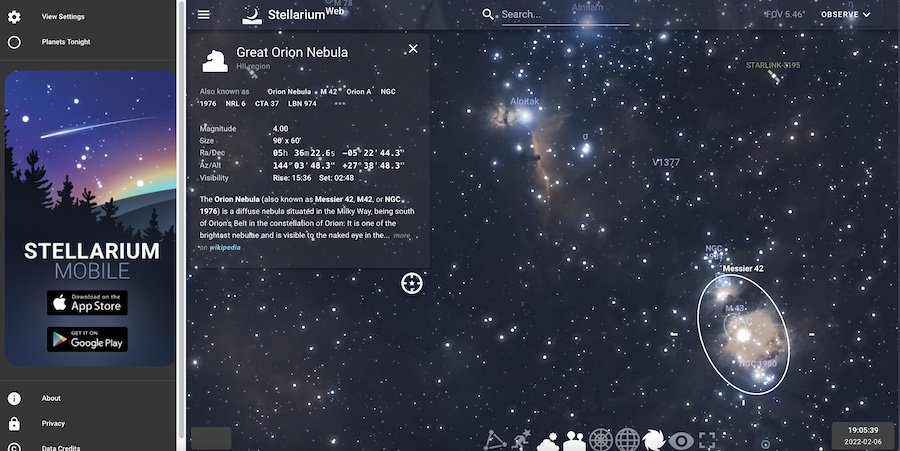 Is Stellarium Available For Android?
If you have an Android device, you can choose between Stellarium Mobile (free) and a more advanced version, called Stellarium Mobile PLUS, which is the commercial version and costs about $14.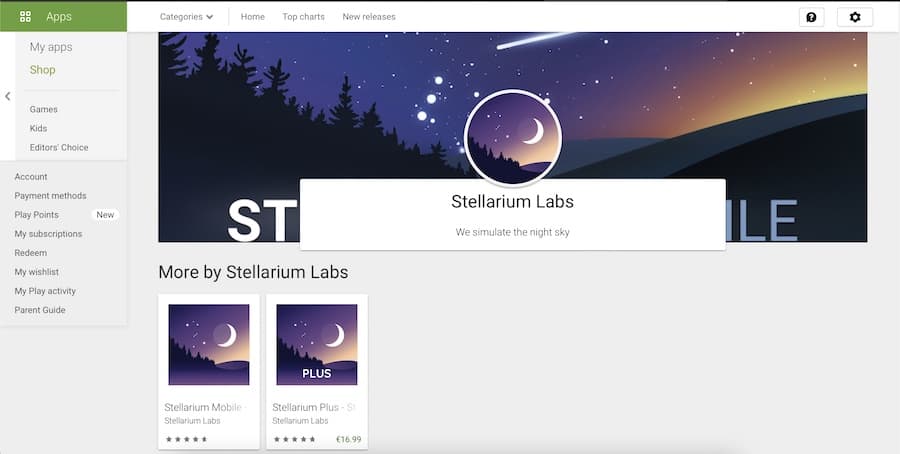 Is Stellarium Available For iPhone And iPad?
Unfortunately, if you have an iPhone or an iPad, it seems that the free version of Stellarium is not in the APP Store anymore. Only the commercial Stellarium PLUS version is available, at the cost of $13.99.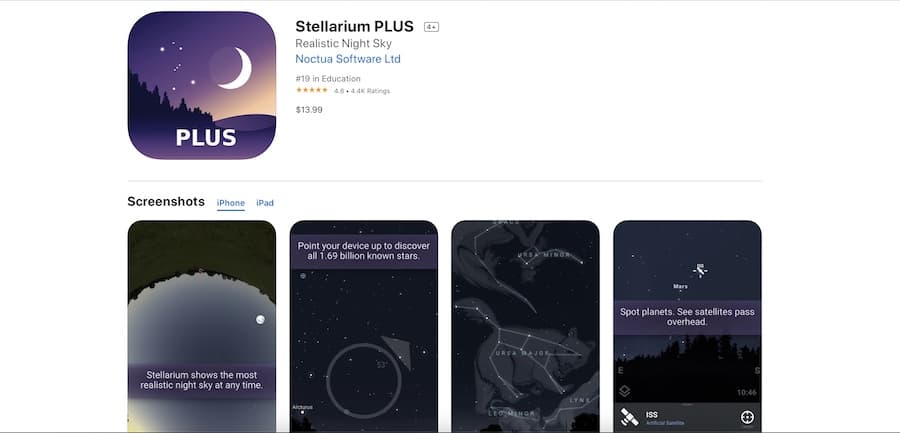 What Is And How Do You Use Stellarium?
Stellarium is a free open-source planetarium, showing a realistic sky in 3D from any location and at any time and date.
Stellarium (computer version) has a clean and simple to use interface, with all of the different functions and visualization tools grouped into just 3 menus.
Stellarium is arguably the best tool to plan in advance a photographic session or a visual observation. You can, in fact:
Visualize the sky for any date, time, and location you like
Take into account atmospheric effects (daylight, sky brightness, etc.)
Display the field of view for the setup you intend to use, and you can easily see the effects of combining different gear
Search for astronomic events with the astronomical calculator
Explore the constellations in different cultures;
Control your telescope
And more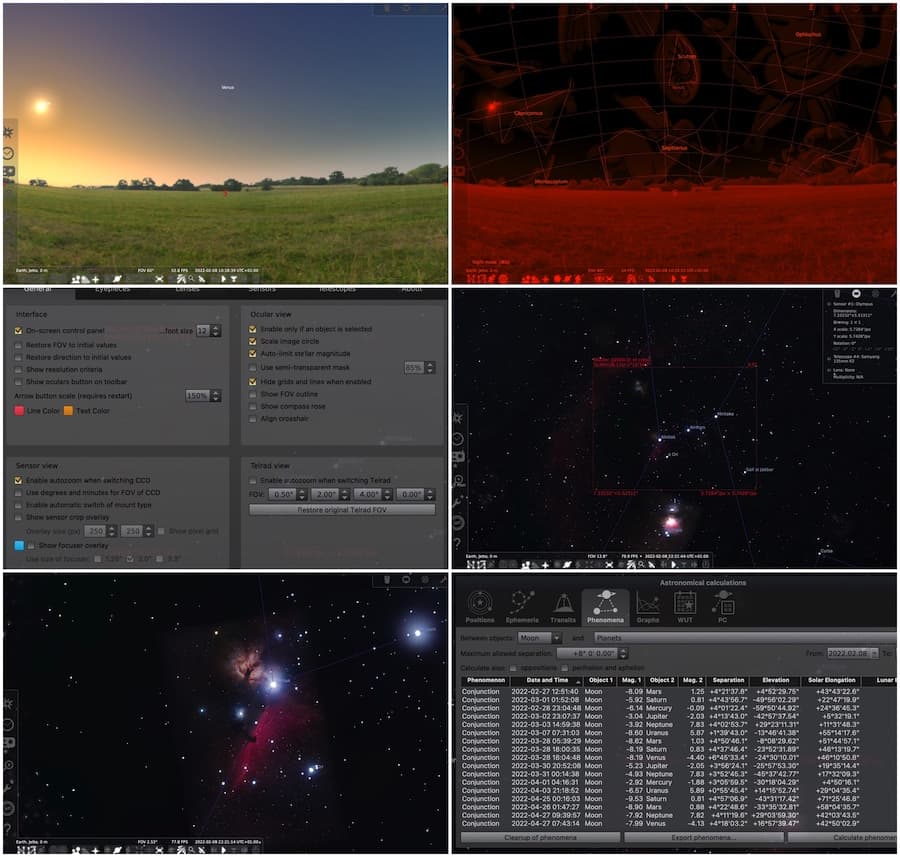 Are Stellarium MOBILE And Stellarium PLUS Versions Any Good?
Stellarium for PC is an amazing piece of software, but are the mobile counterparts as good?
Stellarium MOBILE (free, Android only) has a similar but also some important limitations with respect to the computer version:
Can't easily simulate the field of view of your equipment (you can zoom in/out to the proper FOV in degrees if you know it, though)
Can't show the FOV with the camera/telescope on an equatorial mount
Can't control a telescope
Doesn't feature an astronomical calculator nor a list of upcoming major astronomical events
Images of deep-sky objects are not very detailed
Information about selected targets are limited to a few physical properties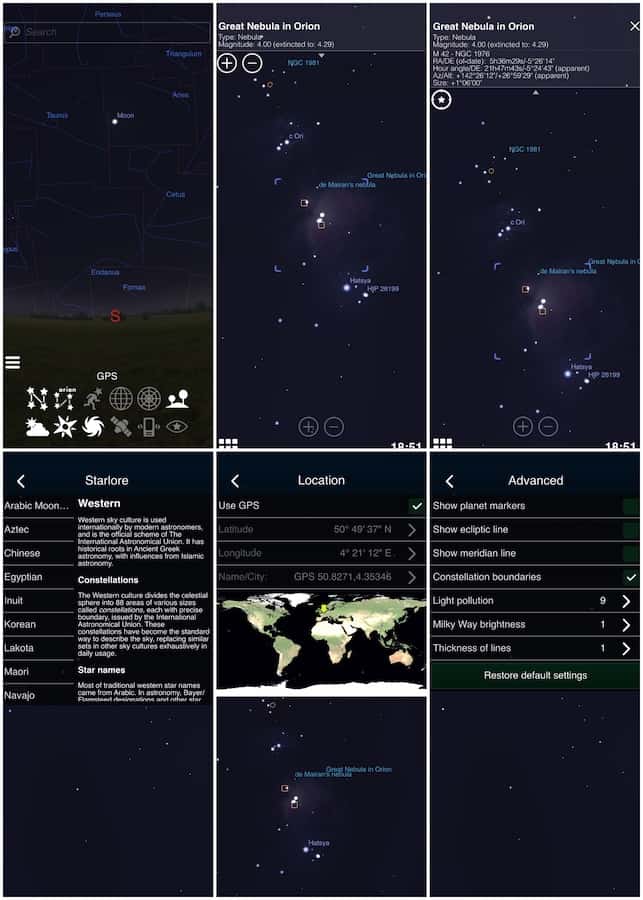 Most of the Stellarium MOBILE shortcomings mentioned above are solved with Stellarium PLUS, which offers:
Better images
Telescope controls (with some limitations, please read here before committing to the app)
Better info
A useful calendar for upcoming events and a list of visible targets for the specified location
As you can see from the image above, Stellarium PLUS offers a new interface with submenus and settings you can activate by simply long tapping on the main icons.
Since Stellarium is intended to be your personal planetarium, particular emphasis should be put on the amount of available information for planets, stars, and deep-sky objects, as well as their image quality.
The image below compares the amount of info and image quality for the Andromeda Galaxy (M31) across the different versions of Stellarium.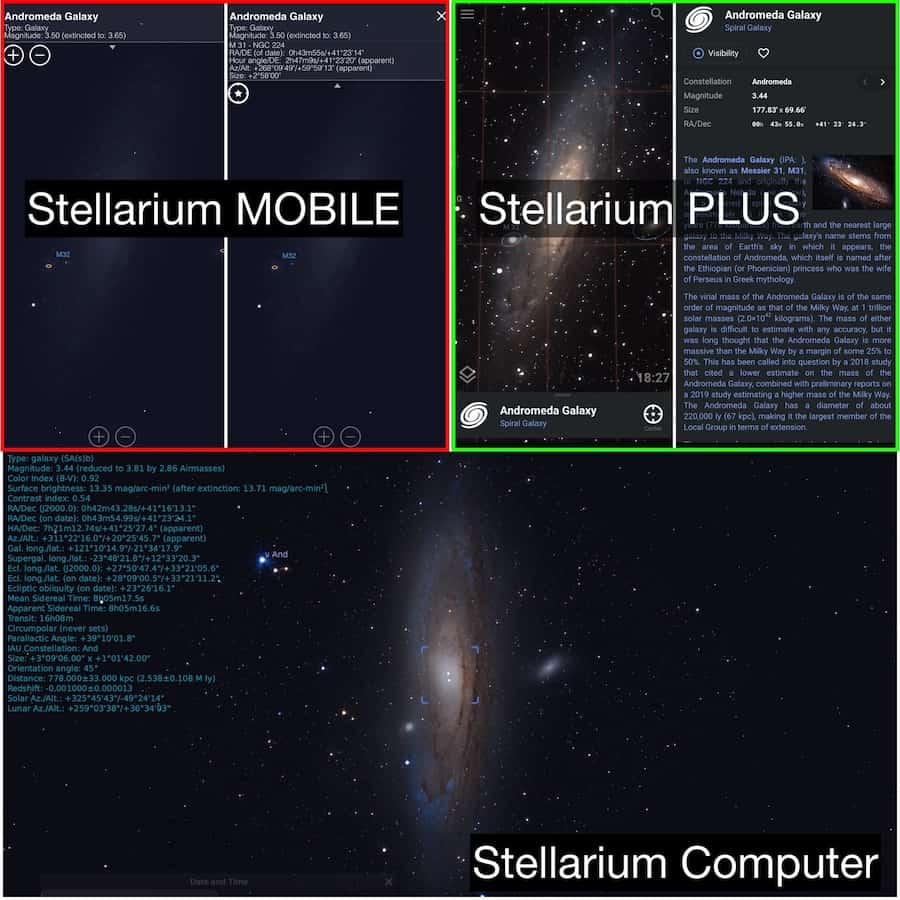 The free Stellarium MOBILE app offers rather poor images and limited info. Stellarium PLUS has much better image quality and provides a lot of info pulled in from Wikipedia. The computer version only gives a lot of useful but technical data.
One thing I really like about Stellarium MOBILE and PLUS is that you can use the phone's GPS and compass to let you explore a specific part of the sky by simply aiming the phone at it.
What Are Stellarium Pros and Cons?
It is hard to find something not to like in Stellarium for desktop and laptop computers:
It is free and multiplatform
It has a set of large astronomical databases you can download, allowing you to find almost everything
It is customizable with your local landscape and your gear
Can provide a lot of useful and technical info for most targets, such as Magnitude, surface brightness, contrast index, celestial coordinates, and more
As a must for a planetarium, it can calculate future astronomical events (e.g., planetary transits, Moon occultations, etc.) and even use scripts to show you specific phenomena;
It can control your telescope
Honestly, the only negative I found is that users are not notified when there is a new update. Stellarium is simply amazing.
I am a little bit less enthusiastic about the MOBILE and PLUS versions, and I have already covered some of their main cons.
I like them because they are easy to use, help you plan your session (although in a basic way) and allow you to point the phone at the sky to explore what is there to be seen or photographed.
What I don't like is that even with the PLUS version you can enter only one type of gear combination to preview the field of view for the intended setup, and you need to calculate the size of that field of view beforehand.
Also, there is no augmented reality, so that you can see how real obstacles impact the sky's visibility.
What Are Stellarium Main Features?
Here is the list of some of the main features Stellarium (computer version) has to offer.
Sky
Default catalog of over 600,000 stars
Extra catalogs with more than 177 million stars
Default catalog of over 80,000 deep-sky objects
Extra catalog with more than 1 million deep-sky objects
Images of nebulae (full Messier catalog)
Realistic Milky Way
Very realistic atmosphere, sunrise, and sunset
The planets and their satellites
Interface
Time control
Multilingual interface
All-new graphical interface and extensive keyboard control
Telescope control
Visualization
Several coordinate grids
Star twinkling
Shooting stars
Tails of comets
Eclipse simulation
Supernovae and novae simulation
Exoplanet locations
Customizability
Plugin system adding artificial satellites, ocular simulation, telescope control, and more
Ability to add new solar system objects from online resources…
Add your own deep-sky objects, landscapes, constellation images, scripts…
Star chart / planetarium
Connect/control goto mount
GPS
Calculator
Field of view for camera/eyepiece – lens/telescope combination
Is Stellarium Right For You?
Whatever your level, if you want to plan your imaging sessions and observations or explore the night sky with your computer, Stellarium is an absolute must have.
If you have an android device, the more basic and free Stellarium MOBILE is still worth having, although images of nebulae and galaxies are rather unexciting.
If you, like me, own an Apple device like the iPhone or the iPad, you are forced to use Stellarium PLUS. In this case I would say not to bother with Stellarium PLUS as there are better alternatives available.
What Are Stellarium Best Alternatives?
If you are a casual user with no need to control a telescope or preview the field of view of your setup, Stellarium MOBILE can work just fine.
But if you own an iPhone, iPad, or even an M1 Mac computer, Sky Guide (free with in-app purchases) is my favorite app for iPhone and iPad.
It has a beautiful interface, fantastic images of deep-sky objects and planets with tons of info, augmented reality, calendar for astronomical events, notifications for upcoming events, can be queried directly with Siri, and connects to the apple watch.
It uses your GPS and phone sensors to display the area of the sky you are pointing your phone at and can show how the sky looks when seen with different types of light, like IR, UV, Ha, X-rays, Gamma-rays, radio waves, and Microwaves.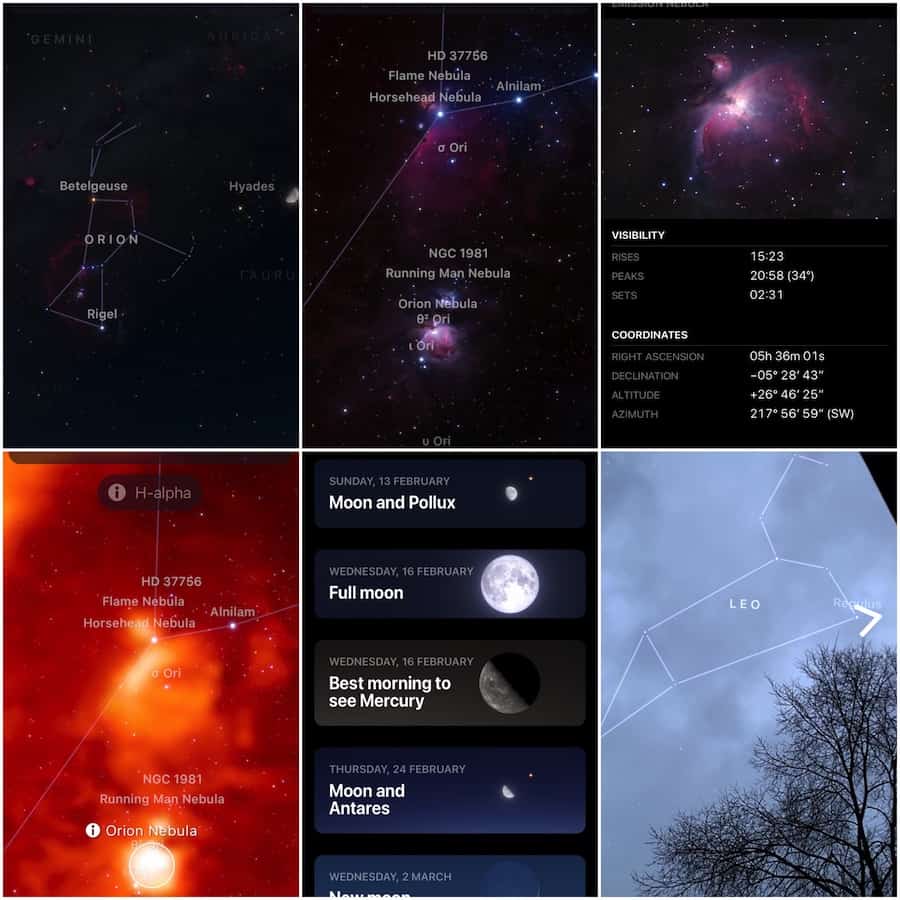 If you are interested in astrophotography and need to control your telescope and preview the field of view for any combination of your gear, SkySafari PLUS is what you need and is available for Android, iPhone, iPad, and Mac OS X.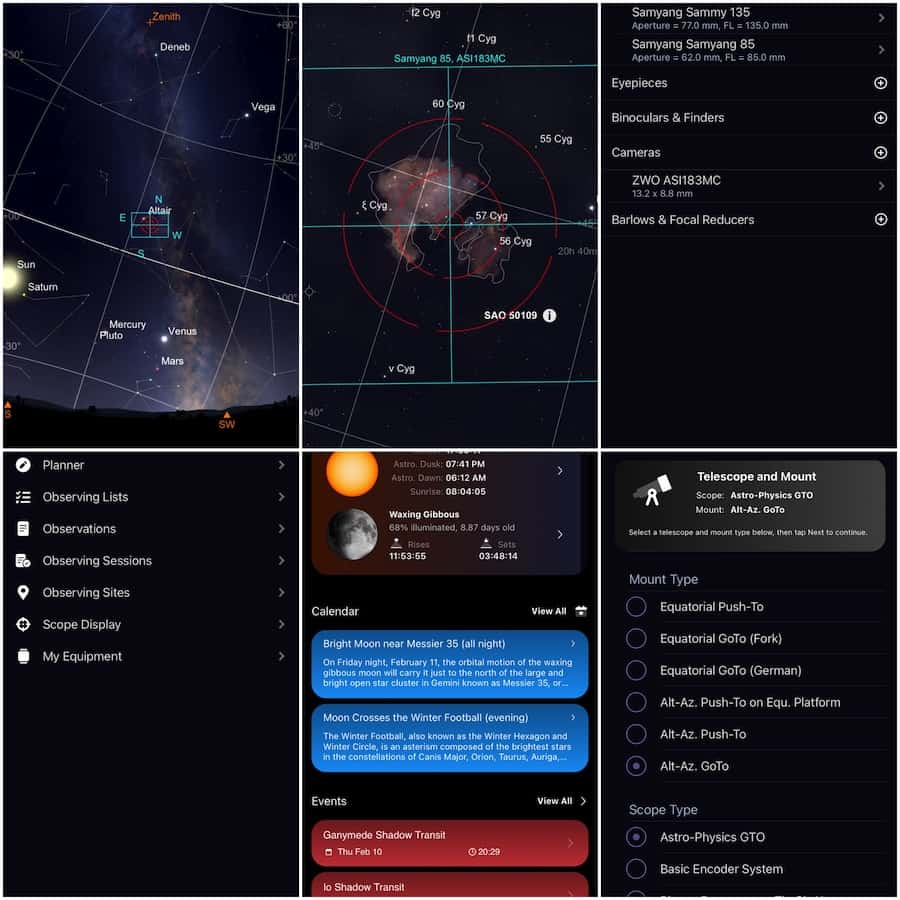 Conclusion
If you are passionate about the universe and want to know what is up there, how constellations are called in the different cultures and the story behind their name, Stellarium is an absolute must have.
Even more so if you do astrophotography and astronomical observations.
Unfortunately, the mobile versions of Stellarium are not quite there yet and even the most advanced Stellarium PLUS falls short with respect to similar apps like Sky Guide and SkySafari.