Anyone who looks up into space has a desire to learn more about the universe beyond our tiny blue dot. For those of us not fortunate enough to travel among the stars, there is plenty of information contained within books that we can get our hands on.
In this article, we look at some of the best astronomy books in the known universe. Our number one choice happens to be The Backyard Astronomer's Guide, so read on to discover why!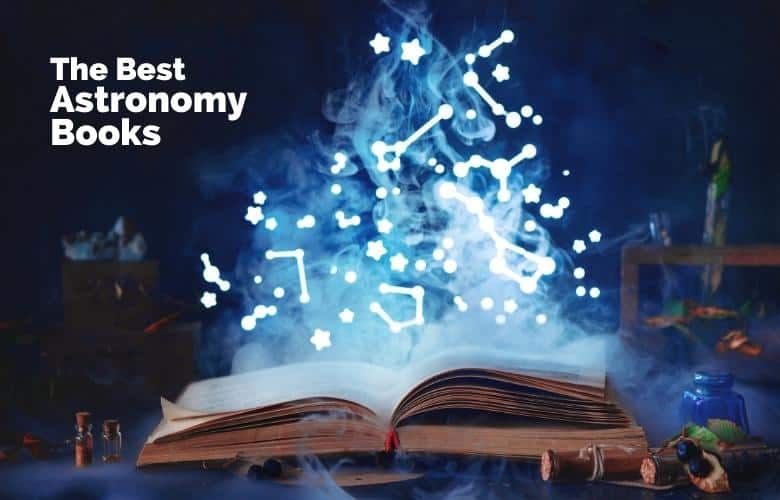 The Best Astronomy Books At A Glance
List of the Best Astronomy Books to Buy
The Backyard Astronomer's Guide
The best guide for astronomers
Author: Terence Dickinson and Alan Dyer | Number of Pages: 412 | Publication Date: September 10, 2021 | Format: Hardcover
This new release marks the fourth version of the popular book that has flown off shelves for the past 30 years. The comprehensive guide covers everything a beginner or experienced astronomer needs to take the stargazing experience to the next level.
The fourth edition introduces new content and gear to address new findings and equipment since the previous edition rolled out ten years ago. Broken into four distinct parts, The Backyard Astronomer's Guide is full of tips and tricks to get you to see the night sky like never before.
The book starts with a section on getting started in astronomy. It contains information on choosing a site to observe, seasonal star charts, and how to peruse the sky with the naked eye of a pair of binoculars.
Part two explains how to choose and set up a telescope to look even further into the cosmos. It also discusses essential accessories and how to optimize your viewing experience.
It then segways into the best ways to view the Sun, Moon, planets, comets, and deep-sky objects. The final two chapters are all about astrophotography and how to capture incredible snaps.
Perhaps best of all, the Backyard Astronomer's Guide is full of new photos and graphs by well-known photographer Alan Dyer.
Pros
All-encompassing guide
Great for new and experienced astronomers
Astrophotography section
Newly updated
Amazing images
Cons
Hardcover only
A bit expensive
---
100 Things to See in the Night Sky: Expanded Edition
Best budget guide to stargazing
Author: Dean Regas | Number of Pages: 256 | Publication Date: June 16, 2020 | Format: Hardcover or eBook
100 Things to See in the Night Sky is an excellent read for newer astronomers trying to pick objects out of the sky. All the celestial bodies discussed within can be seen with the naked eye or the most basic of telescopes.
The book breaks down the night sky, painting a clear picture of what's visible. You'll be able to locate these objects and learn about the modern and historical importance of each. Hearing myths about how constellations came to be and how the ancients explained the Moon will give them more profound meaning.
Included within are star charts and incredible photographs that reveal where to look and what to look for. This expanded edition covers more than ever before. Unfortunately, there's no content within for astronomers in the Southern Hemisphere.
Pros
Best for newer astronomers
Usable with minimal equipment
Colorful star charts, photos, and illustrations
Shares myths surrounding celestial objects
Cons
---
A Brief History of Time
Best thought-provoking book on the universe
Author: Stephen Hawking | Number of Pages: 212 | Publication Date: September 1, 1998 | Format: Hardcover, paperback, or eBook
A Brief History of Time comes to you from the incredible mind of the late Stephen Hawking. It has graced the New York Times bestseller list and has sold over 25 million copies to date.
In his book, Hawking breaks down in non-technical terms his thoughts on some of the biggest questions about the universe. After a brief explanation of the history of astronomy, A Brief History of Time attempts to answer perplexing thoughts about the beginnings of the universe and how it even came to be.
It also covers the expanding universe, whether the universe has an end, and considers the concept of time. These discussions are firmly rooted in astronomy but also flow into the realm of physics.
For that reason, A Brief History of Time is best suited for astronomers who desire a very deep dive into the cosmos as we know it. Although it doesn't answer all our questions, it certainly provides an interesting perspective on how things may have come to be and what might happen in the future.
Pros
Straight from the mind of Stephen Hawking
Written for readers with no prior knowledge of physics
Covers some of the biggest questions about the universe
New York Times Bestseller
Cons
Can still be too complex for some
---
The Secret Lives of Planets
Best guide to understanding the planets
Author: Paul Murdin | Number of Pages: 288 | Publication Date: July 11, 2019 | Format: Hardcover, paperback, or eBook
The Secret Lives of Planets attempts to go behind closed doors and discover little-known facts about the Solar System we call home.
When the book hit shelves in the middle of 2019, the BBC wasted no time in naming it one of the best astronomy and space books for the year. With an easy-to-read format, it's no surprise that it's still very popular with astronomers of all types.
The Secret Lives of Planets mixes a bit of humor into a detailed guide of the other planets and moons in our Solar System. There are plenty of interesting facts that break down each object, from rotation speed to surface temperature and beyond.
In addition to these important pieces of information, Secret Lives also showcases the many interesting planetary happenings behind the scenes. Within these pages, you'll learn about the tallest volcano in the Solar System and beautiful lakes of liquid methane.
Our closest neighbors are some of the most-viewed objects in the sky. With this book, you'll never look at them quite the same way again!
Pros
Tons of rare facts on the Solar System
Very readable format
Detailed information on planets
Sprinkled with humor
Cons
Lacks photos and illustrations
---
Cosmos
Second best thought-provoking book on the universe
Author: Carl Sagan | Number of Pages: 432 | Publication Date: December 10, 2013 | Format: Hardcover, paperback, or eBook
Initially published in 1980, Cosmos is one of the bestselling books of all time and now features illustrations and a foreword by astrophysicist Neal deGrasse Tyson.
Inside these pages, Sagan looks back at the effect billions of years have had on the cosmic footprint. The book details theories on how matter became consciousness and takes readers on a journey from the origins of knowledge to the present day.
Cosmos doesn't shy away from areas we're still learning about, such as space travel, the evolution of galaxies, and mysteries still surrounding black holes and other phenomena. Sagan does a wonderful job of articulating his thoughts and findings into a format that's easy to follow.
The book reached such popularity that it was made into a television series of the same name. Both received several awards for their grand scope in understanding the universe we live in.
Pros
Bestselling book
Eye-opening content from across the ages
Latest edition has illustrations
Easy to read
Cons
Paperback has small print
---
Space Atlas: Mapping The Universe And Beyond
Best informational book on the cosmos
Author: James Trefil | Number of Pages: 352 | Publication Date: October 23, 2018 | Format: Hardcover
Space Atlas: Mapping The Universe And Beyond is the recently released second edition of the ever-popular book. Readers are treated right off the bat with a foreword by Apollo 11 astronaut Buzz Aldrin.
After you've had a chance to process the words of one of the 12 men to set foot on the Moon, you'll be treated to a plethora of information pertaining to the Solar System and beyond. The atlas contains detailed planetary details, including the latest gathered from the Messenger and New Horizons spacecraft.
At 352 pages, Space Atlas provides detailed information on celestial objects from here to the far ends of the universe. To truly capture the magnitude of space, the book comes chock full of high-quality images of some of the most spectacular sights out there.
This book is clearly envisioned for those who want a deeper understanding of the universe as we know it. With so much information contained within, you won't be putting it down for a long time.
Pros
Awe-inspiring high-quality photos
Full of celestial information
Foreword by Buzz Aldrin
Perfect for kids or adults
Cons
Only in hardcover
A bit pricey
---
Ask an Astronaut: My Guide to Life in Space
Best book for looking at life in space
Author: Tim Peake | Number of Pages: 272 | Publication Date: October 24, 2017 | Format: Hardcover, paperback, audio CD, or eBook
Tim Peake is one of the handful of astronauts who have lived on the international space station. He served 186 days in space, returning planetside in June of 2016. This clever read answers questions and offers insights into his life while looking down at the Earth from above.
In this book, Tim answers thousands of questions he's received since returning from the international space station. He talks about his training regimen, his launch into space, emergency spacewalk, and the science that takes place on board.
He also details some of the more obscure questions he's heard, such as concerns about laundry or going to the bathroom. Anyone who has any interest in what lies beyond our Earth will love to hear about such unique experiences.
Written for readers of all ages, Peake summons his creative side to keep explanations simple. To keep things even more interesting, the book is full of illustrations and never-before-seen images.
Pros
Unique insights into the astronaut experience
Answers thousands of questions
Several photos and illustrations
Easy to read
Cons
A one-sided approach to information
---
The Best Astronomy Books Buying Guide
Beginner or Advanced
Most astronomy books are well-received by anyone with a love for what lies beyond. That being said, consider your astronomer's level of experience before making a purchase.
When it comes to stargazing, beginners will want to start small. Books like The Backyard Astronomer's Guide discuss the basics of the hobby and even what's visible with just the naked eye.
More experienced stargazers will want to take their knowledge to the next level and explore for things rarely seen. They will likely benefit from information on distant galaxies or nebulae. Books on equipment like larger telescopes may play into this wheelhouse as well.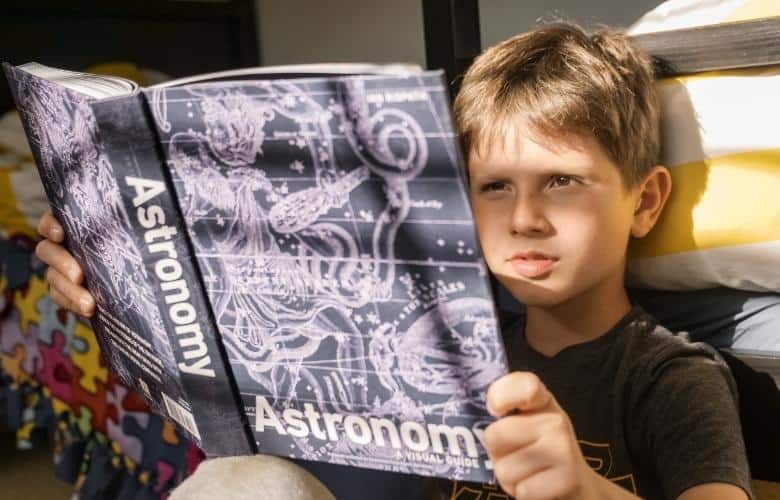 Stargazing or Fact-seeking
Astronomy can be cleaved cleanly in the middle between two topics: those who want to see and those who want to learn. Someone hungry for information on planets or stars may prefer an informative book.
On the other hand, Stargazers will likely benefit from knowing where to locate things in the sky. There's certainly overlap between these two topics, and many books do cover both topics to at least some extent.
Conclusion
While it's certainly hard to select just one book from this list to recommend, The Backyard Astronomer's Guide is our top pick.
This guide does a fantastic job of showcasing the thousands of stars and other celestial objects that we're able to view each year. It explains in detail where to find them and information even a beginner can use to locate what they want to see.
In addition, The Backyard Astronomer's Guide paves the way for astronomers to pick up the equipment they need to unlock even more of the cosmos. Last but not least, let's not forget about the section on astrophotography!
If you or the astronomer in your life are in the market for something else, we believe one of the other books on this list may be just what you need.