No matter the kind of outdoor activity you are interested in and how long or demanding it is, you should always find a comfortable place to sit on, relax, and enjoy the scenery.
Also, many astrophotographers like to put more emphasis on their photography gear, and often, they're not left with a lot of room for other baggage. So, backpacking chairs were invented to give you a safer and more comfortable alternative than sitting on the ground while being small and portable at the same time.
The ALPS Mountaineering Chair is the perfect representation of a well-designed backpacking chair, but it's got some fierce competition from the rest of the chairs on our list, as you'll see soon enough.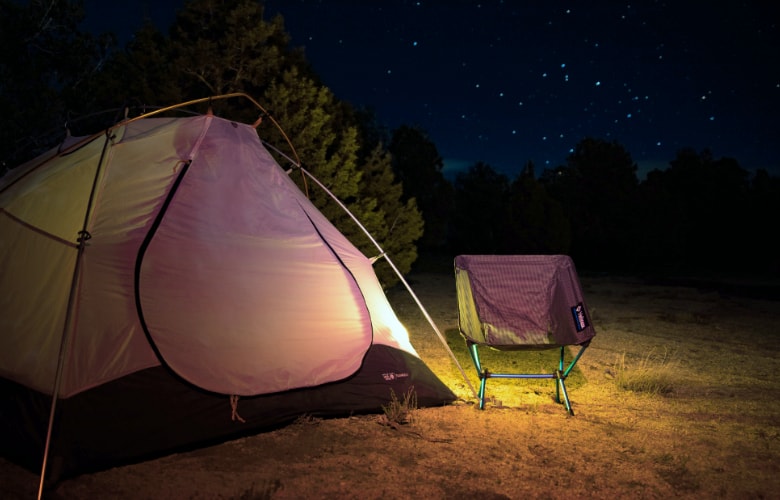 List of best backpacking chairs
---
1. ALPS Mountaineering Rendezvous Elite Folding Camp Chair
Best backpacking chair
Dimensions: 22 x 14 x 24 inches | Weight: 4.68 pounds | Weight capacity: 300 pounds | Frame material: Aluminium/Steel | Brand: ALPS Mountaineering
If you're looking for a chair that will allow you to relax and enjoy the nature around you, but without adding much overall weight, then the ALPS Mountaineering Folding Camp Chair is certainly a worthy candidate for your needs.
It combines steel and aluminum construction to give you a delicate balance between durability and portability. It also adds a mesh texture over the entire seat so you won't feel uncomfortably hot during spring and summer days.
Still, its biggest selling point has to be its ability to fold in a way that will allow you to put your legs up and lie back comfortably and have a great view of the night sky. The added rubber armrests and the non-slippery feet will surely give you some peace of mind while you're stargazing, and the included carry bag will allow you to transport the chair with ease.
Pros
Very comfortable due to its folding nature
Great for hot weather thanks to the mesh fabric
Easy to operate
Good weight capacity
Includes a carrying bag
Cons
Not the lightest backpacking chair out there
---
2. Trekology YIZI GO Portable Camping Chair
Second best backpacking chair
No products found.
Dimensions: 19 x 12 x 28 inches | Weight: 2.1 pounds | Weight capacity: 300 pounds | Frame material: Aluminium | Brand: TREKOLOGY
Affordable, well-built, and compact, these are all the traits you could attribute to the Trekology YIZI GO Camping Chair. Weighing only 2.1 pounds and fitting in an 11 x 4.3 x 6-inch carry bag makes it quite portable and easy to fit in a larger backpack or place it on a bike rear rack.
Even though it is compact by its nature, it still manages to offer a decent leg height of 15.4 inches and a depth of 12 inches and will provide you with a decently comfortable experience. The fabric you'll be sitting on will also be able to resist a lot of abuse since it's made from the familiar 600D reinforced material that is also easily washable if you manage to get it dirty somehow.
Pros
Lightweight
Very compact when folded
Two side pockets are a nice addition
600D polyester
Carry bag is included and can be attached to the chair when not in use
Cons
Takes a minute to assemble
---
3. Crazy Creek Products Hex 2.0 Original Chair
The most portable backpacking chair
Dimensions: 16.5 x 15.5 x 16.5 inches | Weight: 1.36 pounds | Weight capacity: 250 pounds Frame material: Plastic | Brand: CRAZY CREEK PRODUCTS
If you need the ultimate portability at any cost, then the Crazy Creek Hex 2.0 Chair should be your first choice. At 1.36 pounds, it's very light and becomes extremely portable when not in use because of its ability to roll to a diameter of only 4 inches.
The primary material used for its build is the breathable 70D nylon that offers both water and tear resistance and is also breathable at the same time. Closed-cell foam is also here to provide good insulation and better comfort.
Because of the rollable design, this chair's setup is dead simple, and you should have no problems getting it ready for use in less than a minute. The only downside is that it isn't as comfortable as less portable backpacking chairs.
Pros
Extremely portable
Water-resistant
Breathable and ripstop surface
Very easy to operate
Cons
Not as comfortable as other less portable chairs
---
4. Helinox Chair Zero Ultralight Compact Camping Chair
The second most portable backpacking chair
Dimensions: 20 x 19 x 25 inches | Weight: 1.2 pounds | Weight capacity: 265 pounds | Frame material: Aluminium | Brand: Helinox
With a weight of only 1.2 pounds, the Helinox Ultralight Camping Chair is the lightest chair of its type. You will find it incredibly easy to carry with you on any kind of trip, especially because it folds to a size of only 4 x 4 x 13.5 when it's packed inside its carrying bag.
It still manages to offer decent weight capacity thanks to its aluminum alloy construction and also pretty resistant polyester seat made from durable fabric that is both tear-resistant, waterproof, UV resistant, and machine washable.
The chair itself is also easy to assemble due to a single built-in bungee cord and likewise, fold back again in its compact form. It's certainly not the most comfortable chair you'll ever sit on. Still, you will appreciate its minuscule size more than anything else if you're the type of astrophotographer who likes to travel light.
Pros
Incredibly lightweight
Very compact size while folded
Decent durability when you take its portability into account
Easy to operate
Includes a carrying bag
Cons
A little pricey
Not very comfortable
---
5. Sunyear Lightweight Compact Folding Camping Backpack Chairs
Best backpacking chair for beginner astrophotographers
No products found.
Dimensions: 20.5 x 20.9 x 26 inches | Weight: 2.1 pounds | Weight capacity: 250 pounds | Frame material: Aluminium | Brand: Sunyear
The Sunyear Folding Backpack Chair is a chair that will certainly attract your attention if you are just starting out with your outdoor adventures and experimenting with astrophotography. The clear indication of that is certainly it's affordable price and a simple feature set.
It features a unique deep seat design and will allow you to lay back inside it comfortably. Some parts of the nylon material you'll be sitting on are of the mesh variety, which helps you feel more comfortable during higher temperatures. The chair itself is of very solid construction and can be folded and placed inside a neat carrying case that comes included.
In the end, it's good to know that the chair's seating area is washable and also, naturally, water-resistant to a certain degree. The only thing you should keep in mind is the weight capacity limit of 250 pounds, and be sure that your physique fits within that limit.
Pros
Lightweight
Not very expensive
Solid construction thanks to the aircraft-grade aluminum
Offers decent comfort
Includes a carrying case
Cons
Below average weight capacity
Not very easy to assemble
---
6. Sportneer Camping Backpacking Chair Portable Lightweight Folding Camp Chairs (2 Pack)
Best value for money
No products found.
Dimensions: 22 x 21 x 26.5 inches | Weight: 2 pounds | Weight capacity: 350 pounds | Frame material: Aluminium | Brand: Sportneer
Right off the bat, we can say that the Sportneer Backpacking Folding Camp Chairs are great value for money if you are in need of a pair of chairs. Bundled together, these chairs even cost less than many single ones, and they still manage to offer a lot of good features.
Looking at the single chair, the first one is the excellent 350-pound weight capacity, impressive considering the aluminum construction. At the same time, portability hasn't been sacrificed in any significant way with a weight of only 2 pounds and a folded size of 14 x 5.5 inches together with the carrying bag.
While the fabric used for these chairs isn't advertised as waterproof or tear-resistant, it is breathable, meaning that you won't feel too hot while using it in the summer. It's also very easy to prop up thanks to the shock-cord pole structure.
Pros
Great value for money
Easy to set up
Class-leading weight capacity
Breathable fabric
Includes a nice carry bag
Cons
Not very comfortable if you're full-figured
No water resistance
---
7. MOON LENCE Outdoor Ultralight Portable Folding Chairs
Second best value for money
Dimensions: 22 x 7 x 25.6 inches | Weight: 2 pounds | Weight capacity: 242 pounds | Frame material: Aluminium alloy | Brand: MOON LENCE
Firstly, the MOON LENCE Outdoor Folding Chairs gives you a choice between a single or a pair of backpacking chairs. While it isn't expensive all by itself, you will be saving a few bucks if you buy a pair, making it a great choice if you like to travel with a friend or your significant other.
Its seat is made from the familiar and durable 600D oxford cloth, and its frame is aluminum alloy, meaning decently rugged construction that's still very light. You can also disassemble the chair, put it inside its carry bag and take it almost anywhere with you. There's also two integrated storage pockets on each side of the chair for your smaller items or gadgets.
Pros
Good value for money
600D oxford cloth
Two side pockets to store smaller items
Not too heavy
Carrying bag is included
Cons
Not easy to assemble
Could offer a better weight capacity
---
8. TravelChair Slacker Chair
Best budget backpacking chair
Dimensions: 11 x 11 x 18 inches | Weight: 2.2 pounds | Weight capacity: 275 pounds | Frame material: Steel | Brand: TravelChair
The TravelChair Slacker Chair is one of the most unique backpacking chairs on our list. It aims to keep the cost down to make it more appealing to beginner outdoor adventurers, and it manages to do so by keeping its dimensions smaller and placing its seating area on only three legs.
While this kind of approach does affect stability and comfort, it also makes it much easier to operate and carry around. In a way, it almost feels like a camera tripod. Another positive aspect of this chair is its durability thanks to the steel frame, instead of the aluminum ones found on most backpacking chairs and the military-grade fabric used to create the seat.
Pros
Very affordable
Good weight capacity
Military-grade material seat
Easy to assemble
Durable steel frame
Cons
Not as stable as other chairs in this article
Not very comfortable
---
9. Merutek – Ultra Lightweight Portable Chair for Camping
Best backpacking chair for rainy environments
Dimensions: 22 x 21.5 x 27.5 inches | Weight: 2 pounds | Weight capacity: 265 pounds | Frame material: Aluminium | Brand: Merutek
The Merutek Ultra Lightweight Chair for Camping has two main selling points. The first one is the water-resistant coating that is part of its nylon ripstop seating material. Such resistance to the elements will allow you to use this chair on any kind of trip, even in warmer climates, thanks to the two breathable mesh parts made for better air circulation.
The second one has to be its Dual Pole Frame Construction, which is here to ensure that the connection between the two poles is as robust as possible and thus increases the chair's stability. We also like the addition of two built-in cell phone pockets, which can be used to store other smaller items like matches or wet tissues.
Pros
Water-resistant coating
Decent weight capacity
Integrated cell phone pockets
Lightweight and durable design
Includes a carrying bag
Cons
---
10. Wildhorn Terralite Ultralight Heavy Duty Outdoor Folding Camp Chair
Best backpacking chair for muddy environments
Dimensions: 23 x 24 x 29 inches | Weight: 2.55 pounds | Weight capacity: 300 pounds | Frame material: Aluminium | Brand: WildHorn Outfitters
If there's one backpacking chair that was built with durability and resistance in mind, it's the Wildhorn Heavy Outdoor Folding Chair. Sporting a weight capacity of 300 pounds and an aircraft-grade aluminum rust proof construction makes it one of the most rugged products on our list.
Not only that, it's fabric is also washable and thus can withstand some water damage, making it a great choice for any kind of activity close to an ocean or a sea. The same can be said for any muddy areas since it includes a separate set of feet attachments that will prevent it from sinking too much and making it unusable. A built-in compact mesh pocket is also an excellent addition.
Pros
Great weight capacity
Integrated mesh pocket
Durable construction
A separate set of feet included for use on muddy ground
Carrying case included
Cons
Could be easier to assemble
---
11. MARCHWAY Lightweight Folding High Back Camping Chair
The best option for taller people
No products found.
Dimensions: 40.9 x 22.8 x 17.1 inches | Weight: 3.7 pounds | Weight capacity: 300 pounds | Frame material: Aluminium | Brand: MARCHWAY
The MARCHWAY Lightweight Camping Chair aims to combine the comfort and durability of much larger chairs with the compactness and lightweight nature of backpacking ones. It does so by combining a very high backrest with a design that allows its skeleton and seating area to come apart and fit in a much smaller carrying bag.
To ensure that the chair's sitting area is both durable and breathable, MARCHWAY has decided to use Ripstop 1000D polyester as the primary building material and mesh fabric in the right parts. Comfort shouldn't be an issue thanks to the sponge material used for the integrated head pillow and the armrests.
Pros
Great comfort
Good value for the money
Good weight capacity
Excellent durability
Includes a carrying bag
Cons
Takes some time to assemble
Could be more stable and offer more balanced dimensions
---
Buying guide to choosing the best backpacking chair
Things to consider when buying a backpacking chair
Where do you plan to use it?
Since backpacking chairs are so light and portable, only your imagination will be the limiting factor in deciding where and when to use them. They won't burden you even if you're on a demanding climb, passing through a dense forest, or doing an all-day walk down the trail.
In the context of photography, you could be sitting on the beach and photographing the waves, or in your own backyard with a telephoto lens and capturing sparrows, on the sidelines of a soccer field waiting for the ball to reach your kid or even on top of the mountain admiring the night sky and doing some astrophotography.
Portability
There are two things to consider there; weight and folded size. Most compact backpacking chairs weigh between 1 and 5 pounds, with even the heaviest ones still being very portable compared to other types of chairs.
They become considerably smaller when they are folded and usually come with their own portable carry bags. In that form, they can easily be carried on your back or fit inside a larger backpack. So, there's no better choice for your travels if you want a chair that won't be too much of a burden.
Ease of operation
Because they tend to offer a much simpler design than bigger camping chairs, less time is required to set them up, and the same goes for their disassembly. They mostly use a two-part structure, you just need to attach the seating area to the leg part and that's it. Some are less easy to assemble than the others, but still the easiest to operate in the realm of outdoor chairs.
Comfort
The things to consider that directly affect comfort are the chair's depth and height, seat width, maximum weight capacity, mesh fabric, and padding. The deeper the chair, the more of your body fits inside of it, meaning more comfort. The height will be a critical factor if you're a taller person because you could experience pain in your legs if the chair is too short.
The seat width and maximum capacity are things to consider if you're a person of a bigger build and will have a big impact on compactness and safety. If the camping chair has enough mesh fabric as a part of its seating area, it will be more comfortable to sit on in a warmer climate, while more padding essentially means more comfort and better insulation.
Added features
Water-resistance is also one of the most important extra features to have in a backpacking chair. The other one is storage pockets, always useful to hold things like smartphones or smaller tools. There's also the ripstop fabric and the corrosion resistance, both having a direct impact on durability. Some chairs even come with replaceable feet and can adapt to different surfaces.
Types of backpacking chairs
They are usually separated one from another by two things; the way they fold or disassemble and how much of your body does their seating area support.
Foldable
These are the most common types of backpacking chairs. They will support the most of your back, allow your legs to rest comfortably, and some models also offer armrests. They come with seating fabric that needs to be stretched over metal poles that snap together and don't take a lot of room while folded.
Rollable
The rollable chairs consist entirely of the seating area and don't offer any detachable parts. You simply fold it in half and roll it, and that's it. They don't require a carrying bag either. They will support your back, and usually only at a 90-degree angle, but that's all. So, their main selling points are certainly compactness and ease of use.
Stools
Another lightweight, simple to use, and very portable option. These types of backpacking chairs are shorter than traditional ones, fold more conveniently, and don't require a storage bag. On the flip side, offer noticeably less comfort due to the complete absence of any kind of backrest. So, they are best used for shorter resting sessions.
Ultra-lightweight
These are very similar to regular foldable backpacking chairs and were created for maximum portability in mind. They are more comfortable than the rollable chairs or the stools, but less than traditional ones due to their more compact design. They also offer less extra features. If you want a decent level of comfort and very good portability, these are a great choice.
Are backpacking chairs comfortable?
It all depends on the type of backpacking chair we're talking about. They don't offer the same comfort level as the reclining or heavy-duty camping chairs do, but are good in their own right. You will always be losing some comfort, but that is to be expected if you're looking for the ultimate portability, something that can only be found in backpacking chairs.
Quick Recap Of The Best Backpacking Chair Of 2023
Conclusion
We hope that we've managed to illustrate the usefulness of backpacking chairs through this article and that you've found it helpful in deciding which one is the right one for you or if you ever need one in the first place.
The ALPS Mountaineering Elite Camp Chair will give you the best experience in traveling light and wanting to be comfortable while photographing the night sky. Still, all the chairs on our list will provide you with the portability and the ease of use you desire.