Stargazing with your binoculars is a great way to observe the sky. Even better is when you attach them to a tripod so you can view them "hands-free" without any shaking. But to do that, you'll need an adaptor to connect your binoculars to your tripod.
To mount them onto a tripod, a special adapter or a mount will be necessary. This is what will be attached to the metal plate included with your binocular tripod and will ensure that you can easily operate your binoculars without other parts of the tripod getting in the way.
If you want the best binocular tripod adapter on the market, look no further than the Orion Paragon-Plus Binocular Mount. If, however, you want more information about other types available, check out our list of the best binocular adapters and mounts down below.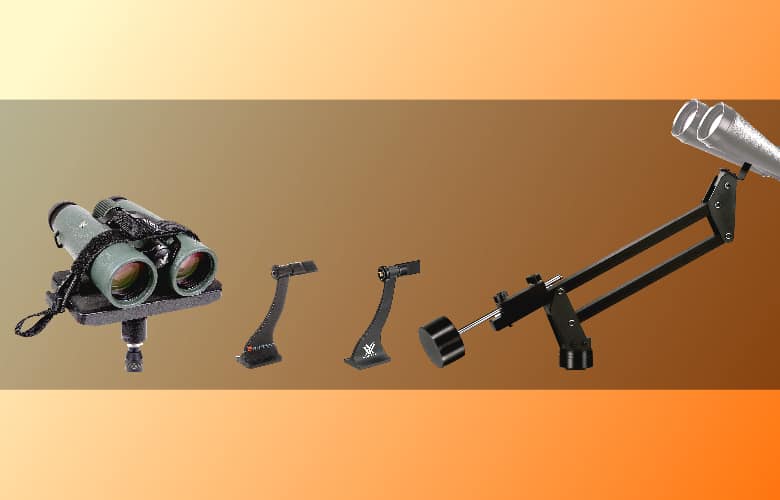 Our Best Binocular Tripod Adapters At A Glance
List of the best binocular tripod adapters and mounts
---
1. Orion Paragon-Plus Binocular Mount
Best binocular tripod adapter
Brand: Orion | Dimensions: 31.4 x 11.6 x 6.4 inches | Weight: 15.6 pounds
If you use a large or heavy binocular for stargazing, then the Orion Paragon-Plus binocular mount easily tops our list as our first choice. For example, it makes light work of the Celestron 20×80 Skymaster Pro when it's attached (or any other heavy-duty astronomy binoculars for that matter).
What also makes this our best choice is the adjustable arm instead of just a mount like many of the universal ones available. Working in tandem with the adjustable arm on the opposite end is an adjustable counterweight, letting you balance your binoculars and eliminate any sort of shakiness while viewing, which is something you definitely don't want.
What we liked most is when you attach your binoculars to the included L-adapter and you get everything balanced with the counterweight, the adjustable arm can be adjusted to virtually any angle. I've even been able to comfortably use a reclining chair and view the night sky while lying back, which is much better than being hunched over for long periods, your back will thank you later.
Pros
Great build quality
Capable of holding heavier professional binoculars
Includes an L type adapter
Built-in counterweight
Offers unparalleled levels of adjustment
Compatible with any tripod that has a 1/4″ or 3/8″ threaded post
Cons
Not the most portable binocular tripod mount
Needs the biggest tripod you can get to support the adjustable arms weight
---
2. Bushnell Quick Release Binocular Tripod Adaptor
Second best binocular tripod adapter
Brand: Bushnell | Dimensions: 3.5 x 1.5 x 1.5 inches | Weight: 0.2 pounds
The Bushnell Quick Release Adaptor, as its name implies, is a binocular adapter that will allow you to quickly remove and reattach your binoculars from the tripod whenever you want to change your position while watching the night sky or whenever the time to pack has arrived.
All of this is possible thanks to the special screw that screws into your binoculars and a stem that acts as a connection between the binoculars themselves and the tripod. To detach the binoculars, all you'll need to do is to loosen the thumbwheel on top of the stem, and the mechanism will release them. It's an intuitive and easy to use system.
Another good thing about this binocular tripod adapter is that it's lightweight and built well at the same time, making it strong enough to work well even with bigger and bulkier binoculars, but also compact enough to fit into almost any pocket on your backpack or your jacket.
Pros
Built-in quick-release mechanism
Excellent build quality
Stable enough to hold any pair of professional binoculars
Easy to operate
Cons
It's not easy to find replacement parts if something gets lost
---
3. Snapzoom Universal Binocular Tripod Mount
Best universal binocular tripod adapter
Brand: Snapzoom | Dimensions: 6.5 x 3.25 x 0.75 inches | Weight: 0.13 pounds
If you want an affordable adapter that's compatible with a wide range of binoculars or your particular binoculars don't have a built-in tripod connector, your best solution is to get a universal binocular tripod mount, like the one made by Snapzoom, which is the best one available.
What makes this particular adapter work with so many different binoculars is its unique design, consisting of one big velcro strap and a plate on which the binoculars will rest when mounted on a tripod. All you'll need to do is to tighten the velcro strap, and you'll be ready for a night of watching the stars.
While this kind of solution won't be as stable and robust as using a screw-in adapter, it will allow you to use multiple binoculars with just one mount and switch between them very quickly, something that would definitely take more time with traditional binocular adapters.
Pros
Compatible with a wide variety of different binoculars
Lightweight construction
Great for any binoculars without a tripod socket
Great value for the money
Cons
Average build quality
Not the most elegant mounting solution out there
---
4. Vortex Optics Uni-Daptor Binocular Tripod Adapter
Best value for money binocular tripod adapter
Brand: Vortex Optics | Dimensions: 3.6 x 6.75 x 0.7 inches | Weight: 0.04 pounds
The Vortex Optics Uni-Daptor is a perfect choice for anyone looking for a very portable quick release binocular adapter that doesn't cost much money and is simple to use.
Setting this adapter up to work with your binoculars is easy. First, you'll have to use the included hex wrench to tighten the top part of the adapter to your binocular's tripod socket. This is the part that will remain attached to your binoculars after you remove them from the tripod.
After that, attach the base of the adapter to the plate of your tripod. Then all you'll have to do is to insert the binoculars into the base and you're good to go. Removing the binoculars is just as easy. So, if you value efficiency and ease of use, you'll certainly love this setup.
Pros
The quick-release mechanism is a great thing to see at this price
Extremely lightweight and portable
Good build quality
Simple to operate
Cons
Not a great choice for heavier binoculars
---
5. Vortex Optics Binocular Tripod Adapter
Best beginners binocular tripod adapter
Brand: Vortex Optics | Dimensions: 3 x 7.2 x 1.2 inches | Weight: 0.15 pounds
The binocular tripod adapter from Vortex Optics is the simplest to use and the most common type of binocular adapter on the market. This makes it a great choice for beginner astronomy fans who just purchased their first pair of binoculars and want an adapter that's easy to handle and doesn't take a lot of time to get used to.
It has no removable parts and is very lightweight, so transporting it in a bag or a backpack will be effortless. To attach it to your tripod, all you will have to do is to screw in the top part to your binoculars and the bottom part to a standard screw mount on your tripod's head, and your night sky watching set up will be complete.
If for some reason the Vortex Optics adapter is out of stock and you want an alternative one that offers the same basic functionality and design, then take a look at the Celestron 93524 Binocular Tripod Adapter and Vanguard BA-185 Binocular Tripod Adaptor.
Pros
Low price point
Easy to attach to a tripod
Good construction
Portable and easy to carry around
Cons
Not an ideal choice for pro-grade binoculars
---
6. Nikon Tripod Adaptor for Monarch ATB Binoculars
Best budget binocular tripod adapter
Brand: Nikon | Dimensions: 8.05 x 3.55 x 2.25 inches | Weight: 0.16 pounds
Here we have a binocular tripod adapter from Nikon that's built well, won't take much room inside your bag, and is very easy to handle. It's designed to work with any of Nikon's own binoculars as well as those from other brands that also feature standard tripod sockets.
Its build quality is a step above other binocular tripod adapters in its price range, allowing it to be compatible even with professional level binoculars and allowing you to observe the night sky in even more detail and with greater clarity.
So, how does it work? Well, you'll simply need to screw it on to the tripod socket on your binoculars, attach its bottom part to your tripod and that's pretty much it. It's also important to mention that the screw knob on the adapter itself can be used with a screwdriver, so you can tighten it well even if you wear a pair of gloves.
Pros
Easy to use
Low price point
Compact dimensions allow it to fit easily inside any bag
Very good build quality
Cons
Its screwing mechanism could be more user friendly
---
Conclusion
So, now that you know about all the best binocular tripod adapters currently available on the market and why it is necessary to obtain one to successfully pair your binoculars with your tripod, the time has come to choose the right one for you.
If you aren't prepared to accept any compromises and price is not an issue, the Orion Paragon-Plus binocular mount will serve you the best thanks to its terrific build quality, excellent stability, and the unparalleled level of control and adjustability it offers.
For those who want something a little more portable, more affordable, and easier to use, one of the other binocular tripod adapters from our list will certainly serve you well and allow you to enjoy the charm of looking at the night sky and admiring it from a comfortable position.