As soon as technology allowed it, photography evolved out of humankind's desire to capture incredible images in still life. While we look back at priceless paintings, someday our ancestors will do the same with the photos we take today.
A photographer needs tools to be successful, but there are so many complicated devices out there that it can be daunting to decipher just what to buy. A good tripod makes all the difference during any kind of photoshoot, and it's hard to find fault with the Vanguard Alta Pro 263AB 100 Aluminum Tripod.
Read on to hear our more in-depth thoughts on this tripod and other great gift ideas for the holidays and beyond.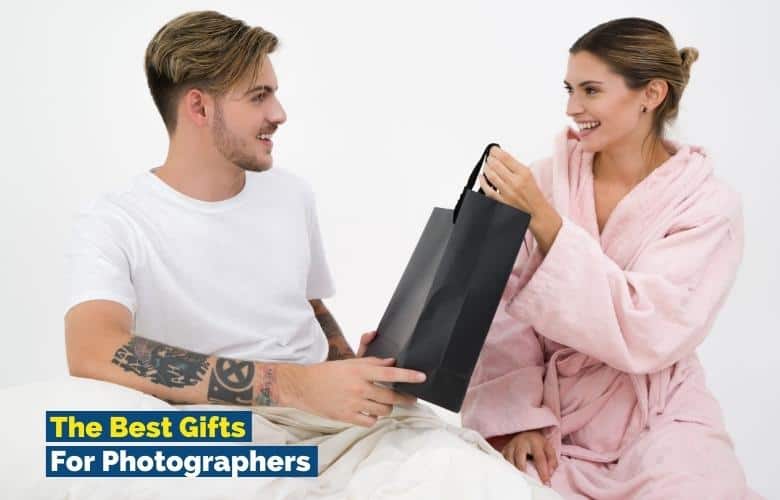 The Best Gifts for Photographers At A Glance
List Of The Best Gifts For Photographers to Buy
1. Vanguard Alta Pro 263AB 100 Aluminum Tripod
Best overall gift for photographers
The heavens are the limit when it comes to tripods and pricing. Unless you're incredibly generous and looking to spend hundreds or even thousands of dollars on a tripod, it's best to look for a more budget-friendly model that has features to make it stand out.
The Vanguard Alta Pro 263AB 100 Aluminum Tripod is one such tripod. The Vanguard 263AB offers a ton of versatility for its price, with a center column that rotates down 180 degrees from vertical. Furthermore, it includes a ball head and is ready to use right out of the box.
The tripod has the flexibility to support most camera and lens combinations with a weight limit of 15.4 pounds and interchangeable screw heads. The aluminum design speaks to the tripod's long-term durability.
Aluminum tripods are also known for stability, and the Vanguard doesn't disappoint. It also has quick-extending spikes for shooting on soft ground and rubber tips for harder surfaces. With stability so key in nighttime photos, such features are a must.
If this particular tripod doesn't speak to you, check out in-depth reviews of other models in the Gear Reviews section of our site.
---
2. POXIWIN Camera Lens Coffee Mug
Best coffee mug for photographers
This unique coffee mug looks just like one of the many lenses you might find among your gear. Be careful not to accidentally mix this up with the real thing when preparing your late night star shots!
POXIWIN prides itself on using the highest quality stainless steel for the interior of this product. It is both rust and scratch-proof, so you don't have to take extra care or worry about degradation over time. Externally, the mug is constructed from a non-toxic food-grade ABS material that is completely safe to use.
At 12 ounces in size, this camera lens mug is ideal for use on the go. The stainless steel interior is designed to keep your beverage hot or cold until you're able to circle back to drinking it. The top seals tightly to reduce leaks but has an opening to sip from.
In addition to the mug, you also receive a stainless steel spoon, stainless steel straw, and a cleaning brush. These extras are made from the same high-quality stainless steel as the mug, and the cleaning brush makes it easy to clean inside the straw so you can use it over and over.
Even if coffee isn't your photographer's forte, this mug can be used for cold smoothies or other such beverages. It can also be used near a photo-editing station as a pen holder or vase.
---
3. I'm About To Snap T-Shirt
Best t-shirt for photographers
When it comes to gift-giving, you can't go wrong with an article of clothing that brings out both the love and the whimsy of a photographer.
This t-shirt creatively captures both of these with the words "I'm about to snap" displayed across the front. Both fans of photography and otherwise will appreciate the cleverness of the play on words.
The shirt is made for all shapes and sizes, with a range of sizes for men, women, and children. This particular model is also available in ten different colors, with the graphic always remaining off-white. Solid color shirts are 100% cotton, where the heather gray is a blend of 90% cotton and 10% polyester.
Each shirt is a lightweight classic fit design. The shirt feels soft to the touch, and the graphic is high-quality.
---
4. Professional Camera Cleaning Kit for DSLR Cameras
Best kit cleaner for photographers
There's perhaps no more practical of a gift than a camera cleaning kit for DSLR cameras. Whether your photographer is out snapping starscapes every night or once a month, a clean lens is necessary to ensure the best photos.
This kit comes with several different tools for keeping equipment clean. A reusable one-ounce bottle full of alcohol-free optic lens cleaner is included with the kit. Once the solution is gone, the bottle can be refilled for continued use.
A double-sided lens cleaning pen contains a dust-removal brush with two height settings on one side. The other side includes a non-liquid lens cleaner to carefully remove debris. The cleanser is specially formulated to never run out.
Your photographer will also find a number of different microfiber cleaning cloths to clear dirt and grime from the lens. A gentle air blower helps push dirt away from the lens or essential components such as sensors.
Perhaps best of all, this kit takes up little space among other photography gear, making it a worthwhile companion on any journey to photograph the night sky. Having this set of cleaning tools may mean the difference between a successful photoshoot and total failure.
---
5. Canon Selphy CP1300 Wireless Compact Photo Printer
Best printer for photographers
Gone are the days of the Polaroid camera, and in its place is a printer that can print photos from any camera in a matter of moments.
The Canon Selphy CP1300 Wireless Printer is shaped like a box at just 7.1 by 5.4 by 2.5 inches in size. This compact size is great for transporting from location to location or just taking up a small amount of space on a desk. An optional battery pack makes it possible to use this printer from wherever in the world you find yourself.
The Selphy CP1300 prints photos in one of four sizes, from a square 2.1 by 2.1 inch label to a 4.0 by 6.0 inch standard photograph size. Photos pop out of the machine in under a minute and are completely dry to the touch. There's no need to worry about smudging that new masterpiece.
There are a plethora of options for connecting to the printer, so chances are it has an input that your photographer can use. This Canon printer connects to Wi-Fi, making it easy to print from a phone or tablet. For DSLR star hunters, there are memory card ports available or a direct connection via USB cable.
Viewing and printing is just as easy with the Selphy CP1300's LCD touch screen. Photos can even be edited right on the screen before issuing the command to print.
---
6. A History of Photography From 1839 to the Present
Best book for photographers
Photographers are always on the hunt for knowledge and inspiration as they work on perfecting their own style. One of the best ways to accomplish this is to learn from what others have done throughout the years.
A History of Photography From 1839 to the Present contains 768 pages of content. The book takes the reader back to the dawn of photography and is full of information and photos from the last 180 years. Whether your photographer is a hobbyist or pursuing photography as a career, there's bound to be something within the pages that speaks to them.
The art contained within encompasses works from George Eastman's massive collection, the founder of Kodak himself. Also within the pages are biographies and historical accounts from various eras of photography in history.
---
7. Vallerret Markhof Pro 2.0 Winter Photography Glove
Best cold-weather gloves for photographers
An astrophotographer is almost always out snapping photos after dark, where the weather can be chilly even in summer months in some parts of the world. There's nothing worse than trying to work with cold, numb hands around the tiny buttons of a camera or tripod.
Gloves are an obvious solution, but not just any glove will do. The Vallerret Markhof Pro 2.0 Winter Photography Glove is designed specifically for taking epic snaps of cold nights (or days).
These gloves feature 100% merino wool inside and a thin layer of Thinsulate for added warmth to keep hands warm. The outside of the glove consists of both goat leather and durable water-resistant suede and twill lamination. A jersey cuff hugs the wrist and prevents cold air from getting inside.
Fingers can be fully covered, but magnetic finger caps can flip down from the thumb and index finger to allow for precise adjustments without having to remove a glove. After fine-tuning the setup, those caps quickly lock back in place to seal out the cold.
These Vallerret Markhof gloves also feature a non-slip grip on the surface to prevent drops. Small storage pockets on both gloves can be used to store an SD card, hand warmer, or other crucial tools. An embedded tripod key is located inside the pocket for quick modifications.
---
8. SanDisk 1TB Extreme Portable SSD
Best portable hard drive for photographers
As technology improves, photos take up more and more digital space. To help your photographer keep their memory cards clear and photos organized, look no further than the SanDisk 1TB Extreme Portable SSD.
This super small external hard drive is only 4 inches long by 2 inches wide, with a thickness of less than half an inch. That's small enough to drop into a gear bag or even fit into a pants pocket for easy portability. It even comes with a carabiner loop to attach to a belt or backpack. Best of all, it weighs only one-tenth of a pound.
To handle even rough environments, this drive has two meter drop protection and a high level of both dust and water resistance. For internal security, the SSD boasts 256‐bit AES hardware encryption.
The storage device uses ultra-fast USB-C technology but comes with an adapter for plugging into devices with only USB-A ports. It boasts over 1000 MB/s read and write speeds.
---
9. Think Tank 2328 Photo Secure Pocket Rocket
Best card storage case for photographers
Photographers need to carry a variety of SD cards while out shooting. A memory card case is essential for keeping everything organized. The Think Tank 2328 Photo Secure Pocket Rocket is a flexible memory card holder that's able to store several cards of differing types.
The Think Tank opens up to reveal storage options for 6CF, 6 XQD, 12 SD, multiple micro SD cards, or some combination of those. Such versatility allows for use with multiple cameras and setups.
Each pocket inside the case has a clear plastic window to see precisely which card or cards is inside. Zippers hold all the cards in place, so there's no worry about losing any in the shuffle. The Think Tank Pocket Rocket folds up to just 4.5 by 2.5 inches for convenient storage when not in use.
An attachable lanyard allows the memory card holder to be securely attached to a belt or backpack.
---
Gifts for Photographers Buying Guide
Here are a few thoughts to consider before making your gift purchase:
Consider Your Photographer
All photographers have a unique style that helps them capture their art. Some prefer to use lots of gear, and some take a minimalist approach. There are photographers that prefer a home studio and others that love hiking to locations unknown.
Those who pursue incredible starscapes tend to fall into the latter category. Finding lightweight tools or items that will help a photographer get to a destination with ease are worth every penny.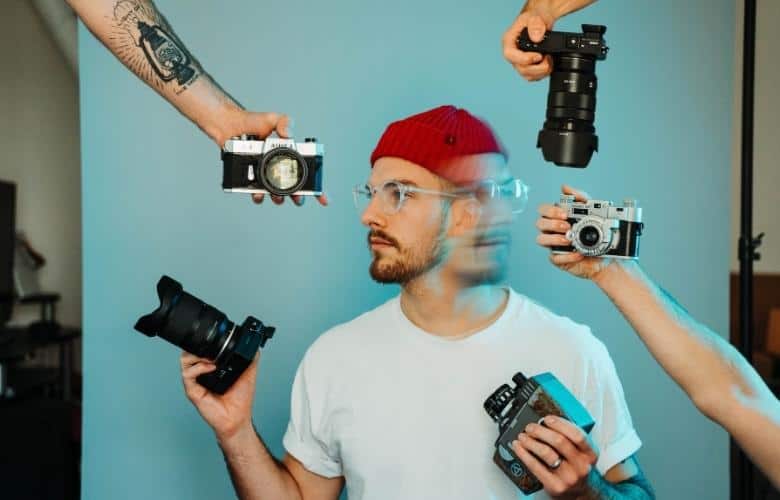 What Do They Shoot?
Photography is a broad category that encompasses everything from portraits to still shots to the most intense action scenes. Gadgets that are designed to enhance a particular field of photography can make shooting that much easier.
Astrophotographers in particular, focus on the cosmos and are often out late at night when light is at a premium, and cool temperatures tend to set in. They tend to benefit from camera-friendly colder weather gear and tools that help them to work in low-light.
Information and Inspiration
Information and inspiration are vital in taking a photographer's skills to the next level. Those looking to hone their craft will likely benefit from books, photographs, and other media by those who have influenced the art over the years. Understanding the history of photography and how it came to be can give someone behind a camera a new appreciation for what they do.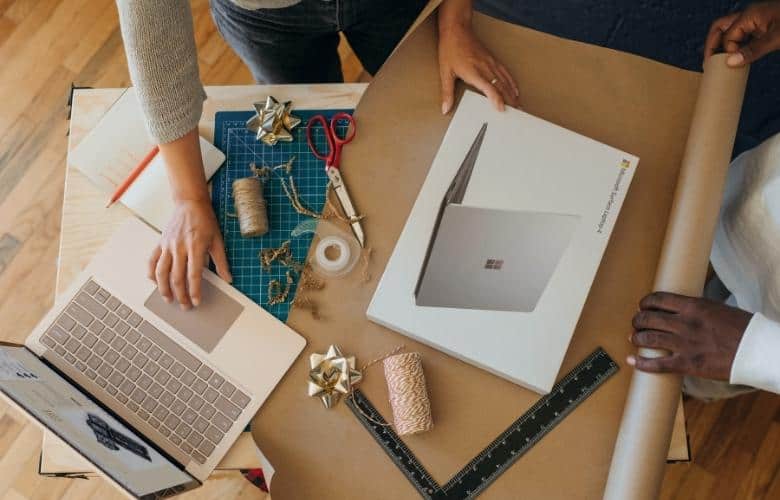 Fun Versus Practical
Not every gift has to revolve around pointing a camera at an object. There are plenty of fun t-shirts, bumper stickers, mugs, and the like that allow a photographer to show off what they are passionate about no matter where they may be. These items may be good conversation starters and could even drum up some new business opportunities.
On the other hand, practical items have an obvious benefit in making the art of capturing an image that much easier. Feel out where your photographer is at in their career and make a gift choice based on that.
What's Your Budget?
No one likes thinking about money when it comes to gift-giving, but photography is a hobby or trade that can get very expensive very quickly. Premium cameras and tripods, for instance, can easily clear the $1000 range. Still, there are plenty of options out there for more budget-friendly options.
Conclusion
Photography has been around for nearly 200 years, and technology has made leaps and bounds since the early 1800's. Today's cameras and accessories can do more than anyone ever thought imaginable. Best of all, the craft is easy to get into, and just about anyone can take a good picture with the right equipment. While photography can be expensive, there are plenty of options out there that won't break the bank.
There are few areas of photography that don't benefit from a tripod. Astrophotographers need a completely still setup to capture clear photos in low lighting. The Vanguard Alta Pro 263AB 100 Aluminum Tripod is one of the best out there for its price. It offers stability and versatility that allow your photographer to capture the photo they desire.
Even if a tripod isn't in the cards, there are several other fun and practical items on this list that we're sure your photographer will appreciate!