Camera lenses are one of the things I am constantly being asked about by my astrophotographer colleagues. There are plenty of lenses available, but not all lenses are built equally when it comes to night time photography.
You may have already bought a top-quality camera, a sturdy tripod, and even a star tracking mount, but a poor lens choice will let all that down. When you look at the image quality of landscape astrophotos, the lens used to take the shot plays a major factor. That's why our top pick on the list is the Sigma 14mm F/1.8 as it is a great lens for astrophotography.
Here is our guide to choosing the best lens for astrophotography. Whether you are new to astrophotography or looking to upgrade, we will look at what you should consider when choosing the best lens for star photography.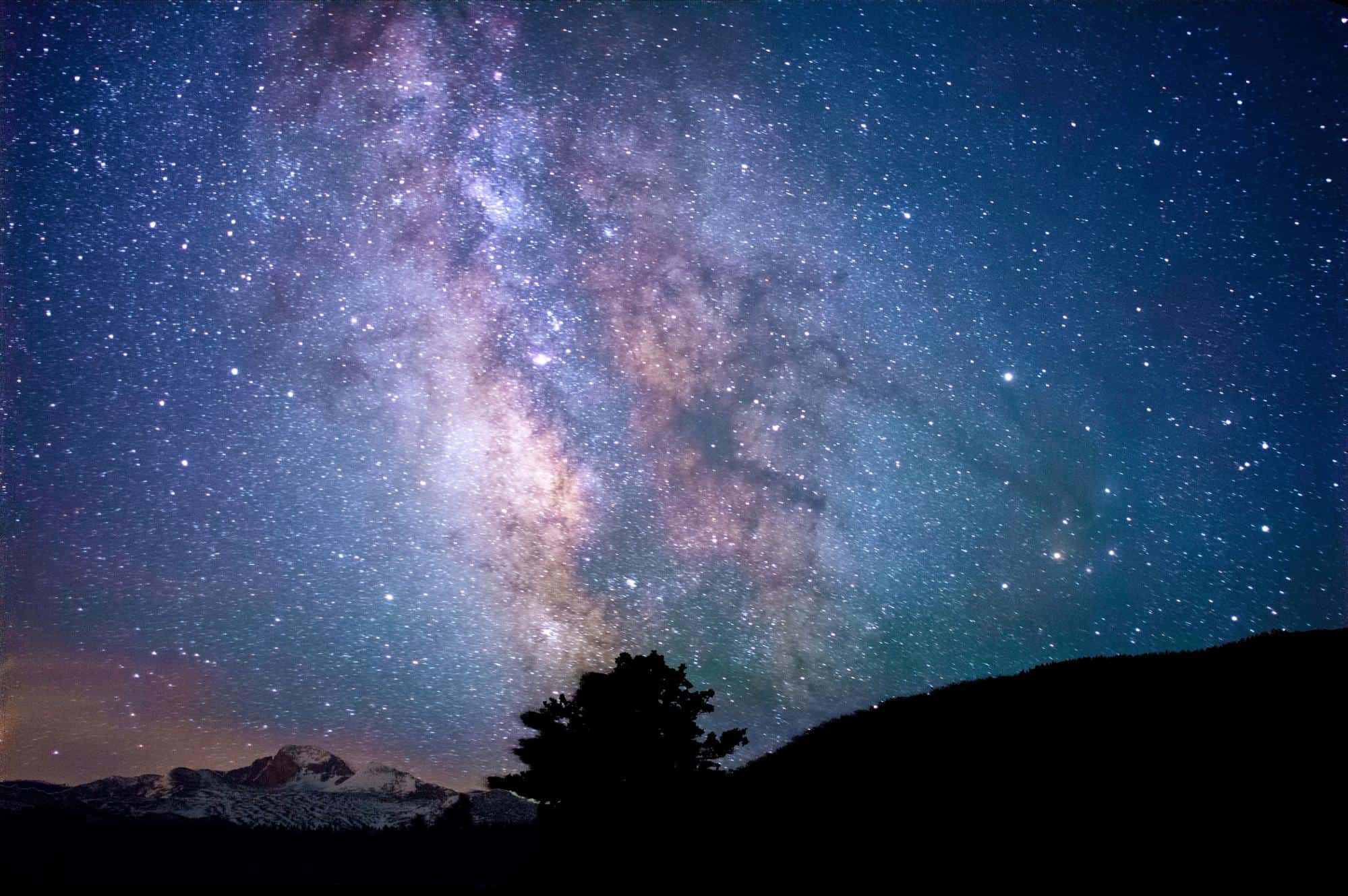 Our Top Lenses For Astrophotography At A Glance
The Best Lens for Astrophotography—Reviews
Phew! And breathe. There's a lot to consider when choosing the best lens for astrophotography. As well as advice from fellow stargazers, we have included a review of our favorite astrophotography lenses here.
Don't assume just because you own a Canon camera, you need a Canon-produced lens. Many of the lenses we looked at are available for the full range of DSLR and APS-C cameras, just ensure you buy the right model for your new or existing astro camera.
Companies like Sigma or Rokinon have been making specialized lenses for many years, which rival or in some cases-better the official manufacturers. The best Nikon lens for astrophotography is often one made by a third-party manufacturer, just as the best Canon one can be too.
---
1. Sigma Art 14mm F1.8 DG HSM (for Canon EOS cameras)
Best Overall
Maximum Aperture: f/1.8 | Focal Length: 14mm | Field of View: 114.2 degrees | Dimensions: 4.96 x 3.74 x 3.74 inches | Weight: 2.58 pounds.
Although we are looking at the Canon version of this lens, it can also be purchased with a mount for Nikon cameras or the Sony E-mount cameras, which can be found here and here respectively.
While most ultra-wide lenses similar to this lens achieve an aperture of around f/2.8, the Sigma Art lens gets it right down to f/1.8. It basically allows you to capture more light in just five seconds than many lenses would in 10. For viewing celestial sights like the Northern Lights or Lunar photography, you can use much shorter exposures.
This fast, f/1.8 aperture makes it the fastest ultra-wide-angle lens on the market. It also comes with auto-focusing, which will be ideal for many. However, that super bright aperture comes at a cost and it is much larger and heavier than other lenses we have looked at.
Pros
Sharp image quality with three premium fully laminated, and four single laminated glass elements.
Less chromatic aberration and sagittal coma flare.
A fast shutter speed and large aperture mean you collect more light in less time.
Keeps distortion to a minimum.
Thermal stable composite construction is weather-resistant and can be used in a variety of temperatures meaning less fogging.
A focusing motor with full-time manual focus override for refined manual control.
Ideal for really low light shooting.
Cons
A serious investment.
Hard to attach a filter, although modern sensors are good at getting an image without filters.
Large and heavy at 2.58 pounds.
---
2. Rokinon 14mm f/2.8 IF ED UMC Ultra Wide Angle Fixed Lens w/ Built-in AE Chip for Nikon
Best Budget Lens
Maximum Aperture: f/2.8 | Focal Length: 14mm | Field of View: 115.7 degrees | Dimensions: 3.8 x 3.4 x 3.4 inches | Weight: 1.22 pounds.
With a 14mm focal length, this budget lens from Rokinon is ideal for capturing larger areas of the night sky and deep space objects. An ultra-wide-angle lens gives a staggering 115.7-degree field of view. Although the aperture doesn't reach the maximum speed of the Sigma above, it is far more affordable.
This Rokinon lens has been a popular choice as a budget astrophotography lens for many years, although there is nothing cheap about the quality. All Rokinon lenses are crafted in Japan for outstanding and reliable quality.
Despite having featured the Nikon mount version of this lens, the lens is also available for Canon EOS, Pentax, Sony Alpha, and APS-C cameras. If you ask any amateur photographer which is the best Canon lens for astrophotography, they would recommend this over many of the Canon equivalents.
Pros
Ultra wide angle—especially when used with full frame cameras.
Excellent construction quality for an affordable price.
Razor sharp images.
Fast optics at f/2.8
Multi-layer coating to reduce flares and ghosting.
Cons
The manual aperture adjustment is quite slow.
The manual focus ring is also slow to move.
AE, auto-exposure chip isn't too useful for astrophotography.
The objective lens is big and bulky.
---
3. Canon EF 50mm f/1.8
Best Budget Canon Lens
Maximum Aperture: f/1.8 | Focal Length: 50mm | Field of View: not specified | Dimensions: 1.54 x 2.72 x 2.72 inches | Weight: 4.6 ounces.
Often referred to as a "nifty fifty," this zoom lens from Canon captures up to eight times more light than the standard lens provided with an EOS camera. It's virtually weightless, super affordable and has a useful focal length for wide field imaging on certain celestial scenes, like the Milky Way.
If you open the aperture up to the maximum of f/1.8 you can gather plenty of light in a short period, but stars can appear a little rough around the edges of the frame. Slowing the lens down to f/2.8 or f/3.2 will improve images dramatically.
This is Canon's most compact 50mm lens, with new lens coatings that offer minimized glare and aberration. A stepping motor gear facilitates near silent continuous autofocus, but there is also a manual focus ring for easy adjustments. At the low price you can often find this lens, it's an absolute steal.
Pros
Extremely affordable and lightweight.
Fast optics with a maximum aperture of f/1.8.
Great for detailed astrophotography, especially at a lower aperture of f/3.2 to f/4.
Lunar shots can be impressive, just remember to slow down the focal ratio to accommodate the brighter images.
Canon Super Spectre coating on the lens for less chromatic aberration.
The upgraded lens barrel is now made of metal rather than plastic.
Cons
No image stabilization.
Focal length isn't practical for wide night sky shots.
Stars can appear blurred at f/1.8.
---
4. Nikon AF Nikkor 17-35mm f/2.8 IF ED Zoom Lens
Best Nikon Lens For Astrophotography
Maximum Aperture: f/2.8 | Focal Length: 17-35mm | Dimensions: 3.2 x 4.2 x 3.2 inches | Weight: 26.3 ounces.
If you own a Nikon DSLR, this is one of the best Nikon low light lenses for astrophotography. A maximum aperture of f/2.8 means it will collect more of that dim light in less time, even when zoomed to the full 35mm focal length.
At 17mm, it can give a wider field of view, although we would recommend that you push the aperture down to about f/3 for a clearer image at the higher zoom levels. Two types of aspherical lenses and two ED glass elements ensure there is less chromatic aberration or ghosting at the edges of the image, resulting in crystal sharp astrophotos.
Built like a tank, using solid metal rather than toy-store plastic, this is a quality lens which can withstand all weather conditions. Although designed for use with full frame sensors, this lens can also be used as one of the best wide angle Nikon DX lenses.
Pros
Fast f/2.8 maximum aperture offers an excellent light transmission through the entire zoom range.
Uses three aspherical elements for less spherical aberration or distortions.
Sharp images.
Extra-low dispersion (ED) lenses for less color fringing or chromatic aberrations.
Integrated coating suppresses internal reflection.
Superior Japanese craftsmanship, with a 5-year warranty.
Cons
Images can be quite soft when used at the maximum aperture of f/2.8.
---
5. Sony FE 16-35mm f/2.8GM Wide Angle Zoom Lens
Best Sony Lens For Astrophotography
Maximum Aperture: f/2.8 | Focal Length: 16-35mm | Dimensions: 4.88 x 3.5 x 10 inches | Weight: 1.5 pounds.
Many astrophotographers simply love the latest Alpha range of mirrorless cameras from Sony. Although many are first attracted by Sony's high-quality full frame sensors, the lens can be an equally important component of the camera.
Sony, being Sony, have developed their own E-mount system, and if you are looking to build up your own E-lens collection, you shouldn't overlook this one. The flagship Grand Master range of lens has been developed for the highest contrast and an outstanding corner to corner resolution.
Two extreme aspherical elements, with high levels of precision, work with three other aspherical elements to minimize the aberration you often get with wide-angle shots. A constant f/2.8 aperture maintains the exposure and depth of field, regardless of the zoom level.
Pros
Sharp image quality with the use of various aspherical elements.
NANO AR and fluorine lens coatings.
Two extra-low (ELD) elements.
f/2.8 is great for low light conditions.
Wide 107-degree field of view at 16mm focal length allows you to capture more of the night sky.
Dust and moisture-resistant construction.
Lightweight.
The direct drive motor is easy to focus, with a focus hold button for longer exposures.
Cons
Very expensive, more than most DSLR cameras.
Plastic body, although weather resistant, doesn't feel as rugged as Canon or Nikon lenses.
Only fits the Sony range of cameras, no options for other brands without an adaptor.
---
What Should You Look for in the Best Lens for Astrophotography?
For me, the best lens for astrophotography is one which can be used to capture a variety of night sky shots in a consistent and reliable way. Remember the objects are millions of miles away and a limiting factor is always the light — or lack of it.
Starlight won't be bright enough to give you a strong ambient light and you will need as fast a lens as possible. It's also important to choose a wide-angle lens as you will be using the widest aperture more often, to capture stars of a higher magnitude.
The two most important traits you should look for in a DSLR lens for astrophotography are focal length and clear aperture size. Unfortunately, you are often going to have compromise one or the other to stay within budget.
What Focal Length Should You Choose?
For more basic, non-tracked astrophotography, you will generally need a wide-angle lens. For an APS-C camera, you will need a focal length of 24mm or shorter and 35mm or shorter on a full-frame DSLR camera. Wide-angle lenses offer the following advantages when shooting the night sky or images of the Milky Way:
A wide-angle lens will offer a larger field of view, which allows you to frame more of the Milky Way and other celestial galaxies. The lens will collect more light from a larger area of the night sky and offers a compromise to a small clear aperture.
A short focal length on a wide-angle lens will produce a smaller image on your camera's sensor. This smaller sized image allows for longer shutter speeds without those dreaded star trails as the Earth rotates.
The shorter the focal length of the lens, the wider angle it will be. Most modern APS-C and full-sized DSLR cameras are provided with an 18-55mm focal length lens. You can zoom from a wide-angle 18mm to a telephoto 55mm for a closer shot, like the moon.
The narrower field of view on a longer telephoto lens may be ideal for the surface of planets, but the movement of the Earth will be more apparent. Star trails which are caused by the rotation of the Earth will occur, even with a wide-angle lens, if the exposure is too long.
How to Prevent Star Trails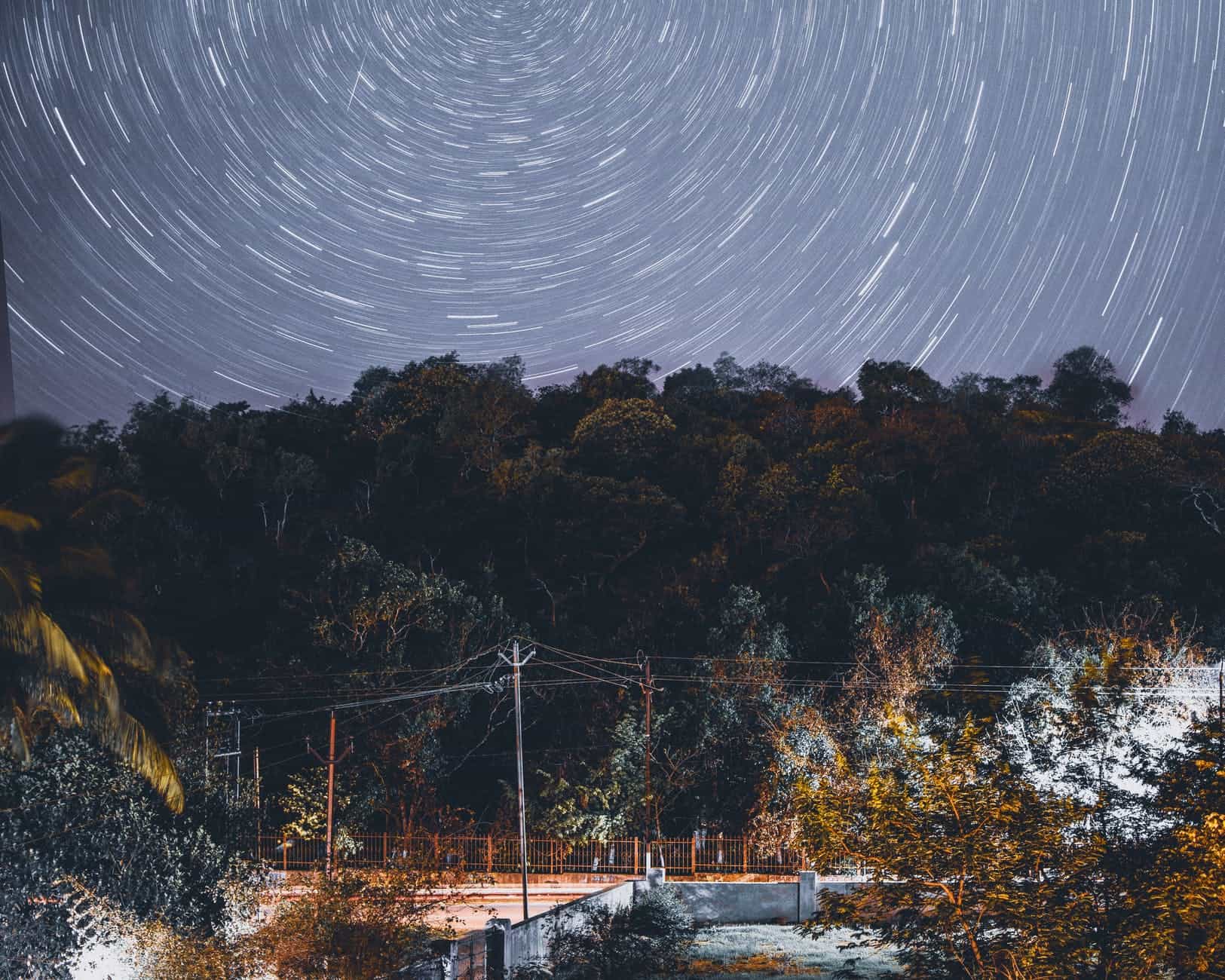 ​Although star trails can be used for an impressive effect on landscape astrophotos, shots of the night sky may just look like a blurred mess. One option is to invest in a star tracking mount which will follow the rotation of the Earth and limit the apparent motion of the stars.
Star tracking is an essential technique when shooting an image of deep space objects with a telescope or lens that has a longer focal length. It can, however, add to the complexity and expense when just using a DSLR camera or APS-C camera.
A simpler method is to use your shutter speed to prevent star trailing. There are plenty of different rules used by astrophotographers, which determine how long your shutter speed should be for the best astrophotography. We are going to use the simplest of all, the "500 rule."
What Is the 500 Rule?
The "500 rule" basically states that you should take the number 500 and divide it by the focal length of your lens for the maximum exposure time.
Maximum exposure in seconds = 500 / focal length in millimeters.
For example, when using a 24mm lens on a full-frame DSLR, you would get 500/24=20.8 or approximately 20 seconds. Differences in the sensor resolution, pixel size and even where you point your camera can change how this rule works.
APS-C cameras or a DSLR with a higher resolution will need a shorter focal length for the same shutter speeds—think of it as the "300 rule." Pointing your camera toward the equator may also cause more star trails than at the poles, due to a larger arc of movement in the sky.
Start with the recommendations for a lens using the 500 or 300 rule and adjust by trial and error until you see no star trails in your shots. Once you know the maximum shutter period for your focal length or lens of choice, note it down.
That shutter period will always work on that particular lens, as long as you're not stood on the equator, of course.
Aperture and Shutter Duration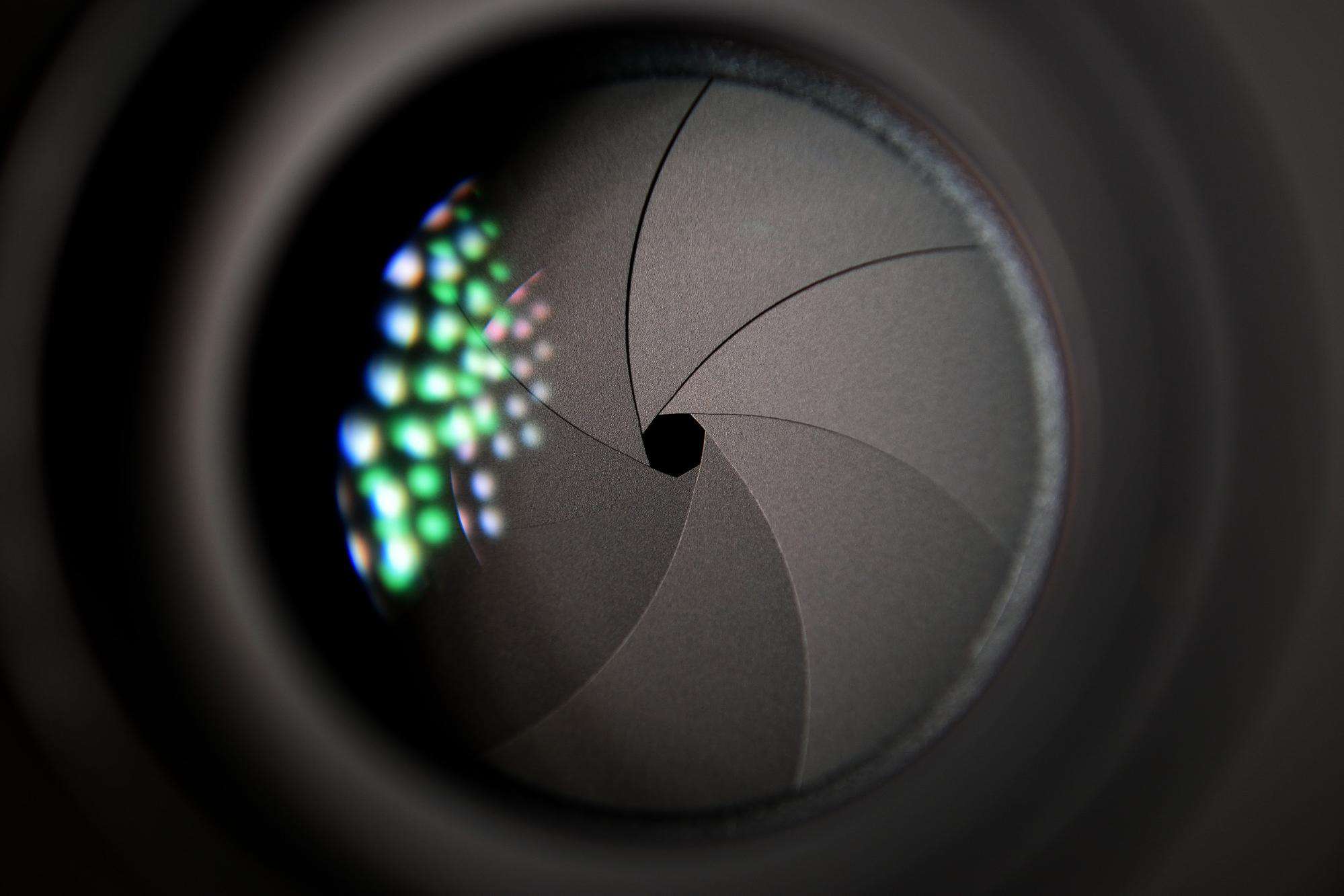 ​The take-home message from above is that narrower, longer focal lengths will require a shorter shutter opening or exposure to avoid star trails. This will make longer, or zoom lenses, more difficult to use as it limits your exposure time.
The other option is to use a lens with a faster focal ratio or larger aperture to collect more light in a shorter period. Wider apertures allow for faster shutter speeds, in addition to a lower ISO.
Images will have less noise with a wider aperture but these lenses will normally be more expensive and much heavier. However, in the reviews below, we have included a couple of budget wide-angle lenses with wide apertures that won't break the bank.
The following YouTube video explains in more detail about aperture and f-stops.
​With longer exposures, although stars may get brighter, they will often start to streak across your frame, especially at exposures longer than 30 seconds. Unfortunately, shorter exposures may result in more noise, which is where the next consideration comes into play: the clear aperture size.
Clear Aperture Size
In astrophotography, an important aspect to look at is the signal-to-noise ratio of any Astro shots. Basically, the signal is the photons that your camera is collecting, while noise can be anything, from stray heat of your camera electronics to environmental factors.
A higher signal-to-noise ratio will give you astrophotos that have clearer details, smoother tones, and better color saturation with less noise. Perhaps the most important thing that will affect your signal-to-noise ratio is the clear aperture of your lens.
Clear aperture = Lens focal length / relative aperture or f/number.
The resulting number gives you the diameter (in mm) of the opening or aperture of your lens. Basically, we want the shortest focal length with the largest clear aperture to collect more light, but this only allows for shorter exposures before those dreaded star trails appear.
Unfortunately, many short focal length lenses, especially wide-angle lenses, will have small clear apertures due to the shape of the lens. Choosing a lens when not using a star tracker is often a compromise between short focal lengths for less star trailing or a longer lens that offers a larger clear aperture but reduced exposure times.
Prime or Zoom—Which Astrophotography Lens is Best For You?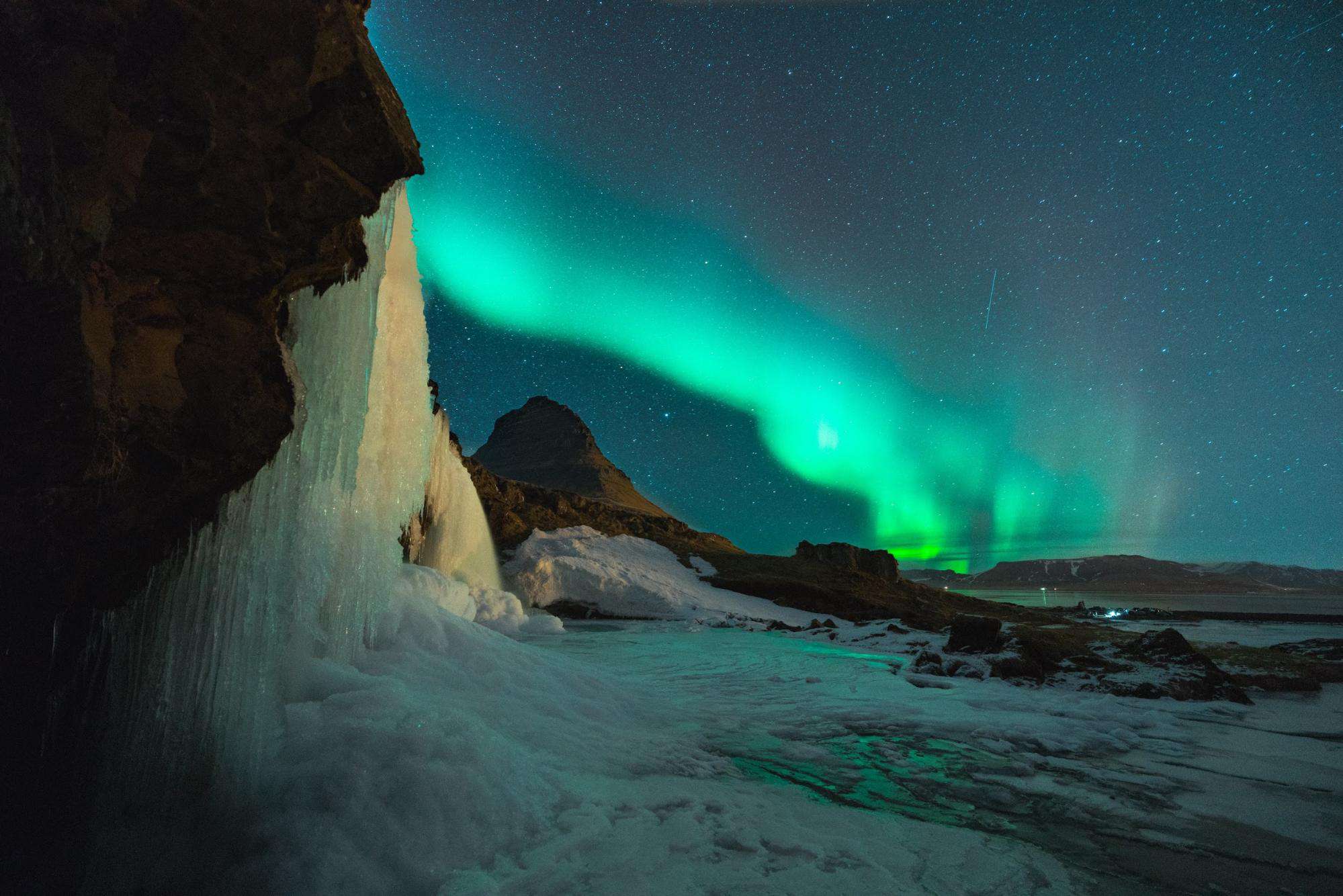 ​Deciding which is the best lens for your celestial shots will very much depend on the composition, or what type of shots you want to take. A fisheye lens or one with a focal length of 14 to 17mm maximum will capture the whole of the Milky Way. Once you get to a 24mm or above lens, you may not be able to capture the whole width.
Prime lenses with a fixed focal length can be great for astrophotography landscape shots, where you want to include background features, too. Zoom lenses will be hard to focus at infinity on both the landscape and night sky at the same time. Stacking may be an option, where you take multiple shots with different exposures for each and stack them with dedicated astro stacking software.
A 50mm or above lens will give a restricted view of the night sky, but can be great for stitching together shots for a panoramic view. If the composition comes together well, these lenses can have really dramatic effects. When used for lunar photography, you can get even more surface details of every crater, or the various moon lakes.
Coma and Chromatic Aberration
Something you should always look for in the best astrophotography lenses is a high degree of chromatic aberration and coma (star trail) control. This will affect how much distortion of points of light you suffer when shooting in darker conditions.
Coma or chromatic aberration can make the stars appear as slightly odd shapes and can normally be noticed more toward the edge of the frame. The more a lens suppresses these phenomena, with the use of chemical coatings or better quality glass, the clearer your images will be.
Just like choosing a telescope, you should always take note of which coatings a camera lens uses and whether ED low dispersion glass elements have been used. The shape of the lens can also affect the coma aberration, with spherical elements blurring more towards the edges of the frame.
Conclusion
When it comes to camera equipment for astrophotography, you should never underestimate the value of the lens. The lens is the part of the camera which captures the image, the camera merely records it. Astrophotography is going to push your equipment to its limits.
There is a whole array of different shots you can capture of the night sky, and you will want to choose the best lens for your preferred type, whether it's the moon or whole galaxies. Although money is always a consideration, you should see a lens as an investment which can be carried from one camera to another.
The Sigma Art 14mm F1.8 DG HSM is by no means a cheap astrophotography lens but it does feature the fastest maximum aperture of any ultra wide-angle lens. When you are trying to collect the most light of celestial images that can be most important. That unmatched focal ratio of 1.8 on an ultra-wide lens makes it my choice for the best lens for astrophotography.
If the Sigma lens is out of your budget and more than you really wanted to spend, the Rokinon 14mm f/2.8 IF ED UMC Ultra Wide Angle Fixed Lens is a great affordable lens. Popular with astrophotographers globally, Rokinon lenses can be bought in models to suit almost every camera on the market.