A question we get asked a lot about in astrophotography is what cameras should we use to take night sky pictures. So we're going to share a little bit about what we know and show you some of our camera tips to help you decide which cameras are best to choose for your particular type of astrophotography. To save you some time, our top pick is the Canon EOS 6D Mark II.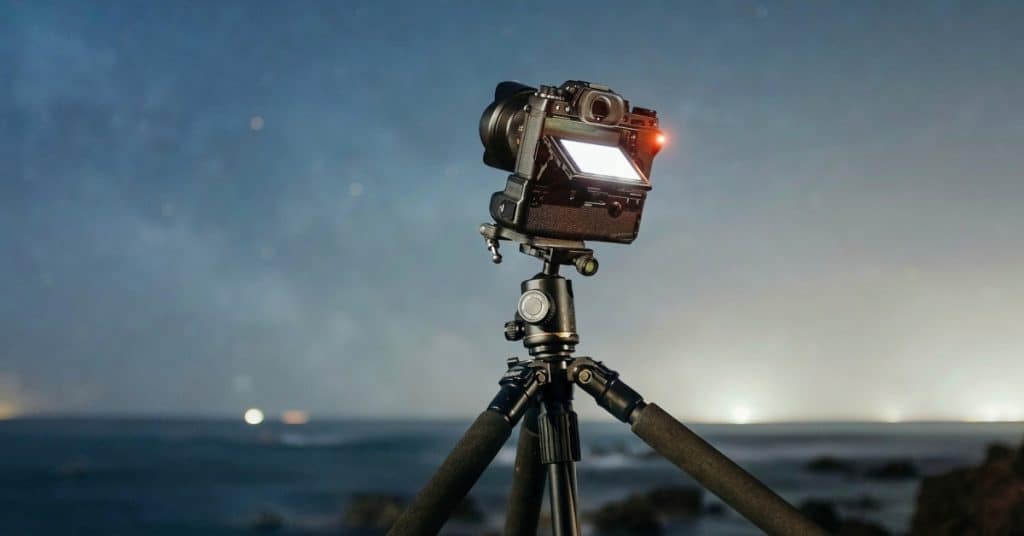 Our Best Astrophotography cameras At A Glance
List Of the Best Cameras For Astrophotography
---
1. Canon Eos 6D Mark II
Best Overall Model
One of the best full-frame cameras for astro imaging.
Produces remarkably clean and noise-free photos, especially for low light images that we want to take in astrophotography.
If you could only have one camera, we would recommend this as it ticks every box we need for an astro camera.
Pros
Lightest Full-frame DSLR
Excellent in low light
Excellent video performance
High ISO performance
Solid build quality
Can Photography Without A Telescope
Cons
No tilt screen
If GPS enabled the battery drains rather quickly
---
2. ZWO ASI294MC-PRO Color Astronomy Camera
Best Dedicated Astrophotography Camera
This ZWO is a one-shot color camera explicitly designed for astronomy and capturing the deep space.
This would have to be one of our favorite cameras for astrophotography, definitely our go-to camera for deep space imaging.
This unit can be cooled to -35 degrees below the current ambient temperature. This is especially important because it captures images with almost no thermal noise, this allows you to capture long exposure images (like 5-10 minutes).
So the data (image) is clean to start with before you transfer your images to your pc and start to clean them up with an image editor like photoshop.
Pros
Image quality you get is amazing
Very Low Noise (Images)
Exceptional For Narrowband Imaging
Cons
requires software to use
Not just point and shoot, have to attach to a telescope
Slight learning curve initially
---
3. Canon EOS REBEL T7i
Best Budget Model
The Canon T7i is no slouch in the list.
It is a great entry level camera for astro images due to its clean and crisp results in low light images of the stars and the milky way.
If you're trying to keep your equipment costs within a budget, then the T7i is highly recommended.
Pros
Light Weight Body (532g)
Cheapest Price On The List
Large Range Of Lens Available
Performs Well At Landscape Astrophotography
Can Photography Without A Telescope
Cons
No Image Stabilization
Crop Sensor – Image Slightly Smaller Than A Full Sensor
---
4. Sony a7R III Mirrorless Camera
Best Mirrorless Model
The Sony a7R III is a delightful camera when it comes to astrophotography, and it holds up very well in low light photography.
One of the main reasons it can do this so well is because this Sony camera boasts a full-frame 42-megapixel sensor (Full-frame BSI-CMOS Sensor image processing engine).
This is why the sensor can capture lots of low light and has a superb dynamic range in those conditions.
As far as mirrorless cameras go, this Sony takes the crown. If you are looking to purchase one of these or you already have one, then have a look at our guide to help you select a suitable astronomy lens for the Sony A7III.
Pros
Full Frame – 42 Megapixel Sensor
Performs Well In Low Light Imagery
Higher ISO ability, faster image capturing and less noise
Can Use For Day Photography Too
Can Photography Without A Telescope
Mirrorless, so vibration-free captures
Cons
No Touch Screen
Lower Battery Life
Heavy Body (625g)
User interface can take a little getting used to
Autofocus can be a little slow
---
5. Olympus OM-D E-M10 Mark II Mirrorless Camera
Runner-Up Mirrorless Model
If you're looking for something that is small and compact, the Olympus is your camera.
You can get great images for the night sky and also great for general photography due to its ability to take great long distance shots because of its powerful zoom.
Pros
Extremely lightweight: Only 390g
Tilting LCD screen
Touchscreen Control
Cons
Lower battery life compared to DSLR
---
Buying Guide To Picking The Right Astro Camera
What camera is best for night photography?
Astro imaging can be a little overwhelming for someone just getting into the hobby. To most, a camera is just a camera, but when we're talking about astrophotography, there is a whole range of "types" of cameras.
So before deciding on the best cameras to buy, here's a quick rundown of the various types of cameras that can be used for astrophotography.
DSLR Camera
As far as entry-level cameras for night sky photography go, a DSLR is a great all-rounder.There are quite a few various models, but one we really like and topped our list for DSLR cameras is the Canon Rebel T7i.
The Canon range of lenses is enormous, that's not to say Nikon cameras aren't. The Nikon quality and range is on par but what we really like about Canon is the range of specific astrophotography software that is available that isn't available for Nikon.
The benefit of these is you can get started very quickly, and you don't even need a telescope for certain shots, just add a good quality sd card, a camera lens and mount onto a tripod or simple tracking mount.
Mirrorless Camera
Another excellent type for entry-level photography is the mirrorless type camera. Our favorite in this category is the Olympus OM-D E-M10 Mark II.
Another alternative to the Olympus would be the Panasonic Lumix GH5.
Mirrorless cameras are a great piece of equipment for taking long distance images, their small and compact, plus they have a powerful zoom. They are a great camera for landscape images.
The DSLR and Mirrorless cameras won't give you the same quality as a dedicated CMOS or CCD camera, but they both makeup for that in their versatility range. That means you're not restricted to just astrophotography, and these are both perfect for everyday photography also.
CMOS Color Camera
These are dedicated for night sky images (Astro and deep space), The CMOS (complementary metal-oxide semiconductor) type cameras excel at long exposures and have a very high framerate which make them perfect for deep space imaging and planetary.
Because of this, they do need dedicated software to run. Many needing filters as well, which adds to the cost.
CMOS Mono Camera
There is also CMOS cameras like the ZWO ASI1600MM
This mono camera records images in greyscale. So to shoot in color, you need at least 3 filters (R, G, B).
The benefit of using a mono CMOS camera is their extremely more image sensitive than their color alternatives. Meaning the final image quality will be even sharper, you just have to put a lot more work into it to get the final result.
So benefits are the image quality is at a very high standard and CMOS is also a cheaper alternative than the CCD cameras.
CCD Camera
Another dedicated astrology camera, the CCD (charge-coupled device) usually need to be attached to a telescope​.
These are designed for low-noise and long exposure time, so they work a little differently when compared to a DSLR.
CCD cameras have a built-in cooler, and this keeps the sensor from overheating which is why they have such low noise in the imaging. The result is a much cleaner image before any adjustments.
What Type Of Astro Pictures Do You Want To Capture?
First off, you need to be aware that different cameras are suitable for different types of imagery.
There isn't just one type of night sky image to take in astrophotography, so the sort of camera you want for shooting Lunar, solar, and planets is going to be different from the kind of camera you need for capturing deep space.
A simple breakdown of the types of images that you can take include:
Scenic Images
Scenic would include images such as wide-angle shots of the moon, and the atmospheric phenomenon's like the aurora would fit this description. Usually, scenic images are a type you would use a fixed tripod with a short exposure (usually less than 30 seconds).
Planetary Images
Taking close up images of large planetary images like the moon, sun and other planets in our solar system. Included in this category would be closeups of the moon (things like close up pics of the craters).
Because of the brightness of the planetary images, usually camera exposure isn't a problem, but camera stability and steadiness are crucial.
Deep Sky Images
This is what most usually think about when they talk about astrophotography, if done correctly, these can be some of the most fantastic imagery you will see. Images like nebulae, star clusters, and also galaxies are some that come to mind.
The downside to this is to get high-quality imagery is you need a low-noise camera and long exposure.
What is the best camera for taking pictures of stars?
Different cameras have their different strengths, so there are a few options if you want to capture photos of stars and constellations.
The quick and easy option is a DSLR (Digital Single Lens Relax) camera. They're cost-effective and flexible, meaning you can use them for everyday photography and not just astrophotography. Usually, they're not as expensive as a CMOS or CCD either.
A DSLR can be used with or with a telescope, while a CMOS or CCD are dedicated and need to be attached to a telescope.
Do you have a budget range when selecting your astrophotography camera? If you're starting out and you want to stick to a budget, that's fine. We recommend just setting a limit and working within that range.
Just remember that apart from a camera budget you'll also need to set aside a few more dollars for extra accessories like,
Camera to telescope adaptors
Remote release timers
Software
PC or Laptop
Benefits of using a DSLR
Here are some of the benefits of using a DSLR camera when compared to a dedicated astrophotography camera.
Quick to get set up and running. No external software is needed if you don't want it, which results in a quick setup. That's not to say you can't use software, but for simplicity and speed, you can get a DSLR setup and running a lot quicker than a CMOS for example that does require external software to run.
Even with a stock lens (18-55mm for example) on your DSLR, you'll be able to get some very nice images of things like the milky way and constellations.
You can easily and quickly review the images you are taking. This is helpful when you want to make incremental adjustments on the go while you are capturing night sky images.
What is the best DSLR camera for astrophotography?
The big brands in the DSLR market are Canon and Nikon, and if we're talking mirrorless, then Sony has some quality cameras in that area too.
Full Frame vs. Crop Sensor
A crop sensor is smaller than a full frame and is most noticeable in the field of view. Crop sensor means "cropped" image, and it's a cropped view size of a full frame image.
So if you capture an image with 2 similar cameras (one crop and one full) with the same lenses and same distance, the crop sensor camera will capture a smaller image area when compared to a full-frame, think of it like cropping an image to a smaller size.
Full frame cameras generally have a better dynamic range and perform better at low and high ISO settings. Crop sensor cameras, on the other hand, are much more cost effective.
Note: A larger sensor means more light can gather on the surface of the sensor, resulting in a more cleaner image signal and less noise, so because of this full frame does have a slight advantage in dark and low light situations.
Which To Choose?
Our favorite for a full frame would be the Canon Eos 6D mark ii, add in a few lenses (like the Samyang 24mm) and a tripod, and you've got yourself a beast of a night time imaging setup that will take some great pictures and be quite versatile.
Our preference for a crop sensor camera would have to be the Canon Rebel T7i, comes with some excellent specs and bit more comfortable on the wallet compared to the full frame 6D.
If you're looking for something a little cheaper, have a look at Canon 60/70/80D instead, they're a bit cheaper and still give beautiful results. If you're a Nikon fan, then a Nikon D4300 is just as good.
Both these camera brands have a wide range of lenses that are made for the body of the camera's, also both have specific software that makes it easier for astrophotography.
Just a note that whatever brand you decide to choose, it will have a significant impact on the variety of accessories and add-ons you can select from as they do vary between Canon, Nikon, and Sony.
How do you do astrophotography with a DSLR?
If you've got your DSLR or plan on getting one, this is one of the quickest (and cost-effective) ways on getting started.
Equipment required
Camera body – Canon Rebel T7i or Nikon D4300 (Recommended)
Camera Tripod or Tracking mount – iOptron SkyTracker Pro
Lenses
Telescope – (Optional)
T-Adaptor – (Optional)
The telescope in conjunction with the T-adaptor are optional extras, but not required if starting out. With this simple setup, you would be amazed at the high quality of images you can get of landscape astrophotography, milky way or constellation imagery.
Modifying a DSLR for astrophotography
The majority of the recent DSLR cameras on the market today are low noise and do a great job at deep space images (star clusters, galaxies, and nebulae (blue reflection)(here's a video of what blue reflection nebulae looks like)
The downfall here is most of these stock cameras have a low pass, long wavelength IR filter by default. The reason they do this is that in typical day to day photography, infrared light is all around us, even though we can't naturally see it, a camera can.
The problem with that is the IR (infrared light) can severely affect the camera's ability to capture the light correctly. So most cameras have an IR filter built in over the top of the camera sensor to filter out the infrared light from causing issues with capturing images.
This results in them being not a very good option for capturing the hydrogen-alpha light in red emission nebulae.
There are a few solutions though for those that want to capture the red emission imagery. First, there are some Canon and Nikon cameras on the market that are specifically designed without the IR filter just for astrophotography images.
Another alternative is to replace the stock long wave filter that came with your camera with a third party filter.
The DIY alternative is to remove the stock IR filter to allow the red color from red reflection nebulae to be recorded. If you feel comfortable enough to try this yourself then here is a video that breaks down the process. (note: This could ruin your camera is done incorrectly, so it's not something we recommend)
CCD vs CMOS Cameras – What's The Difference?
We can divide cameras up into primarily two different categories: Digital CCD and digital CMOS.
CCD – CCD camera is better for deep space images.
CMOS – high-speed CMOS cameras better for planetary, solar, and lunar, more solar system type images.
CMOS cameras come in different sizes as well. For example, there's also the little ZWO 290MM.
CMOS is the camera standard that you probably more familiar with in general photography. It's on your smartphone, most handheld compact cameras, and DSLR cameras, these all have the CMOS style sensor.
CCD cameras are more expensive overall. They're more expensive to make and so they're more expensive to buy.
On the plus side, The CCD technology has been around a lot longer and is more mature, Primarily as the Astro imager, what it comes down to when you're considering the two types of cameras (CCD and CMOS), is how good these cameras are at capturing light.
A CCD pixel is much better than a CMOS pixel at capturing photons, and it has a very high quantum efficiency. The CCD pixel sensors pick up almost all of the light that's hit, compared to a CMOS sensor that has lower efficiency. That being said, the CMOS technology is getting better every day.
When it comes to the top of the line "gold standard" of image quality, CCDs have held that position for deep space Astro Imaging.They're perfect for things like galaxies and nebulas, what they're not so good at is with bright objects and high-speed movement. That's because they're a very low readout so you take a frame and it takes a while to read that off the camera.
CMOS is catching up in the last few years, because of enormous consumer smartphone demand the technology is improving at light speed! It won't be long before CMOS reaches standard scientific grade that is on par, if not better than CCD. In fact, certain CMOS cameras on the market are already better than many CCDs in many ways.
CCD stands for (charge-coupled device), and CMOS stands for (complementary metal-oxide-semiconductor)
DSLR. – DSLR's fit into this middle-of-the-road area, they're an excellent allrounder camera, you can use them for planetary and solar, but they aren't going to be as good as a high-speed CMOS.
You can also use them for deep space, but they aren't going to be as good as a proper CCD camera. That's because they have a filter built-in from the factory, an IR filter to be exact.
This infrared filter blocks the infrared light which is great for typical day to day shooting.
The color balance looks normal but when we're shooting things in deep space there's a bit of the spectrum at the end of the rainbow over the red that we can't see, but the cameras can see. (see pic below)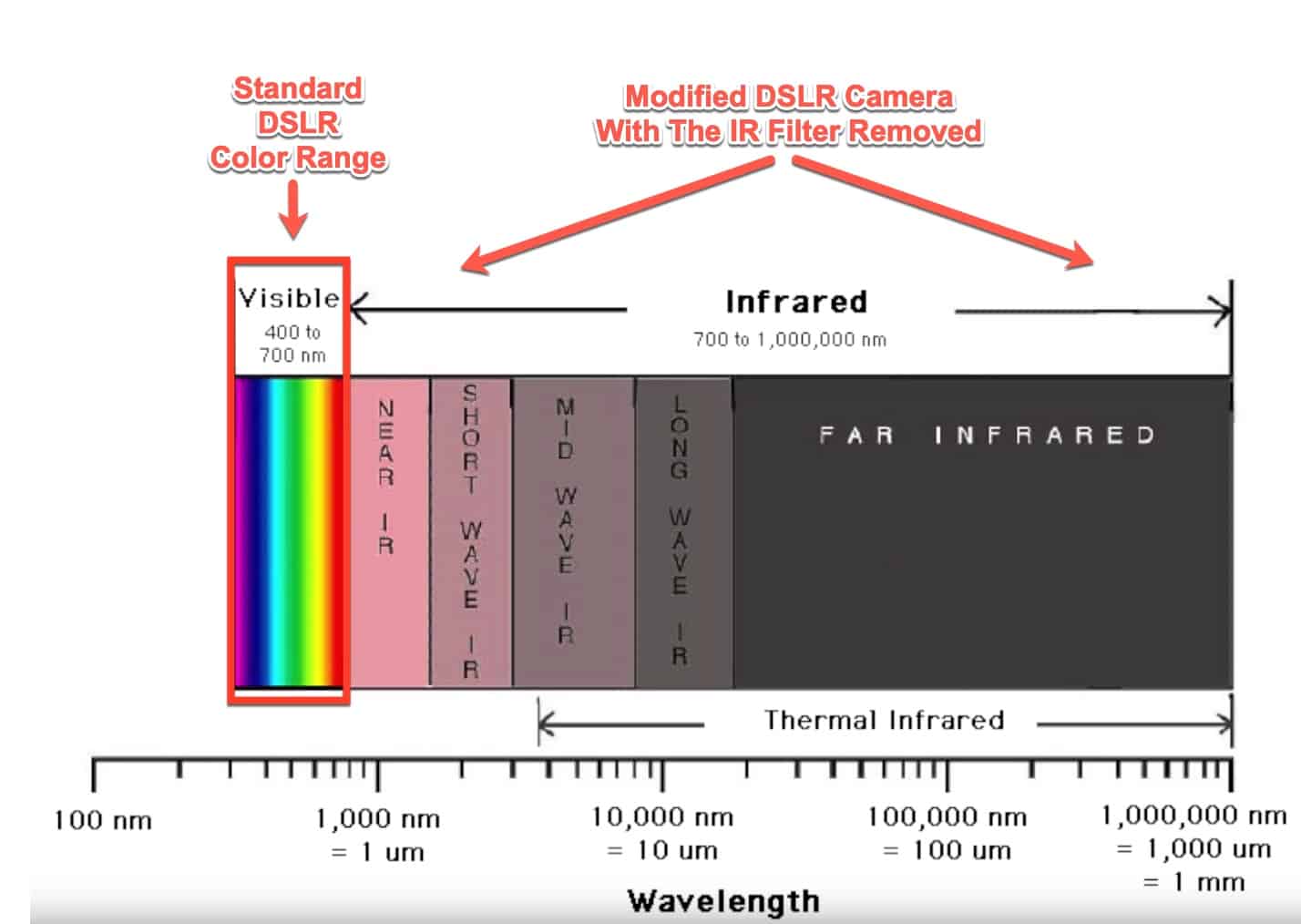 A DSLR camera is going to have a filter that blocks that out, some people modify their cameras to get rid of that filter, and you can now actually buy cameras from Canon and Nikon that are set up specifically for astrophotography and don't have that IR filter installed in the first place.
This is great, and you'll get a lot more sensitivity when you're shooting the Milky Way when you're shooting nebulous regions of the Milky Way you get Barnard's loop you get all of that red hydrogen detail showing up nicely.
So to sum it up, smartphone cameras and DSLR cameras filter out the red signal, but astrophotography cameras generally don't. For general photography that is perfectly fine but when trying to take images of red emission objects we want all that light range unfiltered.
An example of this is to take an infrared remote, and when you hit the button, the infrared LED will light up at the end of the remote. You can easily see the IR visibly with your eyes.
However, if you try the same thing on some smartphones, you won't see any noticeable red emitted light, that's because the IR light is being filtered through the phone and the same thing happens with the filter in a DSLR camera.
You can still use that camera for gorgeous epic night time shots of the Milky Way.
You can also easily hook it up to your telescope using an adapter and use it for deep space photos, and it's excellent for planetary photos and moon portraits.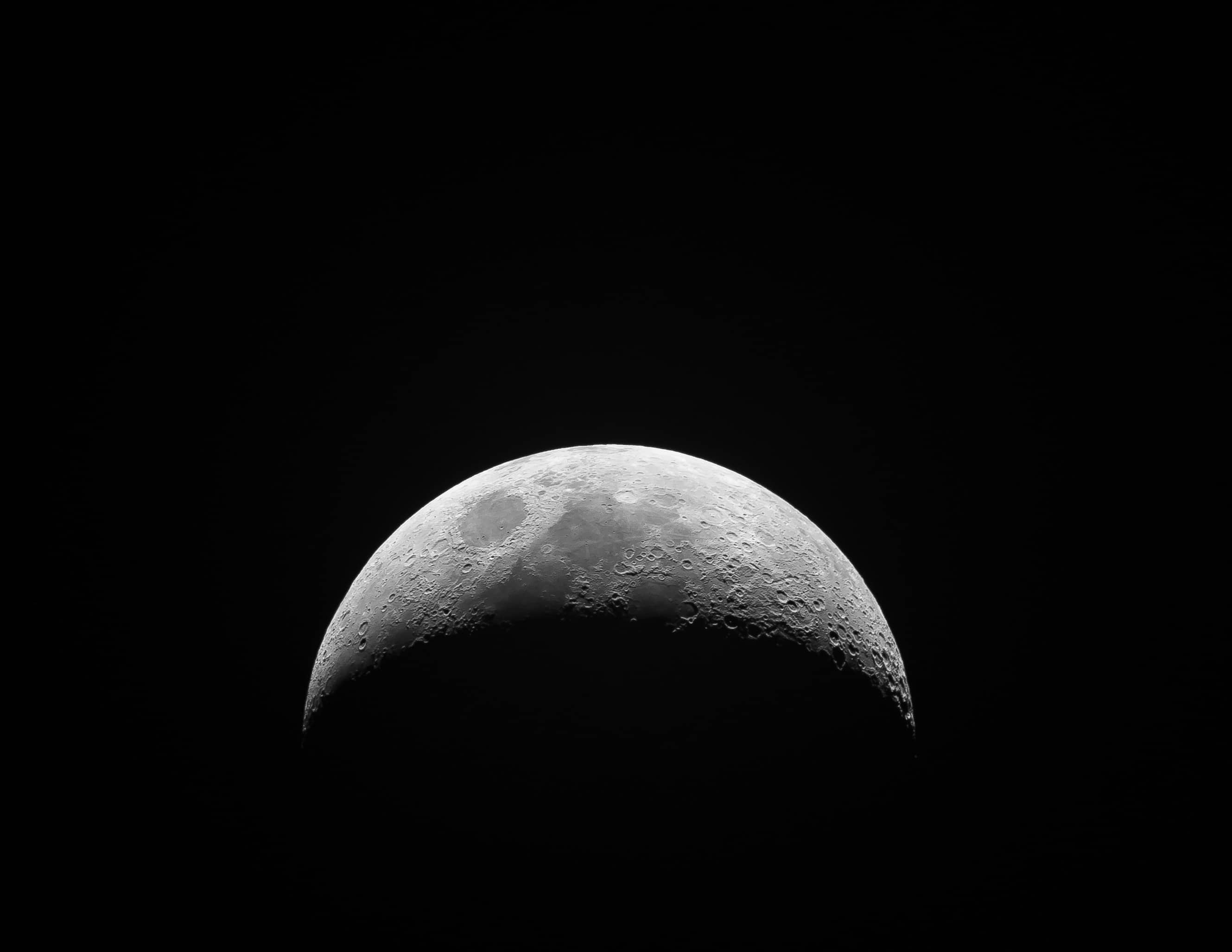 It's great for space station transits, it's great for solar and lunar but by default, not so great for the small planets and when compared to a CCD the DSLR is not as good for deep space.
Overall they are a great middle ground if you could only choose one type of camera I'd probably recommend the DSLR because it's a good all-rounder for everything.
Canon vs Nikon Cameras
This dilemma is a constant one judging by the number of emails we get, asking which one is better. It's a battle that goes on just as intensely as Coke vs. Pepsi, Nike vs. Adidas and so on.
Canon vs. Nikon is an age-old war and to cut to the chase were going firmly with team Canon. That's not to take this debate lightly, because we've used both very thoroughly over the years, so much so that at one point we were using Nikon quite a bit more than Canon for astrophotography.
Where it's A Draw
Firstly, regarding manufacturing quality & optical quality, they are pretty much on par. We've tested both and put them through their paces, and we have to say that they both come up pretty similar in both areas (manufacturing and optical).
Another draw is both Canon and Nikon now have a dedicated Astrophotography camera that has the infrared filter removed, so they both get a tick from us for that.
Operating System And Software
Some user have mentioned they prefer the Canon menu system for navigation as it was easier to use at night, we would have to agree slightly, but we're also more familiar with the canon system so we could be a little biased here.
Another thing worth mentioning is, Canon opened up their firmware for developers to be able to interface their software, which has made it easier for 3rd party software developers to make Astro software.
So because of this, there's a bigger range of Astrophotography software out there for Canon that isn't there for Nikon. However, what is available for Nikon works really well, you just have a few more to choose from with Canon.
lens for astrophotography?
Using a lens for astrophotography is a cheaper alternative than going with a full telescope setup.
We have seen some beautiful and crisp results with just a cheap Canon EF 50mm F/1.8 STM lens which usually is one of the first lens upgrades most buy.
Some other brands that we have seen some excellent results but are much cheaper in comparison to Canon are the Samyang, Rokinon and Sigma.
The Samyang 24mm f/1.4 is rather sharp in the corners and offers a wide enough aperture for celestial images.
These are both fantastic alternative camera lenses for astrophotos. Just a note, depending on your camera body, remember to buy the lens thread that fits your camera.
Budget Lenses for Astro imaging
Conclusion
The human eye can only see a tiny portion of the sky, and that's why we love astrophotography, you can capture some of the hidden night sky objects that the naked eye can't visually see.
With a bit of practice, you can see another world out there.
Regardless of the type of camera you choose, there will always be some amount of learning curve, that's a given, but it's also part of the enjoyment of the hobby.
In saying that, we chose the Canon 6D Mark II as number one in our list because it is much quicker and more straightforward to set up and use than a dedicated astro camera.
The image quality you can capture with the Canon 6D is stunning due to it performing very well in low light situations because of its full-frame sensor and the images it does take have very low noise, allowing you to take sharp and detailed astro images.
To learn more about astrophotography, check out our homepage nightskypix.com to find about the essential steps you need to take to get that perfect snapshot.