In need of a memory card for your brand new camera? Or maybe upgrade to a more performant one? With such a wide range of budgets and specifications, selecting the best memory card for your camera can be a challenge.
Capacity, write and read speed, all vary according to the brand and card specifications, and can make a vast difference when you're trying to get that burst of action shots or video at the game, on holiday, or with the family.
The type of camera you own is, of course, important. However, choosing the best memory card can largely contribute to your success in taking the best pictures.
To help you select the best memory card for your camera, such as the SanDisk 256GB Extreme PRO SDXC, there is a useful and comprehensive guide after our reviews. Whether you're looking for your first card for your compact camera or the most technologically advanced and best SDHC card for a DSLR camera, we've got you covered.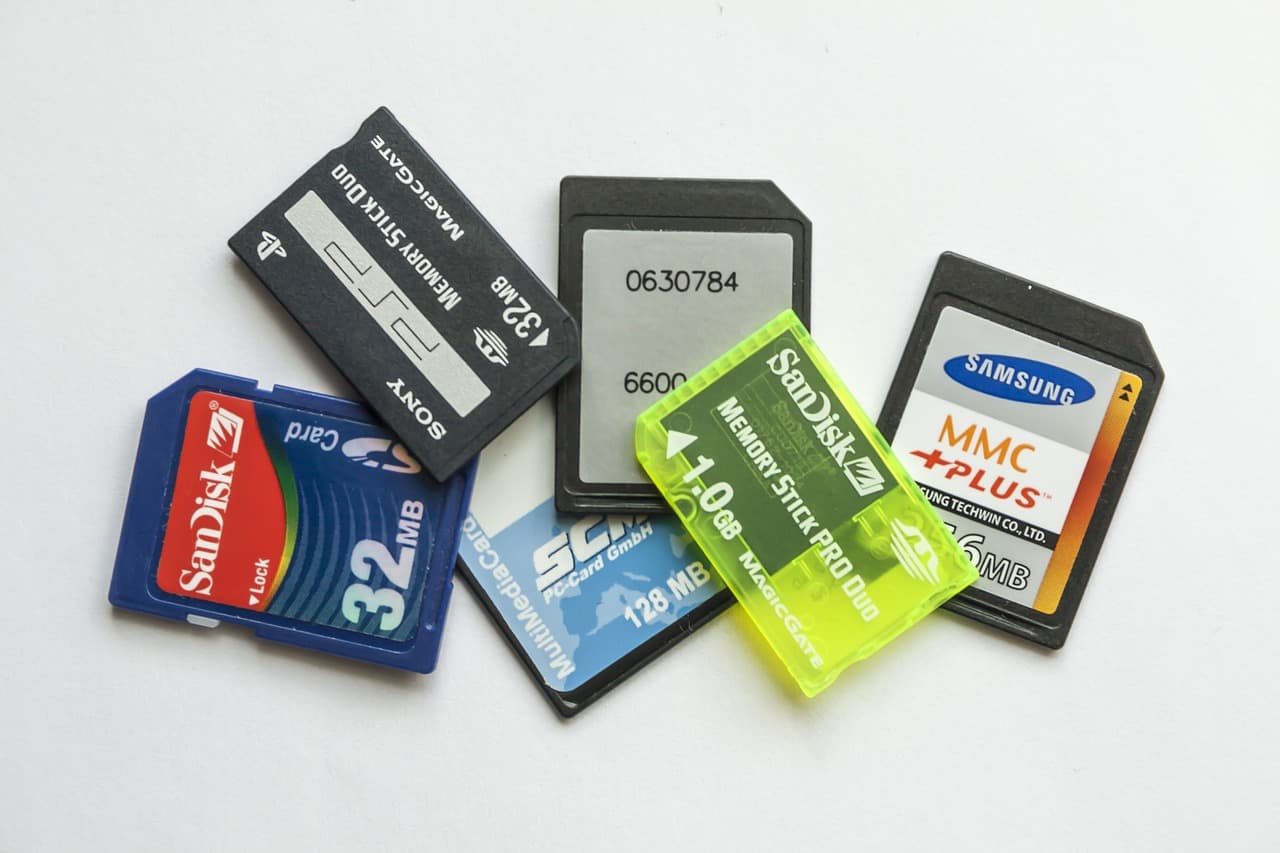 Our Best Memory Cards For Your DSLR Camera In 2023
The 7 Best Memory Cards for Your Camera
Now that we've discussed the features to look for in your next memory card, we've gathered a selection of the best ones available.
---
1. SanDisk 256GB Extreme PRO SDXC
Best Memory Card For Semi-Professionals
This popular SD card can be ideal for beginners to experienced users wanting both high-resolution pictures and videos. It's considered the best SanDisk SD card in this category.
Featuring an impressive write speed of 170MB/s, this card is designed to take high-resolution pictures—JPEG, RAW files, and burst mode. The V30 video rating should save any 4K, HD or 3D videos in an instant.
The fast transfer speed—170MB/s—will get all your data quickly downloaded on your computer. No more waiting around to start editing!
The 256GB capacity gives you ample storage for your data. If you're shooting a large number of videos, you might want to keep an extra SD card easily accessible.
Looking to retrieve deleted pictures? This SD card even includes a data recovery application—RescuePRO Deluxe—to download.
This SD card isn't only x-ray, shock, water, and temperature proof—minus 13 to 185 degrees Fahrenheit—it also comes with a lifetime warranty.
Pros
Cards available from 32GB to 1TB, fitting all types of capacity needs.
High write and read speed will handle and save a large amount of data and videos.
High-performance video capture of 30MB/s.
Included RescuePRO Deluxe software to recover deleted files.
A reasonable price point for the performance provided.
Cons
Upon receipt, ensure that the card shows a serial number at the back, as these cards tend to get counterfeited.
Check with your manufacturer about compatibility. Issues have been reported with Sony models.
---
2. SanDisk Ultra 256GB MicroSDXC
Most Versatile Memory Card
Looking for a single but versatile SD card to use in most of your electronic devices? A card that allows easy data transfer from one device to another? Micro cards might be what you're looking for.
This micro SD card is compatible with all Android phones and tablets. It also comes with an adaptor to fit digital cameras. Transferring your pictures and videos between your phone, tablet, computer, and a digital camera should only be a matter of adding or removing the adaptor.
To make the data transfer even easier, you might want to download the SanDisk Memory Zone app, available from Google play store. Not only you can access the pictures, but you'll be able to download them to free up some space on the card. It also gives you the ability to back up the data in case any damage occurs to the card.
Compact, this memory card is concentrated in features and performance. This SanDisk micro card comes with a large storage capacity: 256GB. This should allow you to take about 4,800 pictures or shoot 24 hours of HD video footage.
The fast transfer speed—95MB/s—should transfer 1,200 photos per minute, to your computer. And off to the editing suite!
Pros
Downloadable application allows easy data transfer between various devices.
256GB capacity to store high-resolution videos and pictures.
Class 10 writing speed—10MB/s.
Versatile, it's compatible with Android phones, tablets, and digital cameras.
Sturdy and suitable for all weather conditions.
10-year warranty.
Cons
Lower write speed than expected has been reported.
---
3. SanDisk 64GB Class 4 SDXC
Best Memory Card For Beginners
This SDXC card might be considered the best and most popular SanDisk SD card, and for a reason.
The 64GB capacity, allows you to store about 4000 pictures—7MB each—which should provide you with enough storage for your next couple of trips. A writable label keeps you and your pictures organized.
Heading to Antarctica? Or maybe Africa? This card is able to withstand tough weather conditions and a wide range of operating temperatures—minus 13 to 185 degrees Fahrenheit—and storage temperatures of minus 40 to 185 degrees Fahrenheit.
This SD card has been tested and proven to be one of the sturdiest. With its ability to withstand x-rays, sunlight shouldn't alter the quality of your pictures. Water, shock and vibration proof, your SD card is taken care of.
Class 4, this card writing speed should average 4MB/s. This isn't supersonic but is fast enough for amateur photographers. The affordable price makes this SD card one of the best for beginners.
Finally, SanDisk provides a 5-year warranty, so you won't have to worry about your SD card letting you down in the middle of a trip.
Pros
Sturdy SD card, suitable for every weather condition.
Comes in several sizes, from 2GB to 64GB.
5-year warranty.
Includes a security lock and protects copyright data.
One of the most affordable cards available.
Cons
Might not be compatible with every host device—especially if manufactured before 2010.
The read speed might be too low for photographers taking high-quality pictures or using the burst mode.
---
4. SAMSUNG EVO Select 512GB microSDXC
Reliable Speed & Capacity Memory Card
Although many SD cards come in a 512GB version, this Samsung micro card made it to the top of my list when it comes to capacity, and this is for several reasons.
This high capacity SD card can store an average of 150,300 pictures (12MP), 78 hours of full HD video or 24 hours of 4K video. However, a high capacity SD card doesn't mean much if the speed doesn't follow.
This card provides both storage and high read speed of 100MB/s—and write speeds of 60MB/s, keeping up with its large capacity. It might be a great option for experienced photographers looking to shoot 4K and HD videos.
It can be used with a tablet, mobile phones or even a drone. Thanks to the adaptor, it's also compatible with your DSLR camera and laptop. The price might be a bit higher than other SD cards or micro cards, but you won't have to transfer data as often and it can be used in several devices other than your camera.
Water, sun, and shockproof, the card should also withstand a range of temperatures, ideal for any types of travels.
Pros
10-year limited warranty.
The adaptor makes the card compatible with several electronic devices.
The high transfer speed allows a 3GB video download in only 38 seconds.
Adaptor included.
Reasonable price point, considering the large capacity and speed rating.
Cons
A card reader might be necessary to get the full speed.
---
5. PNY 256GB Elite Performance
Best Value Memory Card
Looking for the best of both worlds? Needing an efficient card that won't empty your wallet? The PNY 256GB card has been designed to meet quality and durability requirements while fitting most budgets.
Although PNY doesn't have the world known reputation that SanDisk or Lexar have, it nonetheless provides high-performance SD cards. While you might be able to find SD cards for a lower price, PNY Elite cards get you more bang for your buck.
With a 95MB/s transfer speed, you won't have to wait long to enjoy or edit your pictures and videos on your computer. The 256GB capacity is able to record 58 hours of HD video. Class 10 and UHS-I speed ratings should allow a smooth use of the burst and sports modes of your camera.
This card can be carried along everywhere travel takes you. Extremely durable, you should be able to retrieve pictures even after immersing the card in one meter of water, although I don't recommend you test it!
Shockproof, the card should be able to survive a 7.5 feet drop (equivalent to a 1500Gs shock rating). Finally, these cards can withstand magnetic fields exposure and extreme operating temperature—Minus 13 to 185 degrees Fahrenheit.
Pros
Lifetime warranty.
Able to tolerate magnetic fields exposure.
Fast speed allowing 4K video shooting.
Designed to resist the harshest environmental conditions.
This SD card comes in higher capacity—up to 512GB—if required.
Cons
Some compatibility issues have been reported, especially with Sony devices.
Slower write speed than some other brands—10MB/s.
---
6. SanDisk Extreme PRO 128GB CompactFlash Memory Card UDMA
Professional Photographers Memory Card
Another nomination for the best SanDisk card, this SanDisk card might be one of the fastest available, both in write and read speed. A great pick for professional video shooters.
The card features the highest UDMA—ultra direct memory access—interface, which is the fastest protocol for transferring data. With a transfer speed of 160MB/s, you'll be able to access your pictures and videos in no time.
This high-end CF card comes with a VPG65 rating—meaning a write speed of 65MB/s—ensuring smooth 4K and HD video capture.
A 150MB/s write speed will make the use of burst mode and high-resolution RAW files a breeze. With no time-lag, it allows you to shoot multiple frames per second.
The 128GB capacity gives you plenty of space for data storage, up to 8000 pictures or 112 minutes of 4K video recording. And if you've accidentally deleted pictures, the downloadable app should be able to retrieve them.
This compact flash card does come at a higher price point; however, the quality this card provides will be worthwhile to professional photographers.
Pros
Extra fast read and writing speed meeting the most demanding professional photographer's requirements.
Lifetime limited warranty.
Large capacity.
RescuePRO Deluxe data recovery download available.
Cons
Only compatible with devices supporting compact flash.
A reader might be necessary to get the benefit of the full transfer speed.
---
7. SanDisk 128GB Extreme PRO CFast 2.0 Memory Card
Best Memory Card For Professional Video Shooters
This SanDisk CFast memory card has been designed following the latest version of CFast cards—2.0 standard. It might be one of the fastest memory cards available today and ideal for professional photography and video shooting.
This high-performance memory card features a writing speed ranging from 130 to 450MB/s, so using the burst mode or high-resolution files should be a breeze. With a 525MB/s writing speed, data transfer to a computer or any other external device should only take minutes.
With a VPG rating of 130, the minimum video write speed should always exceed 130MB/s. This type of video speed rating might be at least double the speed of a regular SD card and is suitable to shoot movies with cinema quality.
To allow data recovery, this card also comes with RescuePRO software to download.
Sturdy, this card should be able to withstand any type of weather conditions and temperatures—from 23 to 158 degrees Fahrenheit.
Pros
Compatible with professional cameras and camcorders.
Highest writing speed and transfer rate providing the best user experience
Ideal to shoot 4K and full HD professional movies.
Lifetime warranty.
Card capacity can range from 64GB to 512GB.
Can tolerate extreme temperatures and weather conditions.
Cons
Users should check compatibility if owning a regular camera.
---
Which Memory Card Is Best?
It's difficult to provide a direct answer to this question. Selecting the best memory card for a camera is similar to selecting the best car, and several variables need to be considered. The best memory card for you will be the one that gives you optimum performance at your level of photography
A few factors will determine this. You'll first need to consider the type of camera you use, along with your photography style—high resolution, sport burst pictures or HD video.
Will you be taking professional photographs or purely family snaps? It all comes into play. The budget allocated might also limit your options.
Have no fear, after reading this guide, you should know what features to look for to suit your needs. I've then gathered a selection of the best memory cards available.
What Are Good Memory Cards for DSLR Cameras?
Depending on whether you're an amateur or a professional photographer, the specifications making a good memory card will vary.
Amateur Photographers
For amateur photographers, buy quality but basic. You won't need a high-speed transfer, just consider the card's capacity as the priority.
Most beginners, regardless of whether they have purchased a compact camera or invested in a DSLR, tend to take their photos as JPEGs, which is a compressed format.
Many memory card product descriptions include the number of pictures you can take with a set image quality (in megapixels). This number will, however, fluctuate depending on the quality of your camera and the setting you take your images at.
A 10MP (megapixels) compact camera uses on average 3MB per picture (JPEG). An 8GB memory card should, therefore, allow you to take 2,288 photos, which should be enough for beginners. A 22MP camera, however, would average 6.6MB per image, holding only 1,040 pictures.
Professional Photographers
For semi-professional and professional photographers, however, the speed of the card should be the first consideration.
The best memory card for DSLR camera should allow you to take burst photos, shoot HD videos, or create large RAW files without creating a lag time.
RAW or uncompressed formats are only needed if you want professional quality images to blow up or you're going to be doing a lot of post-shoot processing with software like Photoshop.
What Is the Best SD Card for 4K Video?
Shooting 4K or HD videos requires high-performance SD cards. It's best to aim for a write speed of 30MB/s which is displayed on the product as V3 or U3. The read speed, however, should be between 60 and 90 MB/s.
Because videos use a large amount of data, cards with a capacity of 128GB or more are recommended when shooting 4K videos.
What Size SD Card Should I Get for My Camera?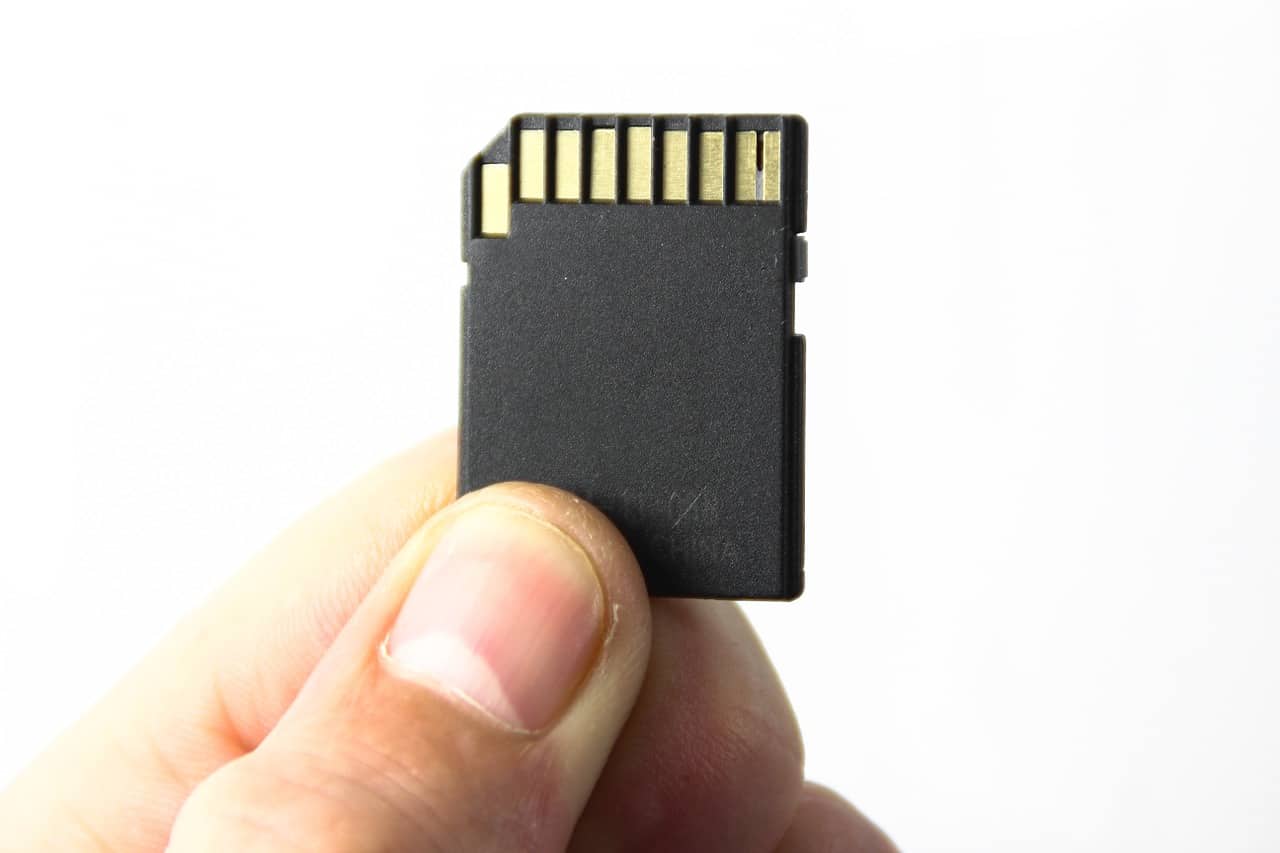 Over the whole array of SD cards available, the capacity can range from 2GB to 2TB, and the choice is yours. There are mainly two schools of thought.
Some photographers prefer to purchase a single high capacity SD card—32GB and up—to avoid changing it frequently. In the case of data corruption, damage or if you simply lose the SD card, you'll lose your pictures altogether, which is a big risk to take.
Make sure to back up your images to a secondary device as soon as possible. Don't wait for the card to fill up. You can't replace those wedding photos or first baby pics!
Other photographers opt to buy a few small capacity cards—around 8GB. You'll have the inconvenience of replacing it often, but in case of damage, you'll only lose a maximum of 8GB worth of your photos.
If you're shooting 4K or HD videos, the amount of space needed will be very important. You should then aim for the biggest SD card your budget can afford.
What to Consider When Buying a Memory Card?
Generally speaking, the best memory cards rely on capacity, speed, and type of card.
Types and Capacity
Over the years, memory cards have evolved. Selecting the best memory card for your camera starts by understanding the difference between the types of cards.
SD Cards
The original SD—or secure digital—memory cards are probably the most common and affordable memory cards. Compatible with most cameras, they have a very small capacity—up to 2GB.
The best SD memory cards would normally be compatible with SDHC—secure digital high capacity—devices, but might not perform as well.
SDHC Cards
With the development of HD and 4K videos, SD cards quickly became obsolete and SDHC cards were invented to remedy this problem. Although SDHC cards have a similar look and shape, they have a much higher capacity, compared to SD cards. The best SDHC memory card for DSLR camera—and other types of cameras—starts at 2GB and can reach a capacity of 32GB.
If your camera was manufactured before the invention of SDHC cards, it might not recognize this type of memory cards.
SDXC Cards
Going one step further, sdxc—secure digital xtra capacity—allows even higher capacity with faster processing speed (20-30MB/s). Starting at 32GB, they can reach 2TB—terabytes—of storage capacity.
Although they have the same shape and size as SD and SDHC cards, again, older cameras may not be able to recognize the format. Your computer will also need to be able to read exFAT files in order to read the card.
Micro Cards
In high demand, micro SD cards dominate the global SD memory card. Originally designed for mobile phones and MP3 players, these compact SD cards are compatible for only a few digital cameras. The memory capacity remains the same as for regular SD and SDHC cards.
Most micro SD cards, however, come with an adaptor to fit a regular camera or computer. Multi-purpose it is!
xD-Picture Memory Cards
Most commonly called 'eXtreme Digital' cards, they're sometimes used in older Fuji and Olympus models.
Memory Stick Duo Cards
If your camera requires this type of memory card, you probably own a Sony digital camera. Launched by Sony in the 1990s, it has developed like the SD format over the years but the last variation, the Memory Stick PRO-HG Duo HX was produced in 2011. Most of their cameras should now be compatible with regular SD cards.
Compact Flash Memory Cards
First introduced in 1994, compact flash cards—or CF cards—used to be the memory card of choice for DSLR cameras. With SDHC, SDHC or CFast cards becoming increasingly performant and affordable, they aren't as commonly used as they were.
The best quality memory cards of this category normally come with a VPG rating, which corresponds to the minimum writing video speed. The most common are VPG20—20MB/s—and VPG65—65MB/s.
Many cameras now offer slots for fitting both SD and Compact Flash cards.
CFast 2.0 Standard Cards
Similar in name, size and shape, they are, however, different to compact flash memory cards and not compatible. These high-speed cards feature even larger capacities and processing times and are mainly used in high-end professional DSLR cameras.
CFast 2.0 Standard is the last version of CFast cards and can reach a write speed of 600MB/s. They're considered the fastest memory card available today.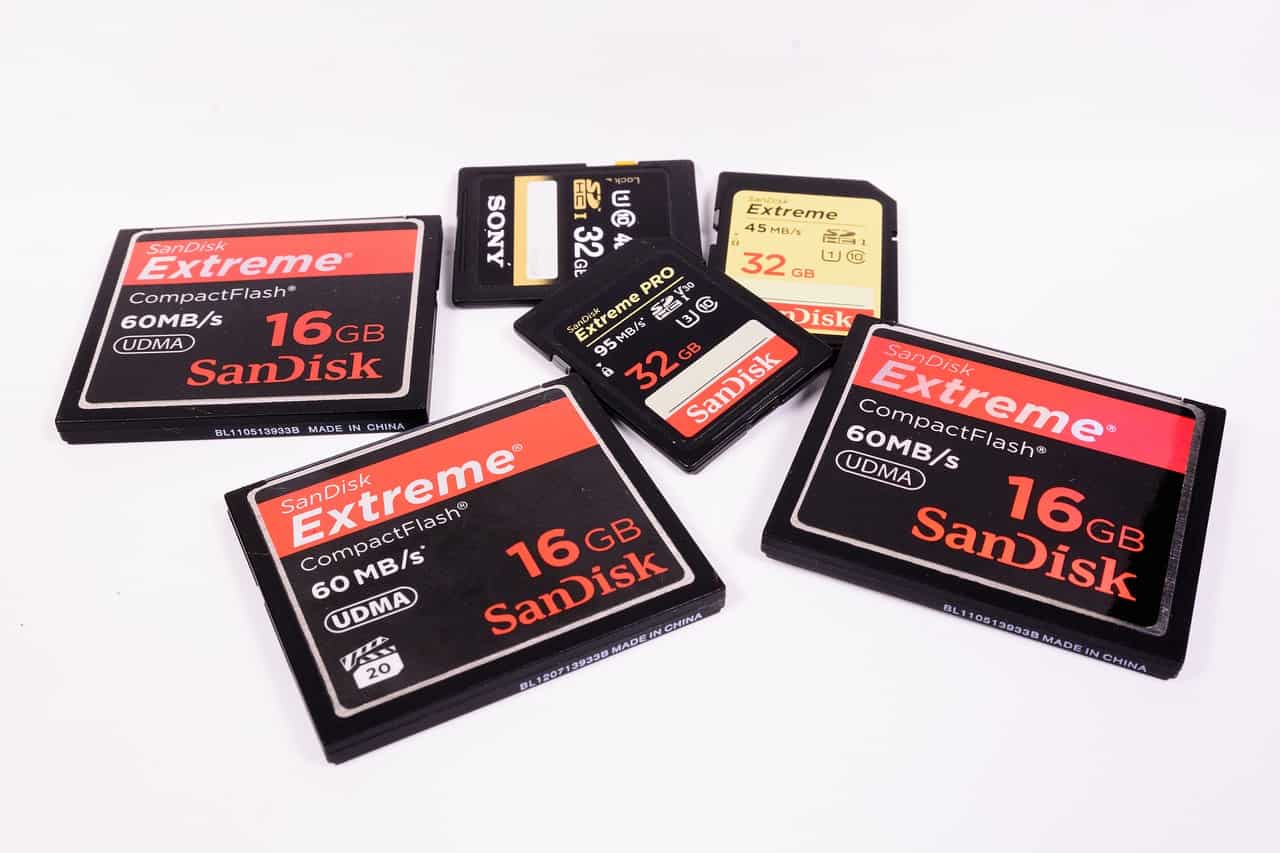 ​XQD Cards
Introduced in 2010, these cards are specifically compatible with Nikon DSLR cameras and Sony camcorders.
Smaller in size than CF cards, they provide excellent quality and high-speed video shootings. The last generation of XQD cards—G-Series—can reach a writing speed of 350MB/s and a write speed of 400 MB/sec.
SD Express
SD Express cards are the newest kids on the block. Released in June 2018, these cards allow a data transfer of 950MB/s and should be the fastest memory cards available.
To know more about the new SD express cards, this video might come in handy.
Speed
As your expertise increases, speed becomes a major factor when choosing the best memory card for your camera. A slow speed will slow down your camera and result in a frustrating photography experience. Two types of speed should be considered.
The Write Speed
The write speed determines how fast pictures and videos can be saved to the card. This is specifically important for sports photography, shooting burst pictures or taking high-resolution photos.
The read speed is always faster than the write speed. The following classifications are standardized by the SD association. However, most brands have their own rating system, corresponding to the maximum transfer speed.
To maintain your SD card write speed, it's recommended to format the card every now and then. Just make sure all the pictures have been saved elsewhere first!
Commercial x Rating
Commercial x rating shows a multiplication factor, such as 200x, 500x, or 1000x. This old classification isn't as relevant nowadays, and it's recommended to consider the other speed rating classifications.
Class Rating
This class rating is represented with a 'C' and a letter inside. The class indicates the minimum data transfer rate, not the actual rate. The purpose of this class rating is for you to quickly identify the cards meeting your device requirements.
Here is a table indicating the minimum write speed for each class rating.
| | |
| --- | --- |
| Speed Class | Minimum Write Speed |
| 2 | 2MB/s |
| 4 | 4MB/s |
| 6 | 6MB/s |
| 10 | 10MB/s |
UHS Rating
Ultra High Speed was introduced in 2009 by the SD association. Before investing in this type of SD cards, make sure that your device is able to support such a speed. Most cameras built after 2009 should, however, be compatible.
On the SD card, UHS rating displays a number inside a 'U' shape.
UHS

Speed Class

Minimum Write Speed
U1
10MB/s
U3
30MB/s
UHS specifications come in three versions—UHS I, UHS II, and UHS III—ranging from 104MB/s to 624MB/s transfer rate.
V Class
The Video Speed Class is specifically designed for HD, 4K videos, and high-end resolution cameras. V class rating is displayed on the SD card as a 'V' followed by a number. Here are a few examples.
| | |
| --- | --- |
| Video Speed Class | Minimum Write Speed |
| V6 | 6MB/s |
| V30 | 30MB/s |
| V90 | 90MB/s |
The Read Speed
The read speed—or transfer speed—indicates how fast pictures and videos can be transferred to an external device. The faster the read speed, the faster your data will be retrieved on your laptop or printer.
Brand
Branded cards—Lexar, Samsung, SanDisk—are the memory cards professional photographers tend to trust most. Although there is no guarantee they'll perform better than non-branded ones, they do usually last longer and are more reliable.
The best memory cards also comes with a warranty, sometimes as long as a lifetime. SanDisk cards—including Extreme memory cards for digital cameras—guarantee a 115 years life expectancy, which should cover you for some time and more!
Environmental Conditions
If you're traveling in harsh weather or an extreme environment, you might want to look for memory cards that are water, sun, or shock resistant.
Conclusion
The market for memory cards is broad and can be as simple or as complicated as you need. The least expensive cards can usually best meet beginner's requirements, while the most sophisticated ones will be targeted at professional photographers.
When purchasing memory cards online, it's important to buy from a reputable source, and ideally directly from the manufacturer. Many cards can be counterfeited and cause great disappointment.
Because I'm a photo fanatic, taking 10 picture bursts of every angle in any situation, waiting between pictures is unbearable. Featuring high writing speed and a very good capacity for an affordable price, my go-to memory card would certainly be the SanDisk Extreme 256GB.
Are you looking to purchase a memory card for your astrophotography camera? Which one do you currently own and does it meet your needs? Please leave us your comments in the section below.