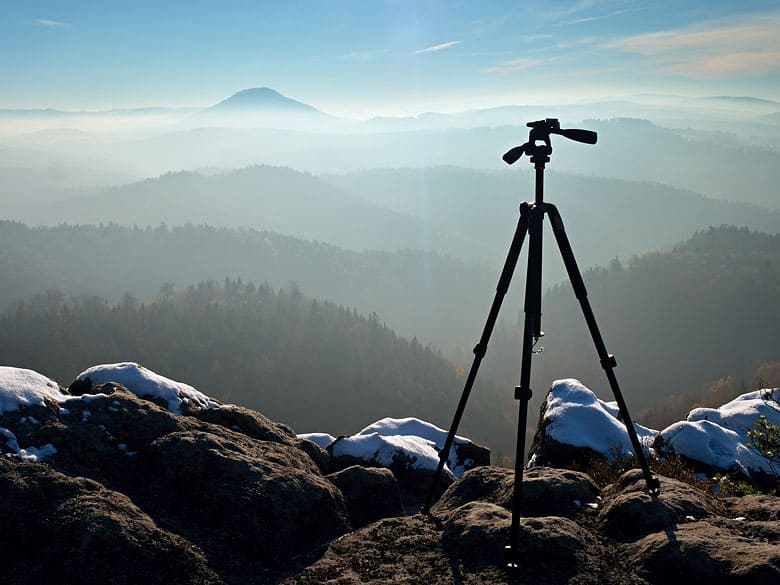 A good tripod is a useful tool for any photographer, but for astrophotography a tripod is essential. Those long exposure shots, combined with a higher magnification, mean you will need the best tripod for astrophotography to avoid any kind of vibration or shake.
An old tripod that you already have gathering dust in the garage will be better than none, however, if you're looking to upgrade, we have you covered.
In this buyers guide, we will consider what to look for in the best camera tripod for astrophotography, before reviewing six of our favorites.
The Best Camera Tripod for Astrophotography
Although all camera tripods are designed to keep your camera steady, you want the maximum stability possible for astrophotography. Bearing in mind the factors we discuss below, here, in my opinion, are the five best tripods for DSLR astrophotography.
---
1. Neewer Carbon Fiber 66-inches Camera Tripod with 360 degree Ball Head (Best Overall)
This carbon fiber tripod can also be used as a monopod when you're in conditions where you can't find an even surface. The high-density carbon fiber tubes used in this tripod give a high pressure and load capacity to the tripod, for even more stability.
A quick-release leg-locking mechanism makes it more convenient to set up and it comes with a universal ball head design. The quick-release mounting plate allows for fast transitions between shots, while a 360-degree dial of swivel ensures a full range of motion.
Material: Carbon Fiber
Maximum height: 63 inches
Loading capacity: 33 pounds
Weight: 3.4 pounds
Pros
Generous maximum height should suit all but the tallest of users.
Monopod facility can also be used as a walking stick when trekking to the next observation point.
Anti-skidding feet.
Lightweight carbon fiber at just 3.4 pounds.
Cons
Friction adjustment on ball head can be temperamental, all or nothing, stiff or floppy—takes practice to get right.
Single knob ball system may not be advanced enough for more pro users.
---
2. Dolcia GX600B200 Proline GX Series 60-inch Aluminum Tripod and Ball Head Combo (Best Budget Tripod For Astrophotography)
Despite being made of aluminum, this great value tripod is actually lighter than many carbon fiber tripods of a similar design. It does mean a reduced maximum load capacity due to the weaker aluminum, but 15 pounds should be enough for most astrophotographers' equipment.
With a maximum extension of 60 inches and a ball head movement, it's a lightweight stable platform, ideal for fixed tripod astrophotography. One thing which is great about this tripod is the flexible angles of the legs; you can really get down and low if shooting over-the-horizon night shots.
Material: Aluminum
Maximum height: 60 inches
Loading capacity: 15 pounds
Weight: 2.5 pounds
Pros
Affordable and available at great value for money prices.
Very lightweight at under 4 pounds.
Ball head included.
A retractable hook can be used for carrying or adding more weight for stability.
Interchangeable soft rubber feet or spiked feet.
Cons
Maximum load capacity is considerably lower than carbon fiber tripods.
Included carry case is made of cheap material and tears easily.
Plastic parts can give off a bad odor when wet.
---
3. Manfrotto 055 Carbon Fiber 3-Section Tripod with Horizontal Column (MT055CXPRO3) (Best Carbon Fiber Tripod)
What many really like about the Manfrotto popular 55 series of tripods is the "quick power lock" levers for simple and speedy setup. This Carbon Fiber 3-piece tripod also has a 90-degree pivot system in the central barrel which allows for horizontal or vertical extension and more varied shots.
The ball head, which is sold separately, features an independent friction adjuster, a bubble level meter and a pan-only release with two detachable plates.
Material: Carbon Fiber
Maximum height: 66.92 inches
Maximum payload: 19.8 pounds
Weight: 4.4 pounds
Pros
Very rigid, even at the maximum height of 66 inches, or 72 inches with ball head.
Excellent ball head which you buy separately.
Quick power lock for easier setup.
Cons
This quality doesn't come cheap but will last you many years.
Quite tall at over 21 inches when folded up.
No spiked feet supplied.
---
4. MeFOTO Classic Aluminum Roadtrip Travel Tripod/Monopod Kit (Best Budget Compact Tripod For Astrophotography)
Five extendable sections on each leg mean that this tripod can offer a generous height of up to 61.6 inches, yet folds down to a compact 15.4 inches—ideal for throwing in a backpack. Made of lightweight aluminum, it can support a load of up to 17.6 pounds for your DSLR camera body and lenses.
Twist-and-lock legs are paired with rubberized locking grips for a fast and reliable setup. This tripod also has a precision matched, Q series ball head, with an integrated bubble level for preventing uneven pans or head movements. A separate head and pan lock enable securing your camera at any angle you desire.
Material: Aluminum
Maximum height: 61.6 inches
Maximum capacity: 17.6 pounds
Weight: 3.6 pounds
Pros
Legs fold back for a compact 15.4-inch carry size.
Twist-and-lock legs are just as sturdy as more substantial tripods.
Lightweight yet strong enough for decent loading weight.
Smooth and solid ball head.
Available in 8 colors and comes with carrying case for protection.
Cons
A carbon fiber version is available for greater capacity loads, but this is less affordable.
No visual markings on the leg to ensure they're fully secured—make sure to twist as tight as possible to avoid legs falling off or tripod tumbling over.
---
5. SLIK Pro 700 BHX AMT Tripod with SBH-808DQ Ball Head – Black (Solid Build)
The SLIK tripod is another one to consider for your night time photography. The legs are made from a combination of Aluminum, Magnesium, and Titanium (AMT), meaning, while not as light as a carbon fiber counterpart, it's still considerably lighter than a full aluminum tripod. 
While this isn't the lightest tripod on the market, it's incredibly solid and stable when taking it out on treks.
Because of its solid build, the SLIK Pro can comfortably handle whatever you can throw at it. With a weight capacity of 19.8 lbs, you can load up a  full-frame camera and long focal length lenses for your astrophotography pics without any issue. 
Material: Aluminum
Maximum height: 75 inches
Load capacity: 19.8 pounds
Weight: 6.9-8.1 pounds (depending on head)
Pros
Excellent sturdy and robust tripod – handles heavy equipment comfortably
Easy to adjust and set up on uneven terrain
Foam around the legs – Stops you touching the icy legs in freezing temperatures.
Cons
Leg locks are not metal – but still hold and clamp the extendable legs firmly
A little too heavy to take on long trips
---
6. Sirui T-025x Carbon Fiber Tripod with C-10 Ball Head Tripod Only (Best For Trekking – Ultra Lightweight)
Being an ultra-lightweight carbon fiber tripod, the Sirui T-025x has its pros and cons.
Because it's so light, you'll be able to comfortably take it with you on long-distance photoshoots and hardly realize it's there.
Its maximum load of 13.2lbs isn't the greatest, so bear that in mind with the type of astro setup you plan on using it with.
It will comfortably handle a DSLR camera attached with a lightweight lens. It's when you start to load it up with a full-frame camera and a long focal length lens that you begin to notice it's not as sturdy as the others.
So overall, this tripod is a great secondary tripod to use in addition to your main one.
Something you can take with you when the location you want to photograph is unreachable by car and requires a long hike with the rest of your astro gear.
Material: Carbon Fiber
Maximum height: 58 inches
Load Capacity: 13.2 pounds
Weight: 1.54 pounds
Pros
Ultra- Lightweight (under 2lb) so great for long treks
Anti-rotation legs
Quick to set up and take down when finished
6 year US warranty
Cons
Due to the design, the center column can become slightly weaker after a few years
Not suitable for a heavy setup
---
What to Look for in the Best Tripod for Astrophotography
Firstly, we are not talking mounts or a tripod for your telescope, but rather the best camera tripod for astrophotography with a DSLR camera.
When it comes to camera tripods, there are plenty to choose from, but what makes a good tripod for astrophotography? Here are the most important factors I always look for in the best astrophotography tripod.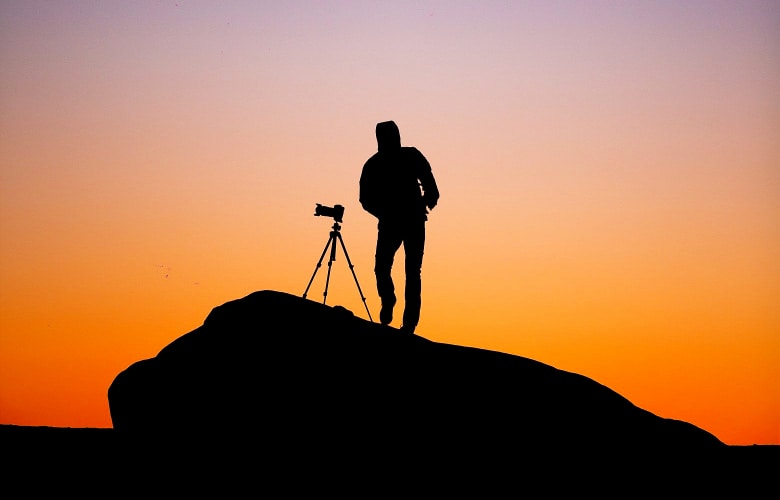 Materials and Sturdiness
The key to the best tripod for DSLR astrophotography is finding one which is both sturdy and light. Stability is, without doubt, the most important factor when choosing the best tripod, but this can often come at the expense of portability.
Both aluminum and carbon fiber will provide sturdy support, but most carbon fiber tripods will be around 15 percent lighter than an aluminum counterpart. Carbon fiber tends to be stiffer than aluminum, making it the ideal material for fixed tripod astrophotography.
Carbon tripods used to be much more expensive than aluminum versions, but prices have dropped dramatically over recent years. They are now much more affordable and offer better value.
Ball Head Movement
Tripods can be classified by the type of head which attaches the camera, with either pan-and-tilt, ball head or a geared head. While many would argue the best-geared tripod head will give more accuracy, a ball head will normally allow for more movement.
Pan heads are best suited to video work and can be frustrating when used for astrophotography. A ball head will allow that greater range of motion for capturing the stars and can make it more simple to frame a shot.
Another advantage of a ball head, when compared to a traditional pan-and-tilt, is they are quicker and easier to set up. You just need to adjust a single locking screw to enable full movement, with no locking arms, which can be cumbersome to store.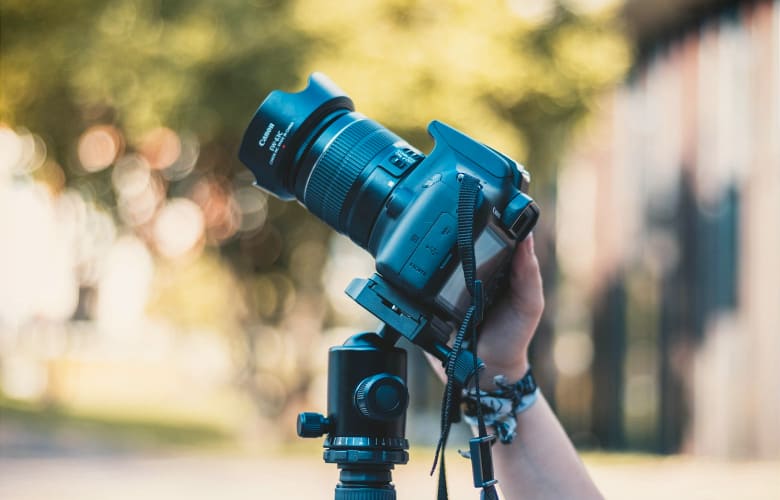 Load Capacity
Astrophotography will normally involve much larger lenses than most other types of photography, which will make the camera much heavier. Some telephoto lenses, or if you intend to use a telescope barrel as your primary lens, will be better suited to a telescope mount.
The head of a tripod will also feature a maximum load capacity. Ensure both the tripod and head can support your equipment. Ideally, you should try to choose a head for the heaviest camera and lens combo you intend to use.
Height and Weight of the Best Tripod for DSLR Astrophotography
What's got three legs and doesn't get out much? No, it's not a joke, but a clunky old tripod you may have which is just too heavy to take on trips with you. Both carbon fiber and aluminum will be lighter than steel tripods, so it is advised to avoid steel. If you do choose an aluminum tripod, try to ensure it doesn't exceed five pounds.
You will have the extra weight of the head to carry with some tripods, plus all your other equipment, like the camera, lenses and maybe filters. If you are ok with astrophotography without star tracking, you won't have too much other equipment.
If you do want a star tracking camera tripod, similar to the many computerized telescopes, there are additional star tracking mounts available. These will often fit a geared tripod head and use two of the brightest stars for orientation to help you photograph deep space celestial bodies.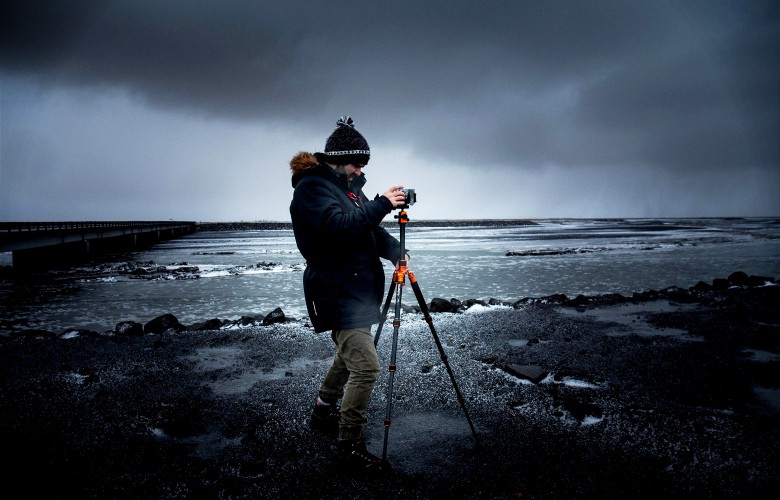 For height, most users will find a tripod which is physically taller than them, easier to use—remember you are going to be pointing upward a lot. Personally, I don't have an issue with shorter tripods if they're easy to use and provide enough movement for good coverage of the sky. Always consider how short the tripod folds down for carrying.
The following YouTube video explains how to quickly set up a tripod and ensure it is set for the correct height for you.
Quick Recap: The Best 6 Tripods For Astronomy In 2020
Conclusion
If you have ever tried taking clear shots of the night sky without a tripod, you'll know just how futile it can be. The extra magnification and long lenses you'll need for good astrophotography need more stability than a human hand can provide.
The best tripod for DSLR astrophotography you can currently buy, in my opinion, is the Neewer carbon fiber 66-inches camera tripod with 360 degree ball head.
The Neewer meets all the requirements of a good tripod for astrophotography, being lightweight, sturdy, and featuring a ball head mount for better movement. It's also one of the most affordable carbon fiber tripods you can buy for that extra strength carbon offers over aluminum.