We all know that stability is essential in the world of photography when it comes to getting sharp photos and smooth videos, especially in darker conditions. The same holds true for astrophotographers since they always work with long exposures and often heavier and complex gear that's not the easiest to stabilize for a standard tripod with a stock tripod head.
This is where the more advanced tripod heads come into play, which shouldn't be overlooked if you want to eliminate the chance of getting blurry stars in your images. The best example of a great tripod head is the Manfrotto XPRO Magnesium Ball Head. It will certainly help you get detailed photos of the night sky and the right amount of stability you require.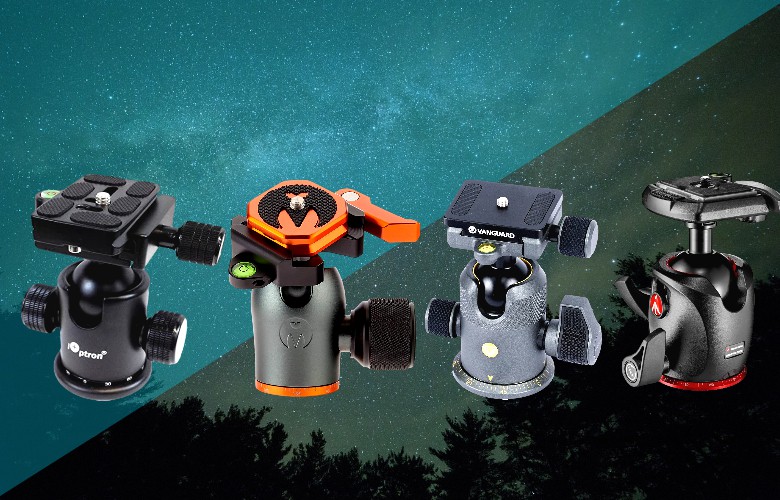 Our Best Tripod Heads At A Glance
List of the best tripod heads
---
1. Manfrotto XPRO Magnesium Ball Head
Best tripod head
Dimensions: 5.3 x 4.9 x 3.5 inches | Weight: 1.1 pounds | Load capacity: 22.05 pounds
If you're looking for a premium no compromise tripod head that will provide you with the best possible durability, convenience, and stability, then look no further from Manfrotto XPRO Magnesium Ball Head.
Thanks to being made from magnesium, it's more rugged than any aluminum or plastic heads, but also manages to be quite lightweight at the same time. It also features an advanced triple locking system, so your camera never moves under its own weight when you don't want it to. This also means that you will be able to make precise adjustments as well.
Manfrotto has also added newly designed polymer rings so you can enjoy a smoother experience than you would with a regular ball head. The Manfrotto 200 PL Plate is also included, and it's small, easy to use, and offers a firm connection to your camera body thanks to its textured surface and ergonomic shape.
Pros
Great build quality
Not too heavy
Very stable
Easy to operate
Offers easy leveling adjustment
Cons
Higher than average price
Not ideal for professional telephoto lenses combined with DSLRs
---
2. Benro 3-Way Geared Head
Best geared tripod head
Dimensions: 7.76 x 7.94 x 8.12 inches | Weight: 1.9 pounds | Load capacity: 13.2 pounds
If you're looking for something more stable than a ball head and you're using telephoto lenses quite often, then a geared tripod head will be an excellent choice for you, especially the 3-Way model from Benro.
It will allow you to gain more control over your camera while a longer lens is mounted on it and spend less time fiddling with your tripod and more focusing on your exposure, focusing, and composition. This is all thanks to its three knobs, which will allow you to make precision adjustments as well as keep the camera in place when it's necessary.
Each knob also has its own release system, so you can freely adjust a single movement without interfering with your other adjustments. It is also easy to level your camera with the horizon with this geared head thanks to its three bubble levels, each reserved for one position.
Pros
Offers great precision
Allows for very accurate level adjustments
Good durability
Angle markings are a nice addition
Cons
High price point
Load capacity could be better
---
3. Vanguard Alta BH-250 Ball Head
Best value for money tripod head
Dimensions: 4.2 x 4.2 x 4.6 inches | Weight: 1.3 pounds | Load capacity: 44 pounds
The Vanguard Alta BH-250 Ball Head does the best job of all tripod heads when it comes to offering a very solid package of useful features and specs while also being offered at a fair price that fits them very well.
It may not be the most compact or the lightest ball tripod head around, but it features very good build quality thanks to being crafted from aircraft-grade aluminum. The grippy texture found on each of its knobs is also a nice addition since it will allow you to make precise adjustments more easily.
Those three knobs also add to its stability and versatility. They will allow you to lock the ball into place, choose the right amount of friction, or to achieve smooth panning while you're recording video or taking a series of photos intended to be stitched into a panoramic picture.
Pros
Excellent load capacity
Great value for money
Has a total of three adjustment knobs
Good durability and build quality
Easy to operate
Cons
Its silver color may not be everyone's cup of tea
May be too heavy for some people
---
4. Oben BE-117 Ball Head
Second best value for money tripod head
Dimensions: 4.9 x 4.3 x 3.4 inches | Weight: 1.1 pounds | Load capacity: 17.6 pounds
The Oben BE-117 Ball Head presents itself as a good choice if you want a tripod head with a balanced set of features that you can use on your tripod.
It works just like your standard ball tripod head does, so it will be easy to use, no matter if you're a seasoned professional or just a beginner photographer. There are two knobs on it, one is used to tighten the plate, and the other is for the ball mechanism itself.
Since it's compatible with Arca Swiss quick release plates, you will always have the option to switch the included one for a different one if required, which certainly adds to its flexibility. We also like that the head is also not too heavy, making it easy to transport around.
Pros
Great value for money
Not too heavy
Separate panning lock
Has two bubble levels to keep your camera straight
Easy to operate
Cons
Only average build quality
Could be compatible with more types of plates
---
5. 3 Legged Thing AirHed Pro
Best rugged tripod head
Dimensions: 4.5 x 4.2 x 3.8 inches | Weight: 0.85 pounds | Load capacity: 88 pounds
The 3 Legged Thing AirHed Pro is the type of tripod ball head that will immediately appeal to you if you require great build quality and more importantly, very high load capacity. It will cost you a pretty penny, but that has always been the case with well made photography gear.
The headline feature of the AirHed Pro, aside from its standout looks thanks to the orange accents combined with a dark color scheme, is its load capacity of 88 pounds. This means that it's capable of handling even the heaviest camera and lens combos, making it perfect for bright aperture prime telephoto lenses.
It's also impressive that it manages to achieve such high build quality while also being relatively compact and lightweight, and the magnesium alloy construction is to thank for it. It's also dead simple to operate and is compatible with traditional Arca Swiss quick release plates.
Pros
Extremely good load capacity
Lightweight construction
Great build quality
Very easy to use
Compatible with standard Arca Swiss plates
Cons
---
6. iOptron 3305A SkyTracker Ball Head
Best lightweight tripod head
Dimensions: 2 x 4 x 3 inches | Weight: 0.95 pounds | Load capacity: 20 pounds
If getting a lightweight and portable tripod head is your main priority and you also want one that's reasonably priced, choosing the iOptron SkyTracker Ball Head as your next purchase would certainly be a good choice.
Designed to fit in most backpacks and carrying cases, you won't even notice you're carrying it with you no matter how long or demanding your journey is. It's also very easy to operate thanks to its traditional ball head design and three built-in adjustment knobs. A quick-release plate is also included to make your life easier.
It also has decent load capacity, which makes it a great option for any kind of astrophotography setups, even if they include a longer telephoto lens and some additional gear like the star tracker, especially if you're using a mirrorless camera or a smaller DSLR. We wouldn't recommend it if you're using a large full-frame DSLR or a medium format camera.
Pros
Doesn't cost too much money
Lightweight construction
Simple to operate
Has a total of three adjustment knobs
Compact dimensions
Cons
Averagely good build quality
Not a perfect choice for professional DSLRs
---
7. SIOTI Ball Head Tripod Mount
Best budget tripod head
Dimensions: 7 x 9 x 10.2 inches | Weight: 1.39 pounds | Load capacity: 44 pounds
The SIOTI Ball Head Tripod Mount is a simple to use, affordable, and a no-frills ball head that's perfectly suitable for starter photographers looking for their first tripod head or for enthusiasts looking to save a few bucks for a decent backup to their main one.
You can expect to get decent build quality from this head, a fact which is supported by its above-average load capacity of 44 pounds, making it a good choice even for users of heavy and bulky professional full-frame DSLRs.
Thanks to its traditional ball tripod head design and construction, anyone who used a tripod before will feel right at home with it, and first-time users won't have to spend a lot of their time learning how to use it properly and efficiently. Just tighten the plate with one knob and use the other two to lock the ball and adjust the panning position and shoot away.
Pros
Affordable price point
Excellent load capacity
Very easy to use
Works great with mirrorless as well as professional DSLR cameras
Cons
Bigger and heavier than a lot of other ball tripod heads
Build quality is nothing to write home about
---
8. SIOTI 360°Panoramic Head
Best versatile panoramic tripod head
No products found.
Dimensions: 3.94 x 2.76 x 1.58 inches | Weight: 0.58 pounds | Load capacity: 11 pounds
This versatile head mount can actually be used in multiple scenarios. Firstly we'll cover it 360-degree panoramic head. It works by giving you precise control of your 360-degree panning motion and allowing you to capture images that can later be stitch together in post editing into professional-looking panoramas. If you're using a smaller mirrorless camera or a DSLR, the SIOTI Panoramic Head will be able to handle it. Still, we wouldn't recommend overloading it as its load capacity is only 11-pounds.
It's also a quick-release plate that is compatible with any tripod or tripod head with a 1/4″ or 3/8″ Mount.
Made from aluminum alloy and special coatings that protect it from corrosion and gives it even more overall rigidity. The head itself is also easy to use, with two adjustment knobs, one used to control the panning motion and the other to lock in the quick release plate.
Pros
Great value for money
Very good build quality
Use as either a 360 panoramic or a quick release plate
Compatible with standard tripods and tripod ball heads
Cons
Load capacity is a little low
---
Tripod head buying guide
What to look for when buying a tripod head
Before looking at any tripod head specifications, you will need to decide which camera and lens combination you'll be using on your tripod. Mirrorless and compact camera users will be able to get away with using more lightweight or affordable tripod heads, but only if they also have a smaller lens mounted on them.
If a DSLR or any kind of longer and heavier professional lens comes into play, you'll need to make sure that your tripod head is stable and sturdy enough to handle all that weight without having an impact on stability, or even worse, your tripod and camera toppling over to the ground and causing damage to your gear.
Which type of tripod head is best for astrophotography?
It depends on the type of astrophotography you're interested in. If you're mainly shooting wide-angle photos, especially if you're using a mirrorless camera, then a good quality ball head will serve you well. If you're taking images of specific planetary bodies and you're using a longer telephoto lens, then it would be a good idea to invest in a gimbal tripod head.
Is a ball head tripod better?
A tripod with a ball head is something you'll find in most camera stores and is the most common sight among many types of photographers. They are a great choice for anyone who values simplicity and ease of use, even if we're talking about enthusiasts.
They are also being sold at many different price points and, for that reason, can be found in the hands of both beginners and professional photographers. So, they are certainly a better choice for many people than any other type of tripods simply because of their balanced nature.
What are the different types of tripod heads?
Ball head
The ball heads are the most common types of tripod heads and the most popular ones amongst many photographers, especially if they're on a tighter budget. They will let you put your camera in almost any conceivable position possible, making them very versatile. Their only drawback is that it's not easy to make subtle and precise adjustments with them.
Pistol grip head
The pistol grip tripod heads are very similar to traditional ball heads. They perform the same duty, but in a different way. Instead of using knobs to tighten the head and lock it in position, pistol grip heads use a trigger which while squeezed, releases the tension and brings it back when released. This makes them easier to use than the tripod ball heads.
Pan & tilt head
The pan and tilt tripod heads are a great step up from traditional ball heads and will give you more precision when it comes to making smaller adjustments. They work by giving you control over three separate motions: horizontal, vertical, and panning. You'll just have to adjust to the increased weight and size over the ball heads.
Fluid head
Fluid heads are very similar in concept to pan and tilt heads and include all of their benefits with the inclusion of an additional one, their ability to adjust the amount of friction while you're operating it. This means even smoother panning shots, which makes them especially useful to videographers. They also come with large handles for added stability.
Geared head
The geared tripod heads are the most stable and robust out of all tripod heads. They use three separate knobs for adjusting the front and back tilt, the lateral tilt as well as the panning. Working like that gives them an unparalleled level of precision, allowing you to make very fine adjustments and getting your camera in a perfect position.
Gimbal head
The gimbal tripod heads are the best friends of wildlife and sports photographers since they are capable of stabilizing the biggest and the heaviest telephoto lenses as well as professional DSLR bodies. They are very intuitive to use, giving you a lot of control and feel while you're moving your lens around and without any of the annoying shakiness to ruin the experience.
Panoramic head
As their name already implies, panoramic tripod heads are used to create professional looking panoramic images using your mirrorless camera or DSLR. They will allow you to take a series of images that can be perfectly stitched into one panoramic photo in editing or even 360-degree photos for virtual reality effects, giving you the ultimate picture quality and precision.
Conclusion
Picking the right tripod head for your tripod is not easy without you acquiring some information beforehand. That's why we did our best to inform you about all the different types of heads and the most desirable ones that are currently available on the market.
Our pick for the best tripod head out there is the Manfrotto XPRO Magnesium Ball Head. The reason for that is its uncompromising build quality, excellent load capacity, the precise level of control, and the overall smoothness of operation it manages to offer over any other head on the market.