Laser pointers are handy astronomical tools that assist both novice and seasoned stargazers in their observations. They are used to accurately pinpoint stars and constellations.
A laser pointer is a great device for teaching your family or friends to navigate the night sky, and just as good for learning your way around the heavens. Astronomy grade laser pointers are often attached to telescopes as a guiding aid.
There is a wide range of designs that vary in shape, size, and the color of the laser. My focus here is on choosing the best green laser pointers for astronomy, like the green laser scope by Higoo. I'll also show you how to use them responsibly.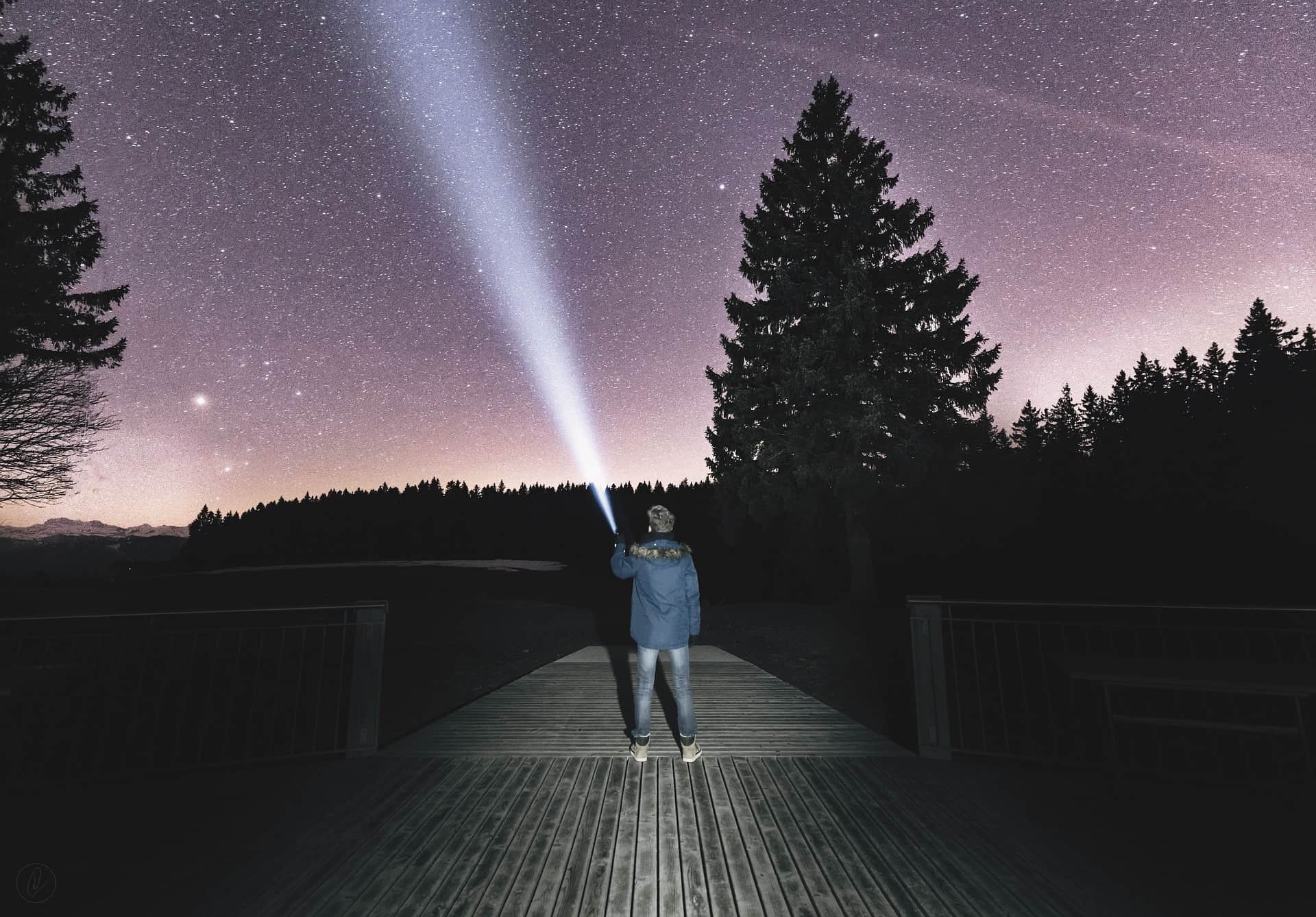 Our Top Astronomy Laser Pointers At A Glance
The Best Laser Pointer for Astronomy
It might seem like laser pointers aren't worth the hassle, but they can be a great addition to any star party so long as you consider the regulations. Now that I've covered the important information, I want to show you my top picks.
---
1. Higoo's Military Tactical Hunting Green Laser Scope
Best Overall Laser Pointer
This is a good laser pointer for astronomy because of its impressive scope range. The green beam can span as far as 1.2 miles at night, and just over 300 feet during the day.
This pointer is made from a lightweight but durable aluminum alloy and is packaged with everything you need to get started. It includes a battery, a storage box, a wrench, and two switches. What stood out to me is that it's quality controlled and guaranteed.
Pros
Reach Is Excellent.
Could be the best green laser pointer for stargazing.
Light is easily visible during the day.
Set up is easy.
Laser is quality controlled.
Cons
It's chunkier than other brands.
The battery is not as durable as other models.
---
2. LUCHENG High Power tactical Astronomical Laser
Best High Powered Laser Pointer
No products found.
The Lucheng laser pointer is not well known, but it's an excellent choice if you're looking for a green laser pointer brand that is a little different. It's built with good quality aluminum, and the green light can reach as far as a mile at night. It's a multi-purpose laser that you can use during the day as well.
This simple package includes 1×18650 battery, charger, and two keys. There is also a customer satisfaction guarantee with this brand, and it's revered by the majority of users as one of the best color laser pointers for astronomy.
Pros
The laser has a wide range.
Made from good quality materials.
Multi-purpose, and is good for daylight use.
Package includes everything you need to get started.
Customers are extremely happy with its efficiency.
Digital interface is compatible with almost all operating systems.
Cons
The blue light is not quite as strong as green.
If used indoors, there is a safety hazard as it emits enough light to ignite flammable materials.
Batteries could be stronger.
---
3. Dinofire Wireless Presenter with Green L

​​

ight
Best All-Rounder Laser Pointer
This pointer is a great option regardless of your experience. It's a versatile and efficient all-purpose laser.
At first glance, you might think that this laser pointer isn't made for astronomy. It's primarily marketed as a wireless pointer for presentations, but that is just a bonus. It is powerful enough to use against the night sky, and it's green so it's perfect for stargazing.
The maximum output is a safe five milliwatts and it has a reach of just over 600 feet.
Its lithium battery is rechargeable too, so you can save money instead of replacing disposables. There is a great warranty upon purchase, which is a nice cherry on top. The Dinofire has made its mark as one of the best laser pointers for astronomy.
Pros
Green laser pointer for stargazing
A multi-purpose pointer that can be used for indoor presentations.
Maximum output is well within the safe zone.
Rechargeable battery that lasts quite long.
Generous three-year warranty.
Cons
Buttons can be a little bit tricky in the dark.
It has an unconventional design.
Range is not as far as some other pointers.
---
4. Cofeymera USB Rechargeable Green Laser Pointer
Best Budget Laser Pointer
No products found.
Here is a laser pointer that is easy to use for astronomy and other outdoor activities. It's great to know that its focus isn't only on presentations.
What's even greater is that this is a budget friendly option which will suit beginners and seasoned stargazers alike.
The main differentiating point of this laser is it has a built in USB charging port at one end, so no need to bring additional batteries.
Simply plug in the supplied USB cable and you'll be charged up in no time, (great for charging while in the car too).
As with any other astronomical laser pointer, green is a great choice. It's a compact product available in different styles that will suit all of your needs. It might be simple compared to others in its class, but that's what makes it a wise choice for beginners.
Pros
The bright, green light is great for stargazing and other outdoor activities.
It's compact.
Affordable.
Customer satisfaction is great.
An ideal choice for beginner stargazers.
Cons
Although the battery is rechargeable, it'll take a while to be charged fully.
Model quality could be better, but remember this is a budget choice.
---
5. Pinty Hunting Rifle Green Laser Sight Dot Scope
Best Green Laser Pointer
The green laser dot scope from Pinty is marketed as a laser for hunting, but it works just as well for astronomy. One of the standout features of the hunting laser dot scope is its durability.
It's made from aerospace-grade aluminum so is built to last, withstanding any accidental knocks quite well. Pinty's green laser for stargazing is also suitable to use under any weather conditions, and you don't have to worry about damaging your device.
I like how strong the laser's beam is. It extends for up to 1000 feet at night, making it easy to point out stars, satellites, and planets—even under less than ideal viewing conditions. This makes it a good laser pointer to attach to your telescope. It has the standard 532 nm wavelength that you want from an astronomy laser pointer.
The laser was designed with ease of use in mind. It's easy to mount to your instrument and has a convenient interchangeable switch for smooth operation.
Pros
Made from durable metals.
A great green laser pointer for stargazing.
The laser can be remotely operated.
5mw/3A strength suited for night sky observations.
All-inclusive pack with batteries, mounts and storage box.
Cons
Batteries are prone to draining quickly.
The beam has a long range, which could be problematic in crowded areas and locations with lots of air traffic.
---
6. Barsk

​​

a GLX 5mW Green Laser
Best Versatile Laser Pointer
The Barska GLX laser is a quality laser made with a diamond cut exterior grip, and a strong aluminum body that is both durable and comfortable to use. This versatile laser is suitable for a wide variety of outdoor activities, including hunting and astronomy.
The high-intensity beam makes it simple to zero into distant targets, as the best green laser pointers for astronomy should. It's a great laser for mounting to your telescope or for just simply pointing out stars.
Pros
A bright and sharp beam that clearly focuses on distant objects.
Adjustment knobs that give you the freedom to choose your brightness settings.
Includes a contact switch so it can be mounted to your instrument.
The laser package comes complete with a continuous push button on/off switch and a momentary on/off long cable switch.
Cons
You may not be able to purchase this laser pointer based on your location.
Does not have the most powerful beam compared to similar products.
---
7. Ozark Armament Green Las

​​

er Sight System (5mw 532nm High Powered Tactical Green Laser)
Best Value Laser Pointer
This green laser a valuable accessory for learning to navigate the skies. I would recommend using it to point out constellations and bright stars when you're trying to teach your family or friends astronomy.
It's not the strongest laser, which makes it a good choice to use in more built-up areas. It's still one of the best green laser pointers for astronomy, though, so don't let that deter you. It's an affordable entry-level device that comes with great standard accessories.
Pros
Has a convenient pressure switch that makes it simple to operate.
Strong, impact resistant body.
Includes a mount with a pressure pad for easy activation.
Cons
Less than 5mw so not one of the strongest laser beams for astronomy
Grade 3R rather than the standard Class 3A laser
---
8. WORD GX High Powered Green Laser Beam
Best Compact Laser Pointer
No products found.
This green laser might look like a lightsaber straight from star wars, but it turns out it is a great choice for an astronomy laser pointer when your stargazing.
Powered by a 3.7V 18650 Li-ion Rechargeable Battery, you'll have no trouble seeing the laser in the sky when you point at the night sky constellations.
The beam has an adjustable focus, making it a multipurpose astronomy light. You can have the laser adjusted to a pinpoint so you can point out the stars, or make it wider and use it around the campsite, or even while you hunting or hiking.
Pros
It's green, so perfect for stargazing.
Focusable laser lens – making the beam adjustable.
Mid-sized – so fits comfortably in your hand.
The powerful laser is an excellent choice for amateur or beginner stargazers.
Cons
Not standard AA batteries, so a little harder to source replacements.
---
Choosing an Astronomy Grade Laser Pointer
Most amateur stargazers are keen to use laser pointers as an astronomy accessory. They are simple to use, but a lot of people are unsure of what specs make a good laser pointer for astronomy. Here is what to look for:
Brightness
The power of typical lasers used for amateur astronomy is measured in milliwatts (mW). There are stronger star lasers that have enough output power to be measured in watts, but they are not for civilian use. A laser with output power levels of around five milliwatts is sufficient for backyard astronomy, and these are known as Class 3A lasers.
If you want an astronomical laser pointer, green is one of the brightest and easiest to see. With a green laser pointer, star gazing becomes a whole lot easier.
Color – What Is the Best Color Laser Pointer for Astronomy?
Laser pointers come in a range of colors which all have their own advantages. For an astronomical laser pointer, green is the preferred color. The human eye perceives green more easily than other colors in low light conditions.
A green laser pointer for stargazing emits a beam at a wavelength of 532 nanometers which suits our dark-adapted vision.
Most stargazers use green laser pointers. A green laser pointer with a lower power output will still appear brighter than, for example, a red laser pointer with a higher milliwatt output.
There are also blue-violet laser pointers suitable for night time observations. Overall, it's unanimous that when choosing an astronomical laser pointer, green is your best bet.
But even if you don't (or can't) choose a green laser pointer and end up with another color, star gazing is still better when you don't have to struggle to find what you're looking for in the sky.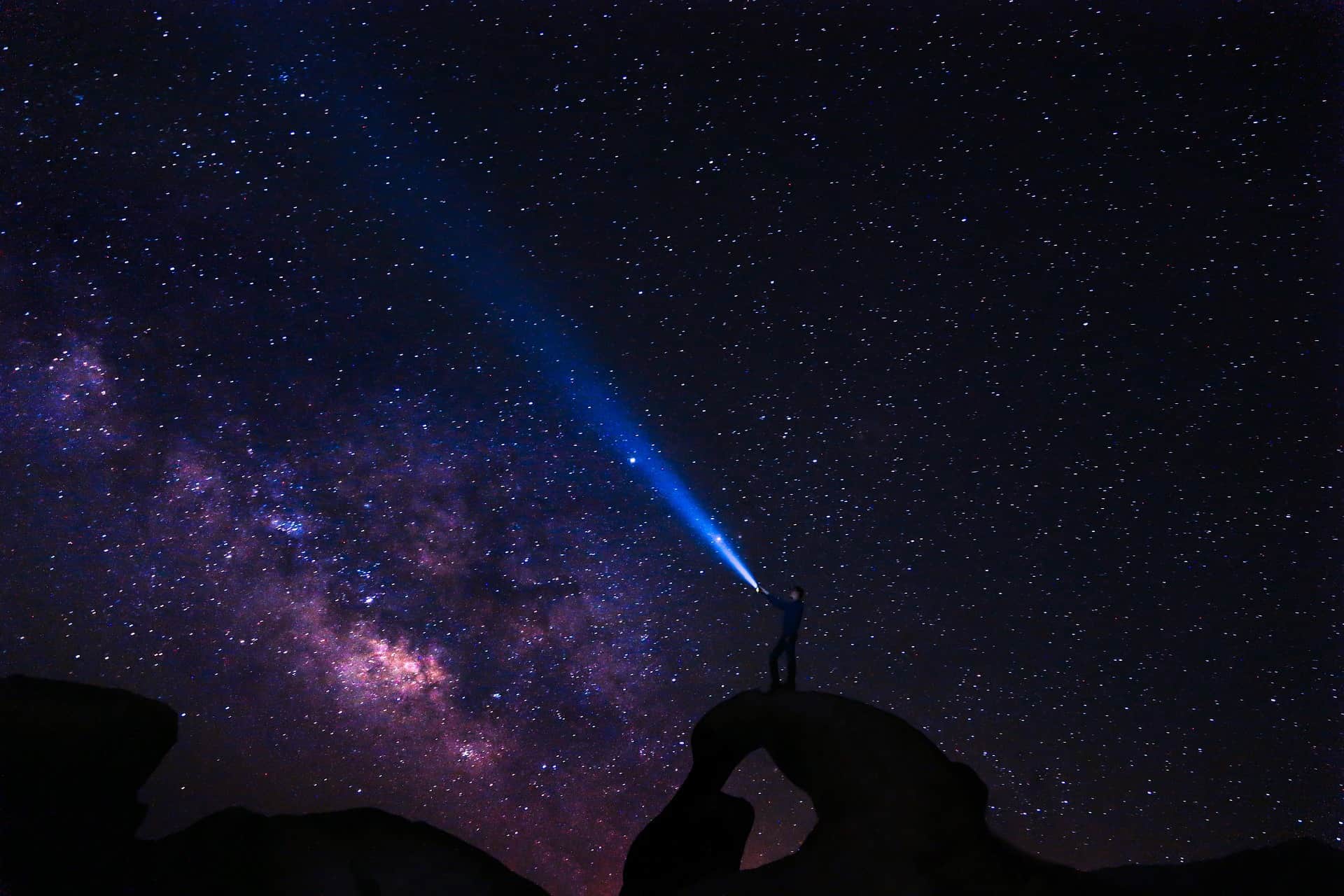 Usability
Astronomy laser pointers are available in several styles. The two main types of laser pointers tailored for astronomy are handheld pointers and laser attachments. A handheld pointer is very useful for group observations, like star parties.
It allows you to engage the group as a whole since everyone can easily see where to look. Laser attachments are mounted on to your telescope. With a green laser pointer, star gazing and locating targets is a breeze as you can focus in on objects accurately in no time.
There are also laser pointers with the ability to make focus adjustments by changing the size of the beam. It's a handy feature as it can increase visibility in certain lighting and weather conditions. Keep in mind that an adjustable focus is optional since you would not normally want to be out observing unless visibility is good.
How Do Laser Pointers Work?
An astronomy laser pointer, or star laser pointer, is a powerful but surprisingly simple device. The most basic design of a good laser pointer for astronomy consists of a small circuit board and few components. The beam of an astronomy grade laser pointer can extend up to five miles in good conditions.
The beam essentially ends at the target star or constellation you are pointing at. This is why an astronomy laser pointer is so useful to amateur astronomers. You don't have to struggle to point out dim objects like a needle in a stellar haystack.
With a laser pointer, night sky viewing is simplified for all involved and you spend less time finding your way across the sky. With a green laser pointer, star gazing is even more enjoyable, as green is the easiest laser light we can follow with our eyes.
The majority of laser pointers work by holding down a button to produce the beam. Newer models have features that keep the beam on without having to hold a button.
I prefer these designs because it makes the star laser pointer more effective to use when it's attached to your telescope and your hands are busy positioning or steadying the telescope.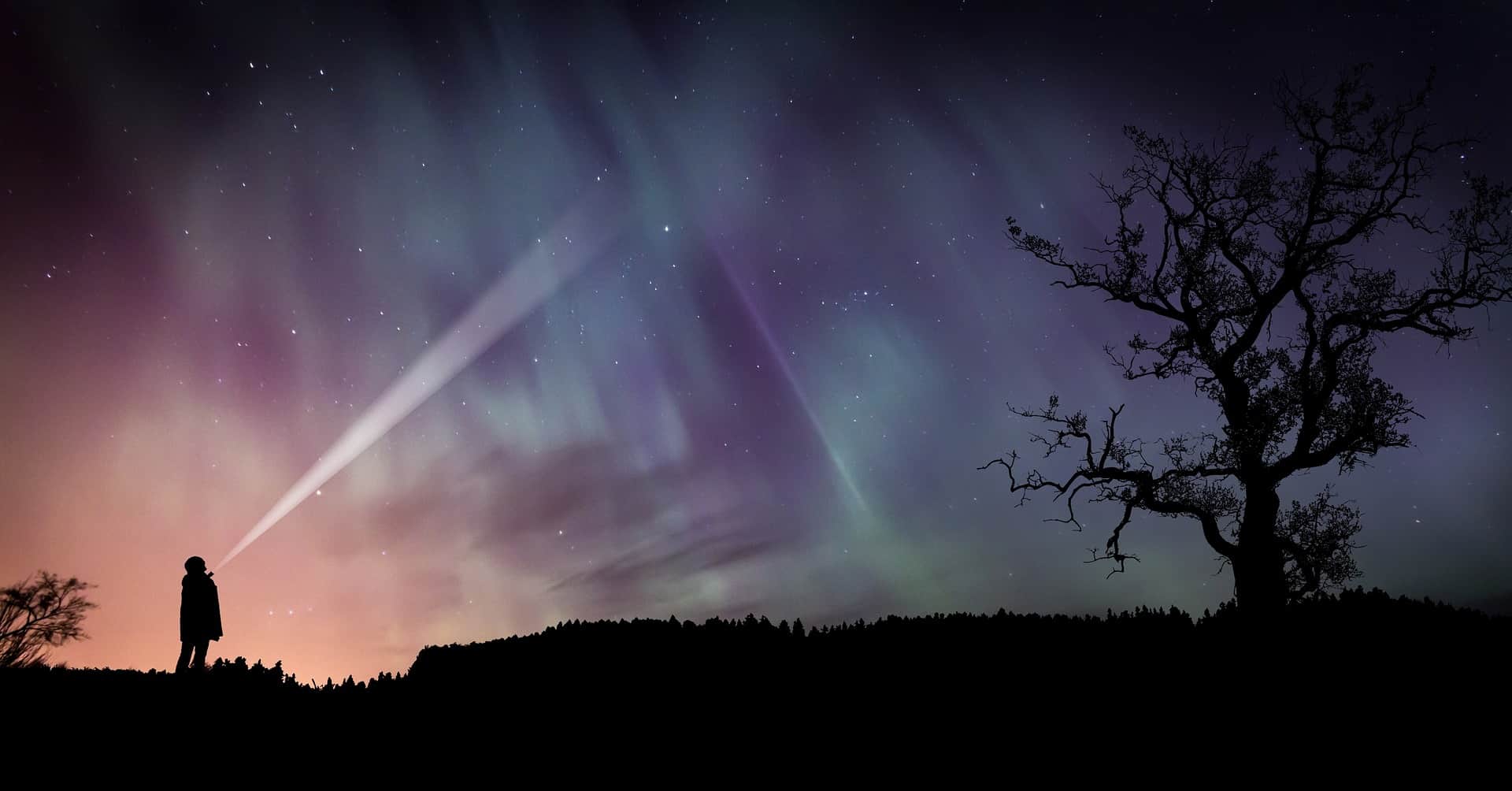 ​Laser Pointer Regulations and Safety
It's so common to underestimate the potential dangers of using a star laser pointer. Some of the most common pitfalls are injuries and run-ins with the law. The light of an astronomy grade laser pointer is strong enough to impair vision and cause accidents for aircraft and vehicles.
Follow these precautions and regulations so that your experience using lasers is hassle-free.
Commercial lasers are made to shine light onto distant stationary objects. They should never be used for pointing at another person, vehicle, or aircraft of any kind.
Protect your vision by never aiming the beam of the laser pointer into your own (or another person's) eyes. Flash blindness may result, and some lasers are strong enough to cause permanent damage to the retina. Also, avoid all contact with the skin. It is possible to damage skin by using a strong laser pointer incorrectly.
Teach children that lasers are not toys and educate them on the dangers of lasers. Do not allow children to use a laser pointer unsupervised. Be sure to store your laser pointer out of their reach.
Avoid directing the laser pointer at reflective surfaces. The beam may bounce back and inadvertently hit you or another person in the eyes.
It is wise to use protective eyewear while using lasers, especially if you are new to using the device.
Do not aim the laser pointer through the optics of binoculars or telescopes. This increases the intensity and range of the beam beyond what is safe and legal.
Do not leave a telescope that is attached to a laser pointer with a "constant-on" setting unattended. It is always best to disable this feature before stepping away from your telescope, even if only for a brief moment.
Commercial lasers are designed with a specific intention and safety in mind. These laser pointers come with cautionary stickers that specify their class and intended purposes.
A standard laser should be labeled Class 3A and no higher (Class 3B or 34). Do not purchase a laser pointer that does not have this safety information, and immediately report the manufacturers to the authorities.
A couple of years ago, the National Institute of Standards and Technology (NIST) conducted tests on commercial laser pointers. They found that 90 percent of the green lasers typically sold for uses like amateur astronomy did not meet safety regulations. These lasers exceeded power level restrictions, emitting double the power maximum specified by the law.
A number of poor-quality green lasers were also shown to emit harmful levels of radiation. Always choose a laser made with coatings and/or filters to confine radiation.
There are two more considerations when contemplating the use of a star laser pointer.
Follow the rules of your star party group. First, get permission to bring a laser to your gatherings. Some groups prohibit the use of laser pointers and it's always best to comply.
You have to be outside a certain range of an airport to legally use a laser pointer. The standard is usually 10 miles from the airport. Phone your local authorities for the specific restrictions you must comply with.
These steps may seem drastic or unnecessary, but laser pointers have already come under fire for the dangers they can pose to aircraft safety and national security since the beams can follow aircraft in flight. It may seem like a fun idea to aim your laser at helicopters and boeings, but these actions can get you arrested!
Conclusion
A reliable green laser pointer for stargazing is still an underrated astronomy accessory. As the popularity of the device increases, so do the concerns about the use of lasers in non-commercial uses. It's so important to be responsible when purchasing and using green laser pointers so that we can all continue to benefit from them in amateur astronomy.
My favorite one is the Higoo's Military Tactical Hunting Green Laser Scope. Its quality stood out to me, as did its ease of use, high visibility, and efficiency.
I think it's a great place to start if you are new to lasers, and works like a charm if you're not. With your new laser pointer, night sky watching will be better than ever.