If you need something more portable than the traditional backpack to carry your lenses with you on all of your travels, but you're not willing to sacrifice durability and the padding necessary to protect those lenses, then you should look into getting a lens case or a pouch.
They come in all sorts of different shapes and sizes and can hold all kinds of lenses, from smaller ones compatible with mirrorless cameras to large and bulkier professional telephoto lenses.
Some are also more focused on being rugged and resistant to elements or potential shock damage, while some target those users looking for an affordable and lightweight case.
If you're looking for the very best case and one that's well rounded in terms of its features, the BPaull Lens Pouch is the one to look for. If you're still unsure of what kind of a lens case you really need, check the rest of the lens cases in our article and be sure to take a look at the buying guide as well.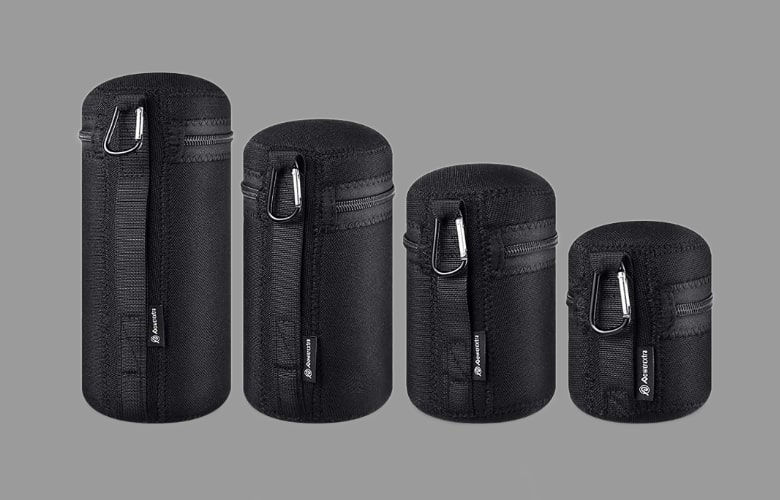 List of the best lens cases and pouches
---
1. BPaull Lens Pouch
Best lens case
Dimensions: 15.8 x 8.1 x 7.9 inches | Weight: 27.2 | Brand: BPAULL
The BPaull Lens Pouch is a great example of how a professionally made lens case should look like. First, it's designed to be very rugged and capable of withstanding everything from accidental misuse to water damage. This is all due to the very thick nylon material on the outside and also very thick padding on the inside. A part of that padding is also removable.
The BPaull Lens Pouch is also sold in many different sizes and suited to everything from smaller 35 or 50mm primes to long telephoto lenses like the 70-200 or 300mm primes. It also has a built-in belt loop and more importantly, a detachable padded shoulder strap so you can carry it with you almost like a smaller traditional backpack.
Pros
Capable of holding even a longer telephoto lens
Waterproof
Very thick padding inside of it provides a great level of shock protection
Can be attached to a number of things
Includes a padded strap
Cons
Could offer more intuitive zipper design
---
2. Tycka Lens Pouch
Second best lens case
No products found.
Dimensions: 14.8 x 10.71 x 4.84 inches | Weight: 10.8 ounces | Brand: TYCKA
Here we have a set of four lens pouches from Tycka. They all follow the same design style but are meant for lenses of different sizes ranging from standard zooms with focal lengths around 24-70mm to telephoto ones like 70-300mm. You could also fit wide aperture primes like 50mm f1.4 or 135mm f2.8 inside of them.
There's a single mesh pocket inside each of those pouches capable of holding your lens caps or polarizing filters, but also a metal clip on the outside so you can attach them securely to almost any backpack. The primary material used to create the pouches provides tear and scratch resistance as well as protection from dust and water.
Pros
Great value for money
Water and dustproof
Thick interior padding
Suitable for many different types of lenses
Include a metal buckle for easy attachment to a backpack
Cons
Hard to fit a lens together with its hood
---
3. Zecti Thick Protective Lens Pouches
Best budget lens case
Dimensions: 11.5 x 7.1 x 3.4 inches | Weight: 11.2 ounces | Brand: Zecti
The Zecti Protective Lens Pouches is a nice set of lens cases that won't set you back for a lot of money but will give you a chance to carry your most important lenses with you without any hassle. They also manage to look rather unique thanks to their durable brown canvas material and white tops with drawstrings for easier operation.
That canvas material is also waterproof, which is certainly a nice bonus and the one behind it is super soft, so there's no way for your lenses to be accidentally scratched while you're moving around with them. Since the package includes three pouches, nothing is stopping you from using one of them to store your water bottle or anything else in need of extra protection.
Pros
Great price point
Unique design
Water-resistant
Easy to use
Three different case sizes
Cons
No additional pockets for lens caps or filters
---
4. AmazonBasics Camera Lens Case
Second best budget lens case
Dimensions: 8.7 x 4 x 4 inches | Weight: 8 ounces | Brand: AmazonBasics
A set of four lens cases from AmazonBasics is a great option if you're looking for a practical way to carry your lenses with you but are just starting out with photography or dealing with a limited budget. No matter if you're using some kind of a kit lens or a medium telephoto zoom, at least one of these cases will be able to accommodate those lenses.
They also offer decent water protection thanks to being made from neoprene material and will protect your lenses from scratches or drops. While the material itself is almost 0.2 inches thick, we would still advise you to place some extra care with these cases since they aren't as rugged as other more premium cases on the market, but that's no surprise considering their price.
Pros
Great value for money
Four different sizes of cases included
Water-resistant
Easy to use
Can be mounted on many different things
Cons
Could offer more drop and shock protection
Not as water-resistant as more expensive options
---
5. JJC DLP-7 Deluxe Water-Resistant Lens Pouch
Best lightweight lens case
Dimensions: 12 x 5 x 5 inches | Weight: 5.6 ounces | Brand: JJC
The JJC DLP-7 Deluxe is a great option for anyone looking for a lens case that's very portable and easy to carry, but one that also offers enough storage space even for a telephoto lens and at the same time doesn't cost too much money. Without a doubt, this is the best lens case of its type currently available on the market.
With a weight of only 5.6 ounces and 12 x 5 x 5 inches in size, it won't burden you too much even if you're not in top shape or you're having health issues related to your back or shoulders. You also won't have to worry too much about durability since the case is made from durable and water-resistant material and also has decently thick padding inside of it.
Pros
Good value for money
Extremely lightweight and portable
Water-resistant
Decent amount of storage space
Offers up to three different carrying options
Cons
Some lens hoods won't fit
Not very customizable
---
6. USA GEAR FlexARMOR Protective Neoprene Lens Case Pouch
Second best lightweight lens case
Dimensions: 8.25 x 4 x 8.25 inches | Weight: 7.2 ounces | Brand: USA Gear
If you're the type of person who likes funky and colorful designs but also looking for a couple of lightweight lens cases that are easy to carry around, then the set of three FlexARMOR pouches from USA Gear should certainly satisfy your needs. You'll be given a choice of many designs, from black color with white dots to those space-themed ones with stars and nebulae.
The neoprene material also gives the cases the needed flexibility to hold several different lenses but also nice durability and scratch resistance. The padding on the inside is also there for added shock protection. USA Gear has also included belt loops and clip attachments to add a little more flexibility when it comes to mounting the cases on other types of gear.
Pros
Good value for money
Very unique design
Three different case sizes
Durable construction
Easy and intuitive operation
Cons
Not suitable for professional telephoto lenses
---
7. Lowepro Lens Case
Best telephoto lens case
Dimensions: 6.5 x 6.9 x 11.2 inches | Weight: 10.6 ounces | Brand: Lowepro
The Lowepro Lens Case is a simple to use, well-built product that's perfect for carrying telephoto lenses, no matter if they are traditional 70-300mm zooms or wide aperture primes. Thanks to the thick foam padding inside of it, it will protect your lens from any possible shock protection, even if you accidentally drop the case.
There's a small mesh pocket on the inside of the top half of the case, which you'll be able to use to store a lens hood, a lens cap, or an assortment of filters. The case also has additional straps to help you attach it to a bigger bag or a belt and the necessary straps to let you carry it on your shoulder, just like a smaller backpack.
Pros
Fair price point
Can fit a large wide aperture telephoto lens
Not too heavy and built well
Thick padding provides nice protection for any lens
Moisture and dust resistant
Cons
Not suitable for smaller lenses
---
8. Koolertron Camera and Lens Case
Best large capacity lens case
Dimensions: 14.5 x 10 x 5.8 inches | Weight: 18.4 ounces | Brand: Koolertron
The Koolertron Camera and Lens Case aims to offer as much room as possible while also protecting all your camera gear from water or accidental dings and drops from reasonable heights. It's technically not only a lens case and can fit your camera as well, but it does come with the necessary padded separators optimized only for lenses.
Its main compartment can be customized in many ways, so you can set it up to hold up to eight smaller lenses, a couple of standard ones and a telephoto lens, or even a wide aperture telephoto lens if that's what you need for your type of work. There's also a large zippered pocket inside the case for all of your accessories like lens caps, filters, or cleaning tools.
Pros
Great value for money
Durable and waterproof construction
Padded separators offer good protection and help with organization
Provides a lot of storage room
Easy to use
Cons
Bulkier and heavier than most lens cases and pouches
Could be more comfortable to carry
---
9. Beta Shell Protective Hard Case
Best waterproof lens case
Dimensions: 9.3 x 4.7 x 4.7 inches | Weight: 22.4 ounces | Brand: Beta Shell
The Beta Shell Protective Hard Case, as it says its name, is all about protecting your lens from unwanted drops or the elements. It's also far from being the most stylish lens case out there, sporting a more industrial and serious look. There aren't any zippers or drawstrings to be found here and instead, there's a lid on the top which twists and provides a very tight seal.
While this lens case provides adequate shock protection, it will be much more useful to you if you're working in those environments with a lot of rainfall or if you find yourself crossing ponds or rivers on your travels, where it's water resistance up to 5 meters of depth will come especially handy. It also won't burden you with its size or weight.
Pros
Very durable construction
Water-resistant up to 5 meters
Easy to operate
Not too big considering how rugged it is
Cons
A little pricey
Not enough storage room for a professional telephoto lens
---
10. Nanuk 905 Case
Best heavy duty lens case
Dimensions: 12.5 x 10.1 x 6 inches | Weight: 52.8 ounces | Brand: Nanuk
If you often find yourself in situations where conditions are harsh and you need the ultimate protection for your lenses, what you need is a hardshell case. The Nanuk 905's main purpose is exactly that, protecting your investment from accidental dings, hits, drops or from dust, water, and moisture. It all does come at the cost of size and price, but that's to be expected.
The outer shell of the 905 is made from NK-7 resin, a material that's very resistant to any kind of shock or impact. Together with the foam inserts inside the case, it creates an excellent setup for demanding journeys. There's also an automatic purge valve that equalizes the pressure inside the case and heavy-duty latches that make sure the case stays shut whenever it needs to.
If you still like the idea of a Nanuk hard case but you want more storage, see our Nanuk 935 review here.
Pros
Very durable construction
Comes in a variety of colors
Waterproof
Plenty of room for different types of lenses
Sturdy latches are included to make sure that the case stays closed
Cons
Bulkier and heavier than you average lens case
A little pricey
---
Lens Case Buying Guide
What to look for when buying a camera lens case (or pouch)
Storage Capacity: Single or multiple lenses
When it comes to lens cases and pouches, the general rule is that the cases are usually capable of holding multiple lenses in one compartment and are just one piece of travel gear. In contrast, the pouches come in sets and different sizes, with each pouch suited for a different type of lens.
So, the cases can hold more gear at once but are usually bulkier and heavier, while the pouches hold less and are less durable but are much more portable and easier to carry around, especially if you don't own a lot of lenses or you like to travel light.
Waterproof
Nobody wants water or moisture anywhere near their lenses, that's for sure, so it's no wonder that almost every manufacturer out there is taking water protection seriously when it comes to their lens cases and pouches.
All of the cases and pouches on our list offer at least some level of water protection, but buying a lens case over a pouch is always a better idea if you're working in more risky environments since they do offer a higher level of waterproofing.
Quick Recap Of The Best Protective Lens Cases
Conclusion
So, a lens case or a lens pouch, are you ready to decide which piece of portable travel gear will have the honor of protecting your beloved lenses on your next photography adventure? Do you want to look stylish while taking photos, want the ultimate protection, or just want something affordable and lightweight?
We hope that our article has steered you in the right direction and led you to your perfect lens case. If, however, you just want a great all-round case with little to no compromise, you can't go wrong with our best choice, the BPaull Lens Pouch.