The Nanuk 935 is an excellent option for photographers looking for a camera hard case. Its innovative design and high-quality materials ensure your camera and accessories remain safe.
If you're thinking about getting this hard case, but are still unsure if it's for you, we'll help you decide as we take you through our in-depth Nanuk 935 review.
Nanuk continues to be a market leader in the hard case market. Often put head to head with Pelican, many professional photographers and enthusiasts feel Nanuk is the best manufacturer for storing and transporting their gear.
When we first got our hands on this camera hard case, we instantly knew we were handling a premium product. To explain why, we're going to break it down and tell you all you need to know.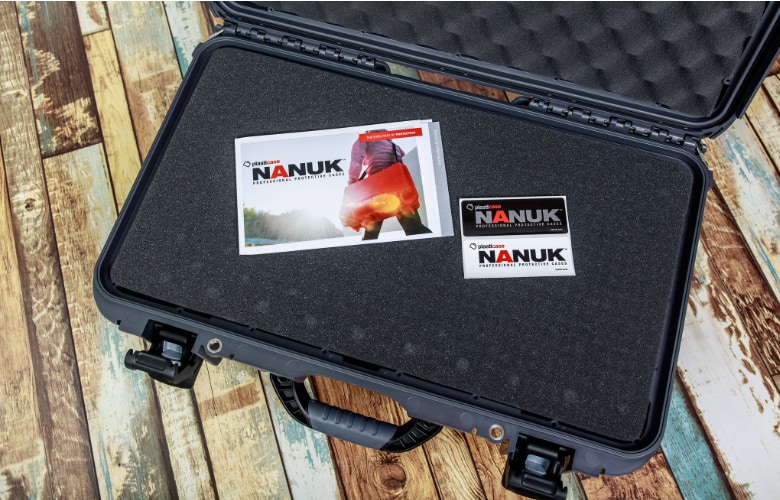 Nanuk 935 Review
Weight: 5kg | Dimensions: (Exterior) 22 × 14 × 9" | Dimensions: (Interior) 20.5 × 11.3 × 7.5" | Lid Depth: 2.1″ | Bottom Depth: 5.4″ | Interior Cubic Volume: 1.00 cu.ft | Wheels: Yes
Pros
Waterproof (IP67 rated), dustproof, shockproof
Made from NK-7 resin
Two PowerClaw (patented) triple action latches
A good range of color options
Cons
---
Nanuk 935 hard case: Things to consider before buying one
While we're certainly big on the Nanuk 935, there are things to consider before you buy it. Let's take a look at some questions worth asking before you decide to invest.
Nanuk Tech Specs
Dimensions
With interior dimensions of 20.5" × 11.3" × 7.5", we would class this as a medium-sized hard case. There's enough space for multiple camera bodies and a selection of lenses. You can opt to install a lid organizer too, which gives you plenty of room to pack the accessories you use for your astrophotography. We have a fair amount of kit here at Night Sky Pix, and we found there was ample room for it in the Nanuk 935.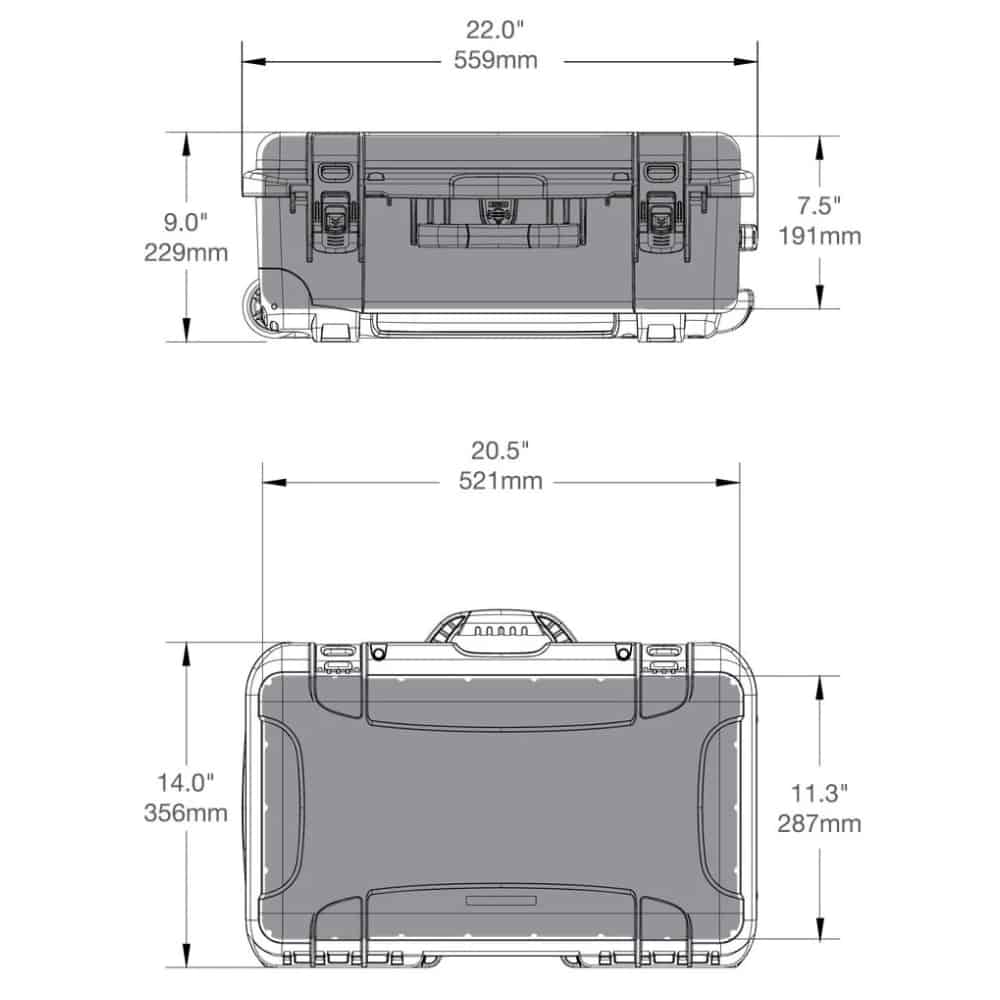 Weight
Weighing five kilograms, the 935 is certainly heavier than your standard camera bag. But when building a robust hard case, one has to expect it to carry some weight. That said, Nanuk has done well to build something relatively lightweight.
Will you feel it if you're carrying it for long periods? Yes. But you can make use of the wheels and handle, which makes transporting it much easier. For the average person, carrying the case won't be an issue, and you can do so with relative ease.
Materials
The Nanuk 935 shell is made with NK-7 resin. In normal terms, Nanuk built this case like a tank. It has withstood some intense testing, which includes dropping a rock on it. The 935 survived, as did the contents inside it. The material does feel a little soft. But don't be fooled; the case wins the fight in a range of challenging conditions.
What Inserts do I want for my Nanuk 935 case?
The way you choose to store your cameras and accessories is important. There are different types of inserts, differing in design, material, and quality. Let's take a look.
Lid Organizer
A lid organizer gives you more storage options. While there are good third-party products, we highly recommend going for Nanuk's own 935 lid organizer. It's super easy to install and comes with three to five zippered compartments, depending on preference. It's the ideal addition if you're looking to carry extra batteries, SD cards, and a camera cleaning kit, as examples.
Foam
Overall, high density, well-made foam will give your equipment the best protection. It's thicker than your standard padding and allows little room for movement for the contents packed in it. It can take up more space, though, reducing the amount of kit you can take with you. There's an option to use Pick and Pluck foam for added customization, giving you a similar experience to padded dividers.
Padded Dividers
Padded dividers are perfect for those who like to mix things up. What's great about them is you have plenty of customization options. But, how do they hold up when it comes to keeping things safe? Nanuk built its dividers with a nylon insert and half-inch thick padding, and they kept our gear very secure and compact.
They're as good as anything else you can get on the market. Because of the materials used, the dividers last a long time and can withstand heavy use over time.
Are Nanuk cases waterproof?
The Nanuk 935 is waterproof and IP67 rated. What exactly does that mean? Well, you'll have no issues getting the case out in rain and snow, for example. All the contents will remain dry, and you can transport them with peace of mind.
If dropped in water, a river, for example, the contents will remain dry in up to three feet of water for 30 minutes. However, if dropped deeper and longer than the stated depth and time, then you'll likely have to say goodbye to your gear – so always take extra care!
Features & benefits
Below we're going to look at some of the core features and benefits of the Nanuk 935
Pricing
The price of a Nanuk hard case is likely to be higher than most third-párty hard cases. That's with good reason, however. You're not only investing in quality but also decades of experience and craftsmanship.
If you're deciding whether to go for a Nanuk or a Pelican, the good news is Nanuk's cases tend to be more affordable. There's no reduction in quality either – for your money, you're still getting one of the best hard cases available.
Range of colors
One thing we like most about this product is the range of colors it comes in. It's nice to feel a little stylish, and Nanuk has kept that in mind.
Other hard cases are often dull in design. That's not the case with the 935. If you want something more vibrant, you can choose between yellow and orange. However, if you prefer to go a little unnoticed, a standard black, grey, and dark green case are also available.
Latches
Nanuk is leading the way when it comes to its hard case latches. Honestly, they're the best we've ever come across. The two patented three-stage Power Claw latches feel so good to use. There's a satisfying feeling, both when we open and close them.
Because of the design, they're smooth and straightforward to open. On the flip side, when locked, they won't fly open easily, even when in challenging conditions.
One should never underestimate the importance of quality latches. Nanuk offers the best in class, and they're a significant factor in setting the case apart from the competition!
Wheels
The wheels are another feature we like about the case. Poorly made wheels can make a case a pain to pull around. That's not the experience we had with the 935. Made with polyurethane, the wheels on the case felt very smooth while transporting. The build quality is impressive too, and they were able to hold up even on rough terrain.
Handle
The handle on the 935 is exceptionally sturdy. It's easily extendable and locks in place when pulling the case. And although built well, it's very easy to extend and retract. We were able to extend it fluidly with just one hand, without having to use excessive force while doing so.
Conclusion
If you're serious about purchasing a hard case, then we highly recommend the Nanuk 935. It easily matches and surpasses the competition, and yes, that includes Pelican.
The latching system really sold us on this case, as did the shell that was able to withstand a beating. The 935 does everything we would expect a case of its kind to do, and that's why it would be a worthy investment for anyone looking for added protection for their cameras, lenses, and accessories.
Whether you're a pro photographer or a passionate hobbyist, you won't go wrong if you choose to purchase the Nanuk 935.