Nanuk and Pelican are synonymous with making professional standard hard cases. They are two of the most recognizable brands in the industry and are popular amongst astrophotographers looking for extra protection for their gear.
The Nanuk 935 and the Pelican 1510 are two of the best sellers for each brand. But although they have the same function, it doesn't mean they're the same. There are a handful of differences you should know about before committing to one of these camera hard cases.
To help you make the right decision on which hard case is right for you, we put both the 935 and the 1510 head to head.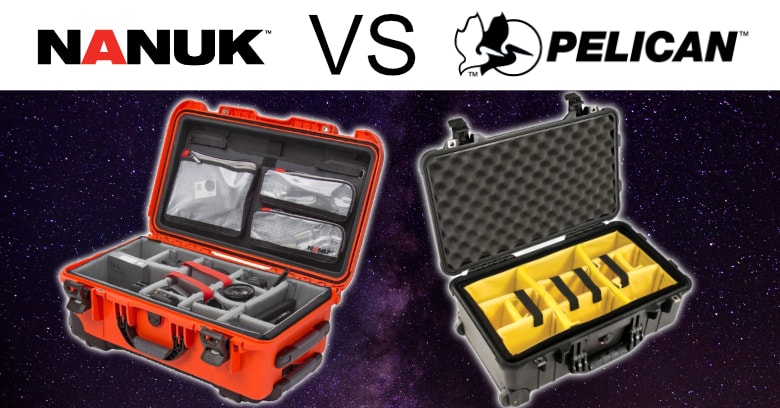 nanuk 935 vs pelican 1510: Which is Best?
---
Pelican 1510
For over 40 years, Pelican has made high-quality hard cases to help photographers protect their equipment. It's a brand that has built a strong reputation, allowing them to obtain the trust of photographers across the industry.
The 1510 sets the standard for what a hard case should be. It's built like a tank, ensuring it can withstand a range of situations that may otherwise lead to damage. But it also remains lightweight, allowing owners to transport their gear with relative ease.
Photographers flock to the Pelican 1510 because they know it's an investment that will keep their equipment safe for many years.
Pros
Reputable, trustworthy brand
Quality build that will last a long time
O-Ring gasket for watertight sealing
Cons
Expensive compared to other hard cases
Limited color options
Padding has limited customization
---
Nanuk 935
When it comes to prestige, Nanuk can certainly go toe to toe with Pelican. The company has also built up its reputation, with many photographers feeling the company takes pole position as the market leader in the hard case market.
The 935 continues the trend of quality and offers unrivaled accessibility through its patented PowerClaw latching system. Using slightly newer technology than the 1510, Nanuk has designed its latches to ensure complete protection, while still allowing users to access their cameras with relative ease.
Because of its innovative design, the 935 sells like hot cakes in the camera hard case market!
Pros
Industry-leading latching system
Polyurethane wheels allow for smooth transportation
Affordable
Cons
A little heavy
Unnecessarily thick padding
---
Nanuk vs Pelican: Features face to face
Price
Because of its rich history, the Pelican brand tends to be more expensive than what Nanuk offers. Neither case can be considered cheap (quality hard cases tend not to be). But for what they offer, both the 1510 and 935 are affordable. And while the 1510 may be more expensive, we can't say it offers more – which is something you should keep in mind.
Winner: Nanuk 935
Size
When it comes to the size of each case, very little separates the two. The Pelican 1510 has exterior dimensions of 22″ x 13.8″ x 9″, and the interior measures up to 19.7″ x 11.0″ x 7.6. Slightly larger, the 935 has an exterior size of 22″ x 14″ x 9″ and the interior dimensions are 22″ x 14″ x 9".
At this size, most photographers will be able to pack in all they need. The interior offers enough storage space for multiple camera bodies and lenses, and the 1510 even offers space for your laptop and other office accessories. There 935 has zipped pockets, which will be useful for storing accessories such as extra batteries, SD Cards, and intervalometers and remote timers, as examples.
Both cases meet the FFA maximum carry on size, so you won't need to pay baggage fees when flying.
Winner: Pelican 1510
Weight
Although slightly larger, the Nanuk 935 weighs less than the Pelican 1510. Weighing five-kilograms, Nanuk has built a hard case that won't be too tasking to carry around. The 1510 is a kilogram heavier, weighing six-kilograms. Compared to your everyday camera bag, we can't call either case light. But for hard case standards, the average person won't have too much difficulty transporting them.
Winner: Nanuk 935
Internal Volume
The internal volume on the Nanuk 935 is 1.00 cu.ft (28.3 L). On the Pelican 1510, you get 0.96 ft cu.ft (27.1 L). That gives you plenty of storage space in each hard case. However, the padding in the 935 reduces the amount of space considerably – we'll get onto that shortly.
Range of Colors
While hard cases are not known for being stylish, it doesn't mean that form is totally forgotten.
Both hard cases come in a range of different colors. However, we would describe the 1510 color options as, well, rather dull. It has three different color options: black, desert tan, and OD green. In comparison, the 935 has a range of vibrant color options including, orange, yellow, green, black, and grey.
Winner: Nanuk 935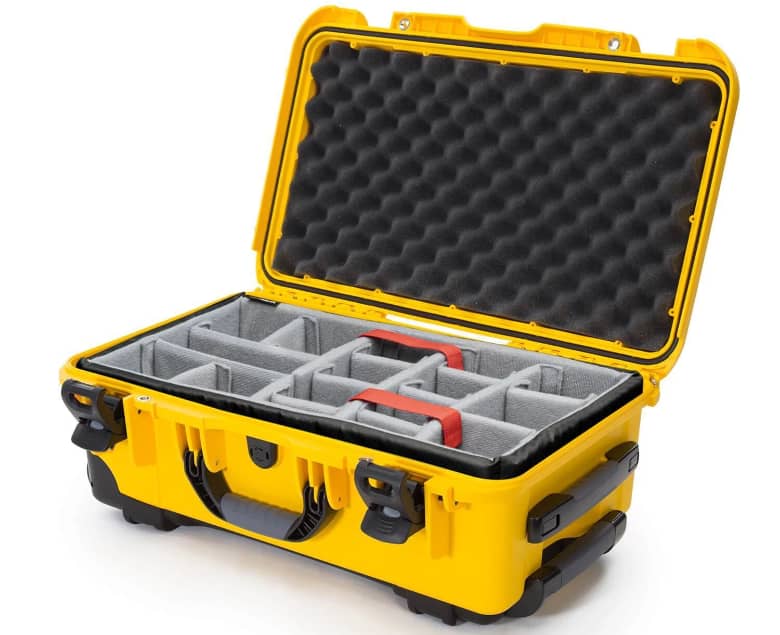 Padded Dividers
Both cases come with padded dividers as standard. However, when purchasing, you have the option of having foam protection instead.
The padded dividers on the 935 are overly thick and don't necessarily offer better protection. The consequence of that is that there's slightly less room when packing in your gear and accessories. The 1510 uses single layer padding, allowing for a little more flexibility when storing your kit.
The 1510 has single-layer padding. But because of the quality, your cameras and lenses will remain safe.
They both have velcro adjustments, giving you the option for some slight customization. You're still limited with what you can do, so you'll have to pretty much make do with what you get out of the box.
Winner: Pelican 1510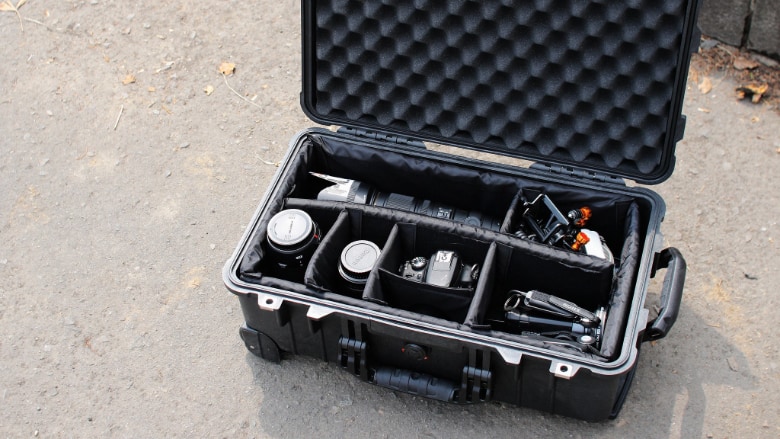 Wheels
The wheels on both hard cases make transportation smooth and simple. The 1510 has stainless steel ball-bearing wheels, making them extremely durable, even when moving on rough terrain. Nanuk has gone for a more fluid option, making its wheels with polyurethane. You'll notice a slight difference between the two when moving on flat surfaces, as the 935 will feel smoother to pull around.
Both sets of wheels are built to last and will suit all your needs.
Winner: Draw
Latches
The major selling point of the Nanuk 935 is the latches. Nanuk raised the bar with its Power Claw latching system. It uses triple action latches, meaning your case won't fly open unexpectedly or if impacted. And despite the added protection, they open up easily, offering a premium feel in the process.
Does that mean the latches on the 1510 are not up to standard? No. They're double action latches that remain consistent with the quality build throughout the case. They'll keep everything safe and will withstand force. But they just fall behind in terms of overall quality and ease of use when up against the 935.
Winner: Nanuk 935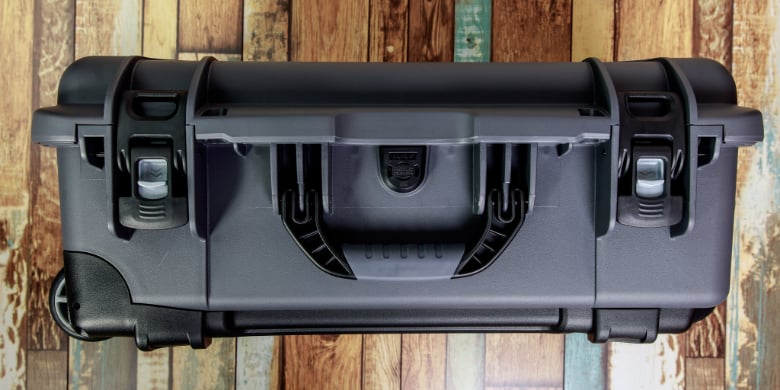 Standout Features
Pelican 1510
A Pelican case offers peace of mind due to the premium brand and history. You can have full trust in the Pelican 1510, and have confidence that you're investing, not only in quality but in something that will keep your equipment safe – hence why it's so popular with the pros!
The versatility of the 1510 should also make it an attractive option. As well as storing cameras and lenses, the option for storing your laptop makes it the perfect choice for those who want to pack everything into one case.
Size should also be a factor to consider. With costly baggage fees on airlines, the fact you can take this as carry on for free means you'll save money in the long term.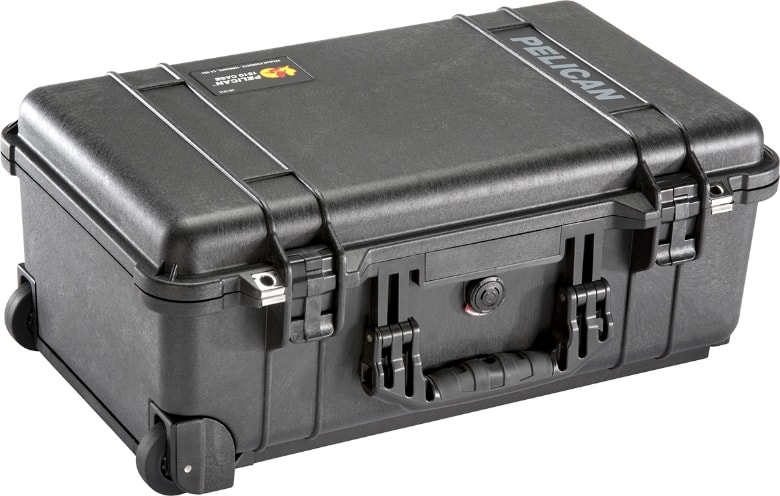 Nanuk 935
If you're looking for Pelican standard quality, without having to go as deep into your wallet, then the Nanuk 935 is the best option.
Features like the industry-leading PowerClaw latching system and smooth-rolling polyurethane wheels ensure this is a top-line product – making it incredibly accessible and transportable.
And there's the range in color options. While it won't have an impact on safety, one shouldn't underestimate the importance of feeling good about a case, and it's reassuring you can select some style when choosing your hard case.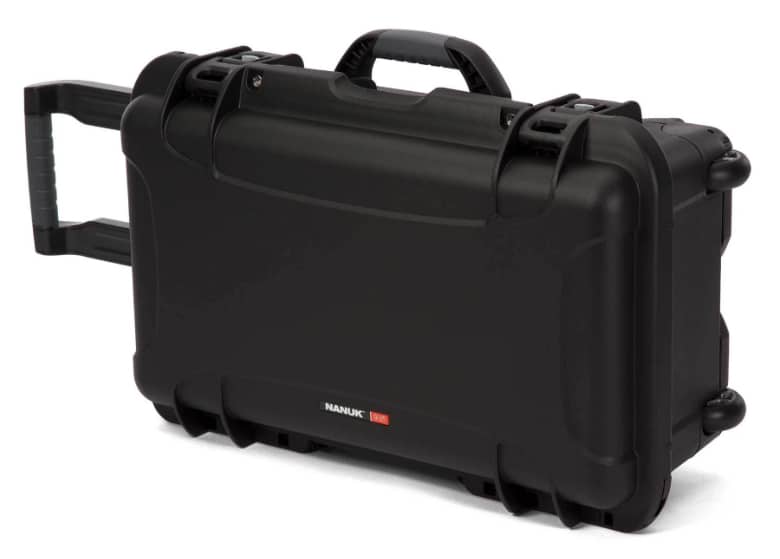 Conclusion
The reality here is, whichever case you choose, you won't be disappointed. Both have the features you would expect from a case of this type. They're waterproof, crushproof, and shockproof. They'll also be able to withstand tough weather conditions too. And keeping your gear safe is what's most important – both hard cases will surely do that.
But when you start to break each case down, and factor in cost, innovation, and variety, then you start to see the Nanuk 935 slightly move ahead – making it our overall recommendation in this hard case head to head.