A tripod needs to be able to go wherever you need to and not make the trek an unenjoyable experience. Even in the city, the last thing you need is a heavy tripod weighing you down as you meander to the spot you want to shoot.
As camera technology continues to improve, so do the latest tripod designs. More and more tripods are hitting the shelves that won't break your back or the bank.
We loved how the Benro GoPlus Travel FGP18A covers everything we look for in an excellent lightweight tripod. Read on to see our other recommendations so you can make an educated decision about your next purchase.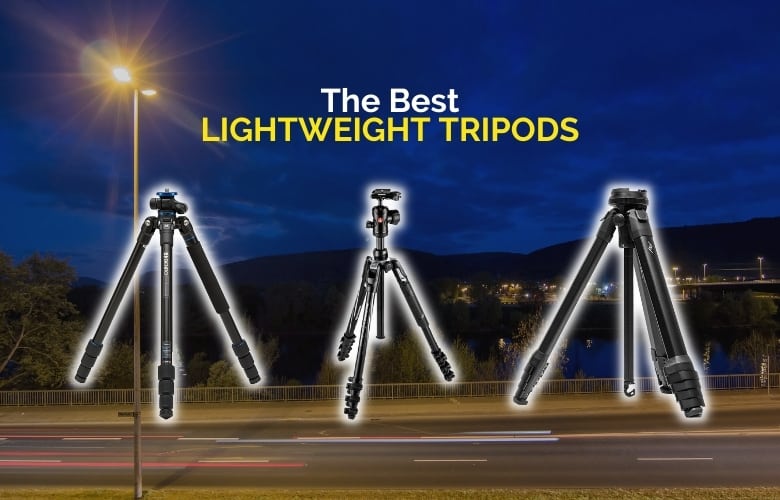 Our best lightweight tripod At A Glance
The Best Lightweight Tripods to Buy
1. Benro GoPlus Travel FGP18A
Best overall lightweight tripod
Brand: Benro | Max Load: 22 pounds | Weight: 3.51 pounds | Min Height: 14.6 inches | Max Height: 60.6 inches | Material: Aluminum | Leg Sections: 4 | Feet: Rubber pads with interchangeable spiked feet
The Benro GoPlus Travel FGP18A has most if not all of the features a photographer would want in a tripod.
At just three and a half pounds, this tripod fits well within the lightweight category. It can support up to an impressive 22 total pounds of weight, which should be more than enough to accommodate your camera and lens.
Surprisingly, the tripod is able to maintain those flattering 3.5 pounds while being made entirely out of aluminum. This helps keep the cost down and typically provides more stability than carbon fiber designs.
The Benro GoPlus also shines in its adjustable design. Any tripod with a maximum height of over five feet is a huge blessing to prevent having to hunch over too far for shots. This tripod also lowers to just over a foot off the ground for macro shots and unique angles.
This tripod features a center column that rotates and can be locked in place at any angle to provide a wide range of opportunities. This is a feature not often seen in such a lightweight model.
The legs come in four segments for even more flexibility in lining up those shots. You can use either rubber or spiked feet to boost stability, depending on where you're shooting at.
Lightweight and portability don't always go hand in hand, but with the Benro GoPlus, they certainly do. The model has reverse-folding legs that allow it to collapse to just 18 inches when you're heading to your next photo location.
Note that this unit does not come with a ball head.
Pros
Rotating center column
Lots of adjustability options
Can work as a monopod
Stable design
Cons
---
2. MeFoto Globetrotter
Second best lightweight tripod
Brand: MeFoto | Max Load: 26.4 pounds | Weight: Carbon Fiber: 3.70 pounds / Aluminum 4.60 pounds | Min Height: 16.1 inches | Max Height: 64.2 inches | Material: Carbon Fiber or Aluminum | Leg Sections: 5 | Feet: Rubber pads with interchangeable spiked feet
The MeFoto Globetrotter sports a similar design to the top tripod on our list but falls just a bit short of the number one spot.
You're given a choice between carbon fiber and aluminum, but the aluminum model will add nearly a pound to the tripod's overall weight. Even so, the aluminum design still falls under five pounds which is still very lightweight.
The aluminum tripod will be somewhat sturdier thanks to the added weight but is less robust than its carbon fiber cousin. Carbon fiber is also quite a bit more expensive than aluminum, so that's literally the price you pay for the change.
Everything else is the same between the two models, including the 26.4-pound load limit. Additionally, the MeFoto Globetrotter is able to stand nearly five and a half feet tall at its maximum and as low as 16 inches when you need those low shots.
Whether you choose aluminum or carbon fiber, the tripod comes with a ball head to line up the shot you need. It does not have a rotatable center column, though, which is the reason we've placed this model at number two on our list in addition to the higher price.
Folding to just 16.5 inches, you'll be able to take the MeFoto Globetrotter just about anywhere with ease. 5-section legs and rubber or spiked feet will give you the flexibility to shoot at any location.
Pros
Comes with a ball head
Heavy load limit
Two material options
Cons
No rotatable center column
---
3. Peak Design Travel Tripod
Most compact lightweight tripod
Brand: Peak Design | Max Load: 20 pounds | Weight: Carbon Fiber: 2.81 pounds / Aluminum 3.30 pounds | Min Height: 16.1 inches | Max Height: 60 inches | Material: Carbon Fiber or Aluminum | Leg Sections: 5 | Feet: Rubber pads
Chances are, a tripod with the word travel in the name is going to have a lightweight design. The Peak Design Travel Tripod is no exception.
This Peak Design model is available in two different materials, carbon fiber or aluminum. Even in aluminum, this tripod weighs only 3.3 pounds but has a hefty 20-pound max load to hold heavy lenses.
What makes the Peak Design really stand out is its ability to fold down to the diameter of a water bottle. With a collapsed length of just over a foot, it should fit easily into most backpacks for maximum portability.
Once you've reached your destination, this tripod is made to be fast to set up so you can get right to shooting. When you're all set, it's just as easy to tear down and pack up.
If you use a mobile device as a means for photography, the Travel Tripod has a built-in mobile mount. When not in use, you can stow the mobile mount away and use the ball head with your camera.
For a plethora of fantastic shots, the tripod ranges in height from just over a foot to five feet. The center column is not rotatable in this model.
Pros
Extremely portable
Heavy load limit
Two material options
Built-in mobile mount
Cons
No rotatable center column
Not the cheapest
---
4. Manfrotto BeFree Advanced
Best tripod for photography enthusiasts
Brand: Manfrotto | Max Load: 17.6 pounds | Weight: Carbon Fiber: 2.75 pounds / Aluminum 3.51 pounds | Min Height: 15.7 inches | Max Height: 59.1 inches | Material: Carbon Fiber or Aluminum | Leg Sections: 4 | Feet: Rubber pads
The Manfrotto BeFree Advanced tripod is another model that offers an option in both aluminum and carbon fiber. As with other tripods, aluminum is a bit heavier but is the cheaper material.
For a lightweight tripod, the BeFree Advanced brings a lot to the table with its high-quality adjustable ball head. This ball head adds a lot of customizability to camera angles and makes this tripod great to take anywhere.
The size of the ball head raises the center of gravity pretty significantly, and this Manfrotto model can be a bit unstable as a result. You'll need to be cautious when you use this tripod on unstable surfaces or in windy conditions.
Lever locks help to keep the four segment legs in place when you do set up the tripod. The rubber feet offer some stability on hard surfaces.
The max load for the BeFree Advanced is a bit on the lower side but should still accommodate your other gear, especially if you are traveling light.
Pros
Adjustable ball head included
Two material options
Lever locks to keep legs in place
Quick to set up
Cons
Heavy bulkhead
A bit unstable
---
5. Joby GorillaPod 5K Kit
Smallest lightweight tripod
Brand: Joby | Max Load: 11 pounds | Weight: 1.63 pounds | Max Height: 15.2 inches | Material: Aluminum | Leg Sections: 1 | Feet: Rubber pads
Quite a detour from the other tripods on our list, the Joby GorillaPod is a rather unique mix of lightweight and adjustability.
The Joby GorillaPod 5K's incredibly small size keeps its weight at just over 1.5 pounds even though it's constructed with an aluminum alloy material. The design factors for the GorillaPod do limit its max load capacity to 11 pounds, but this still supports a wide range of cameras.
The tripod has no leg sections and only stands 15 inches at its maximum height. While this is relatively low, each of the three legs is bendable and can grab onto rocks, railings, lamp posts, and most things in between. The fact that you can attach it to objects at different heights makes up for its small stature.
This particular kit comes with a ball head for even more flexibility on your shots and adds little to the overall weight. It allows for 360° panning and up to 90° of total tilt.
There's no setup required with leg sections, and the Joby GorillaPod comes out of the box (or backpack) ready to go. This also means it's quick and easy to store away, and the 15-inch height makes the tripod very portable.
Pros
Super small design
Adjustable ball head included
Mountable almost anywhere
Very lightweight
Cons
Low max load
Short maximum height
---
6. 3-Legged Thing Punks Corey
Most durable lightweight tripod
Brand: 3-Legged Thing | Max Load: 30 pounds | Weight: 3.5 pounds | Min Height: 7.25 inches | Max Height: 59 inches | Material: Magnesium Alloy | Leg Sections: 5 | Feet: Rubber pads
Stepping out into another entirely different design, the 3-Legged Thing Punks Corey tripod is a lightweight model at 3.5 pounds that can support nearly ten times its own weight.
Its magnesium alloy is an aircraft-grade material and is extremely durable as a result. The tripod's unique design keeps the weight down while allowing for such an impressive load capacity.
Five section legs offer a lot of flexibility with setup, especially when photographing in tight or difficult to shoot spaces. The rubber feet are interchangeable with other types of foot accessories for use on any terrain.
The center column comes in two sections of its own and supports a flexible ball head for additional angle options with your camera. Bubble grips along the column and legs provide extra leverage and rigidity.
The 3-Legged Thing Punks Corey is a little on the fat side when collapsed down but is just over a foot in length. If you have the with, you should be able to store it in most backpacks.
Pros
High load capacity
Adjustable ball head included
Interchangeable feet
Very durable design
Cons
---
7. AmazonBasics 60-Inch Travel Tripod
Best for beginners
Brand: Amazon | Max Load: 6.6 pounds | Weight: 3 pounds | Min Height: 23.8 inches | Max Height: 60 inches | Material: Aluminum | Leg Sections: 3 | Feet: Rubber pads
If you're just stepping into the world of photography, sometimes simpler is better. Amazon produces this little number at a very reasonable price for those who want to give photography a try without spending an arm and a leg on a tripod.
As the name implies, the AmazonBasics 60-Inch Travel Tripod extends all the way to five feet in height with the center column fully raised. Each leg has a series of clamps to hold the legs in place at your desired height. It suffers a little on the minimum height, only going as low as around two feet.
This makes this AmazonBasics not the best tripod to travel with for long periods of time, as it doesn't collapse well enough to fit into most backpacks.
The included head adds a lot of adjustability to your shots but doesn't help with the overall length either. The head does come with bubble levels to capture flat angles, which is a huge bonus for those just learning to shoot.
This model still weighs in at just three pounds, well within the scope of a lightweight tripod. It will have trouble supporting heavier DSLR cameras, though, with its 6.6-pound maximum load capacity.
Pros
Inexpensive
Quick to set up
Includes head
Bubble levels
Cons
Low max load
Does not collapse well
---
Lightweight Tripod Buying Guide
Not just any lightweight tripod is a good tripod. Here are some things to consider before making your purchase.
What Is the Heaviest a Lightweight Tripod Should Be?
This question seems to pop up a lot, but there's no definitive answer. In this guide, we made sure to keep all our models well below 5 pounds for the sake of portability. There's not much benefit to going above this weight, as these lightweight tripods should include all the features you'd need.
On the flip side, going too light means you're likely losing out on features that will help you to capture that ideal shot. You don't want your tripod tumbling over at the first sign of wind or have something that can't support the weight of the camera you use.
What Is the Strongest Yet Lightest Tripod Material?
When it comes down to it, carbon fiber is the most popular lightweight material used in tripods these days. While more expensive than other materials, the strength-to-weight ratio can't be beat. Carbon fiber is sturdy, durable, and can often hold a lot of weight.
Aluminum comes in second to carbon fiber, being heavier and not quite as strong. It does benefit from being cheaper, and that can be a worthwhile tradeoff for some.
Other Considerations
Max Load Capacity
Some lightweight tripods out there feel impressive, but they don't cut it once you attach your camera. DSLR cameras can still be quite heavy, and the last thing you need is a busted tripod because it couldn't support the weight of your device.
Portability
Most of the models we covered in this article offer a good amount of portability when getting from place to place. Lightweight may not mean much if the tripod is too awkward to pack safely away or is challenging to carry.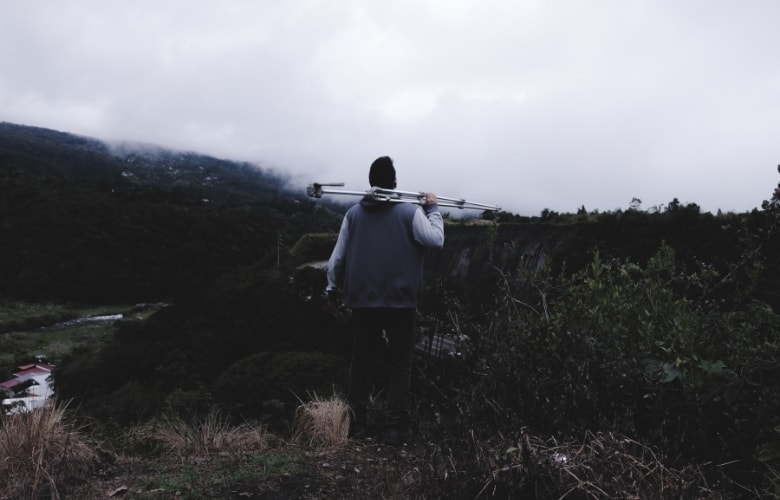 Adjustability
You know better than anyone what types of photos you'll be taking with your camera/tripod combo. Therefore, be sure to pick a tripod that allows for the heights (whether high or low) and the angles you need to get that perfect shot.
Many lightweight tripods can cover a max/min range of several feet to give you what you need. If you pick up a tripod with a rotating center column or ball head, you'll have that much more adjustability to work with.
Conclusion
When it comes to lightweight tripods, the Benro GoPlus Travel FGP18A comes out on top.
Although it features an aluminum design, it stands just as tall as all the other models on this list. The Benro GoPlus shows off a lightweight design while still being able to support 22-pounds of camera and gear weight without flinching.
What puts it above other lightweight models is the rotating center column that offers an insane amount of flexibility. Between the center column and the four section legs, you'll be hard-pressed to find a height or an angle that you won't be able to capture with this design.
At the end of the day, the Benro GoPlus collapses down to a manageable size for storage and transportation.
Even if you're looking for something a bit different than the Benro GoPlus, we're confident you'll be able to find what you need elsewhere on this list.