Scanning the sky with bare eyes is already a startastic experience. Add a good monocular for stargazing to the mix and a million more stars will appear in front of you. The best monocular for stargazing might even allow you to capture the moon in a picture.
Compared to binoculars, monoculars tend to be less widely available, and the right information isn't always easy to find. Monoculars are, however, becoming increasingly popular due to their compact size, just like the Bushnell Legend monocular, which tops our list due to having great quality optics, light capture ability which is great for night time viewing, and the color quality is great too.
By the end of this guide, you should have the knowledge and information needed to select the best monocular to suit your needs.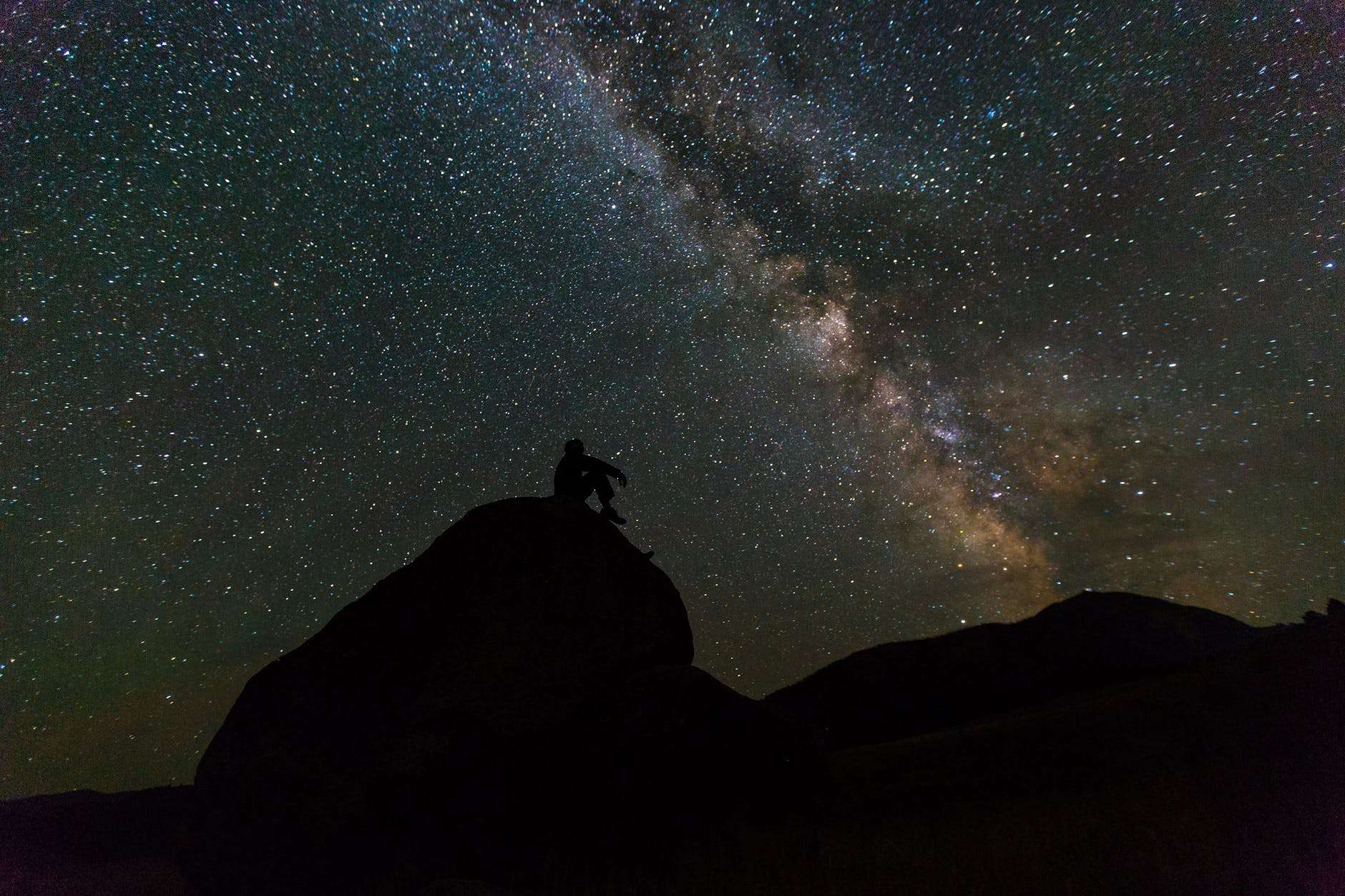 ​Our Best Monoculars At A Glance
The 7 Best Monoculars for Stargazing in 2023
Whether you're looking for a beginner, kids, or professional monocular, our choices will cover a selection of monoculars adapted for every stargazing need.
---
1. Bushnell Legend Ultra HD Monocular
The Best Overall Monocular
This monocular isn't rated the best overall only because of its trusted brand. It also combines the ideal quality, FOV, and magnification for an unforgettable stargazing experience. Although it's at a higher price point, the investment might be worth it.
With a 42-millimeter lens and 340-foot field of view, this monocular provides the necessary width to observe more stars than with most others. The high-quality BaK-4 prisms with a multi-coated lens should give you a clear and detailed image.
This monocular comes with built-in ED prime fluorite glass, providing better contrast and resolution. Even in low-light conditions, details should appear clearly. The PC-3 Phase coated prism consists of a safe chemical applied to the lens for a bright crisp image.
Many monoculars can be uncomfortable due to narrow eye relief. This Bushnell monocular comes with generous 15-millimeter eye relief, even suitable to eyeglass wearers. The twistable eyecup can be adjusted to provide the most comfortable eye position.
The lenses are filled with nitrogen gas to ensure that rain and fog don't enter the monocular, showcasing a waterproof rating of IPX7.
Pros
Larger FOV than most monoculars.
The high-quality lens provides a clear, bright and contrasted image.
Large 10x magnitude power.
Strong waterproof rating.
Comes with a nylon case attachable to any belt for easy transportation.
Lifetime warranty.
The outside rubber coating makes it easy to hold.
Both lenses come with attached caps to avoid damage.
One hand use.
Cons
This monocular seems to be a bit heavier and larger than others.
---
2. Wingspan Optics Titan 12X50 High Powered Monocular
Popular Monocular Choice
Wingspan Optics seems to be the most popular monocular out there, with the most monocular reviews. Let's look at the features making it so popular.
Featuring high-quality BaK-4 prisms, a large 12x magnification power, and a 50mm lens diameter, this monocular is made to impress. These three generous specifications produce bright, focused and clear images.
The field of view is quite large as well—246 feet—so you should be able to spot shooting stars easily. Don't forget to make a wish!
Powerful, this monocular is also durable and won't get damaged easily. Waterproof, the monocular prevents fog and water from getting in the lens. Specifically conceived for single hand use, you can point at the stars with the other hand.
The eye relief—14mm—is ideal for a comfortable stargazing night. It might be a little tight, however, for eyeglass wearers. A tripod—not included—can be used to mount this device for better stability.
The manufacturer claims to offer the best image clarity and brightness. They're so confident in the quality of their product that they offer reimbursement within 30 days if you aren't satisfied.
If you own a beginner monocular and are looking to upgrade to a more powerful one, this might be a good option. It also comes at an affordable price.
Pros
Lifetime warranty.
Strong power and large lens will capture more light.
Includes a hand strap.
Lightweight.
Comes with an attached lens protection cap to avoid losing it.
A case and microfiber cleaning cloth are also included.
Cons
The field of view appears narrower than advertised, and users seem to be disappointed.
It's too large to fit in a pocket.
---
3. Roxant High Definition Ultra-Light Mini Monocular
Budget-Friendly Monoscope
This popular device might be the best cheap monocular, fitting most beginners' budgets and needs.
Compact, it will easily fit any pocket, backpack, or purse. To use during the day or at night, it might be the perfect accessory to bring on a hiking trip. The included case and neck strap make it easy to carry to your best stargazing spot. At home, its small size won't take much space to store.
With a 7x magnification power, this monocular provides beginners with a great tool to pique their interest, while being easy to use. The high-quality multi-coated lens will still produce crisp and bright images. This monocular, however, comes with a narrower field of view than most other devices.
Although it might not be the most powerful monocular available, it should be a good budget-friendly monocular for beginners to get started, just keep in mind that it is a fairly cheap monocular, so the viewing quality won't match the premium choices on the list. Would recommend this for only very casual viewing or as a cheap secondary monocular.
Pros
Includes a pouch, strap, and cleaning cloth.
Good power for beginners—doesn't need a tripod to keep the image stable.
A molded grip makes it easy to hold.
Lightweight and small.
Durable, yet inexpensive.
Cons
Users report that the eyecup is too small to be used with glasses.
Small lens size—18mm.
---
4. Leica Monovid 8×20 Monocular
​High-End Monocular
Are you looking for a long term monocular to keep for a lifetime? A trusted and high-end brand? When we say that great things come in small packages, this might be one of the reasons why.
Leica brand is globally well known for its high quality—and expensive—products. Tiny enough to fit in your shirt pocket, it features a very compact, classy and discreet design. Weighing less than a quarter pound, you can easily bring it to your preferred stargazing site.
With an eye relief of 15 millimeters, it should also be very comfortable to use, whether you're wearing eyeglasses or not. Switch to the included closeup lens for a better focus.
The 8x magnification power should produce a stable and closeup image. A 20 millimeter lens size and a large 330 feet field of view will give you a broad spectrum of the night sky.
The high-quality BaK-4 prisms are multi-coated and treated with Leica's High Lux System for optimum resolution and contrast. This combination of high-end features makes the clarity and brightness of the image one of the best in the market.
Elegant, this monocular is made of aluminum and rubber for an easy and strong grasp. Shockproof, waterproof and dustproof, Leica seems to combine all the right elements to justify the higher price tag.
Pros
Built with high-quality material.
Elegant design.
Magnification power that allows both easy use and a strong focus.
A large field of view.
Comes with a wrist strap.
Waterproof up to 3 meters deep.
Weighs just 4 ounces.
Cons
A shoulder strap would be handy.
Doesn't come with a cover for the front lens.
---
5. Gosky 12X50 High Power Prism
Best Monocular For Astrophotography
What is stargazing without the memories and pictures to freeze time? This powerful monocular comes with an adaptor suitable to fit most smartphones—both Android and IOS. Simply adjust your smartphone to align with the lens.
It can sometimes be challenging to take steady pictures while holding the monocular. To attach it to a tripod, this monocular comes with a high-quality standard UNC brass screw hole underneath. Although it's not included, you'll have the option to add a tripod down the road.
This monocular isn't only made of durable material, it should also survive any shocks and drops—even in the water. The nitrogen filled lenses prevent dust, water, and fog from squeezing inside the monocular.
Both the high-quality BaK-4 prisms and the multi-coated lens produce brighter and clearer images to take the perfect pictures. Compared to the 42mm lens, this 50mm lens allows 45 percent more light to enter the monocular. The 12x magnification power provides the right close-up view you'll need to observe the stars while keeping a wide angle.
The eyecup can be twisted and adjusted to each person. It's even suitable if you're wearing glasses.
Pros
Lifetime warranty.
Weighs less than 1 pound.
Compact and easy to use.
Comes with a carrying strap for a better grip.
Able to withstand most weather conditions.
Affordable for the high-quality material used.
Durable material inside and outside.
Cons
Cell phone adaptor can be difficult to set up.
The adaptor's clips are fragile and tend to break easily.
The eyepiece cap isn't attached to the monocular and can be easily lost.
---
6. Pirate Brass Monoscope
The Best Monocular For Kids
No products found.
Are you looking to get your child his or her first monocular? Or need a device to keep her or him away from yours? This Pirate Brass monocular is quite popular among kids, for a few reasons.
After observing the stars and the immensity of the night sky, this monocular might stay with your child during the daytime as well. With its pirate shape, it will be the root of a pretend play and imaginative storytelling.
This telescopic monocular is retractable to reach a compact length of 5.3 inches. Weighing only 7.5 ounces, it comes with a leather case which can be attached to your child's belt for easy transportation and access.
Made of brass with a leather handle, the durable and sturdy material should last until your child is older and the time comes to upgrade. This toy isn't only for pretend play, it comes with a strong magnification power of 25x and a generous field of view of 270 feet.
This Pirate monocular also comes at a low price point, making it ideal for junior stargazers.
Pros
1-year warranty.
Made of sturdy brass material.
Suitable for kids who wear glasses.
Comes with a case and a cleaning cloth.
Retractable telescopic monocular makes it easy to transport.
Multi-purpose—can be used during the night and day.
Induce imaginary play and keeps your child entertained when he isn't stargazing.
Strong magnitude and large field of view.
Easy to open and close.
60-day money-back guarantee.
Cons
The focus isn't very user-friendly.
The different pieces easily come apart.
---
7. Night Owl Night Vision Monocular
Best Monocular With Night Vision
Ready to take your stargazing nights to the next level? This Night Owl monocular will bring more light to your night than any other monocular. Don't get tricked by the low 2x magnification. The built-in infrared illuminator and the intensifier tube will brighten the sky up to 500 times to give you a clearer image.
Its discreet and compact design makes it easy to carry around and follow you on all your stargazing adventures. If weight is a concern—when traveling every pound counts—this lightweight monocular might be an option to consider.
Covered with a rubber surface, this monocular easy to hold, comfortable, and ultra resistant to shocks. The viewing range is on the narrow side—30-degree angle—but you should still be able to spot shooting stars and observe an overview of the Milky Way.
Although on the high-end spectrum of the monocular market, this device is still reasonably priced for an amateur stargazer to enjoy. Batteries need to be purchased separately. However, they should give you up to 100 hours of viewing.
Pros
Lightweight—8.8 ounces.
Compact size.
Discreet and elegant design.
One hand use.
Made of durable material.
Infrared illuminator produces a brighter image.
Control buttons are easy to use.
Cons
Low magnification power.
Narrow field of view.
The image produced is green in color.
---
Monocular Buying Guide
Selecting the best monocular might not be as simple as it seems. Luckily, and with a little help from this guide, you should soon be observing the night sky with your brand new monocular.
Night vision, magnification, the field of view, and lens are only some of the features to consider when searching for the best monocular. Not sure what these terms mean? Don't be afraid—in order for you to pick a good monocular for stargazing, I'll explain these specifications—and more.
Different Types of Monoculars
The best monoculars come in three different optical designs: Galilean, Porro and roof prisms.
Galilean Monoculars
They're built-in with simpler lenses and are best for close range. They're not, however, the greatest choice for stargazing.
Porro Prisms
Porro prisms were the standard optical design up to the 1960s, before roof prisms were introduced. They're distinctive by their zigzag shape and tend to provide better light contrast. Although they're considered obsolete, they produce at least the same quality image as roof prism optical design monoculars.
Porro prisms can be made of two different types of glasses. High-density glasses are called BaK-4 and are able to gather more light from the lens periphery. The second type, BK-7 glasses, are made of crown glass and have shaded edges. They're less expensive but of lower quality.
Roof Prisms
Roof prisms have a straight shape and can easily be held, even by a child's small hand. Inside the lens, the light follows a more complicated path requiring a more precise optical design. This makes the manufacturing process complex and therefore more expensive.
The best monoculars are made with roof prisms, which is why they're recommended for stargazing.
How Do I Choose a Good Monocular?
With many options available, what are the other features to look for in monocular?
Lens Size
As we mentioned earlier, the lens size is displayed directly on the monocular. A 10×25 monocular features a lens size of 25 millimeters.
Lenses often range from 20 to 50 millimeters—monoculars are always referred to using the metric system. Generally speaking, the bigger the lens, the wider the view will be.
A bigger lens allows more light to enter and will generally produce brighter images, ideal for stargazing.
Of course, larger lenses come with a slightly bigger footprint and these monoculars tend to look bulkier.
Field of View
The field of view—also referred to as FOV—represents the width of the image. You guessed it, as the monocular FOV increases, the magnification decreases. The best monoculars can, however, provide both an acceptable FOV with good magnification.
When it comes to stargazing, it's a matter of personal preference. Some stargazers may enjoy strong magnification, to zoom in on specific stars or planets. Others prefer a wider aperture to have a broader view of the night sky.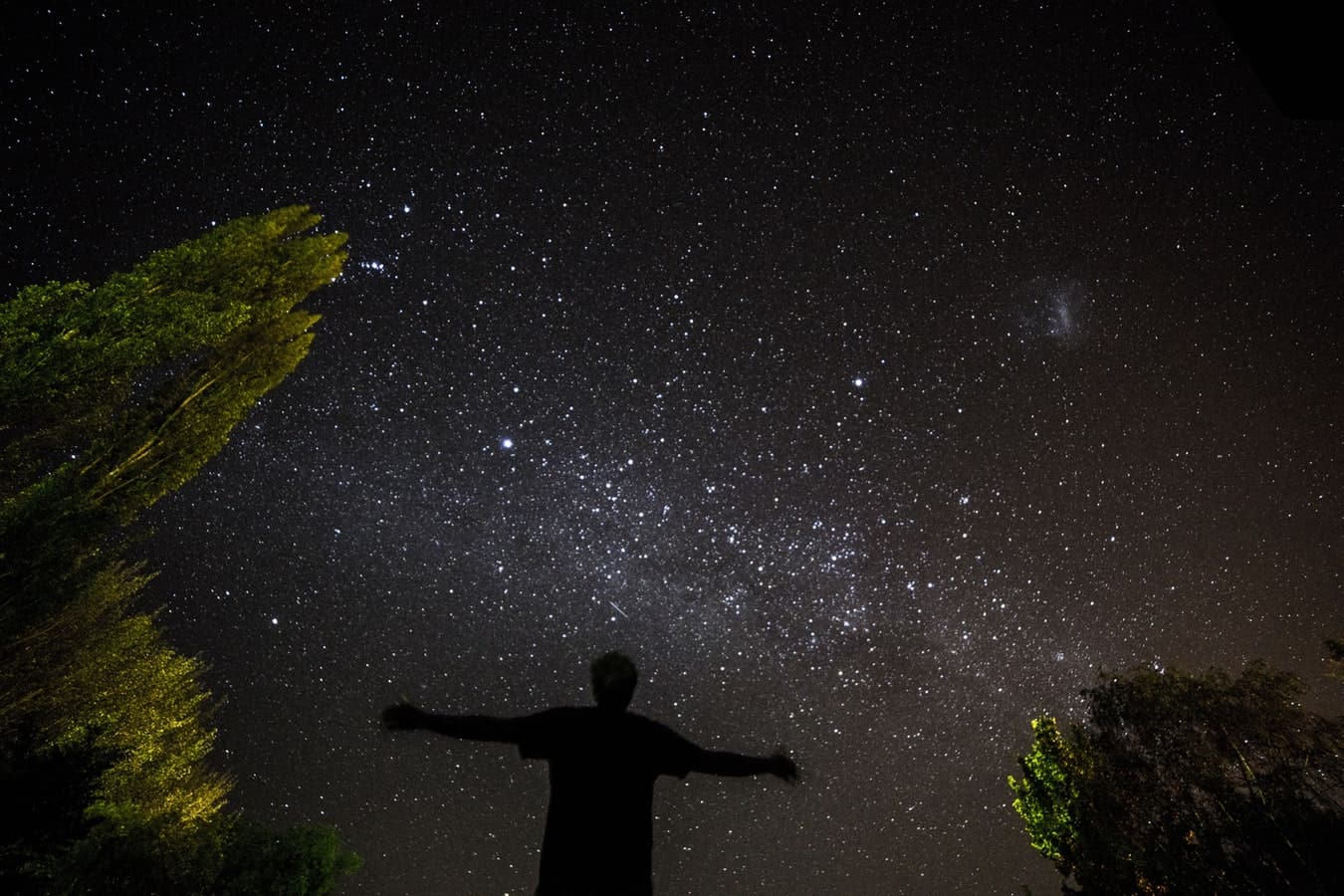 Night Vision
Although regular monoculars can be used for stargazing, the night vision monoculars feature an IR illuminator providing more light in complete darkness. Their magnification is typically lower, and because they use batteries, their design is heavier and bulkier.
They tend to be sturdier and provide a clearer—although green—image. Originally used by the military, night vision monoculars come at a higher price point, too.
Most night vision monoculars shouldn't be used during daylight as it can damage the lens. If you're looking for a day & night or multi-purpose monocular, it might be best to select a traditional one.
Looking for night time only monocular? Don't mind a slightly heavier design? Then night vision monoculars will light-up the night sky to reveal thousands more stars.
Lens Coating
Monoculars come with one of three different types of lens coating.
Simple lens coating is the most affordable, however, most hobbyists search for the fully coated lens.
Fully coated lenses can help reduce glare, but also improve the brightness and clarity of the image.
Multi-coated lenses are the high-end spectrum of coating technique and used to make the best monoculars. They provide a top-notch image quality but also come at a premium price.
A good coating doesn't only increase the visibility, it can also discard water and fog.
Durability
The best monoculars' lenses can be filled with inert gas, preventing water or dust from entering the lens. A good monocular for stargazing might also be shock and temperature proof, for better durability.
When water—even a small amount—or humidity finds its way inside the monocular, fogging and a poor quality image will result.
So, how can you determine the waterproof level of a monocular? On this feature, manufacturers have made it easy for us. The best monoculars should clearly indicate the IP waterproof rating, showing an IP followed by a number—such as IP68.
This rating is standard to measure how resistant to water a container is. The first number—six in this example—indicates the protection level against dust and can range from one to seven. The second number—eight—can range from one to nine and indicates the level of water resistance.
For either digit, the higher the better, IP ratings over 56 are recommended.
Eye Relief
The eye relief is the distance between the lens and your eye and normally ranges from 10 to 20 millimeters. You might not think of eye relief as an important feature when searching for the best monocular. It is, however, worth considering for at least two reasons.
Eye relief has a big impact on how comfortable the monocular is. If the lens is too close or too far away, it will also impact the quality of the image.
If you're wearing eyeglasses, it's important to look for an eye relief of 15mm or over.
Focus
The best monoculars normally come with an adjustable focus to give the image optimum clarity.
It shouldn't be considered an optional feature, and if the monocular doesn't come with an adjustable focus, you should consider another one.
Plenty of options are available when it comes to design. Focus ring, knobs located inline, above, or below the monocular, the options are endless. For easy use, you might want to select a focus adjustable with one hand only.
What Is the Most Powerful Monocular?
Because monoculars are more compact than binoculars, many stargazers are under the impression that they'd be losing on performance. In reality, when comparing monocular power ratings, they offer the same power as binoculars, with half the size.
The power of a monocular is determined by its magnification. This is one of the most important factors to consider as it determines how much the device can enlarge the image you want to view.
Magnification often ranges between 2x and 25x. A 2x magnification power means that the targeted object will appear only two times closer than with the naked eye. Monocular magnification ratings can give you the first indication of your monocular's capability.
You might have seen what looks like extra-large monoculars. Although they look like powerful monoculars, these devices belong to the family of spotting scopes.
They're usually standing on the ground or on a tripod. While we're not dealing with them in this guide, monocular scope reviews often highly rate them. They can be considered if you're looking for a device stronger than a monocular but more compact than a telescope.
What Is the Best Magnification for a Monocular?
Are you looking to observe in detail, or the famous craters of the moon? Wanting a closer but wide view of the sky? Here are a few things to consider while selecting the best magnification for your monocular.
When looking at a monocular, you should find two numbers with a multiplication factor in between. For example 10×25. The first number indicates the power of the monocular, while the second number indicates the lens size.
A monocular with a magnification of 12x or over is considered extremely powerful, the image should be much clearer and detailed. As power increases, however, the field of view decreases, meaning that you'll get a narrower sky view, potentially missing out on things like shooting stars.
Large magnification monoculars may be difficult to use, as the image can be unstable at high magnification. Using a tripod is recommended to get a clear image as this prevents the inevitable shake you will get when the monocular is handheld.
Finally, costs increase as the monocular's power increases. Although this is still a debate, most would agree that a good monocular for stargazing should have a 7x or 8x magnification.
Monocular for Beginners
When starting out, it's generally preferred to keep it simple. Not only will a modest monocular be easier to use and master, but it'll also be much more affordable. Large power monoculars can empty your wallet faster than you can think.
Acquiring a monocular is an important step, however, if you don't know what to look for in the sky, you might get quickly bored. You should be able to spot at least 2,500 stars just with your naked eyes.
To recognize stars and constellations, this video might be helpful:
​Monocular for Kids
While you'll find that most skywatching devices designed for children are mainly binoculars, a few monoculars options are also available.
When it comes to kids, playing is often one of the best ways to learn. What about a monocular that is fun and usable during day time as well? Starting out with a lower-price point monocular might be best. As your child's interest matures, you can upgrade to a more sophisticated monocular.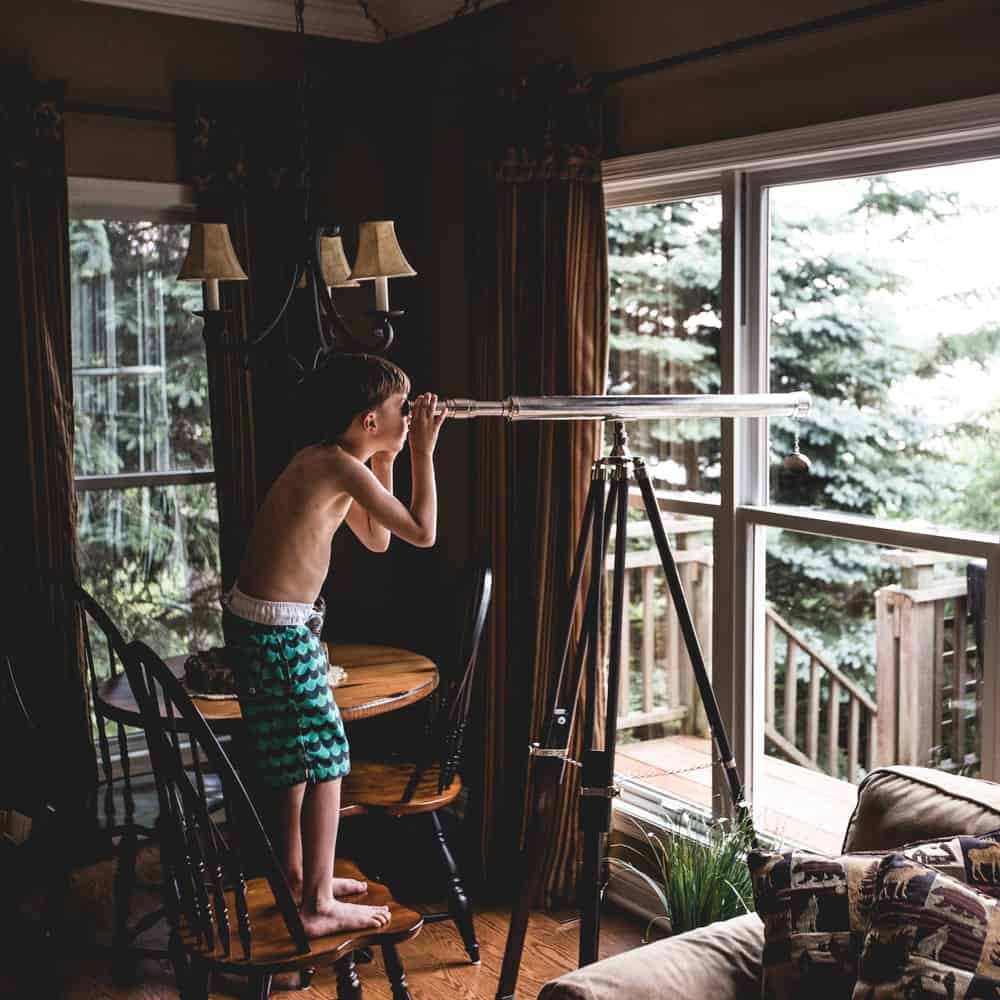 ​Best Portable Monoculars
Size and weight matter when choosing the best compact monocular. Although the best monoculars are fairly small, an 8×25 or 10×25 monocular should be able to fit most pockets.
Small monoculars normally come with a compact case and are easy to transport to wherever the stars bring you.
Because of the smaller lens, performance and power are usually impacted. On the bright side, small monoculars are often the most affordable.
Monoculars for Astrophotography
Looking to capture the moon on your cell phone? Monoculars won't disappoint you. Some of them come with an adaptor to attach your mobile to your monocular's eyepiece.
Although pictures don't come out perfect—a monocular's lens being circular while the phone frame is rectangular—they make great souvenirs for friends and family. Instagram editing options will also help you add a finishing touch to the picture.
DSLR cameras would create too many vibrations with a monocular, resulting in a shaky image and picture. If you're looking to take pictures with a DSLR camera, scopes would be better-suited than monoculars.
You'll be able to purchase a special adaptor for digiscoping. Some scopes even come with a built-in camera to take pictures and movies.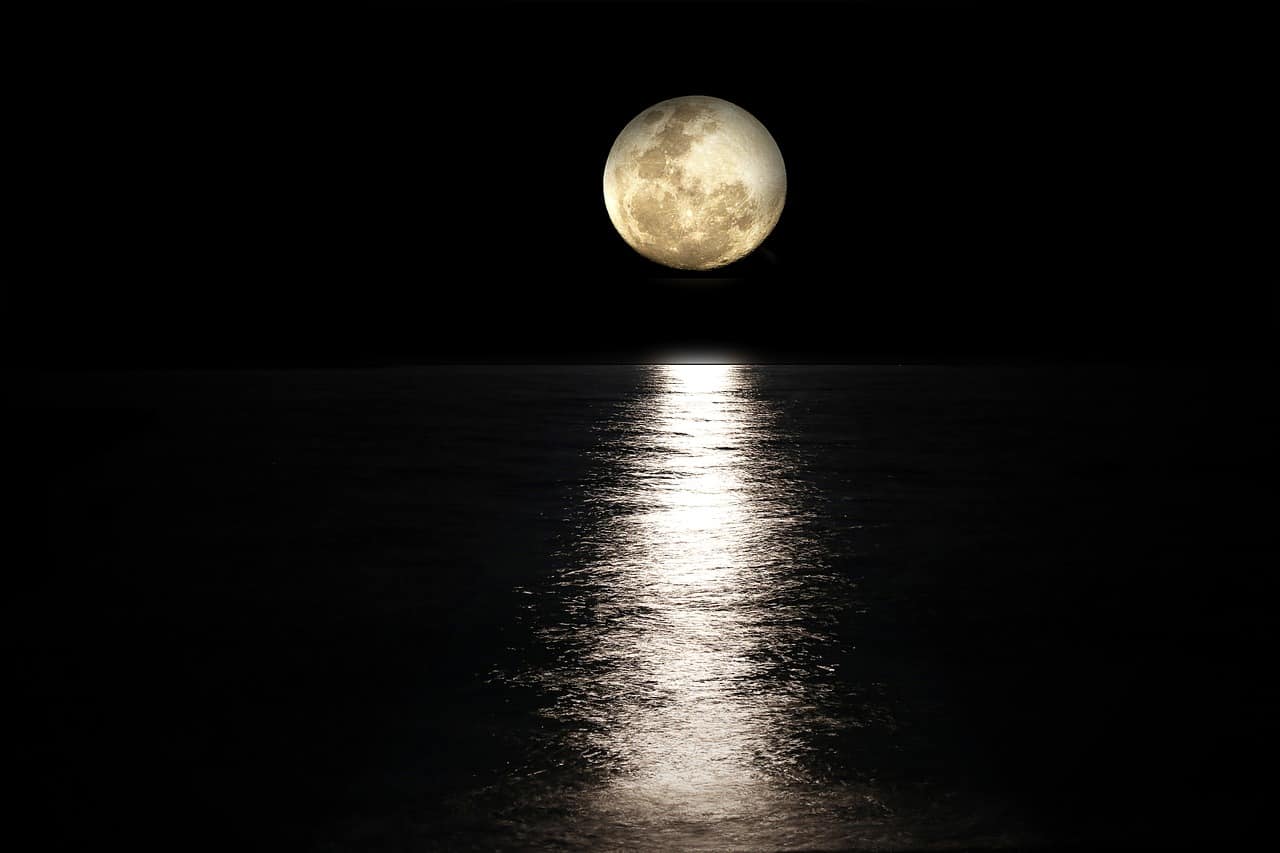 Gazing Away
Although binoculars seem more popular for stargazing, monoculars' compact size makes them increasingly popular. While they can provide the same field of view and magnification as binoculars for stargazing, they only take up half of the space. This makes them the ideal device to carry on your travels.
Even with a narrower selection available, options are suitable to all levels, from kids to beginners and more experienced stargazers. While monocular ratings are important to consider, you'll have to choose the one specifically suitable to your needs.
Because I always look for devices that can withstand time and use, my winner in this selection is the Bushnell Legend monocular. Sturdy and built with high-quality material, it provides specifications that can fit all users, from beginners to the most experienced.
Which monocular would best fit your needs? Do you already own a monocular? Which one did you choose and are you satisfied with it? Please leave your comments below, we'll make sure to get to back you.