No matter if you're a beginner astrophotographer or an experienced stargazer, obtaining a high magnification device to observe the night sky will surely be one of your top priorities. While telescopes are certainly the most popular solution, there are more portable alternatives available that will help you shave off some weight from your gear and they are called spotting scopes.
In terms of their characteristics and capabilities, they sit right in between the binoculars and telescopes. They aren't as portable or as easy to carry around as binoculars are. However, they do offer much better magnification and are still more portable, lightweight, and easier to stabilize than telescopes usually are.
The Vortex Optics Razor HD Spotting Scope is the best example of how an ultimate spotting scope looks like, but since its size, weight, and price point won't be everyone's cup of tea, we've compiled a list of all the different types of spotting scopes currently available to help you pick one that fits your own set of requirements.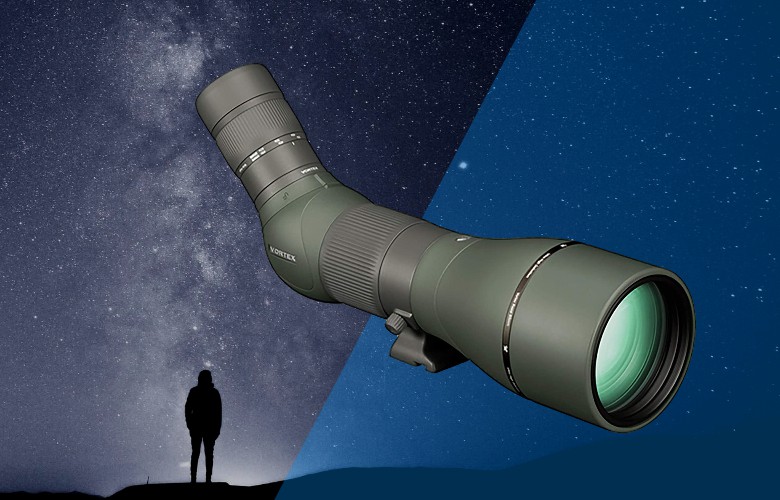 Our Best Spotting Scopes For Astronomy at a glance
List Of The Best Spotting Scopes For Astronomy
---
1. Vortex Optics Razor HD Spotting Scope 
Best spotting scope for astronomy
Dimensions: 15.8 x 7.6 x 6.8 inches | Weight: 4.1 pounds | Magnification: 27x to 60x
If all you want is the highest quality spotting scope out there and price is not an issue, then the Vortex Optics Razor HD is the one you should be setting your sights on.
The first thing you'll notice about it when you put it in your hand is that it's surprisingly easy to handle, despite having big glass and lens elements inside of it. This means it won't be too burdensome to carry, even for hiking if needed. It's also waterproof and fog proof and has special Armortrek coatings on its lenses, protecting them from oil, dirt, and scratches. 
Another thing that makes the Vortex Optics Razor HD stand out from the competition is the image quality it brings to the table. Not only will it allow you to see a lot of details in the sky thanks to its 85mm objective lens, but it also captures some amazingly sharp photos if you ever plan to use it for digiscoping with your DSLR or a mirrorless camera. 
You will also be able to achieve critical focus quickly and accurately with this spotting scope thanks to its large and grippy focus ring, which is easy to locate even in complete darkness. There's also a very sturdy rotatable tripod collar included, so it fits your tripod perfectly and provides you with a blur-free experience while you're watching the stars. 
Pros
Water-resistant and very durable magnesium alloy body
Class leading image quality 
Surprisingly portable considering its impressive feature set
Excellent magnification 
Easy to operate, even in low light 
Cons
High price point 
No carrying case included 
---
2. Celestron – Ultima 100 Angled Spotting Scope 
Second best spotting scope for astronomy
Dimensions: 22 x 7 x 7 inches | Weight: 4.5 pounds | Magnification: 22x to 66x
The Celestron Ultima 100 is an excellent choice for anyone looking for a pro-level spotting scope that's sturdy, decently sharp, and offers a very good magnification range. 
Thanks to its built-in zooming eyepiece, you'll be able to use this scope for subjects that aren't too far away, as well as those that are hard or even impossible to spot with the naked eye. You also shouldn't have any problems using it in demanding weather conditions since it's weather-sealed and also resistant to fogging because of the dry nitrogen gas inside of it.
It also has good quality optical elements; each internal lens is surface coated with an anti-reflective coating, which allows it to be very sharp through most of its magnification range and just a little less sharp at the longest end. This also makes it a very good spotting scope to be used in combination with your smartphone or a dedicated camera since it also has a built-in T-adapter, so you can easily pair it with those devices.
Pros
Excellent magnification 
Includes a carrying case
Has an integrated T-adapter for digiscoping 
Good quality optics 
Water-resistant 
Cons
Only averagely sharp at higher magnifications 
Could be more portable
---
3. Nikon Prostaff 5 Proscope 
Third best spotting scope for astronomy
Dimensions: 15.5 x 4 x 3.5 inches | Weight: 4.1 pounds | Magnification: 20x to 60x
The Nikon Prostaff 5 is a great spotting scope if you want a high-resolution viewing experience, but you want to save on weight and size as much as possible. With a weight of only 4.1 pounds, this scope is easy to carry around, especially since it comes with a carrying case.
Thanks to its magnification range of 20x to 60x and an 82mm objective lens, the Prostaff 5 is a very versatile spotting scope, allowing you to watch bigger and smaller animals from afar, but also celestial objects like the Moon or even Jupiter. It also copes well with direct sunlight since it has a built-in sunshade. 
The Prostaff 5 will also allow you to create a decently portable digiscoping setup thanks to its compatibility with Nikon's Coolpix range of digital compact cameras. So you can capture some nice photos or videos of any faraway subjects without having to burden yourself with heavy gear while traveling to your desired location.
Pros
Very good magnification
Waterproof
Decently lightweight and portable considering its large optics
Built-in sunshade
Comes with a carrying case
Cons
Only compatible with Nikon's Coolpix cameras for digiscoping 
Only averagely sharp at its highest magnification 
---
4. Celestron 52238 C70 Mini Mak Spotting Scope 
Best lightweight spotting scope for astronomy
Dimensions: 11 x 6 x 16 inches | Weight: 2.3 pounds | Magnification: 25x to 75x
The Celestron 52388 C70 Mini is one of those spotting scopes that manages to bring many good features in a package that's very easy to carry around and can easily fit in any bag or backpack. 
Despite weighing only 2.3 pounds and coming in a very portable body, it will still give you a lot of options when it comes to observing animals or sports at distances of up to 500 yards. Most importantly, if you want to use it for astronomy viewing, it's also compatible with various official astronomical eyepieces, which will increase the magnification even further. 
Despite not being as sharp as more expensive or bigger scopes, it is still a great choice for smartphone digiscoping because of its portability and the universal adapter available straight from the manufacturer. As a bonus, it also comes packaged with a carrying case and a small but easy-to-use tripod. 
Pros
Very lightweight and portable
Offers very good magnification for its small size
Compatible with a wide variety of eyepieces
Includes a tripod as well as a carrying case
Cons
Only averagely sharp
Not as durable as more expensive offerings 
---
5. Visionking 25-75×70 Maksutov Spotting Scope 
Best beginners spotting scope for astronomy
Dimensions: 13.19 x 4.13 x 6.69 inches | Weight: 3.45 pounds | Magnification: 25x to 75x
If you've just started exploring the outdoors and you want a portable and straightforward to use spotting scope to help you satisfy your curiosity when it comes to looking at the stars or even wildlife, the Visionking 25-75×70 Maksutov is a great scope to start with.
The first thing you'll notice about it is that it has a great magnification range. It will allow you to do everything from taking a detailed look at the craters on the Moon to observing small birds on tree branches. 
The included tripod will provide you with a nice and stable view of your surroundings since a spotting scope works best when it's mounted on one. There's also a carrying case included in the package, which fits both the tripod and the scope, turning it into an all-in-one package that's easy to carry even on strenuous hiking and mountain climbing trips.
Pros
Low price point for a spotting scope
Very respectable magnification
Waterproof and fog proof
Compact and easy to carry around
Includes a tripod and a carrying case
Cons
Below average image quality 
Not very easy to focus 
---
6. CREATIVE XP Spotting Scope
Best value for money spotting scope 
Dimensions: 20.5 x 9.25 x 5.1 inches | Weight: 5 pounds | Magnification: 20x to 60x
The Creative XP is the best spotting scope on the market when it comes to offering the most bang for the buck. It's not the cheapest nor the best performing scope out there, but the package it provides in terms of its image quality and added accessories for the cost is hard to beat.
Not only will it allow you to get a sharp and clear view of our own Moon and some other planets, or even wildlife animals, airplanes in flight. But it will allow you to do it very precisely thanks to its two fine focus knobs and the adjustable eye relief feature. You also won't feel the image quality degrade too much at higher magnifications, like other less expensive scopes.
That kind of image quality also makes it a great choice for digiscoping and taking good quality photos, especially if you tend to pair it with a smartphone since it already includes a smartphone adapter in the package. It also has a durable carrying case, a tripod, and a remote shooting photo clicker, so you'll be ready for anything you come across on your photographing travels. 
Pros
Useful minimum focus distance of 30 feet
Good image quality 
Waterproof and respectably resistant to shock damage
Offers very good magnification 
Comes packaged with a carrying case, tripod, photo clicker, and a smartphone adapter
Cons
The included tripod is of average quality 
Has some weight to it
---
7. Gosky Spotting Scope with Tripod 
Second best value for money spotting scope
Dimensions: 17.32 x 5.12 x 3.94 inches | Weight: 4.4 pounds | Magnification: 20x to 60x 
While the Gosky Spotting Scope shouldn't be your first choice if portability and low weight are your priorities, it does manage to offer excellent design and durability for its price point. It does so while retaining respectable good image quality and being very simple to use.
The optical formula it offers produces very good image quality throughout the entire magnification range and will allow you to notice fine more minor details on the Moon itself or even animals, architecture, landscapes. At the same time, the retractable sunshade will help you reduce glare and get a clearer view of your subjects.
This spotting scope is also a pleasure to use thanks to its grippy and rubberized body, which will allow you to grab it tightly even if it rains or snows outside and battle any unnecessary shakiness. There's also a smartphone digiscoping adapter included in the package, so you can take photos of any interesting sight that catches your eye and easily share them online. 
Pros
Great value for money 
Waterproof and generally built well
Very good magnification 
Includes a carrying bag, a tripod, and a smartphone adapter for digiscoping 
Cons
Only averagely sharp at its highest magnifications 
Not the most portable spotting scope 
---
8. SVBONY SV46 Spotting Scope
Best portable high magnification spotting scope 
Dimensions: 15.5 x 6.93 x 3.86 inches | Weight: 3.73 pounds | Magnification: 20x to 60x
While enthusiast and professional spotting scopes are often heavy and not very portable due to their complex optics and heavy-duty bodies, the same can't be said about the Svbony SV46 Spotting Scope. It offers a similar image and build quality while also being noticeably more lightweight and easier to carry around.
This makes it a perfect choice for anyone who wants very good image quality from a spotting scope for astronomy or even things like bird watching or sports events. But also if you want a scope that is lightweight and portable while they're traveling around or trekking to their remote location for night sky viewing.
The Svbony SV46 is also waterproof, making it a great spotting scope for use in extreme environments. It also offers very precise focus adjustment, thanks to its dual focus mechanism, meaning that you'll be able to get an excellent view of any details on long-distance objects, even in low light, all thanks to its large 80mm objective lens. 
Pros
Very portable considering its magnification properties 
Water-resistant 
Easy to operate and to focus  
Respectably sharp optics
Built-in adjustable tripod base
Cons
Higher than average price point for its class
Could be sharper at its highest magnification 
---
Astronomy Spotting Scopes Buying Guide
What to consider in a spotting scope
Angled vs straight spotting scope
The biggest advantage of obtaining an angled spotting scope is that it doesn't require a long tripod to be used comfortably. This means that it'll be more comfortable over long viewing sessions and allow you to carry a lighter tripod with you. 
An additional advantage is that it's more convenient when used for digiscoping since its angled nature makes it easier to look through the screen of your camera or a smartphone while it's attached to the scope.
The first advantage of having a straight spotting scope is that it's better suited to more extreme weather like rain or snowfall since there's less chance of being affected by the moisture. 
The second one is that it's easier to use for beginners and casual outdoors people, and the third being that its simple shape allows it to fit in more backpacks together with your other gear. 
Are the case and tripod included?
Since spotting scopes themselves are sensitive and often pricey pieces of equipment, keeping them protected should be everyone's priority. Ideally, always look for one that comes with its own carrying bag or a protective case.
Also, since spotting scopes are meant to be attached to a tripod for ultimate stability, look for one that comes bundled with one, especially if you're looking for the best value or want an all-in-one solution.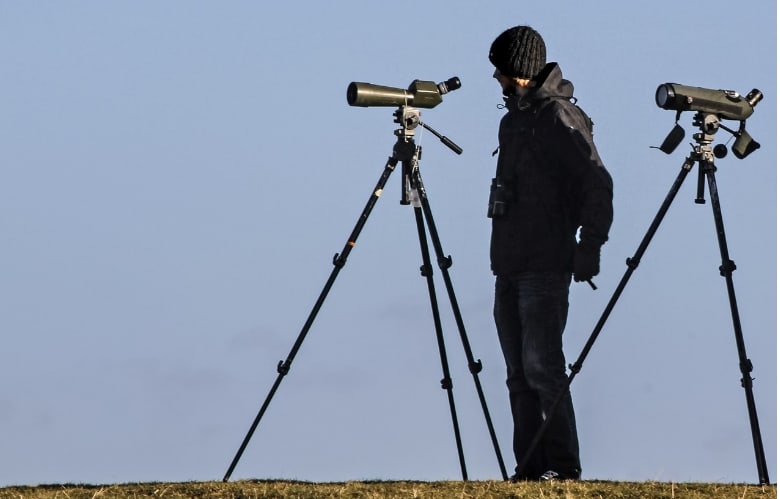 Does the eyepiece rotate?
Having a rotatable eyepiece will give you more flexibility than having a fixed one, and the reason for that is that you'll be able to use a spotting scope at a different angle and adjust it more quickly to your sitting or standing position so you can be more comfortable over a long session. 
Digiscoping compatible
Digiscoping is a technique used to pair a camera or a smartphone to a spotting scope and use it as a lens to take photos of faraway subjects. It's one of the biggest benefits of owning a spotting scope, which also holds true for astrophotography.
To make sure that you can pair the scope with your camera of choice, you'll need to make sure that you combine the right T-Adapter attached to the scope itself and a special ring compatible with your particular camera or smartphone brand. You can also use either a DSLR or a mirrorless camera for this technique. 
Can a spotting scope be used for astronomy?
Of course it can. Spotting scopes offer high magnification, work great with digiscoping, often have very high build quality, and are easy to carry around. Making them equally great for astronomy as much as binoculars and telescopes. 
How does a spotting scope compare to other astronomy gear?
Spotting scope vs telescope
Compared to telescopes, spotting scopes are more portable, more resistant to the elements, easier to use for subjects that aren't very far away, and are easier to carry around because of their lower weight. The telescopes offer bigger magnification and gather more light, so they are better suited for observing very distant planetary bodies.
Binoculars vs spotting scope
Spotting scopes offer noticeably better magnification than binoculars, higher image quality due to their more advanced optics, and a better solution for digiscoping. In contrast, binoculars provide a wider field of view and are a little more portable due to their smaller size and tend to be more affordable. 
Conclusion
So, to sum it all up, a spotting scope is a great option for anyone who wants a device with powerful zooming capabilities that isn't too hard to carry around and will allow you to take good quality photos and videos of planetary images, celestial bodies, and even additionally wildlife, sports, landmarks all in combination with a smartphone or a dedicated camera. 
The Vortex Optics Razor HD is the best spotting scope on our list and a perfect one for digiscoping, thanks to its sharp and high-quality optics. It will also be able to withstand the elements or any accidental drops thanks to its weather-sealed magnesium body, but also being portable enough to carry with you comfortably in your camera bag while you're transporting it around. 
If you want an even more portable spotting scope, one that costs less or even a packaged deal including things like a tripod, carrying case or a smartphone mount, be sure to check other scopes on our list since we've managed to include all of them.