There are many solutions on the market dedicated to helping you keep your camera gear close to you while you're traveling and exploring the world around you. Still, only one type of those products offers the best combination of storage space and protection.
We are talking about rolling camera bags. While they tend to be heavy and not that easy to carry around, in return, they offer unparalleled levels of room suited for multiple cameras, professional telephoto lenses, drones, and every camera accessory you can imagine.
The best rolling camera bag currently available is the Tenba Roadie Roller 21 Carry-On Camera Bag, but its competition is certainly fierce and you couldn't go wrong with any bag from our list, as you're about to see very soon.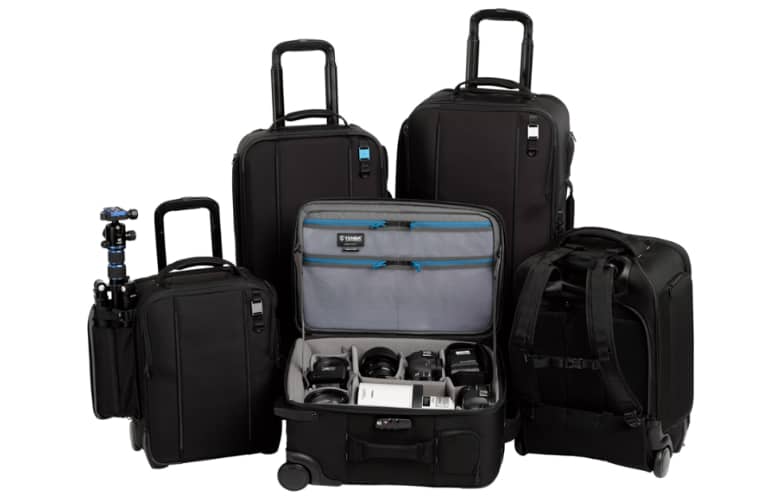 List of the best rolling camera bags
---
1. Tenba Roadie Roller 21 Carry-On Camera Bag
The best rolling camera bag
Dimensions: 9.25 x 14 x 21 inches | Weight: 10.6 pounds | Wheels: 2
The first thing you'll notice about the Tenba Roller 21 Camera Bag is its large and deep interior. It's big enough to hold two professional DSLRs with grips attached to them, a large bright aperture telephoto lens, a number of regular sized lenses, a flash unit, and a wireless receiver. You can also customize the interior space thanks to the removable padded inserts.
The front cover features a total of four zippered pockets on its inside; two smaller ones are designed to hold things like batteries and cleaning cloths and two larger ones for your cables, filters, or notebooks. The bag can also hold a camera tripod and even has a small pocket dedicated to external batteries, giving you a chance to top up your devices more quickly.
Then there's the compartment on the front of the bag, which can be used to store a 17-inch laptop, a tablet, and also some additional accessories thanks to the two built-in stretch pockets. Some other things worth mentioning are the robust and waterproof construction, the built-in rain cover, as well as the integrated locking system for additional safety.
Pros
Extreme amount of room for even the biggest lenses and DSLRs
Offers a lot of additional pockets
Can hold large laptops up to 17 inches in size
Water-resistant and durable construction
Has zip and cable locks for added security
Cons
Not the cheapest thing around
Heavier than your average rolling camera bag
---
2. Manfrotto Pro Light Reloader Switch-55 PL
The second best rolling camera bag
Dimensions: 13.98 x 9.06 x 21.65 inches | Weight: 8.8 pounds | Wheels: 2
If you're looking for a nicely designed rolling camera bag that can hold large lenses as well as a large laptop, then you should take a very good look at the Manfrotto Reloader Switch-55 PL. Its main compartment consists of two large removable separators and several smaller ones, so you can create separate groups of items and have a well-organized bag.
You should have no problem fitting two DSLRs, a telephoto lens, a couple of primes, a charger, and a flash unit inside of it; so, a total package. We also like that the main cover has three pockets on its back which are suitable for things like USB cables, headphones, spare batteries, or lens filters, so you won't need to bring your lens filter case along. One of those pockets is of the mesh variety, so it's bigger than the other two. 
The compartment on the back of the bag can hold a 17-inch laptop and a tablet and is protected by a zippered flap, which also has a small pocket inside of it. When it comes to durability, Manfrotto has developed its own protection system, reinforcing the most vulnerable parts of the bag, but uses lighter materials on others to keep the weight in check.
Pros
Lightweight but durable construction
Nicely organized main compartment
Water-resistant
Has the proper straps necessary to attach a tripod
Can hold a large 17-inch laptop
Cons
Not the cheapest rolling camera bag around
---
3. Think Tank Photo Airport International V3.0 Carry On
The third best rolling camera bag
Dimensions: 17.72 x 21.65 x 29.53 inches | Weight: 11.44 | Wheels: 2
Because of how much room it offers for all of your gear, the Think Tank Airport 3.0 rolling camera bag presents itself a great choice if you often work with heavy telephoto lenses or large DSLR camera bodies. You could also use the available space to store non-camera-centric things like a spare shirt, a toilet bag, or an umbrella, making this a very versatile bag.
The bag's interior can also be customized thanks to the removable separators, and those come in a number of different lengths. If you own both a laptop and a tablet, you will be happy to know that they have separate pockets and fit snugly and securely inside of them. There's also a see-through zippered pocket inside the same compartment for your smaller accessories,

What's also interesting is the addition of a locking mechanism for the laptop and tablet compartment. It requires you to enter a set combination and use a key to unlock it, which is a great solution if you own a professional editing laptop and want the best way to protect it. You can also be rest assured that all of your gear is protected from water damage as well.
Pros
Very spacious interior
Dedicated laptop and tablet compartments can be locked for added protection
Has the necessary straps on its side for attaching a camera tripod
Can hold both a 15-inch laptop and a 10-inch tablet at the same time
Features both the water repellent coating and the durable 210D nylon
Cons
Has some weight to it
Will be too pricey for some photographers
---
4. Pelican 1510M Mobility Case With Foam
The best durable rolling camera bag
Dimensions: 24 x 15 x 12 inches | Weight: 19.7 pounds | Wheels: 2
The Pelican 1510M Mobility Case is the most durable heavy-duty camera rolling bag in this article, but also the heaviest. So, before even considering it as your next purchase, you'll need to be sure that you can handle its weight. It is all due to its stainless steel and polypropylene construction, making it extremely resistant to impact, water, and dust.
It is also sealed very tightly when closed and has thick sponge material on the inside for additional shock protection. It also offers a decent amount of room for any of your professional cameras and lenses and all within the dimension and regulations set by airports worldwide. You can also replace the included sponge with extra mesh pockets if you like.
Besides including a heavy-duty handle and a pull arm, the case also comes with a special set of wheels. These are a part of the Mobility version and is more advanced than those included on the regular one. They can handle rough terrain with more ease and allow for smoother rolling. There's also a built-in stability bar, which makes the case very stable even when it's standing up.
Pros
Extremely rugged due to its steel construction
Offers an unparalleled level of protection for your gear
Water-resistant
Superior quality of wheels
Very stable in its upright position thanks to the heavy-duty stability bar
Cons
Incredibly heavy
Not as customizable as regular rolling camera bags
---
5. Nanuk 935 Waterproof Carry-On Hard Case
The second best durable rolling camera bag
Dimensions: 22 x 9 x 14 inches | Weight: 11.6 pounds | Wheels: 2
The Nanuk 935 Hard Case rolling camera bag is all about durability and ruggedness. Its hard outside shell and thick foam on the inside give it excellent impact resistance, while the Powerclaw latches will make sure that the case is closed tight during travel, so dust and water won't come in contact with your camera gear.
The bag also includes a traditional main compartment with removable velcro separators, giving you plenty of room to configure the insides to your own needs. There are also two flexible straps included, perfect for keeping your camera with the lens attached safe and protected from moving around inside the bag.
Nanuk also wanted to make sure that the wheels are as durable as the rest of the case, so they've installed polyurethane wheels combined with steel bearings to ensure that they roll smoothly and are capable of handling all the added weight and bulkiness. The two stage retractable handle is also a nice bonus and adds to the overall ease of use and comfort.
Pros
Very durable construction
Water-resistant
Offers plenty of room for all of your gear
Good value for money
Quality wheels
Cons
Heavier than the more traditional rolling camera bags
No tripod straps or a dedicated compartment for a laptop
---
6. Neewer 2-in-1 Rolling Camera Backpack
Best rolling camera bag for hobbyists
Dimensions: 21.3 x 5.7 x 4.9 inches | Weight: 9.43 pounds | Wheels: 2
While the Newer Rolling Camera Backpack is the most affordable product on our list, it still manages to bring a lot of features to the table. It has an interior spacious enough to hold up to two mid-range DSLRs, a couple of lenses, and multiple flashes. It can also hold different configurations of items thanks to the removable separators.
The front cover holds the pocket reserved for up to 15-inch laptops and has thick padding to absorb any possible shock damage. There are side straps included for attaching a tripod or a monopod and a compartment on the front, capable of holding a tablet and some smaller accessories like the lens cleaning pens, batteries, memory cards or lens caps.
The unique thing about this rolling camera bag is its ability to transform into a traditional camera backpack. All you need to do is to collapse the pull bar back into the bag, release the adjustable shoulder straps from their pockets, set them up to your liking and you're ready to go. It certainly won't be the lightest backpack in the world, but it's a useful feature nonetheless.
Pros
Capable of converting into a backpack
Can hold both a 15-inch laptop and a tablet
Very affordable
Made from waterproof nylon and also includes a rain cover
Capable of holding a tripod on its side
Cons
Not as durable as more premium offerings
Extra care is necessary to keep it in good shape due to its specific design
---
7. Lowepro PhotoStream RL 150 Rolling Case
The best lightweight rolling camera bag
Dimensions: 7.28 x 21.85 x 14.76 inches | Weight: 7.92 pounds | Wheels: 2
If getting a lightweight rolling camera bag is your top priority, then look no further from the Lowepro RL 150 Rolling Case. At only 7.92 pounds, it's the lightest rolling camera bag in this article, but it's also quite thin at the same time. This means that it will be easier to carry and drag around than other bags if you're having any issues with pain in your back or arms.
That kind of design does mean that you'll be losing depth and won't be able to fit very tall items inside the bag, but luckily you'll still have plenty of room for your cameras, lenses, and flashes if you lay them flat. This isn't a bag created for those that carry a lot of heavy professional gear and is certainly better suited for mirrorless cameras rather than DSLRs.
Lowepro has also decided to pay extra attention to the wheels, which have ABEC-5 rated bearings and can absorb unwanted vibrations, meaning that they are more durable and operate more smoothly than your generic types of wheels. The side straps for mounting a tripod are also included, and so are the rain cover and the pocket dedicated for a laptop.
Pros
Lightweight
Offers additional protection for your laptop and easier access
Can hold laptops with diagonals of up to 16 inches in size
Quality vibration-absorbing wheels
Has dedicated space for a tripod
Cons
Could offer more depth inside its compartment
---
8. Vanguard ALTA FLY 55T
The second best lightweight rolling camera bag
Dimensions: 13.63 x 21.63 x 8.63 inches | Weight: 8.5 pounds | Wheels: 4
The Vanguard ALTA 55T is a mid-range rolling camera bag that brings a lot of features in a fairly priced airplane-ready package. Its dimensions fit the airport regulations and so does its weight. It has enough room to fit a couple of camera bodies together with telephoto, wide-angle and prime lenses, as well as a flash unit.
Since all of the separators inside the bag are removable, you'll have a lot of options when it comes to choosing your own arrangement, meaning that you can create a large drone-ready pocket instead of a number of smaller ones or two longer ones if you carry more than one telephoto lens.
The padding inside the bag is pretty thick and will do a good job of protecting your gear, as will the included rain cover and the moisture-resistant materials the bag is made of. Besides the very good durability, the ALTA 55T also offers the necessary straps for holding a tripod as well as a dedicated pocket for your 14-inch laptop and a tablet to fulfill all of your editing needs,
Pros
Water-resistant
Pretty durable
Can hold a couple of camera bodies besides their lenses
Has dedicated space for both a laptop and a tablet
Capable of holding a tripod
Cons
Limited to only 14-inch laptops
---
Rolling camera bag buying guide
Why Use a Rolling Camera Bag?
If you want as much storage space from a camera bag as possible, that's the main reason to use a rolling camera bag. This is especially true if you're a professional photographer who travels a lot, brings all of their gear with them, and is visiting multiple locations and doing many different photography sessions while far away from home.
Then there's durability. Rolling camera bags tend to be very rugged, well-constructed, and protected from the elements. You could also pick one of the case-type bags, which offer even more protection due to their hard shell designs.
What to look for in a rolling camera bag
Padded dividers
These are always a useful addition to any camera bag. They provide shock protection to your gear while at the same time keeping the interior tidy and organized. Also, they tend to be removable and will allow you to shape the insides of a bag around your own cameras and lenses, so no room is wasted and your items fit nicely and securely.
Interior storage space – large capacity
While all rolling camera bags offer different amounts of internal storage space, even the smallest ones provide a lot when compared to other types of bags. All of them are capable of holding two camera bodies, mirrorless or the size of a mid-range DSLR.
Where they differ is in the amount of room available for telephoto lenses. A smaller and more portable rolling camera bag will certainly be able to hold a standard 70-300mm or a 70-200mm f2.8 lens, while the larger bags will be required for longer primes like 300mm or 400mm, especially if they have a bright maximum aperture of f2.8 or f2.
Suitable for airline carry on luggage
All airline companies and airports have strict regulations when it comes to the size and the weight of the luggage that can come aboard the plane, and the same holds true for rolling camera bags.
You need to make sure that your bag's dimensions don't exceed 21.6 x 13.77 x 9 inches and that its total weight is less than 22 pounds. These are the guidelines set by most airline companies, but some tend to have different ones, so ultimately, it's up to you to pay attention to them before going on a journey. The bags on our list all fit within those general guidelines.
Quick and easy access
It's never a complicated affair to get any piece of gear from a rolling camera bag. The access to the main compartment reserved for cameras, lenses, and flashes is always one zipper away and so is the case with laptop and tablet pockets usually located on the front or the back of the bag.
Your tripod will always be attached to the side of the bag and it will only take a couple of seconds to release the straps holding it. The smaller accessories like batteries, lens filters, and cables will also have their own pockets and be quickly accessible, well organized, and protected.
Quick Recap Of The Rolling Camera Bags Of 2023
Conclusion
So, to sum it all up, rolling camera bags are the best when it comes to holding and protecting your precious camera gear. They offer a lot of storage space, can be nicely organized, can hold everything from large telephoto lenses and professional DSLRs, to drones and laptops, and are durable thanks to their strong construction and often water-resistant materials.
While all of the items in our article offer enough features to satisfy most photographers, the Tenba Roadie Roller 21 Carry-On Camera Bag provides just a little more thanks to its safety locking mechanisms and additional pockets and thus takes the crown as the best rolling camera bag currently available.