If there's one sensitive type of photography gear that requires constant care and protection to remain in a functional and well-preserved shape, it has to be the lens filters.
They are in constant danger from scratches, smudges, dust, and even cracks, and this is the reason why lens filter cases came to be and have their place among other camera cases and bags. Like other cases, they also vary in size, weight, build quality, and storage space.
If you're only looking for the best lens filter case around, then the MindShift Gear Filter Nest Storage Case certainly fulfills that role. If, however, you're still unsure about what you really need, scroll down and look at the best selection of different types of lens filter cases we've picked for your convenience.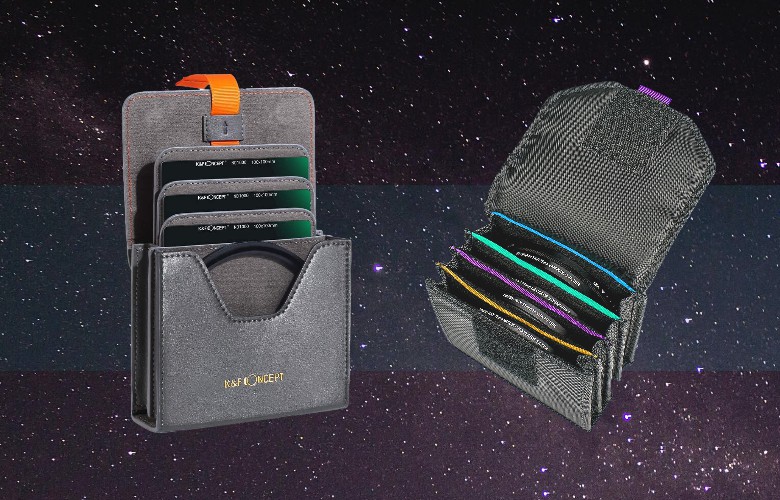 List of the best lens filter cases
---
1. MindShift Gear Filter Nest Storage Case
Best lens filter case
Dimensions: 2.95 x 8.07 x 4.33 inches | Weight: 3.52 ounces | Brand: Mind Shift
If you want the best possible lens filter case out there and you're unwilling to accept any compromise, look no further than the MindShift Gear Filter Storage Case. 
It serves as a great example of how you can make a case that's both remarkably functional and allows you to organize your filter collection well. MindShift has achieved that by including eight separate pockets with each one being reserved for one filter and color-coding them all, so you can separate them quickly and easily once you remember which color corresponds to which filters.
The entire insert with those pockets is also removable, so you can reorganize your filters more easily or clean the inside of the bag. You will also be able to attach the case to a tripod or your belt. You should also expect outstanding build quality and enough padding inside the case for great shock protection.
Pros
Lots of storage space
Removable inner sleeve
Color-coded pockets
Can be attached to a tripod
Good build quality
Cons
Will be too bulky for some people 
---
2. MindShift Gear Filter Hive Storage Case
Second best lens filter case
Dimensions: 3.94 x 8.07 x 5.31 inches | Weight: 5.6 ounces | Brand: Mind Shift
The second best lens filter case on our list also comes from Mind Shift, and it's their Gear Filter Hive Storage Case. This one is more suited to those who look to get as much storage space as possible, even if it means sacrificing portability in the process. 
It has enough room to hold up to six flat neutral density or polarizing filters and up to six rounded filters with a diameter of 82mm, all at the same time. This makes it quite bulky by comparison with many other lens filter cases, but its build quality is still top-notch.
As is the case with its smaller brother, the Hive case can also be attached to multiple things, including your tripod or your belt. The inner pockets are also removable and have color-coding for easier and more precise organization of all of your lens filters. 
Pros
Great amount of storage room
Removable filter insert
Color-coded pockets
Durable construction
Cons
A little pricey
Some may find it too big
---
3. Haida 150 Insert Pouch for Filters
Best lightweight lens filter case
Dimensions: 7.5 x 4 x 9.25 inches | Weight: 1.35 ounces | Brand: Haida
The Haida 150 Insert Pouch is the best type of lens filter case that the money can buy if you want your case to be lightweight and portable but also without a big sacrifice in storage space.
With a weight of only 1.35 ounces and compact dimensions, you should have no problem fitting in a regular bag or a backpack, but on top of that, it can be carried as a small bag on its own, thanks to the inclusion of a standard shoulder strap.
It includes two different compartments under one protective velcro flap. The one on the front acts as a singular big pocket and can be used to fit wider filters or their mounting systems, while the other section includes several smaller pockets for your regular lens filters.
Pros
Decent amount of storage space
Good build quality and lightweight construction
Capable of holding larger filters
Can be used with a shoulder strap
Cons
Could offer more padding on the inside
The price could be lower
---
4. NOMATIC McKinnon Filter Case
Best rugged lens filter case
Dimensions: 5.51 x 1.38 x 8.27 inches | Weight: 8.5 ounces | Brand: NOMATIC
If maximum protection of your filters from any kind of scratches or accidental drops is the first thing in your mind when thinking about purchasing a new lens case, then the NOMATIC McKinnon Filter Case will certainly give you peace of mind on any of your future travels.
Being molded from thick EVA foam makes it very resistant to sudden shock damage and elements like dust, water, or the cold. This does mean that the case has a little extra weight to it and may not be ideal for you if you like to pack light.
However, the McKinnon Filter Case does have another great thing going for it, and that is its tidy interior. Besides offering one stretch pocket reserved for your cleaning cloths, it also places the filter pockets themselves in pairs of two and allows you to flip through them just like you would flip the pages of a book. 
Pros
Decent amount of storage space
Includes elastic mesh pockets
Very durable construction
Nicely organized interior
Weather-resistant
Cons
A little heavy
Not ideal for very large lens filters
---
5. MindShift Gear Filter Nest Mini Filter
Best budget lens filter case
Dimensions: 1.57 x 3.54 x 3.94 inches | Weight: 2.4 ounces | Brand: Mind Shift
If you're on the lookout for a compact, lightweight and affordable lens filter case and you don't need a lot of storage space, then the MindShift Gear Nest Mini will be a great choice for you.
Thanks to its small dimensions and very low weight, you'll be able to carry it anywhere with you and fit it in almost any kind of bag without it taking too much space. It has enough storage room to hold four or five different filters, depending on their size and thickness.
Also, your filters will be nicely protected and organized thanks to the combination of soft padded interior and color coding for each separate pocket. The case itself is also easy to use, you just need to open the protective velcro flap, and your filters are already there at your disposal.
Pros
Good build quality
Affordable 
Easy to use
Very portable thanks to small dimensions and low weight
Cons
Doesn't offer a lot of storage space
No additional pocket on the outside
---
6. Lowepro GearUp Filter Pouch 100
Best versatile lens filter case
Dimensions: 3.15 x 5.91 x 7.87 inches | Weight: 12.9 ounces | Brand: Lowepro
The Lowepro GearUp 100 is one of those lens filter cases which aims to combine multiple types of filters and give you the option to store them in a well organized and secure manner.
It features different types of pockets inside, all of varying size and shape. The smaller ones found under the main flap are reserved for circular lens filters, while the bigger card style ones are meant to be used with larger square shaped sheet filters.
There's also a large stretch pocket on the back of the case capable of holding either a filter mount or a circular filter up to 100mm wide. We also like how sleek the case itself looks with its gray checkerboard pattern and orange accents in the form of the carrying handle and the brand logo.
Pros
Capable of holding a lot of different filters
Sleek design
Easy to carry around
Has an extra exterior pocket
Cons
Heavier than your average lens filter case
Can't be attached easily to other camera gear
---
7. K&F Concept Lens Filter Case
Best lens filter case for square filters
Dimensions: 5.75 x 4.92 x 1.93 inches | Weight: 9.7 ounces | Brand: K&F Concept
The K&F Concept Lens Filter Case is specially catered to those who mostly use square filters because you're either working with ultra-wide-angle lenses that aren't compatible with circular filters, or you want to use graduated filters that will allow you to get a darker sky or a lighter foreground.
It's capable of holding up to three 100 x 100 filters and one filter holder. The filters themselves can be taken out very easily thanks to the pull-out design. The texture that comes in contact with them is a soft faux leather material and will never cause any scratches or any kind of damage.
We also like the fact that a lot of effort has been put into the overall build quality of the K&F Concept Lens Filter Case. It's made from durable leather that's also waterproof, so you can make sure that your filters will remain in their top shape at all times.
Pros
Great build quality 
Good value for money
Nicely organized interior 
Can be attached to a belt or a backpack
Waterproof
Cons
A little on the heavy side
---
8. NiSi 100mm Filter Pouch Plus
Second best lens filter case for square filters
Dimensions: 11.1 x 9.41 x 2.91 inches | Weight: 12.3 ounces | Brand: NiSi
The NiSi 100mm Pouch Plus is a great example of a filter lens case made for rectangular filters that both looks attractive and is functional at the same time. If you care about the design of your cases, this one will surely attract your attention. 
It's not the lightest case of its type around, but it is still pretty compact and can either be worn as a shoulder bag, a messenger bag, or around your waist, making it extremely versatile. It can also be mounted on a tripod leg if you want to have the quickest possible access to your filters. 
The most impressive thing about the NiSi 100mm Pouch Plus is the amount of storage space it offers. It's capable of holding a total of nine rectangular filters, four 100 x 100mm and five 100 x 150mm ones, so you will never run out of room for all the filters in your collection. 
Pros
Stylish design
Can be worn in multiple different ways
Includes a shoulder strap
Optimized for thin and square filters
Has a lot of storage space
Cons
Not the lightest lens filter case around
Not ideal for use with thicker or rounded filters
---
Lens filter case buying guide
What to look for when buying a case for lens filters
Storage capacity – How many can it hold?
This is the most important thing to look at when choosing a lens filter case. Most of them can hold at least 4 circular filters with a size of 82mm, which is the norm for more compact and lightweight cases.
The bigger ones will allow you to fit up to 9 or 10 filters, usually of varying sizes. Also, this is where square 100 x 100 and 100 x 150mm lens filters come into play since they require more storage space than your average circular lens filters. 
Keep your lens filters secure and safe
If you are the more outdoors type of photographer, look for lens filter cases that advertise high-quality materials like real leather or EVA foam for extra protection, and ideally should be both waterproof and dustproof. This also holds true if you're dealing with professional lens filters themself since replacing them if accidentally damaged won't be a small investment.  
Filter bag or wallet style?
It all comes down to what you value more, storage space, or portability. Wallet style filter cases are generally a better option if you want something compact and lightweight and you're used to carrying only a couple of filters with you.
The bag style filter cases offer the most storage space, which you'll certainly need if you carry more than five filters at once, especially if they're of the rectangular variety. They also tend to be the more durable option, with some of them sporting hardshell designs and water resistance. 
Quick Recap Of The Best Lens Filter Cases
Conclusion
We hope that you've learned a thing or two about lens filter cases and all of their varieties after reading our article and that now you finally know what you need from a filter case, and you're ready to decide which one is right for you. 
If all you want is the best and nothing less, the MindShift Gear Filter Nest Storage Case will give you the best experience with its balance between storage space, durability, portability, and ease of use. You should also remember that more compact, less expensive, and more rugged ones are also featured in this article if you prioritize any of those filter cases instead.