Every photographer needs a way to carry their camera gear with them in a way that is comfortable and secure. This has caused the popularity of what we now know as a camera sling bag.
Some camera bags focus on durability, some on storage space, and some are just trying to be portable and easy to use. The camera sling bags fall into the last category, bringing simple yet very functional design and only the most important features. The weight, size, complexity, and price can bring them closer to more photographers, especially those just starting out.
The Peak Design Everyday Sling 10L is the best among them and serves as a great showcase of how a well thought out camera sling bag should look like. But because your needs may be different from others, you may find some of the other bags on our list to be more exciting offerings for you.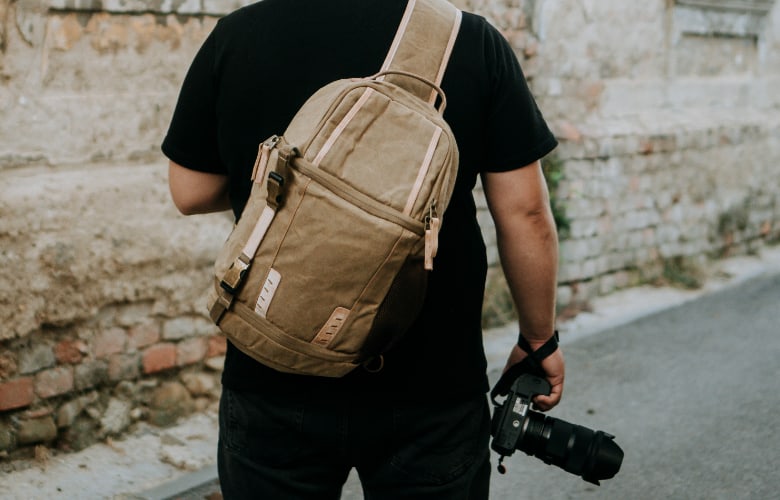 List of the best camera sling bags
---
1. Peak Design Everyday Sling 10L
Best camera sling bag
Dimensions: 9.8 x 5.5 x 15.6 inches | Weight: 1.9 pounds
The Peak Design Sling 10L is a great example of a camera sling bag that tries to bring a fine balance between portability, versatility, and storage space. At 1.9 pounds, it's not the lightest sling bag out there, but it's not the heaviest either, so again, it achieves a nice balance.
Its main compartment is fitted with removable padded dividers and has enough room to either hold a mid-range DSLR or two smaller mirrorless camera bodies coupled with one or two lenses. There's also a long zippered pocket on the inside of the bag, perfect for any of your cables, lens pens, or portable red flashlights.
On top of that, there's one additional pocket on the front and you could use it to place your extra batteries and a charger. A tripod holder is also included. The bag itself is also made from high-quality water-resistant materials, has durable zippers, and can also be carried on your shoulder or around your waist thanks to having a very adjustable strap.
Pros
Includes flexible dividers for better organization
Can hold a tripod
Water-resistant
Can hold one DSLR body or two mirrorless cameras
Durable construction
Cons
High price point
Not easy to fit a 13-inch laptop
---
2. Vanguard Alta Rise 43 Sling Bag
Second best camera sling bag
Dimensions: 10.38 x 17.75 x 7.88 inches | Weight: 2.64 pounds
The Vanguard Alta Rise 43 Sling Bag is all about giving you the most storage space without throwing away any of the major benefits of your traditional camera sling bag. Yes, this bag is heavier and larger than many other sling bags, but on the flip side, it's very rare to find one that's capable of holding both a DSLR and professional telephoto zoom lens at the same time.
This all due to the large interior consisting of many padded removable separators that vary in length and thickness. So, you'll have a lot of choices when it comes to configuring the arrangement of the main compartment and fitting everything from the already mentioned DSLR and a bright aperture telephoto zoom lens to other lenses, a flash or a battery charger.
The bag itself is also water-resistant and has a built-in rain cover for additional protection. It's also comfortable to wear thanks to its breathable back, padded strap, and the addition of a stability strap. There's also dedicated space for a tripod and enough room for all of your smaller accessories like memory cards or cables. 
Pros
Spacious interior with included padded dividers
Plenty of room for your accessories like memory cards or spare batteries
Comfortable to carry
Water-resistant
Can hold a tripod
Cons
Above-average weight
No stretchable pocket for a water bottle
---
3. Lowepro Slingshot 102 DSLR Sling Camera Bag
Best budget camera sling bag
Dimensions: 8.7 x 8.3 x 15.9 inches | Weight: 1.54 pounds
The Lowepro Slingshot 102 is a great choice for anyone starting out with photography and looking for an affordable sling bag to carry and protect their DSLR or a mirrorless camera while exploring the outdoors, having fun and learning about all of its aspects.
Despite its low price and low weight, it still manages to bring important features like the built-in weather protection cover, a tripod mounting system, and several smaller pockets dedicated to storing accessories like extra batteries, lens caps, or USB cables. The only thing missing is a water bottle pocket, but you can always place your bottle inside the main compartment.
The most impressive thing about this sling bag is how much storage room it brings for the price. There are three removable padded separators inside the main compartment, and they are big enough to wrap around securely around a mid-range DSLR camera and at least two of its lenses. Of course, it's entirely up to you to decide how the insides will be arranged.
Pros
Great value for money
Very lightweight considering the amount of storage space it offers
Padded interior capable of holding a mid-range DSLR and a couple of lenses
Built-in weather protection cover
Built-in smaller pockets for accessories as well as a tripod mounting system
Cons
Not very comfortable to carry
Build quality could be better
---
4. Lowepro Slingshot Edge 150 AW
Best lightweight camera sling bag
Dimensions: 6.1 x 15.28 x 9.57 inches | Weight: 1.2 pounds
If you require a camera sling bag that's very portable and lightweight and you own a mirrorless camera, then the Lowepro Edge 150 AW presents itself as an excellent option. With a weight of only 1.2 pounds and a very compact size, you can rest assured that it won't put too much pressure on your shoulders while you're concentrating on your photography.
It has enough room to hold a mid-sized mirrorless camera and two or three lenses, depending on their dimensions. The interior is also of the traditional camera bag variety, filled with removable velcro inserts that you'll be able to arrange to your liking. There's also enough room for a tablet, so you can casually edit your photos while you're out and about.
The bag's front features a small zippered pocket with a couple of separate compartments reserved for your memory cards, extra batteries, USB cables, or even portable battery banks. The front also has two straps attached to it that are capable of holding a tripod or a monopod, but also a water bottle if it's not too thin.
Pros
Lightweight construction
Good value for money
Can hold a tablet
Capable of holding a tripod
Has a decent amount of room for smaller accessories
Cons
Not designed for DSLRs or larger mirrorless cameras with grips attached to them
Could offer more comfort
---
5. Think Tank Photo TurnStyle 20 V2.0
Second best lightweight camera sling bag
Dimensions: 9.3 x 17.3 x 5.4 inches | Weight: 1.1 pounds
The Think Tank TurnStyle V2.0 is the most lightweight camera sling bag in our article and best suited to hobbyist photographers looking for a simple and easy to use solution for carrying their gear and without needing a lot of extra bells and whistles.
It consists of two compartments, one on the inside and one on the front of the bag. The inside's main storage space can hold one full-frame mirrorless camera or two smaller ones with APS-C or 4/3 sensors and one or two lenses, depending on the configuration. There are also standard removable separators on the inside.
The front zippered pocket is a smaller one and is dedicated to holding accessories like memory cards, lens caps, batteries, lens filters, or different types of cables. You could even use it to store your wallet or keys, thanks to the separate compartments. The same pocket can also be used to place a tablet of up to 10 inches in size.
Pros
Very lightweight
Includes a stability strap
Can hold a tablet or a very small laptop
Can hold more than one mirrorless camera body
Offers easy access to your gear
Cons
No stretchable water pocket
No tripod mount
---
6. MindShift Gear PhotoCross 13 Sling Bag
Best DSLR camera sling bag
Dimensions: 9.4 x 14.2 x 2.2 inches | Weight: 2.65 pounds
The MindShift Gear 13 Sling Bag aims to bring the capacity of a smaller backpack while retaining the ease of use of a camera sling bag. It does that by increasing its internal space as well as adding a laptop compartment and the ability to hold a tripod.
So, you should have no problem placing a prosumer DSLR, a standard zoom, and a wide-angle lens inside of it, while also keeping them well-organized thanks to the included padded separators. There's also a zippered mesh pocket on the inside for your memory cards, extra batteries, or USB cables.
As is the case with most camera sling bags, your gear will be easily accessible even while the bag remains on your shoulder and the same can be said for your laptop or a tablet. The bag also offers a level of water resistance thanks to its rugged zippers and materials. It has a stretchable pocket perfect for a water bottle and gives you the ability to attach a tripod to it.
Pros
Can fit a tablet or a 13-inch laptop
Waterproof
Durable
Includes a stretch pocket for your water bottle
Capable of holding a tripod
Cons
A little pricey
No padding on the shoulder part of the strap
---
7. Tenba Solstice 10L Sling Bag
Second best DSLR camera sling bag
Dimensions: 7 x 9.5 x 17.5 inches | Weight: 1.6 pounds
The Tenba Solstice 10L is a perfect camera sling bag for you if you're a DSLR user but still want all the portability benefits of having a lightweight bag on your shoulder. It's also a great choice if you're looking for additional stability, thanks to its built-in stability strap.
Since it includes three removable inserts, its main compartment can be split into four different parts and can hold a DSLR with a lens attached to it, two additional lenses, and a flash. Your gear will also be quickly accessible thanks to the benefits of a sling bag, so you won't have to miss that perfect moment while you're doing street or wildlife photography.
The large pocket on the front has a number of compartments of different sizes so that it can hold everything from a lens pen, a small notebook, or a couple of additional batteries to your smartphone or a 10-inch tablet. You will also be able to attach a tripod to the bag itself and store a water bottle for quick refreshments on the go. 
Pros
Has the necessary room for a water bottle or a tripod
Can hold a 10-inch tablet
Lightweight construction
Water-resistant
Built in stability strap
Cons
Can either hold a tripod or a water bottle, but not both at the same time
The stability strap could be thicker to offer more comfort
---
8. Manfrotto Pro Light Fasttrack-8 PL
Best mirrorless camera sling bag
Dimensions: 9.65 x 5.51 x 16.54 inches | Weight: 1.58 pounds
The Manfrotto Pro Fasttrack-8 PL is a portable, nicely built, and a practical camera sling bag suited to mirrorless camera users looking for a practical bag for lighter travel or any kind of street photography. It also looks very stylish thanks to its deep black colors and red accents on certain parts.
Since it's so portable, the Fasttrack-8 PL isn't capable of holding a DSLR. Still, it has enough room for a mirrorless camera and one or two lenses, all separated and organized by the included padded dividers. The main compartment also has two smaller pockets perfect for your memory cards or spare battery packs.
For your external battery, charger, and the required cables, Manfrotto has included an additional pocket on the front of the bag. To offer you even quicker access to your camera, there's also a built-in sling strap that attaches directly to your camera and will allow you to have it at your side at all times and ready to use in mere seconds.
Pros
Not too heavy considering how well made it is
Capable of holding a tripod
Durable construction
Built-in camera sling strap
Water-resistant
Cons
Not ideal for DSLRs or any larger camera combinations
It would be useful if the built-in camera sling was removable
---
Buying guide to selecting the best camera sling bag
Things to consider in a camera sling bag
Space – can it fit extras
Putting enough storage space inside a camera sling bag to fit all the important gear and accessories is a challenge for all manufacturers. Since they have to be light and portable by design, not all of them are suited for all types of cameras.
The larger and heavier ones are usually capable of holding DSLRs and sometimes even larger telephoto lenses. They also tend to have enough room for things like tripods and water bottles.
Those that are very light and have smaller dimensions are best used in combination with mirrorless cameras, especially with APS-C or smaller sensors. When used with mirrorless bodies, they can always hold at least two lenses. Some of them are capable of holding a tripod or a water bottle, but rarely both.
When it comes to smaller accessories like memory cards, lens caps, USB cables, spare batteries, or cleaning cloths. Even the most portable camera sling bags will have at least one larger pocket dedicated just to those items, so you shouldn't have to worry about that. 
Adjustable strap – left or right sided
Like any other type of camera bag, most sling bags also offer adjustable straps and their length can be changed to best fit your own body. If you want even more comfort, look for those that have padding on them and include additional stability straps.
Some straps on camera sling bags are left, and some of them right sided. If you're unsure about which ones to go for, your best bet is to try one of each in your local store and see which strap orientation feels the most natural to you.
Internal padding
Every camera bag should have some kind of internal padding to keep your camera gear protected, and the story is no different when it comes to sling bags. It provides shock protection, but also a way to neatly organize your camera body and lenses when coupled with velcro separators. All of the sling bags on our list have this kind of functionality, and it should be your top priority when buying a camera bag.
Waterproof
It doesn't matter if you're spending a lot of time in areas with a lot of rainfall or you are just a casual photographer who accidentally found themselves outside during a rainy day, having a waterproof camera bag is always a good thing.
A camera sling bag that's considered waterproof is either made from water repellent materials or has a built-in rain cover that goes over the bag to protect the gear inside of it from water damage. More advanced bags tick both of those boxes and even come with sturdier zippers especially designed to withstand harsh weather.
Quick Recap Of The Best Camera Sling Bags
Conclusion
Now, after you've consumed all the information about camera sling bags we've managed to throw at your screen, the time has come for you to decide which is the right one for your particular needs.
We've already established that they are one of the most portable feature-complete types of camera bags out there. They aim to bring versatility, flexibility, and ease of use to all kinds of photographers, no matter their level of expertise or available budgets.
If you just want the best overall camera sling bag, then look no further than the Peak Design Everyday Sling 10L. It does a terrific job of balancing portability and storage space without sacrificing comfort or durability in the process. However, there are other sling bags in this article made for more specific types of photographers and as such, shouldn't be overlooked.