We all know that you need to find the right combination of a tripod, a mount, and a telescope to get a stable platform for astronomy viewing and astrophotography. Any lack of stability will make the entire experience of observing the stars much less enjoyable.
However, even with a solid setup, sometimes it won't be enough and you will still find it hard to battle the vibrations caused by the wind, uneven surface, or even your own steps, and that's where the anti vibration pads come into play to fix that problem.
These tiny things resembling a hockey puck are placed underneath each leg of the tripod and use their surface to dampen and battle any incoming vibrations, giving you a more stable view while looking through the eyepiece or taking a long exposure photo.
The Celestron Vibration Suppression Pads are the best anti vibration pads on the market and an excellent choice for any enthusiast or professional. Less expensive ones more suited to amateur and beginner astrophotographers are also available, as you're about to see on the list down below.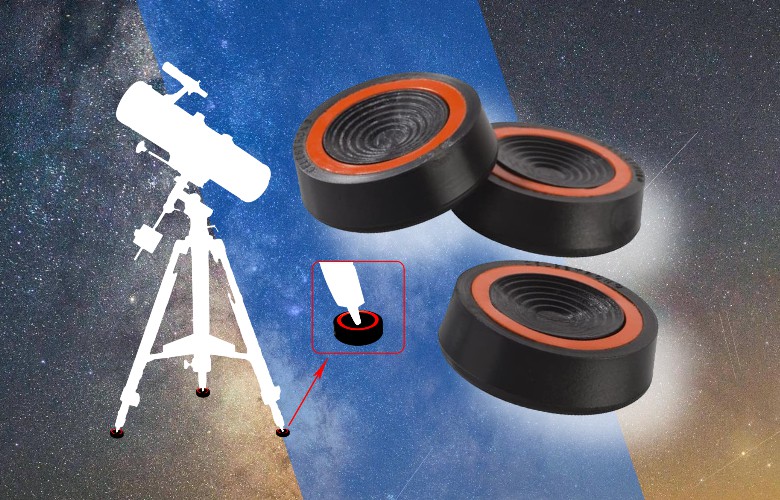 Our Best Tripod Anti Vibration Pads at a Glance
List of the best tripod anti vibration pads
---
1. Celestron Vibration Suppression Pads
Best tripod anti vibration pads
Dimensions: 10.8 x 4.4 x 2.2 inches | Weight: 16 ounces | Material: Sorbothane
If you're a proud owner of a highly capable astronomy setup and you want the best possible vibration pads to help you protect it from unwanted vibrations, the Celestron Vibration Suppression Pads should be your only choice.
Firstly, they are easy to carry around and can fit in any backpack or even a larger pocket on your vest or jacket. Placing them under the legs of your tripod and looking through the eyepiece on your telescope will help to dampen or eliminate any external vibrations that can travel up through the telescope and can cause blurred images. All thanks to the special flexible rubber part in the center of the pads.
That flexible part is the Sorbothane rubber, made by the US based company of the same name and used in many industrial and electronic applications. It has excellent vibration dampening properties, better than silicone found in cheaper suppression pads, and will do a much better job of stabilizing a heavy-duty professional astrophotography tripod setup.
---
2. Orion RockStable II Anti-Vibration Pads
Second best tripod anti vibration pads
Dimensions: 9.25 x 3.5 x 1.5 inches | Weight: 12 ounces | Material: Visco-elastic
Just like our best pick anti vibration pads, The Orion RockStable II also features a visco-elastic rubber material as their base, but not a branded one, so they sit firmly as the second-best pads on the market.
This means that you'll have to deal with much less shake from your tripod and telescope while you're using them or making any adjustments, all thanks to that special vibration dampening material.
They are an equally good choice for lightweight and heavy-duty astrophotography setups.
---
3. Astromania Anti-Vibration Suppression Pads
Best buy tripod anti vibration pads
Dimensions: 9.27 x 3.2 x 1.48 inches | Weight: 10.4 ounces | Material: Plastic
The Astromania Anti-Vibration Pads provide a good balance between build quality, fair price, and good vibration dampening properties.
While they aren't made from any fancy materials and use only silicone as their base, they do feel more sturdy in the hand than other less expensive pads. Thus, they will provide your tripod with a little more stability when the vibrations come into play.
They will also prevent it from sinking in the ground if you use it on a wet, muddy, sandy, or generally uneven and unstable surface, giving you a nice and straight image if you're taking photos of the night sky.
---
4. Alstar Anti-Vibration Suppression Pads
Best budget tripod anti vibration pads
Dimensions: 9.3 x 3.3 x 0.7 inches | Weight: 12 ounces | Material: Silicone
If you're on a tighter budget but you still want decent quality anti vibration pads, the ones from Alstar should be on the top of your list.
They are simple to use, will resist water and dust and are easy to clean if they get dirty. Just place them under the legs of your tripod and you're good to go. They won't cancel out as much vibrations as more expensive pads, but they give you more stability to work with while you're looking through your binoculars.
They are also a good choice if you like night city photography, and you need to use low exposures on your camera while it's mounted on a tripod since they will dampen some of the vibrations caused by pedestrians walking near you or cars passing by.
---
5. Gosky Tripod Vibration Suppression Pads
Second best budget tripod anti vibration pads
Dimensions: 2.76 x 1.38 x 1.97 inches | Weight: 3.32 ounces | Material: Silicone
While the Gosky Tripod Suppression Pads won't blow you away with their build quality, they will do a decent job of suppressing vibrations that would otherwise shake your tripod while you're observing the night sky and make your life harder.
They are straightforward to use, can fit almost anywhere when packed away and will work on any tripod you throw at them.
If you've just started spending time outside sparked by your fascination with astronomy and you want to add stability to your setup without spending too much money, these are a very good option.
---
6. Solomark Anti-Vibration Suppression Pads
Third best budget tripod anti vibration pads
Dimensions: 9.25 x 3.5 x 1.5 inches | Weight: 12.8 ounces | Material: Silicone
If the other two budget options on our list aren't available and are out of stock, the Solomark Anti-Vibration Pads are a great alternative, especially if you grab them while they're on sale.
Thanks to their good vibration dampening properties, you will have less tripod shake to worry about and have an easier time capturing sharp night sky photos with your camera or with the digiscoping technique. Since they have a bigger surface than the tips of the tripod, they do a much better job of spreading the load of your setup and thus, protecting it from vibrations.
So, even if you're just a beginner and learning about astronomy, you will have one less thing to worry about, and you'll be able to concentrate on learning how to adjust your telescope correctly or choosing the proper settings on your camera.
---
7. iOptron 8433 Vibration Dampening Pads
Best lightweight tripod anti vibration pads
Dimensions: 2 x 3 x 2 inches | Weight: 9.9 ounces | Material: Silicone
The iOptron 8433 Dampening Pads are best when paired with a lightweight astronomy setup since they are very lightweight and portable themselves.
If you're used to observing the night sky with a smaller tripod and a pair of binoculars or taking photos with your smartphone or a smaller mirrorless camera, these will do a very good job of adding some stability to your setup and allowing you to enjoy your hobby even more.
While they won't wholly suppress bigger vibrations like those coming from a fairly strong wind or people running around you if the surface they're on is uneven, they will perform their job perfectly well if you place them on a solid surface like a balcony or concrete. You won't have to worry about walking around your tripod and causing it to shake, either.
---
Tripod Anti Vibration Pads Buying guide
What to look for when buying anti vibration pads
What material are they made from?
Most anti vibration pads are plastic and silicone, so they work fine with a more affordable astronomy setup with a tripod that isn't too heavy.
However, if you're using a more advanced setup and you want to make sure that your tripod doesn't sink in the ground and you want to eliminate vibrations as much as possible, you should look for anti vibration pads that feature Sorbothane rubber or a similar material. These are noticeably more effective at keeping your tripod stable and won't melt in the sun.
Are VPS (Vibration Suppression Pads) useful on unstable surfaces?
Yes, they are. They add more surface area to the ends of the tripod legs and help spread the load of the tripod and your gear over that larger surface, thus preventing the tripod from sinking into the ground from all the weight it has to carry and potentially spoiling your polar alignment. If you're dealing with astrophotography, the pads will help you get perfectly straight photos. 
Do I need to remove the rubber tips from my tripod when using Suppression Pads?
Generally, it's not necessary. The suppression pads will do their job for most tripods and setups without you having to remove their stock rubber tips. Some of them may even break if you try to do it manually, as they aren't intended to be removed in the first place.
You may also find some manufacturers pointing out that the tips are removable on some of their heavy-duty tripods and they will state that in the product description, but it isn't necessary. You will still get great results without removing the rubber tips.
Are anti vibration pads useful for both astronomy and astrophotography?
If you decide to use them for astronomy, they will allow you to get a more stable and less shaky view while you're observing the night sky with your binoculars, spotting scope, or a telescope. High magnification astronomy is always a challenge and less shake is always a good thing. 
They are even more useful for astrophotography. First, they will help you to level your setup against the horizon since the pads will prevent the tripod from sinking in the ground. Secondly, you will be able to make any adjustments to your setup without having to wait for a long time for it to stabilize again and be perfectly still.
Lastly, it will counteract the vibrations caused by the wind or you just walking along the ground and allow you to get sharp and detailed photos instead of those that are blurry.
DIY vs commercial anti vibration pads
While it's certainly possible to create improvised anti vibration pads at home and get different levels of success with them, it's not something we would recommend if you value things like consistency, ease of use, or reliability over time.
While you would be saving a couple of bucks with a DIY solution, you would also be throwing away the simplicity of using commercial anti vibration pads, the elegance of having a precisely manufactured product and the quality of materials, especially if we're talking about pads using Sorbothane or similarly effective rubber.
Considering the fact that you already have to invest time, effort and money into obtaining all of your astro gear, traveling to your location of choice and setting up all that gear, it makes more sense to invest a little more into commercially available anti vibration pads and reducing the risk of ruining your astrophotography experience with an imperfectly done DIY solution.
Conclusion
So, to sum it all up. The anti vibration pads are a simple, lightweight, affordable, and easy to carry around solution that will help you combat the negative effects that vibrations have on any astronomy or astrophotography setup consisting of a tripod or a telescope mount.
While most anti vibration pads have similar designs, only the Celestron Vibration Suppression Pads use the highest quality Sorbothane rubber material that allows them to be most effective at reducing vibrations out of all the others. It also means that they are the most durable and will stay in great condition even after years of constant use.