Whether you're backpacking through European cities or through the serene countryside, a tripod can help you capture incredible photos that wouldn't otherwise be possible.
However, the last thing you want on your mind is how much your shoulder or back hurts from lugging your tripod around all day.
Fortunately, many tripods nowadays have all the features you'll need in an incredibly compact design.
Our personal favorite for backpacking is the Peak Design Travel Tripod, as it offers all the best features in a size that's perfect for travel. Read on to hear more about it and several other models we think will tickle your fancy.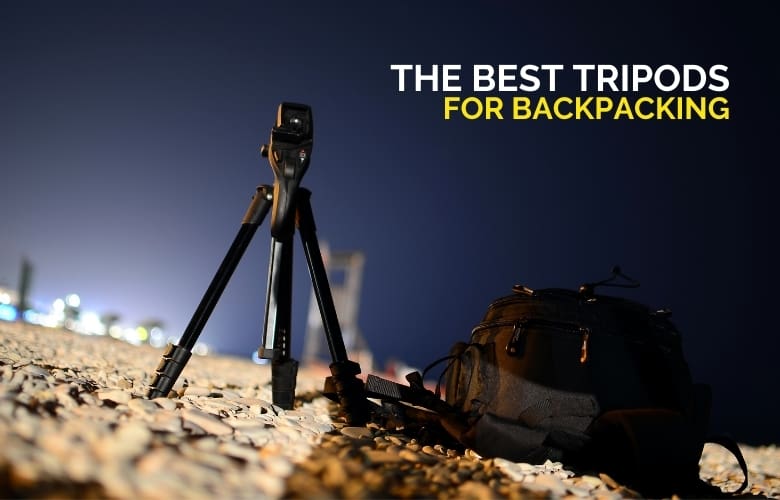 Our Top tripods for backpacking At a glance
The Best Tripods to Buy for Backpacking
---
1. Peak Design Travel Tripod
Best overall tripod for backpacking
Brand: Peak Design | Max Load: 19.8 pounds | Weight: Carbon Fiber: 2.81 pounds / Aluminum 3.30 pounds | Min Height: 16.1 inches | Max Height: 60 inches | Material: Carbon Fiber or Aluminum | Leg Sections: 5 | Feet: Rubber pads | Folded Length: 15.3 inches
The Peak Design Travel Tripod is a strong offering right out of the gate. While the aluminum model is half a pound heavier than its carbon fiber counterpart, it still only weighs in at 3.3 pounds.
The lightweight design is not the only reason the Peak Design Travel Tripod is excellent for backpacking. When not in use, the tripod collapses to the diameter of a water bottle and a length of just over 15 inches, making it easy to store away.
There's no fear of taking it into the unknown either. Peak Design stands behind its lifetime guarantee, swearing to make things right in the event something goes wrong.
When standing fully upright, this tripod stands five feet tall to reduce the amount of stoop required to line up those incredible shots. The tripod drops to 16 inches on the lower end to capture macro shots and those low angles.
Even with a five section leg design, this model is designed with easy setup and teardown in mind. After all, no one wants to hike for hours only to have to spend an excessive amount of time setting up a tripod.
Pros
Built-in mobile mount
Extremely portable
Two material options
Lifetime guarantee
Includes ball head
Cons
Pricier than other travel models
---
2. Joby GorillaPod 5K Kit
Smallest backpacking tripod
Brand: Joby | Max Load: 11 pounds | Weight: 1.63 pounds | Max Height: 15.2 inches | Material: Aluminum | Leg Sections: 1 | Feet: Rubber pads | Folded Length: 15.2 inches
The Joby GorillaPod 5K is for those backpackers that don't need a tripod that extends up to five feet. Those resourceful enough will be able to use the objects around them to capture all the shots they need.
The GorillaPod doesn't have the ability to extend. Instead, the roughly foot-long legs are flexible and can wrap around trees or grab hold of rocks for stability.
This unique design means that the tripod doesn't collapse, but it doesn't need to. At just 15 inches in height and a very narrow frame, it can safely stow away in most backpacks until you need to use it.
The lack of leg sections drastically decreases setup time as well. After you've attached your camera, you just need to wrap the legs around something stable, line up your shot, and do what you do.
The Joby GorillaPod's small stature keeps the weight down as well. Even with its aluminum frame, the tripod with the ball head is only 1.63 total pounds. The aluminum helps keep the cost as low as possible, making this a very budget-friendly tripod.
Pros
Flexible legs wrap around most objects for stability
Kit comes with ball head
Cost-effective
Compact design
Cons
Lower max load capacity
Low max height
---
3. 3-Legged Thing Punks Corey
Most durable backpacking tripod
Brand: 3-Legged Thing | Max Load: 30 pounds | Weight: 3.5 pounds | Min Height: 7.25 inches | Max Height: 59 inches | Material: Magnesium Alloy | Leg Sections: 5 | Feet: Rubber pads | Folded Length: 13.7 inches
The 3-Legged Thing Punks Corey tripod is not afraid of doing things a little differently. Using an aircraft-grade magnesium alloy in its design, it is one of the most durable backpacking tripods out there.
What's more, this tripod can handle up to 30 total pounds of maximum load. For all that durability, which goes a long way when backpacking, the 3-Legged Thing Punks Corey weighs in at an impressive 3.5 pounds.
While in use, the Punks Corey extends to just under five feet to snap cityscapes or sunsets. Should you want to work close to the ground, the tripod has one of the lowest minimum heights at just 7.25 inches.
Flexibility with the legs and interchangeable feet will help give you stability no matter where you end up trying to grab that photo.
When you're ready to throw this tripod back into your pack, it collapses down to just over a foot in length. It is worth noting that the five section legs and two section center column add a bit to the setup and teardown times.
Pros
Collapses to a small footprint
Adjustable ball head included
Interchangeable feet
Very durable design
Cons
---
4. Zomei Z699C
Best budget backpacking tripod
Brand: Zomei | Max Load: 33 pounds | Weight: 3.3 pounds | Min Height: 20.8 inches | Max Height: 59.4 inches | Material: Carbon Fiber | Leg Sections: 5 | Feet: Rubber pads | Folded Length: 15 inches
The Zomei Z699C throws a lot of great features at you for a very budget-friendly price. What's more, this tripod is constructed with an often expensive carbon fiber material.
This tripod is a little on the heavy side for a carbon fiber model but should still sit comfortably in your backpack at just 3.3 pounds. The carbon fiber design does come with the perk of being able to hold up to 33 pounds of load which should be way more than anything you'd be traveling with.
In addition to being durable enough for backpacking, Zomei promises 12 months of worry-free warranty in the event something does not go as planned.
The Z699C's legs feature five sections with twist locks for height adjustments and uneven surfaces, with the center column having two sections of its own. The legs can be quickly unlocked with just one hand, thanks to each lock's design.
When no longer needed, the tripod's legs fold up and out of the way. The entire tripod collapses to a length of 15 inches for portability and storage.
Pros
Budget-friendly
Collapses to a small size
Comes with ball head
Impressive max load capacity
12-month worry-free warranty
Cons
Heavy for carbon fiber
High minimum height
---
5. Sirui A1205
Best for entry level photographers
Brand: Sirui | Max Load: 22 pounds | Weight: 2.0 pounds | Min Height: 10.2 inches | Max Height: 55.1 inches | Material: Carbon Fiber | Leg Sections: 5 | Feet: Rubber pads | Folded Length: 14.6 inches
The Sirui A1205 is an incredibly lightweight model at just two pounds. That little bit of weight won't make much difference in your pack at all.
The carbon fiber body makes for a durable design and is able to withstand a load of up to 22 total pounds. Best of all, the price is quite reasonable compared to other carbon fiber models.
In addition to the carbon fiber body, the leg sockets showcase a robust magnesium alloy to absorb shock and offer better stability on surfaces. These same sockets make it easy to snap legs from one angle to the next.
When it's time to pack the Sirui A1205 away, each of the three legs folds 180 degrees up to minimize its storage footprint. These legs protect the included ball head and leave the tripod just over a foot long.
The max height is well under five feet tall is lower than ideal. This will undoubtedly result in more hunching over to line up shots and can lead to discomfort over time. The minimum tripod height of just under a foot does offer an extensive range of options.
Pros
Budget-friendly
Ultra lightweight design
Reasonable price for carbon fiber
Folds to a very compact shape
Cons
---
Backpacking Tripod Buying Guide
When searching for the backpacking tripod that's best for you, don't forget to consider these key features:
How Heavy Should a Travel Tripod Be?
Logic dictates that a travel tripod should be as light as possible, but this actually isn't the case. There's certainly no reason to go over four pounds with a travel tripod, considering there's no feature that would be worth carrying around that weight.
That being said, you do want a travel tripod to be heavy enough to be stable in windy conditions or uneven terrain. Ultra-light tripods are also not able to support much in the way of gear and can easily buckle under the pressure.
When it comes to travel tripods, the sweet spot sits right around three pounds.
Both materials do have their pros and cons when it comes to tripods. Carbon fiber is a stronger, more durable material that weighs less than an aluminum model of the same design. A heavy enough impact will cause the carbon fiber to crack, which often compromises the structure of the tripod.
Aluminum, on the other hand, offers a bit more stability being a heavier material. While it is less durable than carbon fiber, it will bend under pressure or impact instead of crack or shatter.
Aluminum is also appealing to some because it can be significantly less expensive than a similar carbon fiber model. Both materials are known to last for several years.
Other Considerations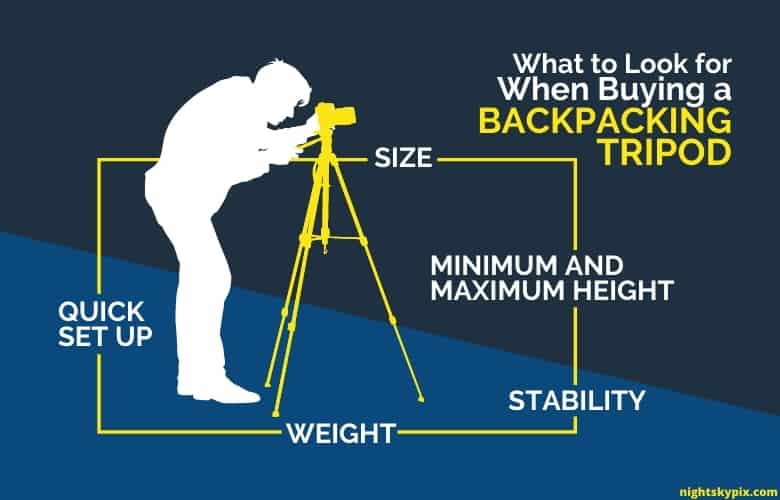 Size
In addition to weight, size is the most crucial factor when it comes to a good backpacking tripod. After all, if it's light but not portable, what good is it to a backpacker?
With tripod technology ever advancing, tripods are able to fold up smaller and smaller. Our top choice on this list, the Peak Design Travel Tripod, can fit into the water pocket of most backpacks for super-easy portability.
Stability
There's a chance you'll be taking your backpacking tripod into areas unknown, so you need to be sure to bring along a model that can accommodate just about any situation.
If the terrain is rocky or uneven, you'll need something flexible and sturdy enough to still get you the shot you need. Tripods with multiple leg sections are designed for such obstacles and can be adjusted accordingly. Interchangeable feet make it easy to maintain stability when switching from hard rocky or concrete surfaces to soft soil.
Quick setup
There may be nothing worse than hiking four hours to a secluded waterfall, only to have to spend a ton of time setting up your tripod to get the shot you've been searching for.
Tripods with multiple leg segments offer adjustability, but only designs with a fast setup will make the process a snap. Ball heads should also come with a quick attach/release feature for your camera.
Minimum and maximum height
If you want close-up shots of nature, consider a tripod with a low enough minimum height to get good, stable macro photos. A maximum height near your own body height will go a long way toward being comfortable while shooting and help you to land those portraits and breathtaking landscapes.
Conclusion
As you can likely see, the Peak Design Travel Tripod is the model we feel ticks the most boxes for the best backpacking tripod.
It offers a choice of either carbon fiber or aluminum, the two most common tripod materials available. Both materials weigh less than 3.5 pounds and collapse down to the width of a water bottle for portability.
Peak Design's lifetime guarantee is something to write home about. The company promises to be with you through thick and thin, no matter where you and your backpacking tripod end up going.
If something happens along the way, they promise to step in and help make things right. None of the other product offerings have anything that comes close.
The Peak Design Travel Tripod's other features, like the mobile mount, only add to the number of things you can do with this tripod. Whether city, jungle, or somewhere in between, we feel you'll be happy to have this tripod along with you.