Stability is vital when capturing the perfect photo, and that's just not possible without a tripod. For those who like to bring out the heavy lenses, not just any tripod will do.
A heavy lens and a cheap, plastic tripod are like oil and vinegar – they do not mix. It's essential to purchase a tripod that can accommodate the types of photos you want to take and support the heavy camera equipment you want to use.
As you'll see below, the Manfrotto 190XPro4 Tripod is our favorite model for checking all these boxes. Read on to discover what else we liked as we take a look at the best tripods for heavy lenses.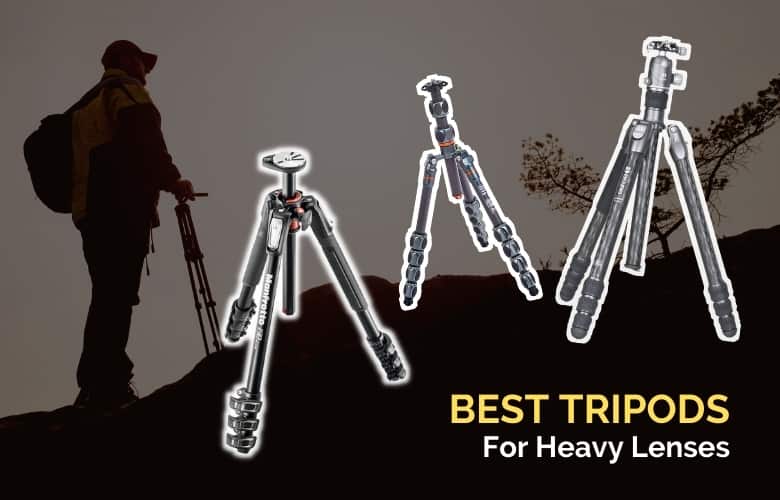 Our best tripod for heavy lenses At A Glance
The Best Tripods for Heavy Lenses To Buy
1. Manfrotto 190XPro4 Tripod
Best overall tripod for heavy lenses
Brand: Manfrotto | Max Load: 22 pounds | Weight: 4.51 pounds | Max Height: 5.75 feet | Material: Aluminum | Leg Sections: 4 | Feet: Pads
The Manfrotto 190XPro4 is a tripod that prides itself on being able to capture any shot you can imagine. The column system can adjust up to 90° from vertical, and the tripod legs can lay almost flat and still support the camera.
The beauty of the Manfrotto 190XPro4 is that you don't even have to remove your camera before switching orientations. Each tripod leg adjusts and locks independently, and the power lock holds your heavy lenses securely in place.
This ease of setup means it won't take you much time to line up and capture that perfect photo. The tripod also comes with an easy link connector so you can quickly attach any accessories you may need to enhance your shot.
At less than five pounds, this tripod's lightweight aluminum doesn't add a significant amount of weight to your gear. When you're done with the job, the Manfrotto 190XPro4 holds up flat to maximize portability.
Manfrotto is known to build each of their products to rigid Italian quality standards that go the distance and hold up in any situation.
Pros
90° column swivel
Lightweight
Durable and sturdy design
Bubble to ensure the tripod is level
Secure locking feature
Cons
Still bulky when folded up
---
2. Benro Rhino Carbon Fibre Three Series Tripod
Most robust tripod for heavy lenses
Brand: Benro | Max Load: 44 pounds | Weight: 6 pounds | Max Height: 5.75 feet | Material: Carbon Fiber | Leg Sections: 4 | Feet: Spiked Feet
The Benro Rhino Tripod gets its name from its robust design.
This tripod stands securely with spiked feet that, along with its weight, give it a firm foundation. Thick leg diameters only add to the stability. The carbon fiber material is just one more nod to the durability of this model.
The Benro Rhino stands a respectable 5.75 feet tall at its maximum height. The automatic leg angle adjustment feature makes changing leg angles as easy as pushing a button.
Combining one of the detachable legs with the center column allows for easy conversion from a tripod to a monopod. This allows for further flexibility and mobility.
A reverse folding design makes the Benro Rhino portable enough to carry. However, at just over two feet long when collapsed, it won't quite fit into most backpacks.
Pros
Strong and robust design
Good maximum height
Spiked feet
Adjustable to monopod
Cons
Less portable than other tripods
Center column does not pivot
---
3. Peak Design Travel Tripod
Best compact tripod for heavy lenses
Brand: Peak Design | Max Load: 20 pounds | Weight: Carbon: 2.81 pounds / Aluminum 3.30 pounds | Max Height: 5 feet | Material: Carbon Fiber or Aluminum | Leg Sections: 5 | Feet: Pads
The Peak Design Travel Tripod is the result of four years of careful engineering.
The tripod is lightweight whether you opt for the aluminum or the carbon fiber model, but the carbon fiber model is a good half a pound lighter. This decrease in weight amounts to a hefty price increase, though.
The Peak Design Travel Tripod really shines when it comes to compatibility, folding up nicely to the diameter of a water bottle (and not a whole lot longer than one). This compact size does not compromise the tripod's other essential features.
When fully extended, the Peak Design stands five feet tall for capturing shots while standing. Furthermore, a camera with a heavy lens is no match for the tripod's 20-pound weight limit.
This tripod is designed for any environment and is fast to set up and tear down. It has plenty of room for optional accessories and is even compatible with mobile devices.
Pros
Compact and portable design
Ultra-lightweight
Durable and sturdy design
Phone mount included
Available in two different materials
Cons
A little on the short side
Carbon fiber is quite expensive
---
4. Neewer Camera Tripod with Rotatable Center Column
Best budget tripod for heavy lenses
Brand: Neewer | Max Load: 26.5 pounds | Weight: 4.40 pounds | Max Height: 6.25 feet | Material: Aluminum Alloy | Leg Sections: 3 | Feet: Pads
The Neewer Camera Tripod has many features of a high-end tripod without the hefty price tag. Coming in at an acceptable price range, this Neewer model is something even the most casual photographers can consider.
This tripod can extend all the way to 6.25 feet thanks to its movable center column. When you don't need the height, the center column can fold down 90° and rotates 360° on its axis for stellar panoramic shots. The ball head also rotates 360° for even more flexibility.
The tripod legs adjust to three different angles for flexible shooting. In addition, the legs can detach for use as a monopod or as alpenstock to get to those tough to reach locations.
Not to be outdone by other models, the Neewer Camera Tripod handles a max load of 26.5 pounds to support your heavy lenses. At less than four and a half pounds, the tripod itself is still light enough to carry around with ease.
Pros
Great price
360° rotation feature
Legs detach to be used as a monopod
Stands tall at over six feet
Bubble level
Cons
Aluminum alloy lacks some durability
---
5. 3 Legged Thing Leo 2.0 Carbon Fiber Ultra-Compact Travel Tripod
Supports the heaviest load
Brand: 3 Legged Thing | Max Load: 66 pounds | Weight: 3.30 pounds | Max Height: 4.5 feet | Material: Carbon Fiber | Leg Sections: 5 | Feet: Pads
Looking a bit like something out of Star Wars, 3 Legged Thing's Leo 2.0 Travel Tripod has a sleek, futuristic design with thick legs for ultimate support.
Standing straight and true, the 3 Legged Thing supports an insane 66 pounds of weight. Even the heaviest lens can't compare to that. The legs can adjust to three different angles and still support 22 pounds when they are 80° out from the center.
The carbon fiber frame is one of the most robust lightweight materials out there and is impressive to see on a tripod in this price range. At just over three pounds, it can hold 20 times its own weight.
All three legs are detachable for versatility and can be used as booms. The entire assembly does fold up pretty nicely for its size for portability.
This model is available as a tripod only or for a little more can be purchased as a kit with a ball head and a choice of two colorways.
Pros
Incredible 66-pound maximum load
Designed to fold down for travel
Legs are detachable
Heavy-duty carbon fiber material
Cons
Only extends to 4.5 feet at maximum height
Clamps can be a pain to tighten
---
What To Look For When Buying a Tripod for Heavy Lenses
Maximum Load
It goes without saying that you'll want a tripod that can support the weight of whatever heavy lens(es) you prefer to use. Don't forget to factor in the weight of your camera when checking out the various tripod models.
Leg Sections and Angles
When buying a tripod for heavy lenses, you'll want to make sure the legs are robust enough to support your camera setup. Even if the tripod is rated for a solid max load, cheap or thin legs may not stand up to the test of time.
Tripod legs typically come with anywhere between two and five sections. These sections offer the benefits of flexibility and portability by making the tripod that much more collapsable. More segments are usually better, but it can make setup a longer process if the tripod doesn't have features to accommodate that.
Most tripods have leg angle adjustments to allow for shots at different heights by increasing the angle. It's also possible to adjust the angle of just one or two legs in order to work your way into tight spaces but still have the leg support you need for stability.
Folded Length
It's important to think about how you're going to get your tripod out to the area you want to shoot. Some tripods fold up really nicely for the sake of portability and can even fit into a backpack. These designs usually have legs that fold upwards, which also helps protect the head.
Head Type
Each of the models on our list comes with a head to attach your camera to. However, some tripods do not. Tripod heads usually range from just a pan-tilt to a full range of movement with a ball head.
Tripods should allow for the removal and replacement of heads as needed for different projects.
Maximum Height
No one wants to be hunched way over while trying to capture that perfect shot. Having a maximum height that accommodates your physical stature can make all the difference, especially when you need to focus for long periods of time.
Tripod Feet
A tripod that tips over isn't helping anyone. Tripod feet play a huge role in keeping a tripod upright and stable.
Rubber feet work great indoors on carpet, wood, and tile but can also function to some extent in nature. Spiked feet are best at gripping softer soil outdoors and providing extra stability.
Center Column
A center column can add some serious height to your tripod but can raise the center of gravity. Models like the Manfrotto 190XPro4 have a rotating center column that can be used to capture photos at many different angles.
Material
Aluminum and carbon fiber are the two most common tripod materials out there. They each have their pros and cons.
Aluminum is a cheaper material but is known to weigh more. On the other hand, carbon fiber weighs less but is more durable and is better equipped to handle vibration. There can be a considerable price difference between the two materials, as seen on the Peak Design Travel Tripod.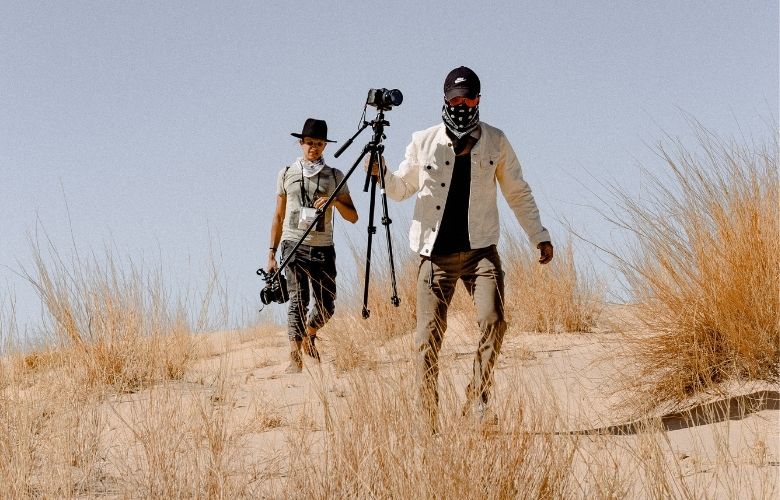 Is a heavier tripod better?
An interesting question, one that depends on the scenario you're using the tripod in. A heavier tripod means more weight to carry, and that weight often factors into a bulkier design. This can make a tripod difficult to manage or travel with.
Having a tripod with more weight can be a huge benefit. However, more weight means a lower center of gravity, which amounts to more stability and better quality shots. Heavier tripods also hold up better in poor weather and can save your rig from falling over or worse.
Conclusion
For all-around camera and tripod usage, the Manfrotto 190XPro4 stands out as a clear winner.
Although an aluminum material, it supports up to 22-pounds of weight which is more than enough to accommodate most camera and heavy lens combinations. Some tripods can handle more weight, but those lead to unnecessary bulkiness.
The Manfrotto 190XPro4 has an insane amount of flexibility and range with its leg angles and rotatable center column. If you can dream up a shot, it's likely that this tripod can adjust to capture it.
With a maximum height of nearly six feet, there shouldn't be much stooping going on while capturing great photos. Rubber feet hold nicely to hard surfaces but do well in outdoor environments as well.
This tripod is easy to set up, tear down, and collapse well enough to not be too awkward to take with you.
If the Manfrotto 190XPro4 doesn't float your boat, one of the other tripods on this list will likely accommodate your needs.