Landscapes have enthralled humans for millennia, and advances in photography make it easier and easier to capture those epic scenes.
Having the right tripod can make all the difference in landing that perfect landscape photo. The thrill of the journey to get to a breathtaking landscape can be just as incredible as the resulting photo, but the adventure is much less enjoyable if dealing with a bulky, heavy tripod. Once you finally reach your destination, the last thing anyone wants is a blurry photo.
In our opinion, the Feisol Tournament CT-3442 is the best tripod for landscape photography. Read on to learn more about it and other impressive tripods on the market today.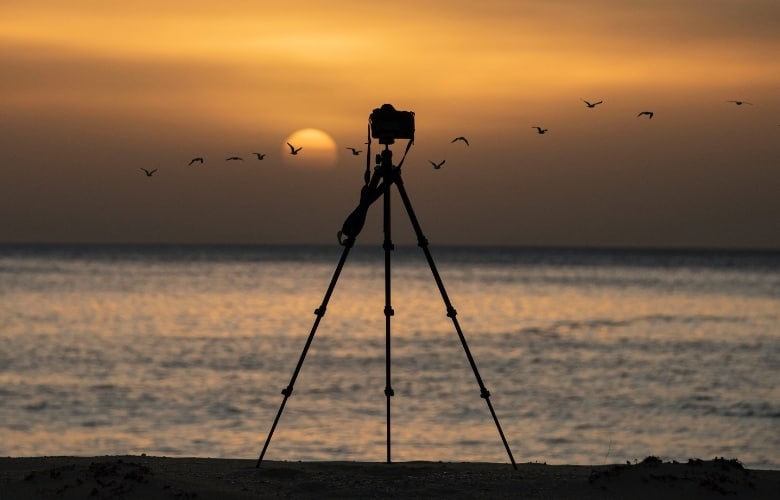 Our Top Landscape Tripods at a Glance
Best Tripods for Landscape Photography to Buy
1. Feisol Tournament CT-3442
Best overall tripod for landscape photography
Brand: Feisol | Max Load: 55 pounds | Weight: 2.51 pounds | Min Height: 6.69 inches | Max Height: 55.12 inches | Material: Aluminum alloy and carbon fiber | Leg Sections: 4 | Feet: Rubber pads | Folded Length: 19.29 inches
The Feisol Tournament CT-3442 is designed with the most high-quality and performance in mind.
The tripod features a body made of aerospace-strength aluminum alloy. The legs are a unique carbon fiber material that can support up to an impressive 55 pounds of weight.
The two materials together make the Feisol Tournament CT-3442 the epitome of strength while weighing in at only two and a half pounds. Both materials are heavily resistant to water and corrosive elements, making them ideal for any type of weather.
Although not included, the tripod has an optional center column attachment that can boost the maximum height up to an additional foot. The center column screws in place and only adds half a pound to the tripod's total weight.
The Feisol Tournament CT-3442 prides itself on a sturdy base and is designed to remain completely immobile even with the center column attached. The last thing a landscape photographer needs is a tripod that doesn't stand still.
This tripod also has an ultra-fast setup and teardown with only one hand needed for adjustments. When putting the tripod away, the legs can reverse fold over the base. With a folded length of just over 19 inches, it should have no problem fitting into a carry-on bag.
Pros
Holds up to 55 pounds
Compacts to small size
Very sturdy design
Durable materials
Lightweight
Cons
Center column costs extra
Leg locks are weak
---
2. Slik Pro CF-833 Tripod
Best tripod with a reversible center column for landscape photography
Brand: Slik | Max Load: 15.4 pounds | Weight: 3.4 pounds | Min Height: 9.2 inches | Max Height: 67 inches | Material: Carbon Fiber | Leg Sections: 3 | Feet: Rubber pads | Folded Length: 23.6 inches
The Slik Pro CF-833 Tripod stands exceptionally tall at 67 inches to capture those breathtaking panoramas.
The CF-833's center column helps the tripod rise to this height challenge, but the column can also be removed for added stability. For those who shoot more than landscapes, the center column is reversible for really low shots.
Thick, stable legs also help keep the tripod from moving, so shots come out crystal clear. The tripod's max load of 15.4 pounds allows for heavy lenses, and the center column has a metal hook that can support a counterweight.
The tripod's legs do not rotate, which helps expedite setup time. When the legs are at the ideal height, twist locks firmly hold them in place.
The carbon fiber design makes up for the thick legs and keeps the tripod lightweight. At just 3.4 pounds, the CF-833 is light enough to transport just about anywhere.
The tripod can only compact down to about two feet in length, which is a bit on the long side. This may make the tripod difficult to fit into a backpack.
Pros
High maximum height
Lightweight carbon fiber
Reversible center column
Sturdy design
Cons
---
3. Manfrotto 055XPRO3
Most versatile tripod for landscape photography
Brand: Manfrotto | Max Load: 19.8 pounds | Weight: 5.51 pounds | Min Height: 3.54 inches | Max Height: 66.93 inches | Material: Aluminum | Leg Sections: 3 | Feet: Rubber pads | Folded Length: 24.02 inches
The Manfrotto 055XPRO3 is a three-leg section design with sections averaging an inch in diameter to provide a thick, sturdy base for any type of camera and lens.
The tripod's max load of nearly 20 pounds demonstrates just how robust the legs are. The durable aluminum reinforces the sturdy nature of this Manfrotto model.
The included center column allows this tripod to stand over five and a half feet tall when fully extended. To go the extra mile, the Manfrotto 055XPRO3's center column rotates down 90° for tons of versatility from shot to shot.
With a minimum height of just 3.5 inches, there's no angle you won't be able to capture. Better yet, there's no need to disassemble anything when changing orientations. If you're worried about your angle, the bubble level ensures you're lined up correctly.
A proprietary Easy Link connector makes it simple to hook up lights, reflectors, and more as needed.
This model does sit a bit heavier than most at five and a half pounds. While the weight does mean less portability, it does mean more stability. It does take another portability hit in that it only crunches down to two feet in length when fully closed.
Pros
Rotating center column
Thick, sturdy legs
Low minimum height
Easy Link connector
Cons
A bit heavy
Lacks portability
---
4. 3 Legged Thing Winston
Strongest tripod for landscape photography
Brand: 3 Legged Thing | Max Load: 33 pounds | Weight: 3.8 pounds | Min Height: 5.7 inches | Max Height: 73 inches | Material: Carbon Fiber | Leg Sections: 3 | Feet: Rubber pads with spiked feet | Folded Length: 24.1 inches
Sounding like something that crawled out of the Blue Lagoon, the 3 Legged Thing Winston is anything but a monster. The Winston is designed specifically for architecture and landscape photography.
The stylish tripod comes in two color options to make it stand out in the crowd. With a maximum height of 73 inches, it certainly does stand out. Wide angle legs allow the Winston to sit as low as 5.7 inches if needed.
The max load of this tripod is 33 pounds at its lowest height. When at maximum height, it can hold an astounding 88 pounds of total weight, making it one of the strongest tripods in the world.
For some additional stability, the rubber foot pads can convert to spikes for photos on softer ground. Should you want to shoot from surface level, you can remove the legs and use the Winston as a tabletop tripod.
The tripod's leg locks are easily unfastenable thanks to contoured caps on the leg and column locks. The thick carbon fiber legs are very durable and give a lot of stability to the unit.
Pros
Solid tripod
High maximum height
Very sturdy design
Convertible footwear
Cons
---
5. Vanguard Alta PRO 263AB
Most budget-friendly landscape tripod
Brand: Vanguard | Max Load: 15.4 pounds | Weight: 5.38 pounds | Min Height: 6.25 inches | Max Height: 68.13 inches | Material: Aluminum | Leg Sections: 3 | Feet: Rubber pads with retractable spikes | Folded Length: 28.13 inches
The Vanguard Alta PRO 263AB is the most budget-friendly model on this list but still packs a bunch of impressive features.
The tripod has the ability to stand tall at nearly six feet, perfect for taking in the breathtaking scenery around you.
When you need to switch up heights or angles, the center column rotates anywhere from straight up to straight down. Vanguard's Instant Swivel Stop-n-Lock system makes this easy to do in one simple movement.
In addition, the three section legs allow for even more adjustability for finding that perfect snap. Quick flip leg locks make this part of the setup process a breeze as well. If you need to remove the camera at any point, the ball head's quick release plate makes that simple also.
The Vanguard Alta PRO 263AB has a respectable 15.4 pound max load which shouldn't be an issue for most rigs. There will likely be some wiggle room to add a counterweight for added stability.
The 5.38 pound aluminum body is on the heavier side but also reinforces the tripod's stability. Rubber footpads are convertible to spikes depending on the surface you're shooting on.
Pros
Center column rotates 180° from vertical
Budget-friendly
Lots of adjustability
Low minimum height
Cons
Heavier than other lightweight tripods
Long folded length
---
6. Benro Rhino Series 3
Sturdiest tripod for landscape photography
Brand: Benro | Max Load: 44 pounds | Weight: 4.54 pounds | Min Height: 19.33 inches | Max Height: 71.41 inches | Material: Carbon Fiber | Leg Sections: 4 | Feet: Rubber pads or spiked feet | Folded Length: 19.44 inches
It's safe to assume that anything with Rhino in the name is a tough, durable product, and the Benro Rhino Series 3 is no exception.
At their thickest point, the Benro Rhino's legs are over 1.25 inches in diameter. This thickness provides excellent stability and also the strength to support heavy loads.
With a 44 pound max load limit, there's no risk of overloading the tripod with a camera and accessories. This high limit also allows for a counterweight on the center column's metal hook for extra stability.
The tripod stands just under six feet tall at its maximum height with the center column fully extended. It does suffer a bit at minimum height, only going as low as 19 inches from the ground.
The Benro Rhino Series 3 includes a ball head that can tilt to 90° from vertical. The ball head has an Arca-Swiss camera plate that can accommodate just about any camera under the sun.
Benro makes the setup as seamless as possible by making it possible to change leg angles with the simple push of a button. When closing the tripod back up for storage, the legs reverse-fold over the ball head to reduce the collapsed length to just over 19 inches.
Pros
High maximum height
Thick tripod legs
Heavy max load
Ball head is included
Cons
Minimum height is not very low
---
7. Really Right Stuff TFC-24L Series 2
Highest tripod without a center column for landscape photography
Brand: Really Right Stuff | Max Load: 40 pounds | Weight: 3.74 pounds | Min Height: 4.1 inches | Max Height: 66.4 inches | Material: Aluminum | Leg Sections: 4 | Feet: Rubber pads | Folded Length: 23.6 inches
It might be cliche to say that the Really Right Stuff TFC-24L Series 2 is the really right tripod for landscape photography, but it certainly ticks all the right boxes.
At its tallest height, the TFC-24L is able to handle a whopping 70 pounds of weight. Even at a low angle, the tripod still holds 40 pounds without breaking a sweat.
These high maximum loads are possible thanks to the strength of the durable aluminum legs that support them. The tripod is sturdy enough on its own, but attaching your gear as a counterweight only makes it that much more effective.
Each leg twist locks in place at the desired height, and this model has a vent to prevent air from getting trapped during expansion and contraction.
For how robust the Really Right Stuff TFC-24L is, it only weighs a total of 3.84 pounds, making it really lightweight for carrying. It is worth noting that this model does not come with a ball head, though.
It would be nice to see this tripod collapse smaller than two feet in length, but doing so would compromise the strength of the legs at least somewhat.
Pros
Very sturdy design
Incredible max load
Air vents for easy expansion/contraction
Lightweight
Cons
No ball head included
Not easily portable
---
Landscape Photography Tripod Buying Tips
Do Landscape Photographers Really Use Tripods?
While no one wants to lug a tripod for miles while trailblazing a path to an epic photo, there are several reasons why it's beneficial to do so. Here are just a few great reasons to use a tripod:
For one, a tripod makes getting a framed, level, clear shot very easy. The stability that a tripod offers is just second to none. It's very difficult to capture a fantastic shot without one.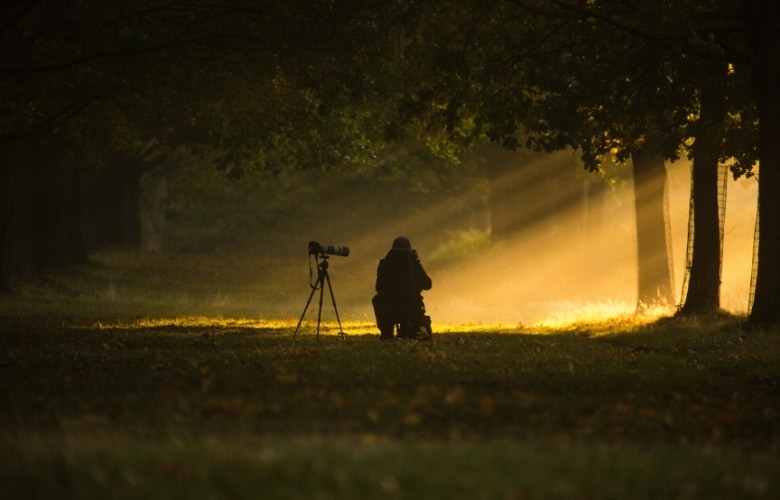 Tripods are necessary for creating a picture with multiple exposures. This also applies to slow shutter speeds. No human can stand perfectly still to grab such images.
A nice landscape tripod is sturdy and will support the weight of your camera and lens without fear of collapse. This beats having to hold that weight or try to rely on a rock or other surface to keep your gear safe.
Should My Landscape Tripod Have a Center Column?
Like most things in life, center columns on a tripod have both pros and cons associated with them.
When it comes to taking photos from higher up off the ground, a center column will get you there. Center columns usually add upwards of a foot to the total height of a tripod, which is a very significant amount.
Since tripods typically don't stand more than five feet off the ground without a center column, having that extra height can also be great for your posture. Having to stoop over to line up a shot multiple times can wreak havoc on your back.
The downside to center columns is that they effectively raise the center of gravity of your tripod, reducing the tripod's stability in the process.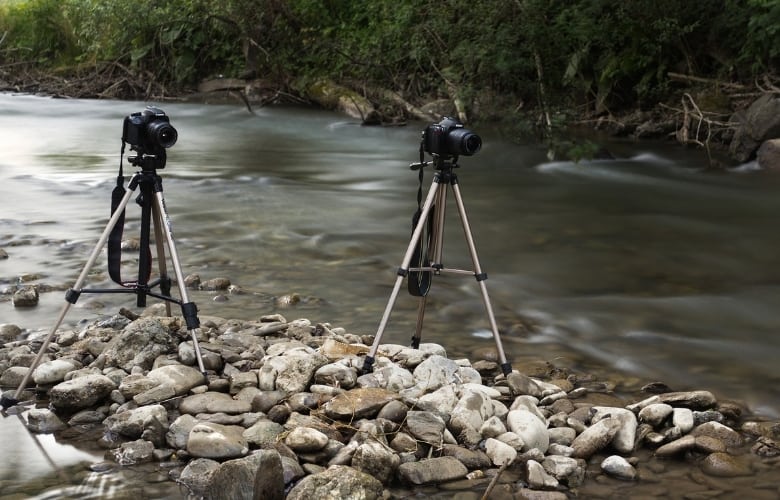 With landscape photos needing to be perfectly still (especially for long exposure shots), using a center column adds to the risk of camera wobble or even an overturned setup.
For that reason, it's best to avoid using the center column for landscape photos if you don't need it. If it turns out you do, make sure you can add a counterweight to your tripod to give it the extra stability that it needs.
How Can I Make My Tripod More Stable?
When it comes to improving stability, first and foremost, check the feet on your tripod. Rubber pads work well for solid surfaces, but spikes do wonders on softer surfaces if you have them.
Typically, the further the legs are apart, the more stable the entire rig is. If you have to extend some of the leg sections, make sure you extend the thicker ones first and save the thin ones for last.
As mentioned earlier, center columns are nice but can destabilize a tripod. Use one only if you need the extra height.
Always take advantage of the hook on the underside of the tripod if there is one for a counterweight. Even a backpack adds a significant amount of stability. Just remember to verify you're not going over the maximum load limit.
Conclusion
After sifting through several options, the Feisol Tournament CT-3442 is our clear winner for the top tripod for landscape photography.
When it comes to landscape photography use, Feisol's lightweight design coupled with durability and stable base makes it really stand out. In addition, the heavy maximum load capacity and portability of the unit make it ideal for use anywhere.
Any of these key features make a landscape tripod something to consider, but the fact that the Tournament CT-3442 has all of these is really impressive.