While it's possible to take photos of the night sky and the celestial objects of your choice in one night, it's not uncommon to find yourself in a situation where it will take you a couple of nights more to take all the photos you've wanted. Spending that much time in remote and isolated locations means you'll need to find a way to store all your food and drinks so they stay cold and fresh during your trip.
The best solution I've found is to invest in a wheeled cooler since it will allow you to keep a large number of your drinks, food items, and other necessities cool while also allowing you to easily transport the cooler by rolling it around.
If you want the best wheeled cooler, the Pelican Elite Coolers with Wheels will do the best job and give you the most consistent experience. Still, you should first take a look at all the coolers on our list and find your own favorite.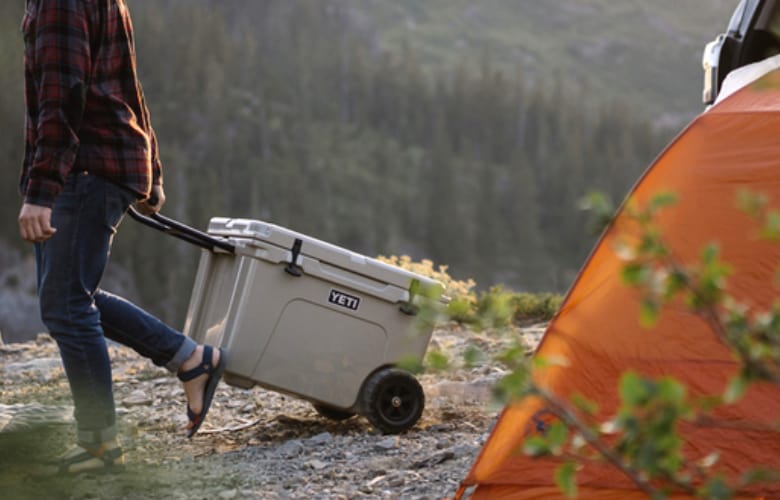 Our Best Wheeled Coolers At A Glance
List of the best wheeled coolers
---
1. Pelican Elite Coolers with Wheels
Best wheeled cooler
Dimensions: 19 x 12 x 12 inches | Weight: 37.25 pounds | Material: Polyethylene
If you're looking for a wheeled cooler that offers the best in terms of durability, storage space, and insulation and will last you a long time even after being used on many of your astrophotography trips, then the Pelican Elite Coolers with Wheels should be your first choice.
Pelican is already a well established brand when it comes to all the different protective cases, so it's no wonder that their wheeled cooler offers the same level of impressive build quality and can withstand a lot of abuse. It also brings a great level of insulation, allowing your ice to stay solid for up to 10 days.
It also features a nicely crafted latch system to remain closed securely when not in use, a measuring board on its lid, an obligatory leakproof drain plug, and a stainless steel bottle opener. It's also covered by Pelican's lifetime guarantee, which says a lot about their confidence in this wheeled cooler and its quality.
Pros
Good build quality
Stainless steel bottle opener
Great insulation
Decent amount of storage space
Well made locking mechanism
Cons
A little pricey
No cup holders
---
2. YETI Tundra Haul Portable Wheeled Cooler
Second best wheeled cooler
Dimensions: 19 x 13.63 x 11.25 inches | Weight: 37 pounds | Material: Aluminium
The YETI Tundra Haul Portable is another well engineered wheeled cooler, and thus it deserves its spot as our second best choice. It brings very good build quality, a lot of storage space, and respectable insulation properties, all in one easy to use package.
It's made from rotomolded acrylic material, which means excellent resistance to any kind of physical impact or the elements. You also won't have to worry at all about your drinks getting warm or the ice melting the first day because of the excellent insulation brought on by the extra-thick walls and the polyurethane foam.
Storage capacity is also something you would be happy with since this cooler is officially advertised as capable of holding up to 45 cans of various drinks and up to 55 pounds of ice, meaning that even if you're with a large group of people, you won't run out of cold refreshments anytime soon.
Pros
Great build quality
A lot of storage capacity
Easy to use
Great insulation properties
Well made wheels
Cons
High price point
No built-in cup holders
---
3. Coleman 100-Quart Xtreme 5-Day Heavy-Duty Cooler with Wheels
Best value for money wheeled cooler
Dimensions: 36.5 x 16.75 x 17.19 inches | Weight: 22.2 pounds | Material: Synthetic
If you're looking to get a lot of storage space from a wheeled cooler but without having to spend a premium, the Coleman 100-Quart Xtreme will surely satisfy your needs.
With a capacity of more than 113 liters, it's one of the most spacious wheeled coolers on the market and is a great choice if you're used to traveling with a lot of people or you have a big family, so you never ran out of cool refreshments to drink.
It also has a decent build quality and built-in cup holders for those of you that aren't used to drinking directly from the bottle. What's also unique about it is its rugged lid, which can support up to 250 pounds of weight and can be used as a secondary chair or a bench if the need arises.
Pros
Good quality wheels
Offers a lot of storage space
Great value for money
Can be used as a replacement chair
Has built-in cup holders
Cons
May be too big for some, even though it's not too heavy
Average build quality
---
4. Coleman Rolling Cooler
Best budget wheeled cooler
Dimensions: 23 x 18 x 18 inches | Weight: 12.9 pounds | Material: Plastic
The Coleman Rolling Cooler is a prime example that in today's times you don't have to spend too much money to get a very functional and decently well built wheeled cooler that will allow you to easily transport your drinks and keep them cool at the same time.
It is made from plastic and boasts a very minimalistic design, but there's certainly more to it than just its looks. Firstly, it offers a very respectable amount of storage space for its price point, especially when you consider it weighs only 12.9 pounds.

There are also four cup holders built into its lid, two handles so you can move it around with ease from one place to another and also, a mandatory telescopic handle, which will allow you to drag the cooler along the flat surface when necessary and make it more portable during travel.
Pros
Affordable price point
Lightweight construction
Good quality wheels
Decent amount of room
Built-in cup holders
Cons
Average build quality
It could offer a more durable handle
---
5. Igloo Trailmate Journey
Best rugged terrain wheeled cooler
Dimensions: 34.59 x 23.61 x 19.7 inches | Weight: 34.7 pounds | Material: Aluminium
If your astrophotography adventures often take you to places where the terrain is not easy to overcome, but you still need a rugged wheeled cooler to keep your drinks cool during summer nights, you should check out the Igloo Trailmate Journey.
The main thing that separates it from other wheeled coolers is its oversized 10-inch wheels, capable of not getting stuck even if you encounter uneven and rough surfaces like sand, mud, or grass. It's also important to notice that the cooler itself is water-resistant and made from marine-grade aluminum.
On top of that, it has several additional features that make it even more versatile. These are built-in dual bottle openers, a storage pocket, a mobile device stand, and a butler tray, which slides out from the body of the cooler when you want to serve your cooked food or any snacks.
Pros
Excellent storage capacity
Very good durability
Wheels capable of handling even the rougher terrain
Built-in cup holders
Built-in accessory compartment
Cons
No built-in handle for pulling the cooler
---
6. Igloo 52 Qt Quantum Wheeled Cooler
Best lightweight wheeled cooler
Dimensions: 20.39 x 18.11 x 19.05 inches | Weight: 15.1 pounds | Material: Polypropylene
If you're used to traveling light and you're always looking for ways to shave off as much weight from all of your gear as possible, then you would certainly like to do the same when it comes to your new wheeled cooler, and that's where the Igloo 52 Quantum comes into play to help you achieve your goal.
Weighing only 15.1 pounds and being solidly constructed, it's a nice balance between lightweight and durable construction. It also sports a fair price point, so you are also getting a lot of value for your money at the same time.
There's also plenty of storage space inside the cooler to hold more than a few drinks for you or your friends, and there are also four cup holders built into the lid for anyone who prefers to drink from a cup or needs something to keep their hot drink in place.
Pros
Lightweight construction
Good value for money
Decent amount of storage space
Built-in cup holders
Good build quality
Cons
Storage space not comparable to larger and more expensive coolers
The built-in handle could be more durable
---
7. Milee Heavy Duty Wheeled Cooler
Best versatile wheeled cooler
Dimensions: 33.5 x 19.5 x 19 inches | Weight: 45.9 pounds | Material: Thermoplastic
The Milee Heavy Duty Wheeled Cooler is the one you should look for if you want to own one of the most versatile wheeled coolers on the market and you aren't prepared to invest as much money as you would in a top-shelf premium cooler.
First, it will bring an abundance of interior space for you to put a large number of bottled or canned drinks of your choice inside of it while also protecting it from warmth thanks to the implementation of UV resistant materials. There are also built-in cup holders and a bottle opener to provide you with even more enjoyment from those drinks.
On the bottom of the wheeled cooler you'll find a very rugged set of wheels and the drain valves, while the insides also hide a useful removable basket and a removable divider, so you have a lot of options when it comes to organizing your food or drinks.
Pros
A lot of storage room
Features a cup holder and a basket
Durable wheels
Built-in bottle opener
Rugged and UV resistant construction
Cons
Pricer than your average wheeled cooler
Some may find it to be too heavy
---
Wheeled Cooler Buying Guide
What to look for when buying a Wheeled Cooler
Size and portability
Finding the right wheeled cooler is a balance between portability, storage space and build quality. If you're looking for something lightweight and easy to transport, be prepared to accept some compromise regarding the quality of materials and storage space.
More durable and spacious coolers will always be bulkier and heavier to transport, despite having a built-in handle like the rest of them. However, there is an accessory that will allow you to handle them and move them around with more ease, which is the Mighty Max expandable pull wagon.
Wheel type and quality
It's obvious that wheels are an integral part of any wheeled cooler and thus, like everything else, they can also differ from one set to another in terms of their quality and size.
Most of them are just fine when used on a hard flat surface. Still, there are also special types of oversized or extra-tough wheels specially made to keep your wheeled cooler rolling as smoothly as possible on uneven, rocky, muddy, or grassy terrain.
Accessories and additional features
Accessories give a wheeled cooler some more versatility when it comes to day to day use.
The most common extra features found on many wheeled coolers are the built-in cup holders and bottle openers. Still, some of them can also include removable interior separators, baskets, serving trays, additional compartments, and even smartphone holders.
Conclusion
So if you're planning to travel to a remote location, whether to do some astrophotography or even just camping, then you really should consider getting yourself a wheeled cooler.
Again, the best cooler we found was the Pelican Elite Cooler, the reason for that being Pelican are known for making top-class products, and this cooler doesn't disappoint. Incredible build quality, spacious interior, excellent insulation properties that will keep your drinks and food cold for a long time, and most importantly, it's so easy to use and just "works".