The Pelican 1510 is one of the more popular options for photographers. It offers many features one should look out for when buying a hard case. And in this article, we're going to strip it down, giving you our in-depth Pelican camera case review.
Pelican has a long-standing history of creating products that keep a photographer's gear safe from harm. The company's camera hard cases are popular amongst the pros, with many feeling that Pelican is the best option when it comes to storing their expensive cameras and accessories.
The 1510 isn't an exception to the rule, as it continues to uphold Pelican's strong reputation in the camera hard case market. Let's take a closer look.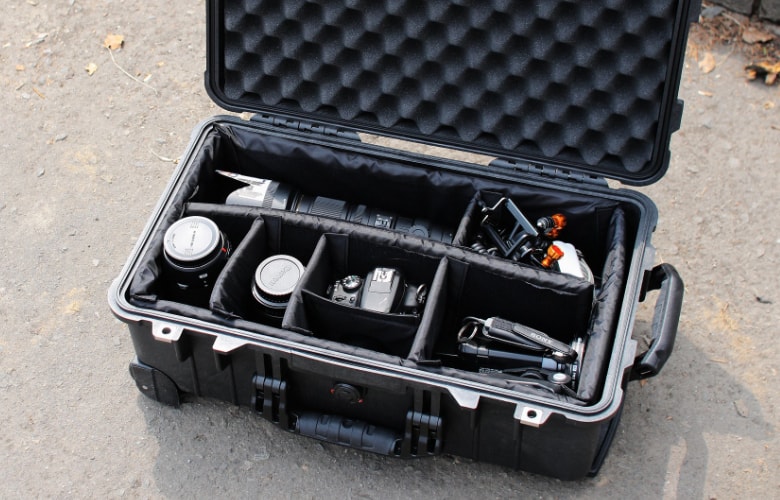 ---
Pelican 1510 Case
Pelican Tech Specs
Weight: 6kg | Dimensions: (Exterior) 22″ x 13.81″ x 9″ | Dimensions: (Interior) 19.75″ x 11.00″ x 7.60″ | Lid Depth: 1.7″ | Bottom Depth: 5.7″ | Total Depth: 7.58″ | Interior Cubic Volume: 0.96 cubic feet | Wheels: Yes
Pros
Watertight with Automatic Pressure Equalization Valve
Waterproof, crushproof, and dustproof
Reputable, trustworthy brand
Small enough to be taken as carry on (for most airlines)
Cons
Expensive compared to other hard cases
Limited customization
Slightly dated latching system
Pelican 1510 hard case review: Things to consider before buying one
Before helping you decide if the 1510 is for you, we answer some common questions relating to camera hard cases.
Is my photography gear safe in a Pelican hard case?
The main function of any hard case is to keep your equipment safe. The Pelican 1510 will have no problems doing that.
It comes with a premium build quality, including robust double-throw latches, and has had to endure several real-world tests in order to prove its durability.
These include being dropped, driven over, and immersed in water. For each test, the 1510 survived, and more importantly, so did the contents inside it!
There's also the option of adding a padlock to the latches, ensuring there's no unauthorized entry.
We described the latches as "slightly dated" – but that doesn't mean poor quality. A case like the Nanuk 935 uses three-action PowerClaw latches that feel more premium than what the 1510 offers. But again, your gear will be safe and you can have peace of mind.
How much gear can I fit in a Pelican 1510 case?
Although relatively lightweight and compact, the Pelican 1510 offers plenty of storage options. When we go out to shoot astrophotography, we regularly carry a couple of camera bodies and three to four lens options.
We also travel with accessories (batteries, chargers, and extra SD cards), as well as a laptop to edit while on the go.
The 1510 had no trouble accommodating our gear, and everything felt secure and safe.
Traveling to remote areas
Is the Pelican 1510 carry on?
Pelican built the hard case to meet the FAA maximum carry-on size. It's a good idea to check with each airline, but in most cases, you can bring it as carry on and save on costly baggage fees.
Is a pelican case waterproof?
Pelican has built the case to be watertight. This means it will survive in water in depths up to three feet, ensuring no liquid will enter the camera case.
Features and benefits
Let's take a look at some of the core reasons why you should buy the Pelican 1510.
Waterproof
The 1510 comes with a watertight silicone O-ring seal. While your gear won't survive if you drop it to the bottom of the ocean, it will be just fine in most other situations.
As is standard with a camera hard case, the watertight build means your gear will be safe if you spill fluids on it or if it's dropped into water (no deeper than three feet and no longer than 30 minutes.)
Lifetime warranty
Pelican's Guarantee of Excellence means the 1510 comes with a limited lifetime warranty. To us, limited and lifetime seems rather a contradiction.
But it's put in place to ensure Pelican can treat each claim on a case by case basis (no pun intended!) If you break or damage your case, the warranty means Pelican may repair or replace your camera case free of charge.
Foam insert quality
When purchasing the camera case, you have multiple options for internal protection. As standard, the 1510 comes with single-layer padding. It has some slight customization options, but you're still limited to what you can do.
Alternatively, for added protection, you can select Pelican's Trekpak foam. The Trekpak system offers customization options, which you can change with the locking pins and cutting tool.
The foam quality is of a high standard. However, moving it around to meet our storage needs wasn't easy, and it took a strong arm to remove parts of the foam we didn't need.
Whether you go for the padding or the foam, your cameras, lenses, and accessories will remain safe.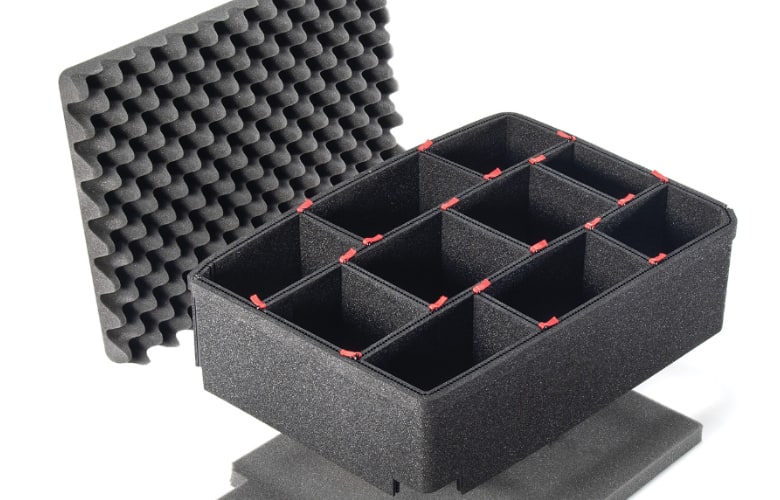 Accessories
For more storage options, the case comes with a couple of accessories.
Lid organizer
To add a lid organizer for extra storage, you must first remove any internal foam or padding from the upper compartment. The official Pelican lid organizer has plenty of storage options and up to six different zip pockets. This is perfect for your accessories and laptop if needed.
The zips themselves are built well, as are the net compartments. And because of the sturdy exterior, you don't have to worry about any damage to your accessories.
Where is this case made?
Pelican makes the 1510 at the company's production facility in Torrance, California. The craftsmanship ensures quality and durable hard cases – something we've found consistent with all Pelican products that have passed through our hands.
Alternative Pelican Cases To The 1510
As part of our Pelican camera case review, we're putting the 1510 up against some of Pelican's other camera cases. All the cases below are watertight, crushproof, and dustproof.
Pelican 1510 vs. Air 1535
With dimensions of 21.9" x 8.9" x 11.9", the Pelican Air 1535 is slightly smaller than the 1510. It's also two kilograms lighter, weighing only 4 kilograms. This is a great alternative if you don't need to pack as much kit and prefer something less tasking on the arms.
Pelican 1510 vs. Pelican 1520
The Pelican 1520 is essentially a briefcase on steroids! Built like a tank, this is purely a carry around camera case. Unlike the 1510, there are no wheels to pull it around. But with a weight of 4 kilograms and dimensions of 19.7" x 7.4" x 15.7", it will be more than easy to hold in your hand.
Pelican 1510 vs. Pelican Air 1615
If the 1510 isn't big enough, then the Pelican Air 1615 is your best option. Its interior measures at 29.5" x 15.5" x 9.3", big enough for plenty of gear, or a large telephoto lens if that's your preferred option for astrophotography when photographing the moon.
Conclusion
For anyone serious about keeping their gear safe, it's hard not to recommend the Pelican 1510. It's perfect for the astrophotographer that's always on the move. And it should also appeal to those that want something light. It ticks all the boxes we would expect from a case of this type.
Are there more affordable options? Yes. But most of them don't come with the rich-history that Pelican does. The most important question here is: Will you buy a camera case that lasts for many years and keeps your expensive gear safe? The answer is a resounding yes, and investing in the Pelican 1510 is worth every penny!