There's nothing quite like a nighttime landscape full of countless stars and a drizzle of Milky Way mixed in. While such moments may be fleeting, being able to capture the memory with the help of the right tripod means that experience can live on.
Induro proves they know what makes a good landscape tripod with their CLT203 Classic Series 2 Stealth. Read on to discover how Induro's latest model sneaks its way into the spotlight and which features really make it shine.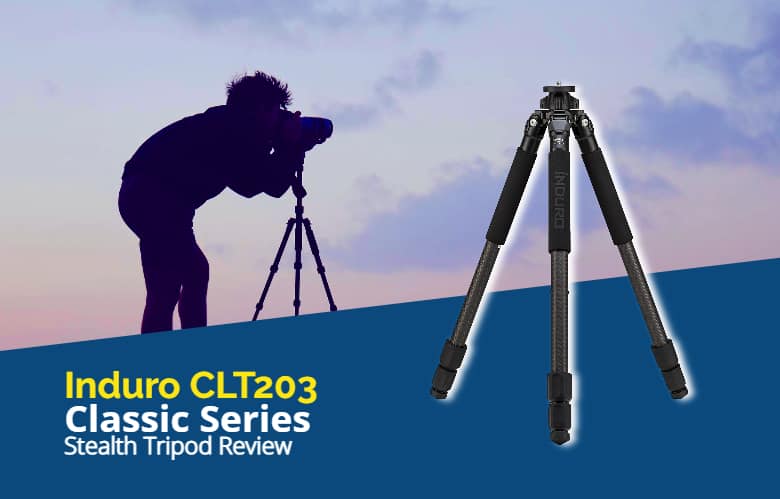 Induro CLT203 Classic Series 2 Stealth Tripod Specs
Max Load: 35.3 pounds | Weight: 3.5 pounds | Min Height: 14.8 inches | Max Height: 63 inches | Material: Carbon Fiber | Leg Sections: 3 | Feet: Rubber pads and spiked feet | Folded Length: 24.6 inches
Pros
Heavy maximum load
Lightweight
Carbon Fiber design
High maximum height
Cons
---
Induro CLT203 Classic Series 2 Stealth Tripod: Things To Consider Before Buying One
Does It Hold My Gear?
The Induro CLT203 Classic Series 2 easily handles all your gear and then some. With a sturdy carbon fiber base and legs, the tripod safely holds 35.3 pounds of weight.
Assuming you don't have a 35 pound camera and lens combination, this extra weight allowance is usable with attachments that help bring out the best of your nighttime photos. You can also hang your case or backpack from the undercarriage to lower the center of gravity and add additional stability.
What Is Setup Time Like?
The Induro CLT203 is blessed to have three thick leg segments, which require less time to set up than tripods with four or five segments. Quick twist leg locks are resistant to dust and moisture make leg extension a fast process.
Will It Be Stable?
You'll find features that boost stability everywhere you look. Starting at the bottom, interchangeable rubber and spiked feet provide support on hard or soft surfaces, respectively. The CLT203's thick legs provide a rigid base that holds up well against the wind.
Magnesium cross braces strengthen the tripod's core, while a relatively short center column keeps the center of gravity down. The tripod's high max load allows you to attach a counterweight to the undercarriage of the center column to drive up the stability that much more.
Is It Portable?
The Induro CLT203 Classic Series 2 Stealth Tripod condenses down to two feet in length when in storage mode, making it reasonable to travel with. It may not fit in some backpacks, but it is thin enough to strap to the side.
What makes this tripod exceptionally portable is the fact that you get all the tripod's features in a three and a half pound design. This makes the CLT203 one of the best lightweight tripods made with landscape photos in mind.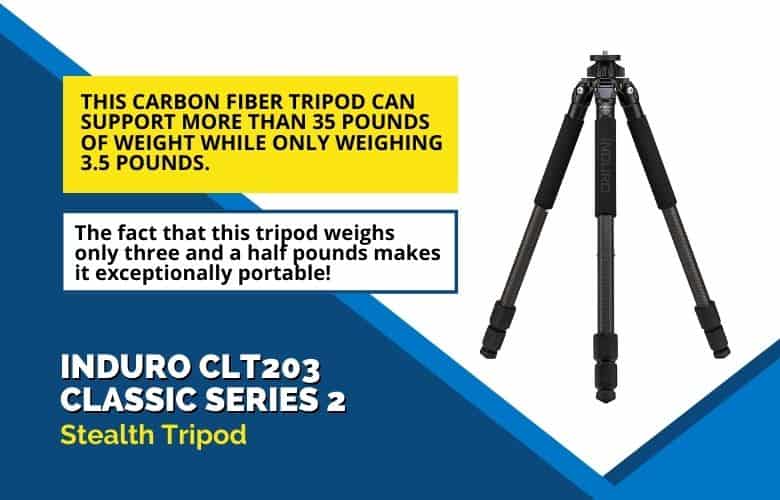 Features And Benefits
Durable Carbon Fiber
Carbon fiber is a top choice for a tripod material, as it holds up really well against extreme high and low temperatures. The material is also resistant to corrosion and other chemicals that can degrade other metals over time.
Carbon fiber also has a high strength to weight ratio. In the case of the CLT203, the tripod is able to support over 35 pounds of weight, all while remaining just 3.5 pounds itself.
Height Adjustability
With high highs and low lows, the Induro CLT203 covers a lot of ground. Whether you want to shoot from the maximum height of 63 inches or from a foot off the ground, this tripod gives you the option to do so.
The tripod's legs lock in at various angles to further accommodate your style. Legs move independently of each other to account for variations in terrain or the need to set up in tight spaces.
Thick Legs
The Induro CLT203 Classic Series 2 Stealth has some of the thickest legs out there, with even the thinnest segment measuring just a smidge under an inch in diameter. These thick legs add a large amount of both durability and stability to the tripod.
Feet
Any tripod that comes with both rubber and spiked feet is a huge win, and the CLT203 does not disappoint.
Since your starscapes will be taken outside, often away from city lights, you will find yourself literally off the beaten trail. Having spiked feet to grip the soft, potentially dew-soaked soil goes a long way for clear shots.
The Induro Brand Overview
Is Induro a Good Brand?
Along with MeFOTO, the Induro brand is a part of Benro's family of tripod products. Induro is currently limited to a few products on the Benro website, but their tripods follow the same rigorous quality testing that Benro does.
Where Are Induro Tripods Made?
All Induro tripods are manufactured in Benro's two facilities located in Southern China. They use the same precision tooling and innovative approach with Induro that they do with each of their other brands.
Alternatives to the Induro CLT203 Classic Series 2
Induro CLT203 Vs. Induro CLT303
Compared to the Induro CLT203, the Induro CLT303 is the bigger brother. The CLT303 is larger in every way, including its overall height, leg thickness, maximum height, and load capacity.
The larger size also contributes to a larger storage footprint, and the product weight increases a pound as well.
---
Induro CLT203 Vs. Induro Hydra 2
Induro's Hydra 2 is a smaller offering with five segment legs to the CLT203's three. Differences in weight, maximum height, and load capacity are negligible between the two models.
The Hydra 2 makes waves by being waterproof, making it an excellent choice for inclement weather or celestial landscapes on the water. The Hydra 2 also folds up to a neat 17 inches but suffers with stability due to its thin legs.
---
Induro CLT203 Vs. Induro CLT204
The Induro CLT204 has many similarities to the CLT203 but comes with an additional leg segment for some added flexibility. It is flexible both in the sense that there are more height adjustment options, but it also makes the tripod a bit less rigid overall.
The extra leg segment does enable the CLT204 to compact three inches smaller when not in use if space is an issue for you.
---
Conclusion
Starlit landscapes are one of a kind, but their dependence on exposure can be daunting. When even the slightest vibration can ruin the perfect shot, it's essential to turn to a tripod that stands firm in the face of sudden winds or tremors.
With thick legs and a rigid crossbar, there's no need to look any further than the Induro CLT203 Classic Series 2. Astrophotographers new and old will be able to transport this lightweight model to their favorite locations for epic pics that will last a lifetime.