While Pelican leads the way in the hard case market, some photographers want a more affordable alternative. Thankfully, there are other companies that make quality cases to protect your gear. Let's take a look at some of the best Pelican case alternatives you can buy in 2023.
A good quality hard case is an absolute must for astrophotographers that transport their expensive gear. Built to last and stand the test of tough environments, a camera hard case is specially designed to ensure your equipment stays intact.
The best Pelican case alternative is the Nanuk 935. It comes with an innovative three-stage latch system, ensuring the contents inside remain secure. As one would expect, it offers all the same protection as its rival, as it's waterproof, dustproof, and shockproof. In fact, the quality of the Nanuk 935 is so high that many pro photographers prefer it to what Pelican has to offer.
But the Nanuk brand isn't for everyone. And thankfully there are plenty of other options for those looking for a Pelican alternative. Join us, as we take a look at what else is available to you on the camera hard case market.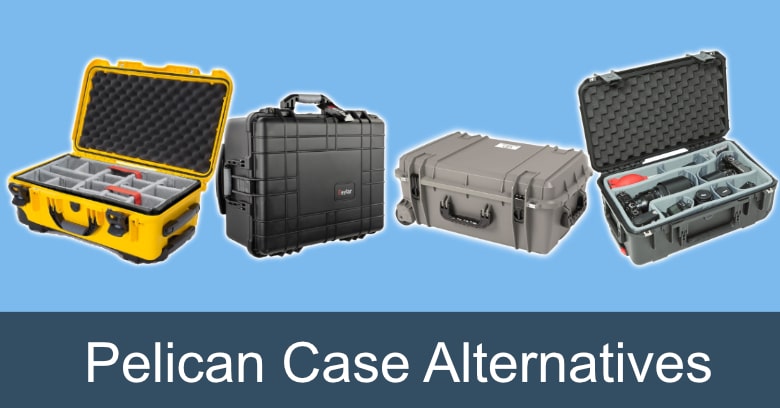 The Best Pelican Case Alternative
---
1 Nanuk 935
The best pelican case alternative
Weight: 5kg | Dimensions: (Exterior) 22″ x 14″ x 9″ | Dimensions: (Interior) 20.5″ x 11.3″ x 7.5″| Lid Depth: 2.1″ | Bottom Depth: 5.4″ | Interior Cubic Volume: 1.00 cu.ft |  Wheels: Yes
Nanuk is the closest rival to Pelican in terms of history and prestige. Its camera hard cases tend to be the most popular Pelican case alternatives – for both enthusiasts and the pros.
Make no mistake about it, when it comes to quality, the Nanuk 935 is up there with the best. It's made with NK-7 resin, making it extremely durable and able to survive the toughest conditions. The quality is so good in fact, that the case will remain robust even after many years of heavy use.
Nanuk's unique twist on the hard case is its patented PowerClaw triple-action latching system. The technology used means that you can access your gear with relative ease, but they'll also remain completely secure while in transit. 
The case also comes in a variety of vibrant colors. Not the most important factor when choosing a hard case, but it's still nice to have the option, especially when other alternatives are often dull in design.
Other features we were impressed with were both the handles and wheels. Other brands can be guilty of having cheap-feeling handles that bend when you pull them. On the Nanuk 935, however, the handle adjusts easily and remains sturdy when pulling it along. More so, the smooth-rolling wheels make it a breeze to move around.
Pros
Waterproof (IP67 rated), dustproof, shockproof
Made from NK-7 resin
Two PowerClaw (patented) triple action latches
Cons
We struggled to find any!
---
2 Condition 1 Hard Case
A quality hard case for those wanting something different
Weight: 6kg | Dimensions: (Exterior) 24.5″ x 19.4″ x 8.4" | Dimensions: (Interior) 21.9″ x 16.9″ x 7.5" | Lid Depth: 1.25″ | Bottom Depth: 6.3″ |  Wheels: No
Getting to your gear as quickly as possible is important. Condition 1 offers a design that makes their hard case easy-to-open. Using a spring-loaded latch, you can open the Condition 1 effortlessly. The upset lid also remains open at 90 degrees (without you having to hold it,) giving you fewer things to worry about when choosing what gear you want to use.
If you're someone who shoots around water, then pay attention to the patented watertight GORE-TEX valve. It will keep your equipment safe should you drop your case into water. If you're a frequent flyer, you have peace of mind that your case won't explode when in the sky. Condition 1 uses a pressure equalization valve, keeping everything secure during your flight.
The hard case comes with Pick and Pluck foam. You can customize the foam to better suit your storage needs. It's not the easiest foam to move around, you'll need a strong arm when moving and adjusting it. It is manageable, however, and it should not be a deal-breaker when deciding if this case is for you.
Pros
Pluckable foam case
Made with specially formulated CN-1 resin 
The lid case opens at 90 degrees when you need it to stay open.
Cons
Foam can be difficult to move when customizing
---
3 Monoprice Weatherproof Hard Case
An affordable option that rivals the biggest brands
Weight: 7kg | Dimensions: (Exterior) 20.5" x 10.9" x 7.4" | Dimensions: (Interior) 21.9" x 13.7" x 9.7" | Interior Cubic Volume: 1.00 cu.ft Lid Depth: 1.25″ | Bottom Depth: 6.3″ |  Wheels: No
While the Monoprice name may not carry as much credibility as other brands in this article, it's certainly up there with them in terms of quality.
You can expect to enjoy the same dust resistant and watertight features as the more premium options. The case meets IP67 standards for its protection – something that's important when buying a case to protect your expensive kit.
It's a little heavier than the normal average for a camera hard case. Weighing seven kilograms, you will notice it when it's in your hand. 
Thankfully it does come with a handle, and the robust wheels make it easy to move around. The handle was a little temperamental. It needs a firm tug to get to extended, but it does the job and still feels well made when using it.
Pros
Plenty of space for your gear
Strong, reliable wheels when pulling
Cons
The handle can be difficult to extend
---
4 Seahorse 920
For those on a tight budget that want a premium experience
Weight: 6kg | Dimensions: (Exterior) 24.3″ x 16." x 10.1" | Dimensions: (Interior) 22.1″ x 13.5″ x 8.5″ |  Wheels: Yes
The Seahorse 920 is a budget-friendly option for those that need to watch the amount they spend. 
But don't be put off by the low price. This isn't a product that you'll need to replace every couple of years. In fact, Seahorse is so confident in its product, that the 920 comes with a lifetime guarantee. 
The Seahorse 920 isn't made with the same premium materials as is used with Nanuk and Pelican. So while it will last you a long time, if you're someone who puts your hard case through a beating, we can't have the same confidence in its long term durability as we do with the premium brands.
The foam that comes with the case is of very good quality. In cheaper cases, the foam sometimes crumbles easily, especially with heavy use. That wasn't the experience we had with the 920, as it remained intact and kept everything safe. 
For those who prefer padding over foam, the Seahorse 920D is your best option.
Pros 
Affordable
Lifetime guarantee
High-quality foam
Cons
Not built as well as the more premium hard cases
---
5 AmazonBasics Large Hard Rolling Camera Case
Amazon's own take on the camera hard case 
Weight: 7kg | Dimensions: (Exterior) 21.9″ x 13.7″ x 9.8″ | Dimensions: (Interior) 20.5″ x 10.8″ x 7.5″ |  Wheels: Yes
Amazon tries its hand at everything, so why wouldn't it give making hard cases a try? We're always a little cautious when it comes to Amazon's own branded products, especially when it relates to storing our gear. But, not only has Amazon joined the race, it's doing its best to win it!
This is a very good hard case. It's built very well and is large enough to transport a large amount of gear. Amazon has independently tested the case, ensuring it survives when faced with adversity in challenging environments.
That said, the build quality doesn't quite match that of a Pelican case. It will do well to keep everything safe, but Pelican does it better. So who's the AmazonBasics camera hard case for?
It's for someone who can't quite justify paying the cost of a Pelican but needs something that will do a good enough job. But, if you can stretch a little further with your wallet, we recommend going with one of the more trusted brands.
Pros
Plenty of storage space
Independently tested for durability
Cons
Not built as well as a Pelican
---
6 MIEJIA Hard Case
A stylish option that will serve you well
Weight: 5kg | Dimensions: (Exterior) 22" x 13.8" x 9" | Wheels: Yes
As far as aesthetics go, the MIEJIA hard case is certainly one of the more stylish options. But will it do the most important job and keep everything safe?
The short answer to that is, yes. It's made with high-quality polyurethane material, providing a robust feel that's consistent throughout each area of the case. It is watertight, so you shouldn't worry if it comes into contact with water either.
However, it hasn't had the same level of strict testing as a Pelican. The consequence of this is that MIEJIA can't confirm that their hard case is shockproof or dustproof. 
If you're someone who works on tough terrain and in extreme weather conditions, this case isn't for you. But if you're looking for more protection than what your standard camera bag gives you, then this it's a good option for the everyday photographer looking for something robust when they move around.
Pros
Stylish hard case
Made from high-quality polyurethane
Cons
Not ensured strict testing
Can't verify it to be shock and dustproof
---
7 Eylar Camera Hard Case
A budget friendly case that gets the job done!
Weight: 10kg | Dimensions: (Exterior) 24.6″ x 19.3″ x 13.7″ | Dimensions: (Interior) 21.4″ x 16.4″ x 12.5″ |  Wheels: Yes
The design of the Eylar hard case mainly offers the basics at a more than acceptable standard. It's void of premium features such as high-tech latches and best-in-class materials, but let's not write it off too quickly.
Eylar offers a product that is water-resistant and shockproof, as well as including a pressure equalization valve for those that fly. The build quality isn't the best, but that's when it's up against the likes of Pelican and Nanuk. It's certainly on a par with the other budget-friendly options, and it will keep your kit safe in most circumstances.
There's plenty of storage space in this one too. So if you have an abundance of gear to carry around, this is a solid option. It does weigh 10 kilograms though, which isn't light. So you'll need a decent amount of strength if you're going to go with this one.
Pros
Plenty of space for your kit
Water-resistant and shockproof
Cons
At 10 kilograms, it's heavy!
---
8 SKB Hard Case
A hard case on a par with the best products on the market
Weight: 6kg | Dimensions: (Exterior) 21.8" x 13.9" x 9" | Dimensions: (Interior) 20.5″ x 11.5″ x 7.5″| Wheels: Yes
You may not be familiar with SKB, but you need to be. The company has built a product that's sure to rival the biggest names – and most important, serve you well for many years.
The workmanship on this hard case is at an extremely high standard. It feels premium, and evidently it will win the fight against testing conditions. It comes with patented trigger latches and metal reinforced locking loops. They're not quite to the standard of the latches on the Nanuk 935, but they're certainly not far behind.
The company teamed up with Think Tank, a respectable brand in the photo industry. Think Tank helped design the interior of the SKB case, and the result is a Nylex-wrapped closed cell fitted foam liner that is sure to keep everything compact and secure.
The SKB case meets FFA requirements and can be taken as carry-on with most airlines.
Pros
Premium build quality
Very good trigger latches
Well made fitted foam liner
Cons
---
Can These Pelican Style Cases Protect Your Gear Just As Well?
The first question we get when we recommend any Pelican case alternative is: "Is it as good though?" The honest answer to that is both yes and no.
The likes of Nanuk and SKB have certainly built hard cases that can match Pelican's hard cases. We would go one step further and say that, right now, Nanuk is offering best-in-class when it comes to protecting your gear.
The more budget-level options certainly don't use the same materials, nor do they offer the same craftsmanship experience as Pelican. But, they will still protect your gear – maybe just for not as long.
Why Choose An Alternative When Pelican Hard Cases Are So Good?
Because of the brand's prestige, the Pelican case is often the most expensive. But higher cost doesn't always equate to being the best product. If you don't want to pay as much money, but still want the confidence in the hard case, looking for a more affordable option is the wise thing to do.
That said, you're also paying a higher cost because Pelican has built a reputation of providing products that last a lifetime. The less known brands can't compete in that department.
Are These A Pelican Case Knock Off?
There's no denying the Pelican offers inspiration to other camera hard case manufacturers. It's the longest running company after all. But that certainly doesn't mean that each other product is a knock off of a Pelican product.
Instead, they're different companies trying to offer an alternative, challenging Pelican to ensure the company constantly tries to improve its products – giving photographers more options when it comes to transporting your cameras and accessories safely.
Quick Recap Of Pelican Case Substitutes
Conclusion
All the Pelican case alternatives in this article will serve you well. The Nanuk 935 rivals everything a Pelican case has, and offers slightly more because of its industry leading PowerClaw latch system.
Not too far behind are both the SKD case and the Condition 1 case. Both of them should pique the interest of pro photographers and enthusiasts that want the best products available.
And should you wish to ignore all the above and still go with a Pelican, then we can't fault you for it. They're popular amongst everyone for good reason, that being they have decades of experience building quality, robust, camera hard cases.