As astrophotographers, we take pride in our star-filled landscape photos. We're willing to get away from light pollution and sit for hours with an open shutter to capture that celestial dance. The last thing we need is a tripod that's not going to stay steady enough to give us the image we've worked so hard for.
Sirui recognizes that a good tripod needs to be portable, stable, and provide enough adjustability to line up that perfect shot. Perhaps best of all, they recognize that these features don't have to cost a fortune to achieve.
In this article, we look at the Sirui N-1204SK and all the reasons that make it their top model for incredible landscape snaps.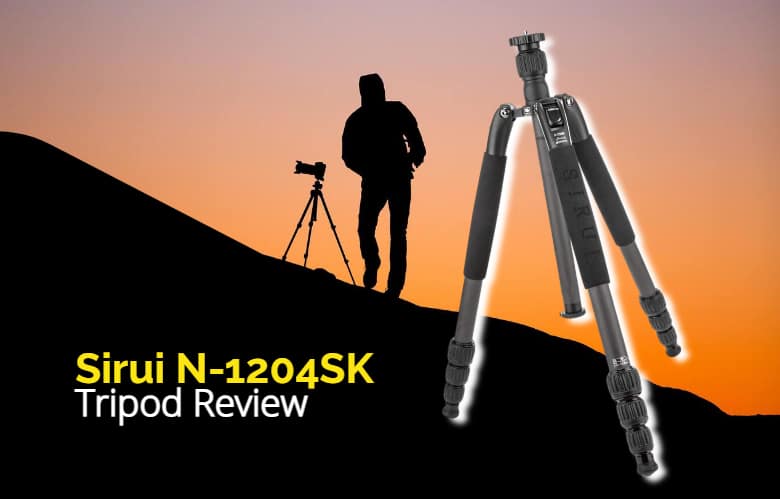 The Sirui N-1204SK Tripod
Sirui N-1204SK Tripod Specs
Max Load: 26.4 pounds | Weight: 3.1 pounds | Min Height: 5.9 inches | Max Height: 62.2 inches | Material: Carbon Fiber | Leg Sections: 4 | Feet: Rubber pads or spikes | Folded Length: 18.3 inches
Pros
Budget-friendly
Ultra-lightweight design
Interchangeable feet
Folds to a very compact shape
Lots of height adjustability
Cons
---
Sirui N-1204SK: Things To Consider Before Buying One
Will It Support My Gear?
A higher maximum load capacity is crucial for night landscapes. The tripod needs to support the weight of your camera, lens, and whatever other accessories you deem necessary for your shots.
The Sirui N-1204SK does not shy away from the challenge with a maximum capacity of 26.4 pounds. Even with the torque that a longer lens puts on a tripod, this Sirui model should have no issue handling it.
Is the Price Reasonable?
It is often true that you get what you pay for. There are a multitude of carbon fiber tripods out there, and some can even surpass the $1000 mark.
Unless you live, eat, and breathe astrophotography, a tripod at such a high price point may not make the most sense. Fortunately, the Sirui brand is known for carbon fiber tripods like the N-1204SK that help capture great photos without breaking the bank.
Will It Be Stable?
Stability is paramount when it comes to capturing epic starscapes. The smallest vibration or shake can compromise hours of time spent on an outdoor exposure.
The Sirui N-1204SK addresses this concern in a few different ways. At its lowest level, you can switch between rubber or spiked feet depending on the surface you're shooting from.
Rubber feet work wonders on hard surfaces where friction provides stability. Spiked feet dig into softer surfaces to keep your tripod firmly in place.
Further up the tripod, carbon fiber legs are resistant to vibrations and robust against the wind. Magnesium leg sockets have incredible shock absorption to eliminate any tremble.
Is It Portable?
At 3.1 pounds, the Sirui N-1204SK is light enough to add little in the way of weight to your gear.
When you are transporting this tripod from place to place, the innovative reverse-fold leg technology allows you to condense the tripod down to just 18 inches in total length. This should be small enough for most backpacks and fits easily into an airplane's overhead compartment.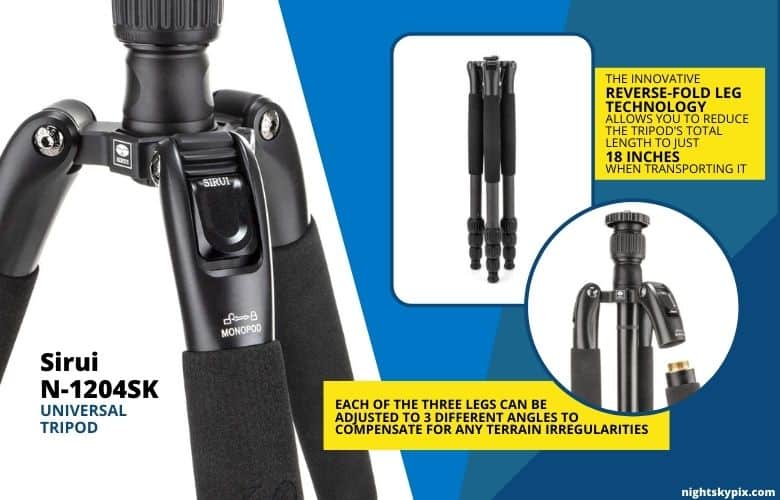 Features And Benefits
Height Adjustability
Nighttime landscapes work well from high heights, and the N-1204SK stands over five feet off the ground with leg sections and center column fully extended. Whether you're shooting from the top of a mountain or in a field, this height provides the ability to work around low-lying obstacles.
Should you desire to capture landscapes from other angles, this Sirui model drops down to just 5.9 inches from the ground with the reversible center column to give a wide range of options to shoot from.
Each of the N-1204SK's three legs has three angles of adjustment and operates independently from one another. This allows you to compensate for any roughness in terrain that can impede other tripod designs.
Bubble Level
Lining up shots isn't always easy, especially while working at night in surroundings that aren't clearly visible.
Luckily, the Sirui N-1204SK has a bubble level that you can use to confirm your shot is perfectly flush with the horizon. Having peace of mind that your photos aren't crooked allows you to focus on what to photograph instead.
Leg Thickness
With any tripod design, leg sections get smaller with each successive segment so the legs can seat inside of each other. For starry landscape photos, you need thick legs for durability as well as stability.
The Sirui N-1204SK's legs are an impressive inch in diameter at their thickest point. With four leg segments, though, the diameter at their thinnest point ends up only half an inch thick. Minimizing the use of these thin leg sections will go a long way toward blur-free shots and longevity.
Interchangeable Feet
Some tripod manufacturers forget that you're not always shooting in a studio with a level floor. Sirui includes spiked feet with the N-1204SK tripod that are easy to screw in place should you find yourself on soft soil or a sandy beach.
Of course, the N-1204SK also has the rubber feet for rocky surfaces or if you're capturing a nighttime shot from your window.
The Sirui Brand Overview
Is Sirui a Good Brand?
With over 20 years of experience, Sirui is one of the premier tripod manufacturers in China. They have a presence in 60 countries around the world and are known for exceptional customer service.
They stand out in this space thanks to the fact that they specialize not only in tripods but also in plates, heads, brackets, and other components necessary for the best photographs. Their tripods are made to be compatible with components from other brands as well.
Where Are Sirui Tripods Made?
Sirui tripods are proudly designed and manufactured in Zhongshan City, Guangdong Province, China. The manufacturing team encompasses over 500 workers trained to produce high-quality products.
Alternatives
Sirui N-1204SK Vs. Sirui T-2205X
The Sirui T2205X is a similar model to the N-1204SK but adds a fifth leg segment to the design. This has its benefits for height adjustability and compact storage but can compromise some of the stability that thicker legs bring.
---
Sirui N-1204SK Vs. Sirui A-1205
Sirui's A-series models are made to be smaller, more portable versions of other tripods. The Sirui A-1205 comes with one of Sirui's ball heads and weighs less but doesn't stand as tall or as sturdy.
---
Sirui N-1204SK Vs. Sirui W-1204
The Sirui W-1204 adds a waterproof element to Sirui's design, making it more suitable for use in wet climates or photos from the shallows of ponds or lakes. This tripod also claims to be dustproof at the leg locks and will not bind or become difficult to adjust in dusty environments.
---
Conclusion
Your gear can either make or break your astrophotography experience, and many photographers (casual or otherwise) walk away from the art after a bad tripod experience. With decades of experience in making tripods and tripod accessories, Sirui understands the need for a good design.
The Sirui N-1204SK offers a real bang for its buck in the tripod space. Knowing that a blurry shot is not an acceptable outcome, it's a huge blessing to know there's a tripod that offers stability without costing an arm and a leg.